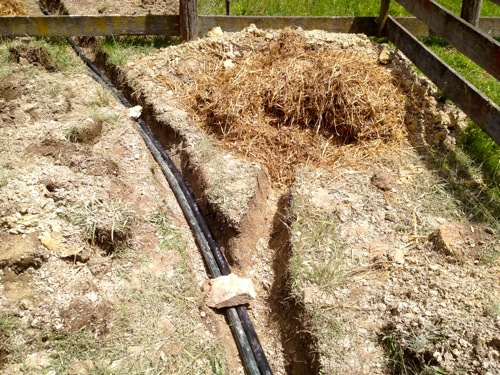 Greywater is a resource that can be awesome if capitalized upon, especially on a farm with unpredictable rainfall. We've just finished a simple greywater system that we're pretty darn happy with.
Up at the woolshed we have two greywater sources: the washing machine, and the outside sink. Both these water sources provide pulses of water that could be helping grow a gorgeous living environment if used properly, so after a good deal of talking about it we finally did something…
To design this system we researched how to build a greywater system that was super simple, that could deal with pulses of water (rather than constant flow), and that would be appropriate for our needs.
The two main sources we used were:
> The fabulous Branched Greywater Systems and Creating an Oasis with Greywater by Art Ludwig
> The awesome Rainwater Harvesting for Drylands and Beyond set by Brad Lancaster
The design is pretty simple: multiple pipes at greywater source, each leading to the edge of one mulch pit. The greywater outlet is swapped between these separate pipes daily or weekly (depending on greywater load). Trees and plants are grown in or next to the mulch pit. And that's it.
The bottleneck (literally as well as figuratively) with DIY greywater systems seems to be the question of how do you get water to multiple mulch pits. Art Ludwig has some great branched greywater solutions, but some of the pieces were hard to source in Australia.
The other factor is that greywater, by definition, sometimes has bits of gunk in it. And if there's forks or connections in the pipe, that gunk can clog things up. Causing greywater system fail. Stinky and sad, all at once. Messy to fix, too.
So our solution was to avoid all joins and branches in this system. Each pipe is just that: one continuous pipe, end to end. 4 pipes at the greywater outlet end lead to 4 mulch pits, each with their own pipe.
Apart from ensuring a super simple, visually explainable system, this design also means that if one pipe gets blocked, the whole system doesn't fail. Worst case scenario, we have to pull up one pipe, but that's far better than having to chase down and take apart the whole system to find the problem.
So now we have the washing machine feeding 4 mulch pits, and the outside sink feeding 4 mulch pits.
Next step will be planting a range of beautiful shade trees (also useful of course, for people food, sheep food, bee food and biomass) and their associated guilds beneath.
Big thanks to Art Ludwig and Brad Lancaster for providing such great info. Big thanks to Floyd Chris Constable for driving the project, and to the fabulous Milkwood Farm wwoofers Paul, Andrea, Michael, Pedro, Ashley, Sophie & Sharn for making it happen, and to Ashley for the great diagram.
Yay lastly to Nick for having the bright idea about the outlet pipe arrangement, and how to do it without needing taps and branches, no doubt saving us all from future 'where the heck is the blockage' joy…
Resources: