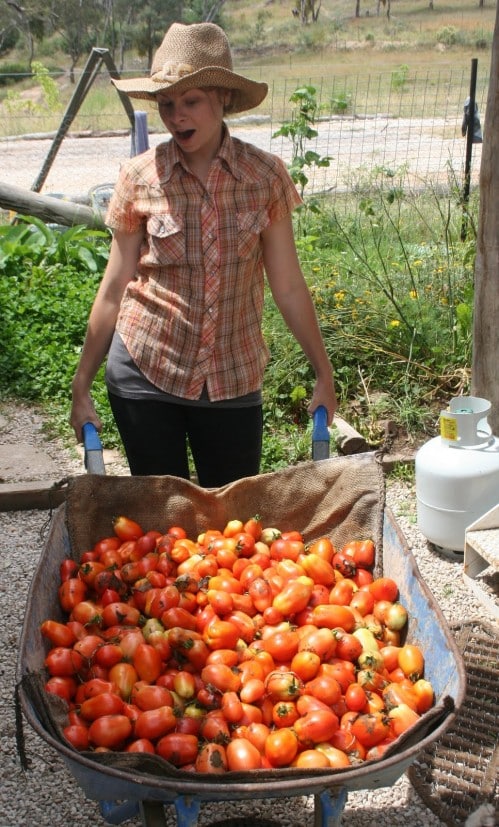 It is with great excitement that Stephen recently calculated that we've officially grown over one tonne of nutrient dense, organic vegetables in our Market Garden! Whoohoo!
Which is not bad for the first six months of our organic market garden project, with about 500 sq m under cultivation, on crappy soils in non-ideal conditions, and learning as we go. Yay Stephen. Yay photosynthesis. Yay helpers and mentors. Yay compost! Here's the tally…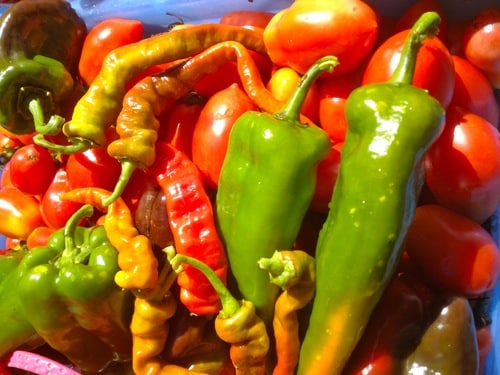 Milkwood Farm Organic Market Garden: September 2011 – February 2012
Yield in Kgs          Crop Categories
25.10 ………………   ALLIUMS (Garlic, Onion)
21.40 ………………   BRASSICAS (Cabbage, Cauliflower, Sprouts)
90.15 ………………   CUCURBITS (Cucumber, Zucchini, Squash)
465.72 ……………… FRUITS (Tomatoes, Rhubarb)
117.50 ……………… LEGUMES (Peas, Beans)
199.50 ……………… ROOTS (Beetroot, Carrots, Parsnips, Potatoes)
101.97 ……………… SALAD CROPS (Leaves, Spring Onion, Radish)
1021.34 ……………… Total Yield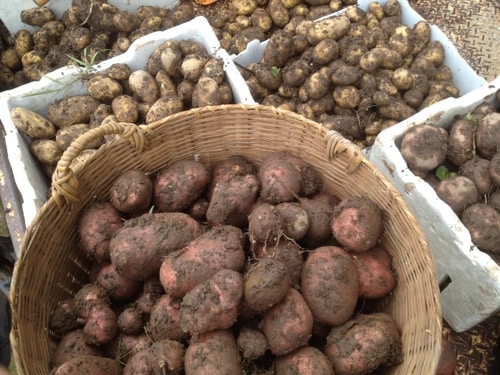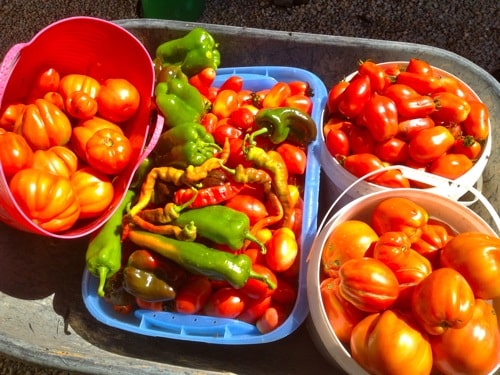 The season is by no means over, but we are on the final stretch. Tomatoes should be finished in 2 weeks, the rest of the potatoes should be ready by the end of the month. It's been a massive summer of learning and growing.
Happily, we seem to have done what we set out to do – to markedly off-set our vegetable needs for crew, family and the seasonal education programs that goes on here… it's really good to be able to feed people real, nutritionally dense food, grown with love.
Now that we know that we can do it, we'll keep on learning how to do it better, year in, year out. And training budding market gardeners as we go. And enjoying the bounty that results…
So a big huzzah to Stephen Couling for running this project with flair and dedication, to Joyce and Mike from Allsun Farm for mentoring us through our first year of learning to grow food on a community scale, to all the amazing wwoofers and interns who've put in time and effort (particularly the fabulous Michael Hewins), and to everyone else who's helped, suggested or otherwise contributed.
The entire saga of our first six months of growing food on a community scale is here, or you could read Stephen's version here.
And if you'd like to take an intensive Starting an Organic Market Garden course taught by Allsun crew at Milkwood Farm, the next one with vacant places is in September…