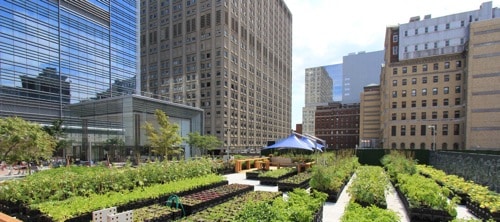 Double-stacked, modified milk-crates as the basis for a large-scale vegetable growing system on a city rooftop. Yet another example of why rooftop farming is possible, even if you don't have tonnes of infrastructure…
I'm not saying it's regenerative agriculture gone urban, but it is on a rooftop and providing hyper-local food. And it may be a model that can be built apon in a sustainable fashion, and that is interesting. It's called Riverpark Farms.
While we're up here on the rooftops of NYC, there's also Gotham Greens…
Then there's good 'ol Brooklyn Grange, who are currently expanding to more rooftops across Brooklyn… not bad for something that started out as a kickstarter project…
And lastly, my fave small rooftop farming project, Eagle Street Farm in Brooklyn…
Can't wait till someone steps up and does a similar project in Sydney. By the 3rd or 4th rendition, once the 'omigod it's a rooftop farm' thing has calmed down a little, we might even be ready to talk about getting seriously sustainable up on the roof.
We're seeing a lot of rooftop farms and vegie gardens conceived during the design projects on our Permaculture Design Courses in Sydney these days, and there's some really excellent and plausible designs. Fingers crossed that one of them blooms sometime soon…