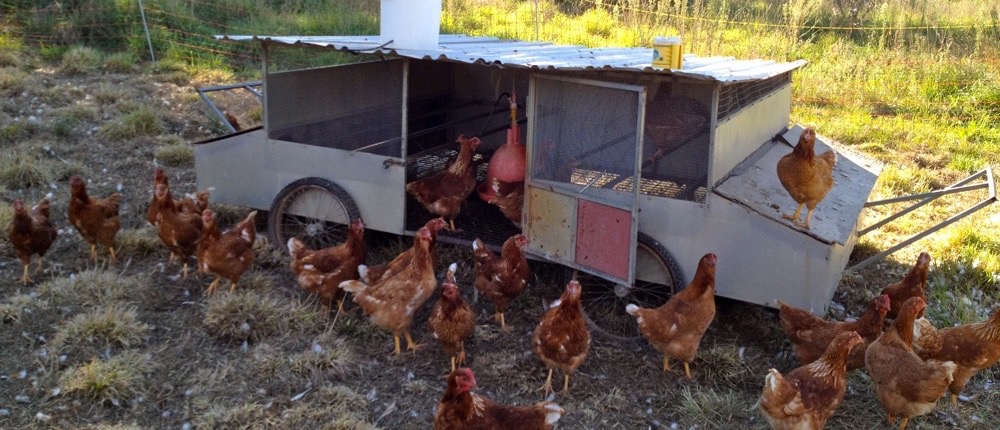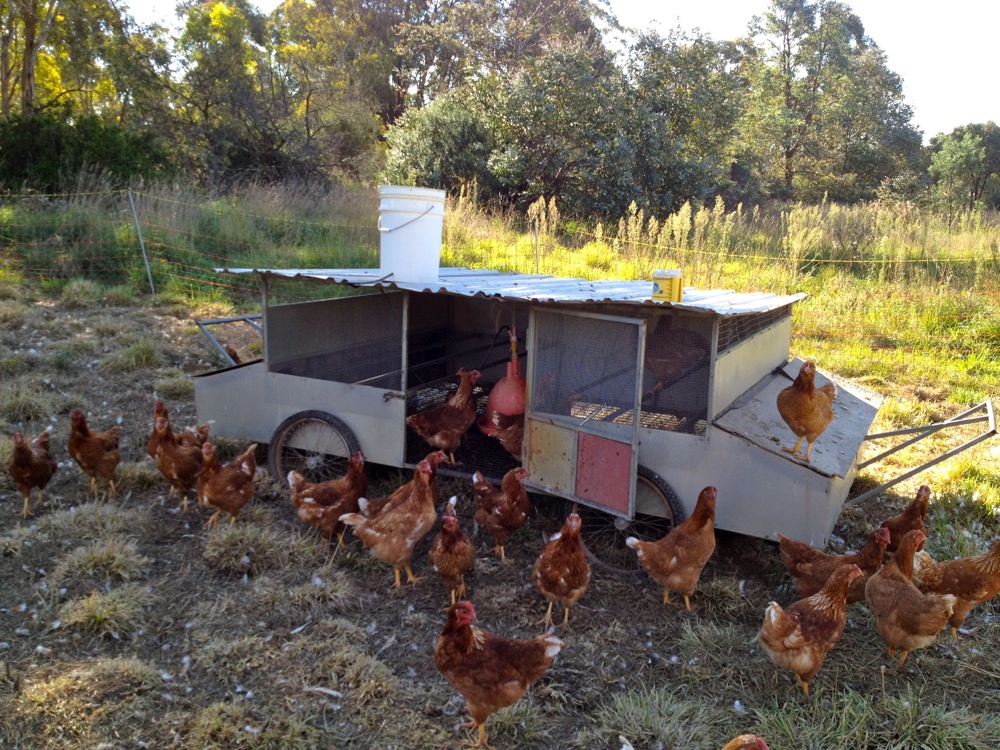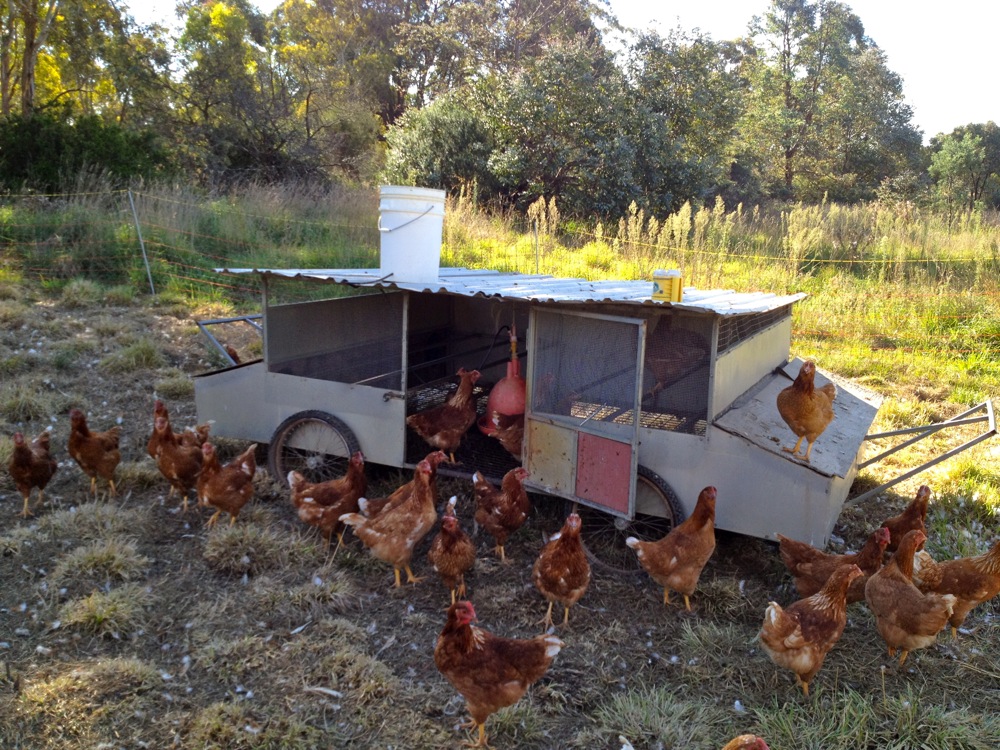 An Egg Mobile is a movable chicken house designed to house laying hens at night, who by day cluck around on open pasture. Joel Salatin made them famous at Polyface Farms, but who invented the concept I do not know.
Egg mobiles are different from chicken tractors in that they are designed as part of a free-range chicken system where the hens can venture well beyond their house to the limits of whatever fences them in (commonly electric netting in a farm setting). They are a darn fine idea.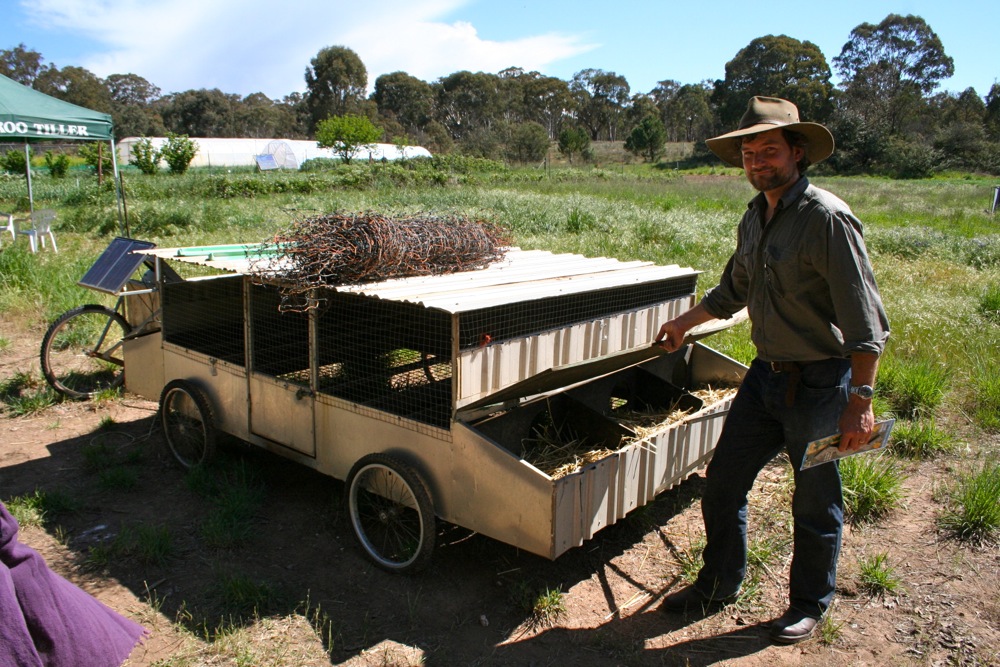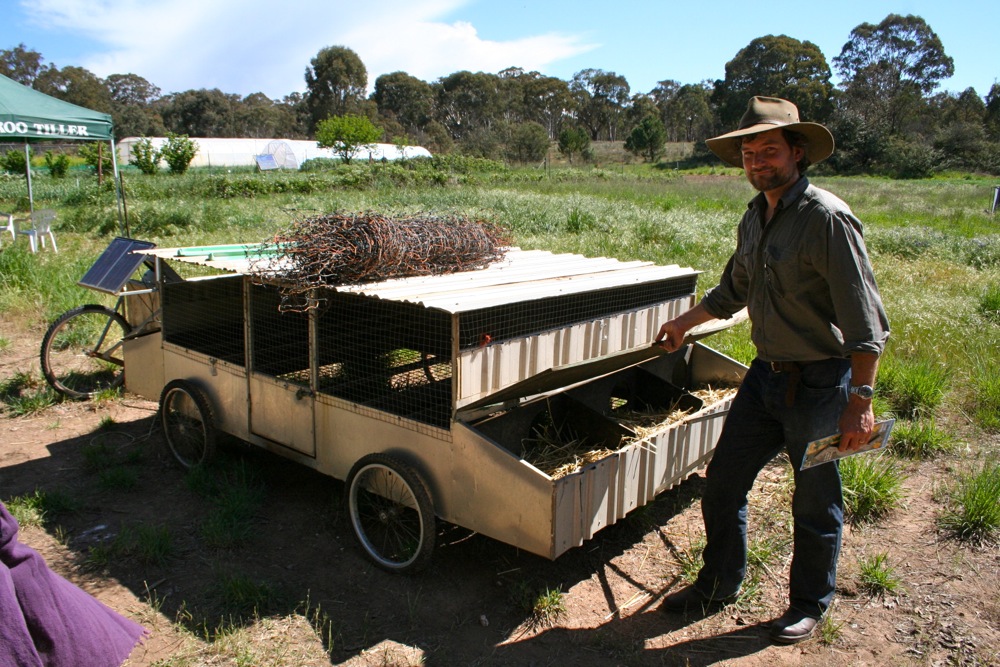 Recently I was at Allsun Farm and I was reminded of their egg mobiles, whose design I love. The chooks get shut up in their egg mobile each night, and let out in the morning after they've done their laying for the day.
This design has nesting boxes on the sides with exterior access for egg collection, a floor that lets chook poo fall through, but does not let foxes in, and nice big bicycle wheels for easy maneuverability when it's time to move the chickens to the next patch of pasture.
This of course got me thinking about other egg mobiles i have loved, including those of the fabulous Joel Salatin…
There are many, many different egg mobile designs to be found out there, all with different levels of convenience in terms of egg collecting and maneuverability, as well as scale.
We're leaning towards the Allsun Farm design (or similar) at this point for next Spring, given the scale of egg production that we' re thinking about…
Just FYI in case you're planning to become a chicken nerd: egg mobiles are not to be confused with the fabulous world of chicken tractors, which are more about chickens having access to a much smaller, enclosed area of grass on a daily basis, usually within a movable cage (or even a geodesic chook dome). 
**Corrections to the above. Ben Falloon has helpfully pointed out that the Polyface X-wing design above is not designed for super regular moves like the other egg mobile designs, and is technically (in Polyface lingo) known as a feathernet system rather than an egg mobile system… but more on that in a later post…
Have you come across any other excellent egg mobile designs we should know about?