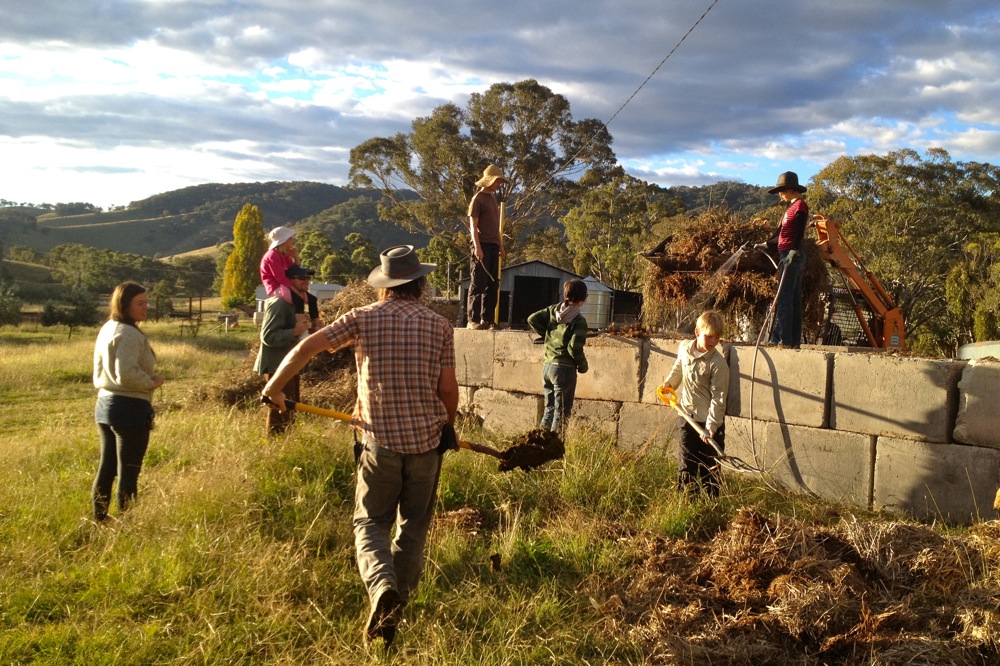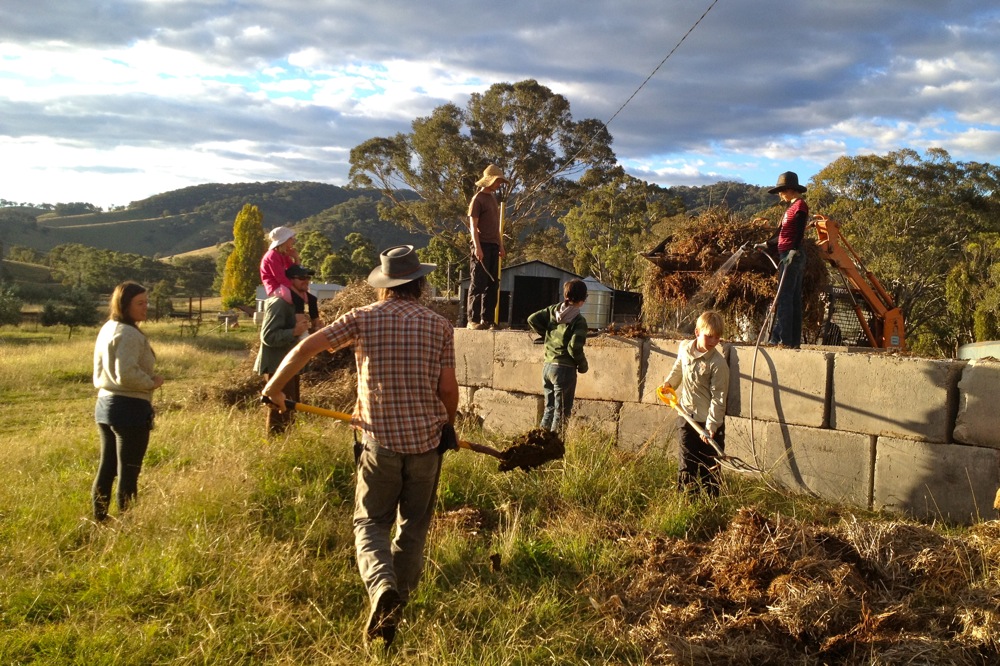 The first frost has arrived and the last tomatoes and capsicums harvested. The last course has been hosted and the cups all put away. Tis officially the end of the year for our seasonal courses and crew at Milkwood Farm.
At this time of year our focus shifts from welcoming many students, woofers and friends to the farm on a weekly basis over to clearing things up and bedding the farm down for winter. The market garden is being planted in green manures, and the shelves of preserves are groaning. What an incredible year!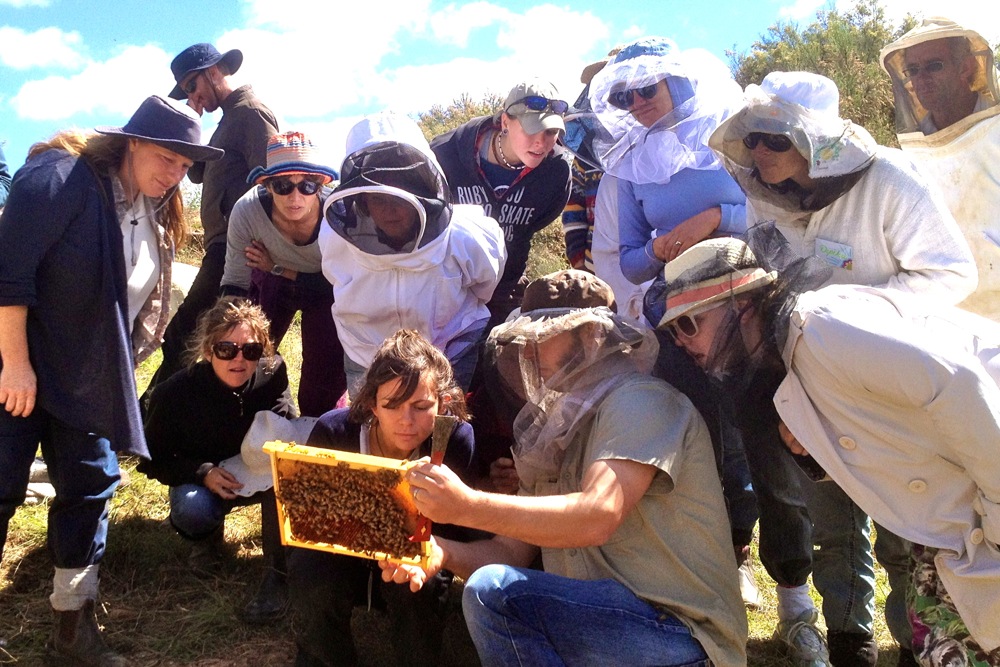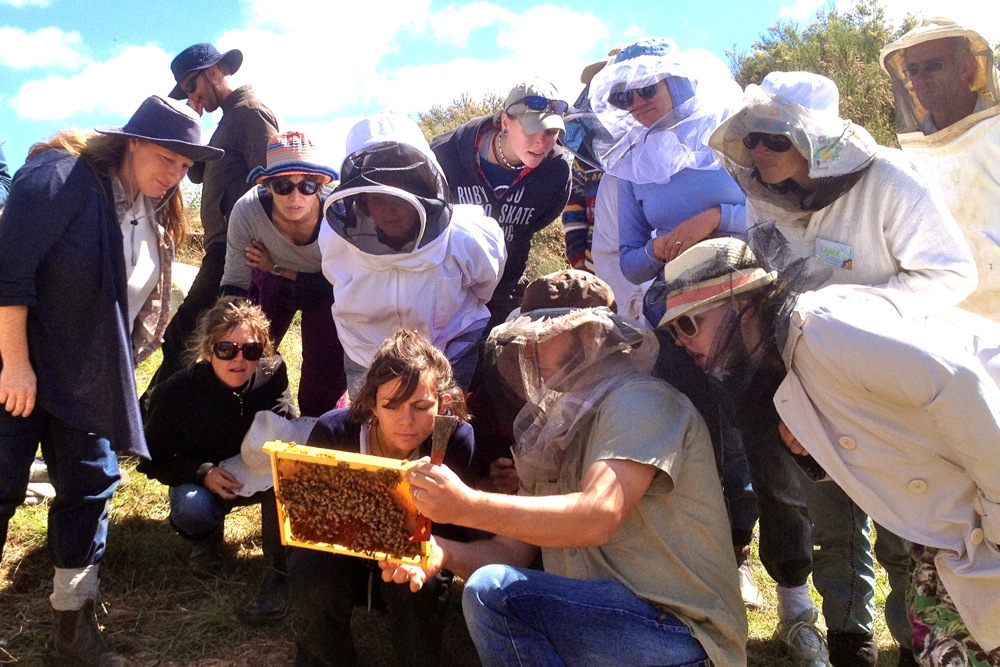 This season at the farm has been unprecedentedly sensational. We went from a small business that was run by just Nick and I to a social enterprise with a farm chef, a market gardener and a process manager, as well as an urban course co-ordinator.
At the end of the season we are now a strong crew of folks who have worked very hard and are feeling very good about where all this permaculture education + startup farming stuff is going. We have plans, we have designs, we have processes, we have seasonal community.
From here on in until September it will be just me, Nick, Ashar and Stephen (the OMG) here at the farm… visiting chooks, finishing off our tinyhouse, growing winter veggies and planning for the next season of exquisite chaos that is Milkwood Farm in full flower.
I'd like to thank with big loud huzzahs all the fabulous people that have contributed, cooked, planted, swept, strummed, dug, frisbeed, washed, lifted, lowered and learned things at Milkwood Farm this season, particularly but not limited to:
Trev Bamford, best process manager ever, tireless people care person and translator of unintelligible OH&S speak, Rose Newberry, permaculture chef extraordinaire and preserver of so very many tomatoes, Stephen Couling, the inaugural and fabulous Organic Market Gardener, without whom we would all be eating rice and beans, Dan Harris Pascal, forest gardener/designer and demon ukelele player, and Adam Kennedy, course co-ord and magical doer of all things Milkwood and (mostly) urban.
Also thanks to Tim Malfroy, natural beekeeper and committed advocate of ethical beekeeping (regardless of the personal cost), Floyd Constable, wrangler of all things wrangleable and comrade in teaching and doing, Joyce Wilkie and Michael Plane, generous market gardening mentors, and Michael Hewins, market gardener and quiet achiever.
Lastly a big thanks to our parents – to Nick's folks June and Karl, without whom we wouldn't have the opportunity to learn to farm, nor the luxury of un-toddlered computer time to make the back end of Milkwood function, and to my folks Sue and Jim, who despite living over 4 hours away act very much like the cavalry when needed.
Thanks also to all the teachers who've come to the farm this season to teach us all skills in so many areas:
Goodness. That's quite a lot when I write it all down like that! But really, many thanks to everyone above, and to all the wwoofers and interns who've been a part of the farm work. It's been an amazing season of learning and doing, and we know next year will be even better!
Lastly a note of thanks to Nick Ritar, the guy who gets up every morning and does his best to make Milkwood Farm function as productively and as happily as he can possibly make it, while also trying to build us a house, do quite a bit of teaching and be a great hands-on dad to an extremely loud but loving 3 year old.
Looking forward to a Winter of bits of teaching in Sydney, visiting our chickens, finishing off the earthbag dome ready for Rose when she returns in the Spring, planting bare rooted fruit trees, visiting friends, reading books, eating stews and keeping warm…
And of course that little matter of finally, finally finishing the tinyhouse and moving in to our very own, cosy space. Like i said last winter, we'll be in by spring…