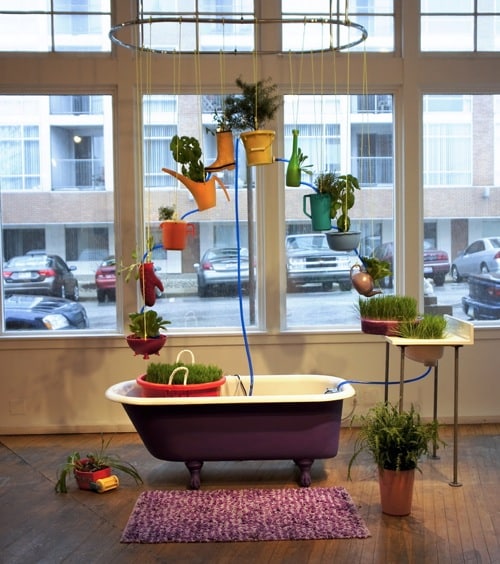 When I say 'vermiponics' to most people i get either a blank stare or a vague nod, mostly. But artist Amy Youngs has created a vermiponics (that's aquaponics with added worms) system that is both whimsical and functional… art and aquaponics!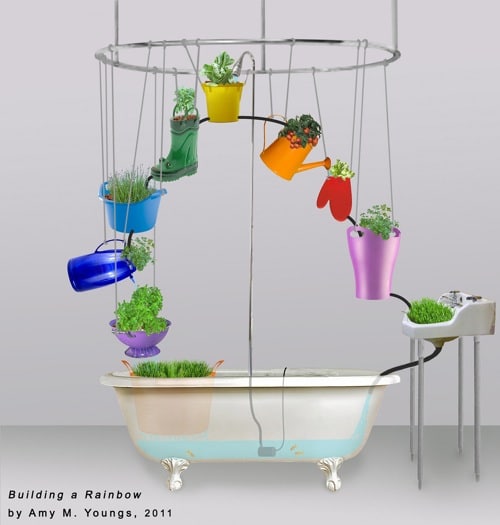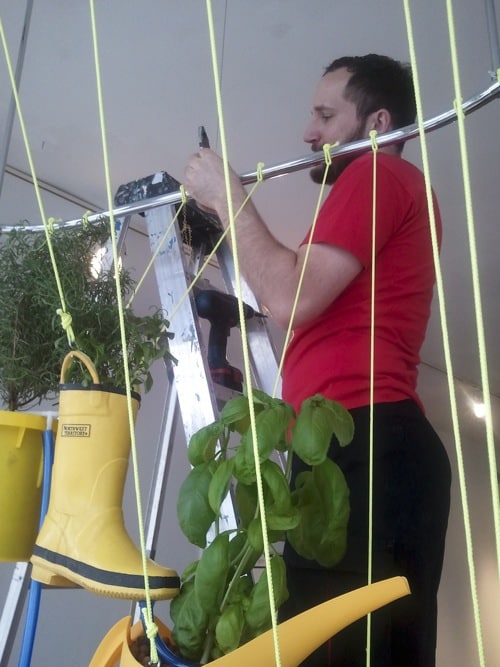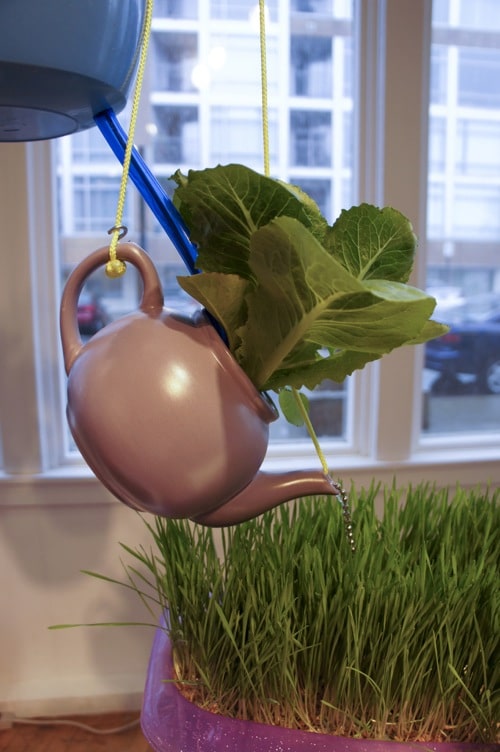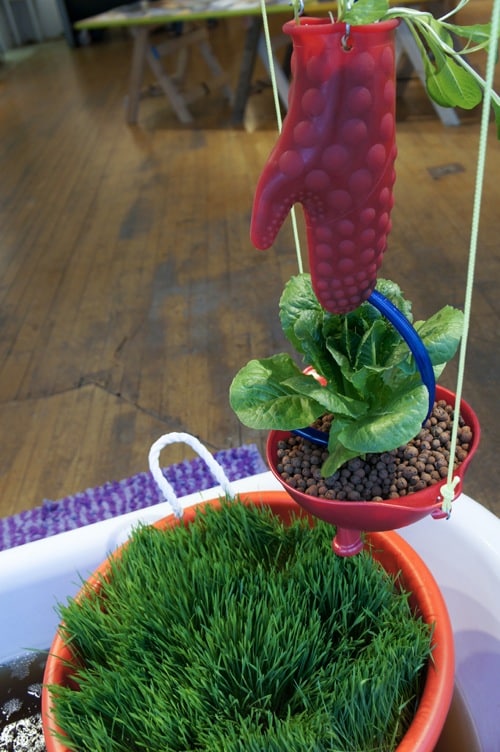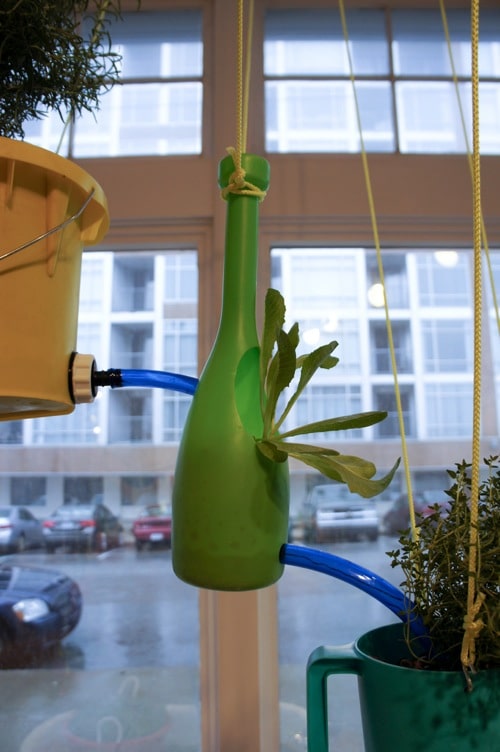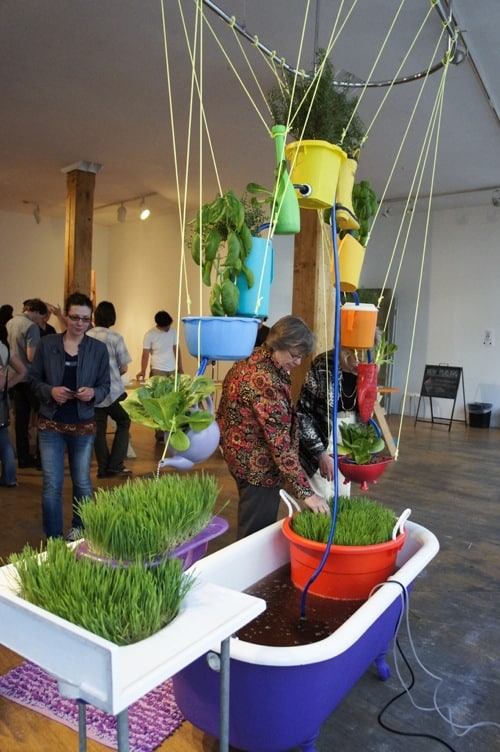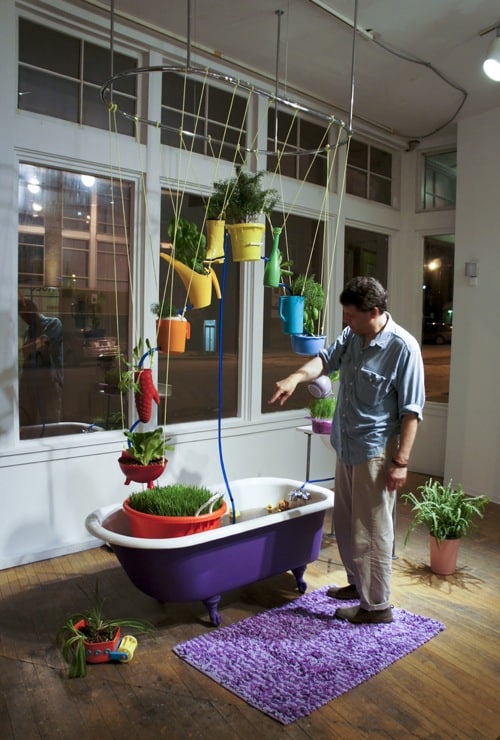 Building a Rainbow by Amy Youngs:
An art installation that transforms waste into a colorful indoor water feature that grows edible plants. Waste streams of uneaten food, old tea-bags, newspapers already read and throw-away plastic household objects are interrupted and turned into lettuce, basil, wheatgrass and herbs.
The plants live in plastic containers sourced from thrift stores and they are fed by nutrient-rich water recycling throughout the system. All nutrients come from food and paper waste that is transformed by composting worms within the system.
This project was built during a week-long residency at Spaces Gallery in Cleveland, Ohio. It was part of the exhibition, Farmed: The New Agronomists. May 13 – July 10, 2011 Curated by Christopher Lynn.
Amy's previous works include Farm Fountain with Ken Rinaldo, which is a bit like an aquaponics version of a windowfarm…
Great to see the concepts behind aquaponics infiltrating (sorry) artists' practice and widening the boundaries of important conversations around small-scale, closed-loop, food growing solutions…
If you'd like to learn the details of building your own aquaponics system in order to grow hyper water efficient veggies and herbs, and some fish while you're at it, we've just confirmed Charlie from innovative aquaponics company ecolicious for some upcoming Aquaponics Workshops in Sydney…
Or your could read more of our posts about DIY aquaponics how to + design