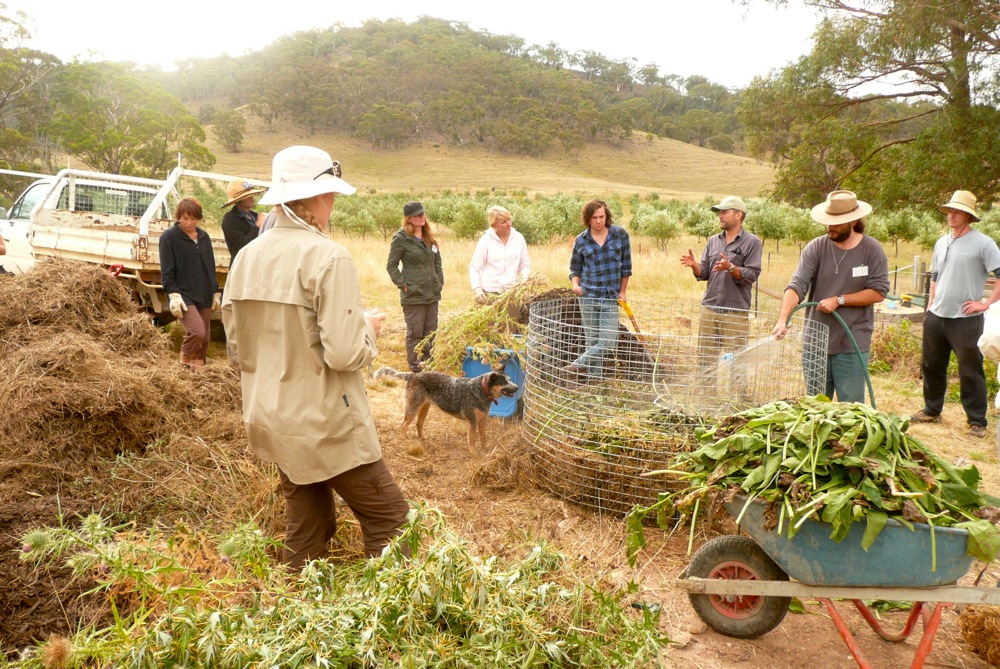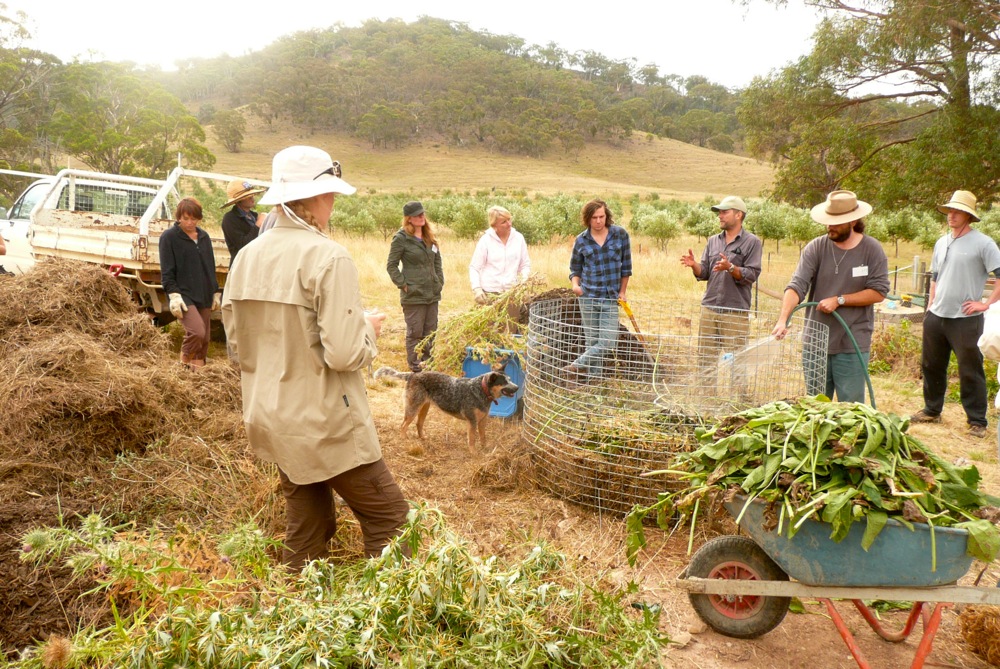 On-farm composting is a big part of our farm's nutrient cycling, and an essential technique for ensuring nutrient density for our veggies and tree crops. Over the past couple of years we've tried and trialled various methods of hot-composting, with varied success.
As our composting needs have grown alongside our vegetable outputs, we've had to figure out how to scale-up our composting operations so that we can one day soon be self-sufficient in compost needs for Milkwood Farm. One hand-turned pile just doesn't cut it any more!
How we started making compost at Milkwood Farm in 2007:
We started off with Berkley Method style hot compost, which (in theory) takes 18-21 days to turn a 1.5m cube of varied organic matter into 1m cubed of lush compost, with frequent turning that is defined by the pile's temperature.
We've made many, many piles with this method now, and they do yield good compost for us, but the big caveat is that they take a lot of time and people power. Which is fine if you have a lot of time and people power, but for us, turning a pile or three by hand every other day was a lot of energy input for a not really significant quantity.
Considering we needed to turn a pile every 1-3 days, which takes 1-3 people about 20 minutes per turn, that is a lot of labor spent for 1m cubed of compost.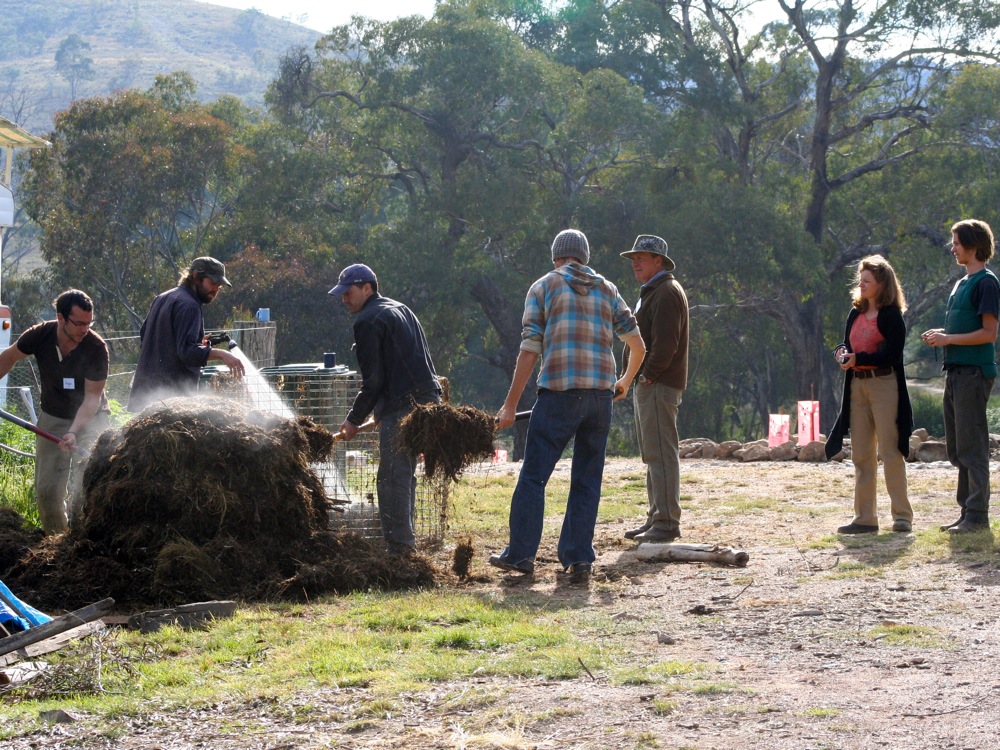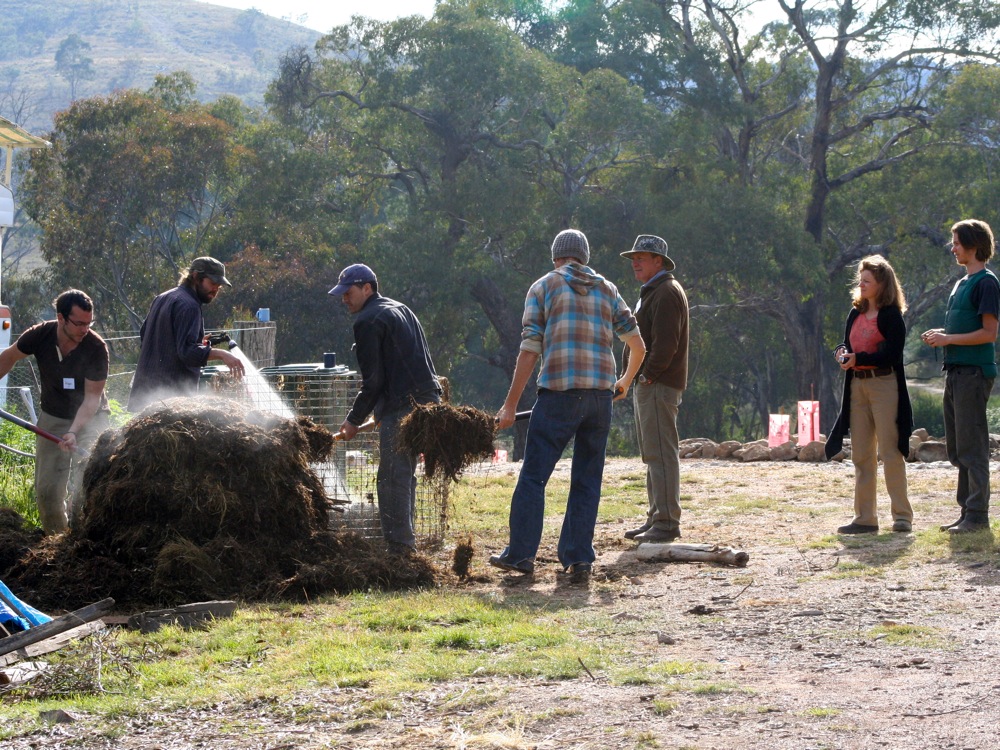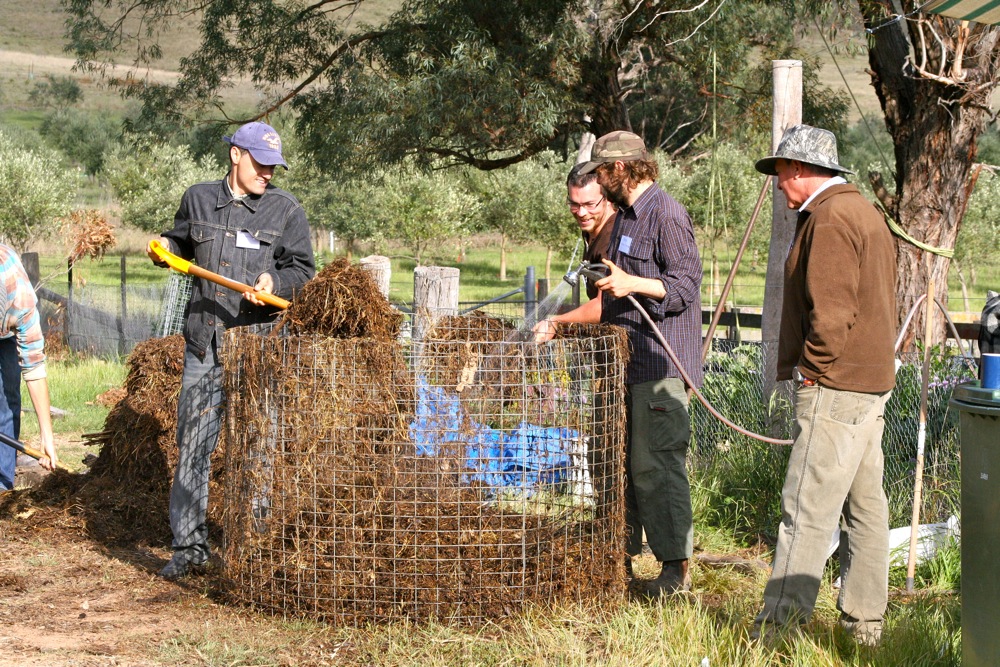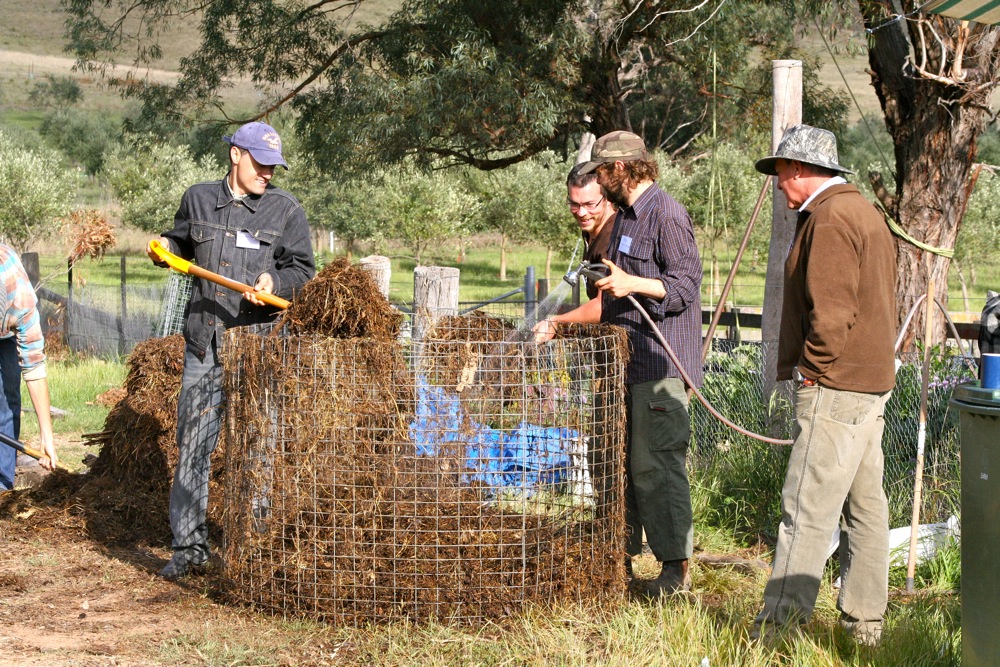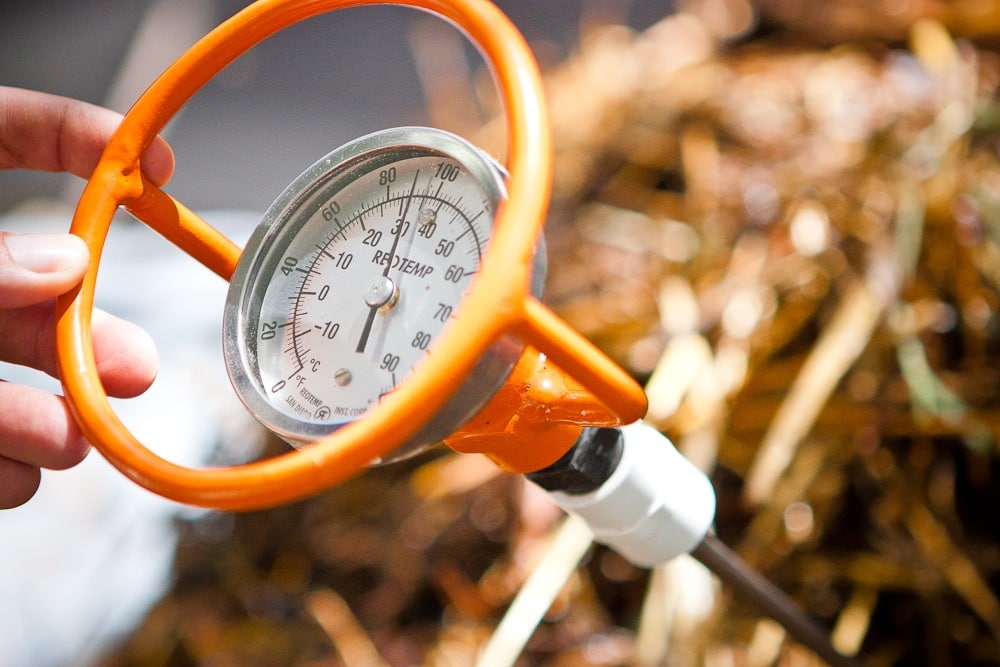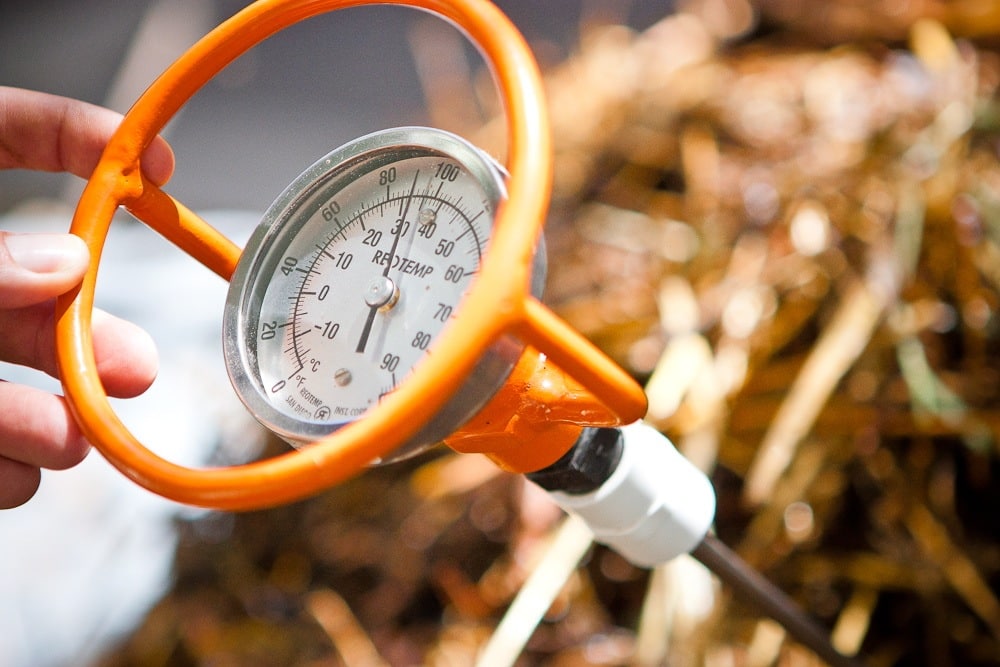 As you can appreciate, compost is not, it cannot be, the center of our daily routine at Milkwood Farm. There's just too much else to do. So we started looking for other composting strategies that would yield good compost in a reasonable time frame, with our available resources.
We looked at windrow compost, but we have very little flat land to make it on and to be honest we didn't want to be driving a tractor or bobcat up and down our creekflat every other day, burning large amounts of oil for the sake of  compost. Hmm.
We also realised that in order to make compost on a large scale takes A LOT of ingredients. Primarily carbon. We could ship it onto the farm, in the form of hay or straw, but again, that would defeat the purpose. We're trying to figure out nutrient cycling strategies, not nutrient input stream strategies.
Interestingly, at Milkwood Farm, it's fulfilling the carbon needs of our compost piles that is the hardest. We have plenty of high-nitrogen materials (manures, food waste, urine, green grass etc) but not a great stock of dry carbon materials (hay, straw, woodchips, dry leaves etc). And that's what takes the time for our piles – gathering the carbon.
In short, we haven't decided on our long term plan for our goal of farm-scale composting at Milkwood Farm, so we designed a stop-gap system in the Autumn to make the most of our creekflat's pasture grass and the glut of various other organic materials at harvest time.
So now we're essentially making Berkley-with-a-Bobcat compost. In quantity.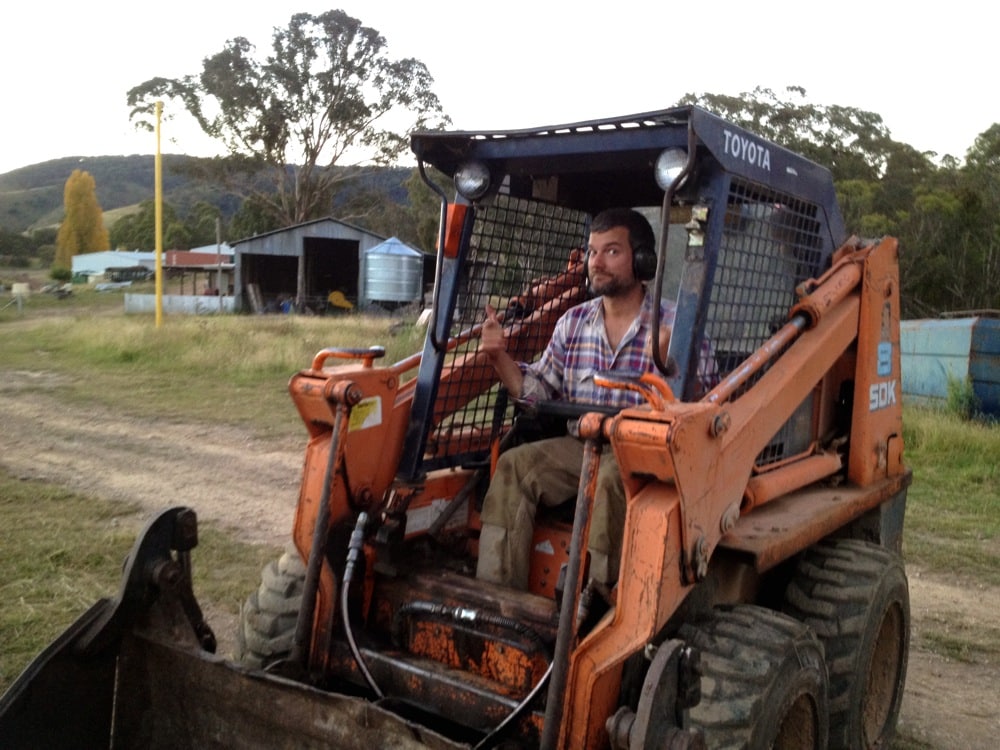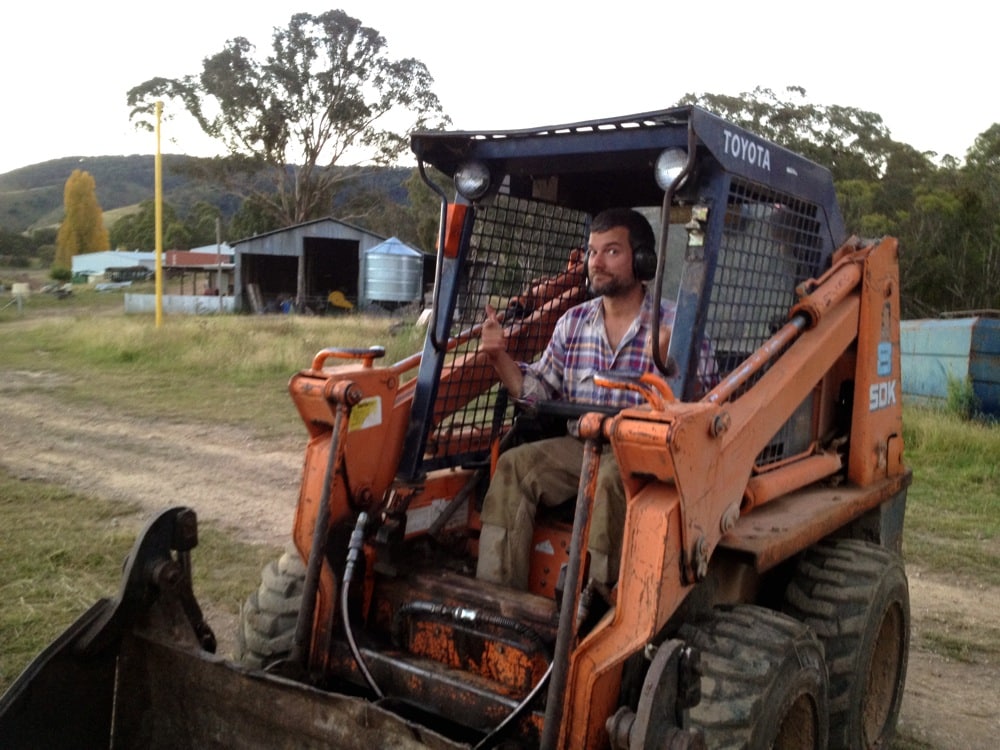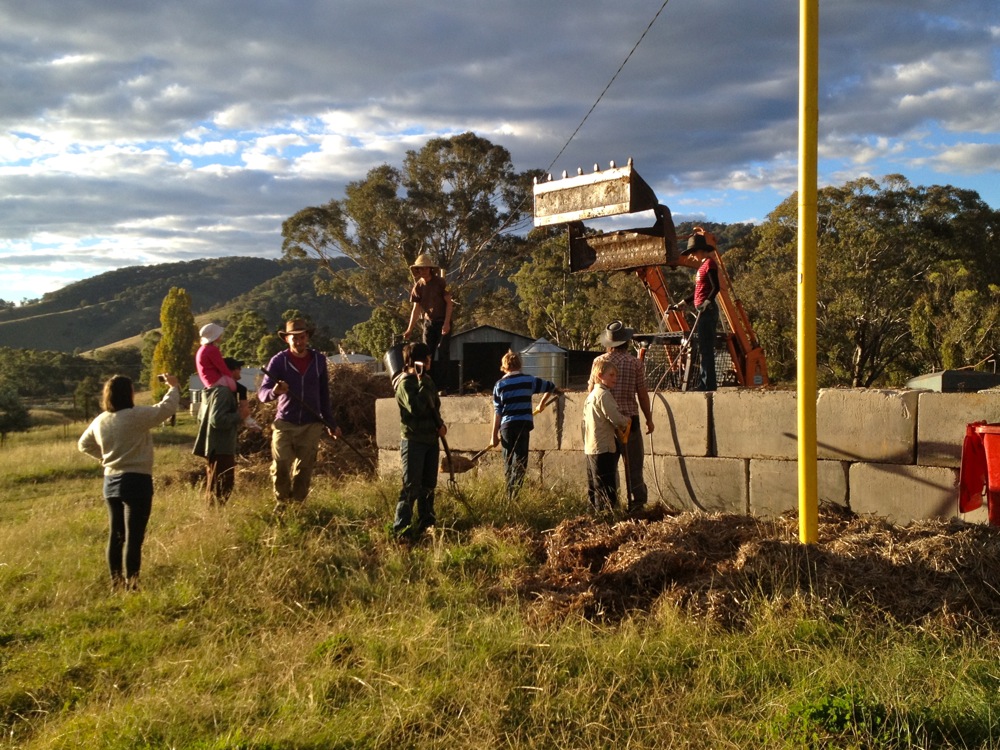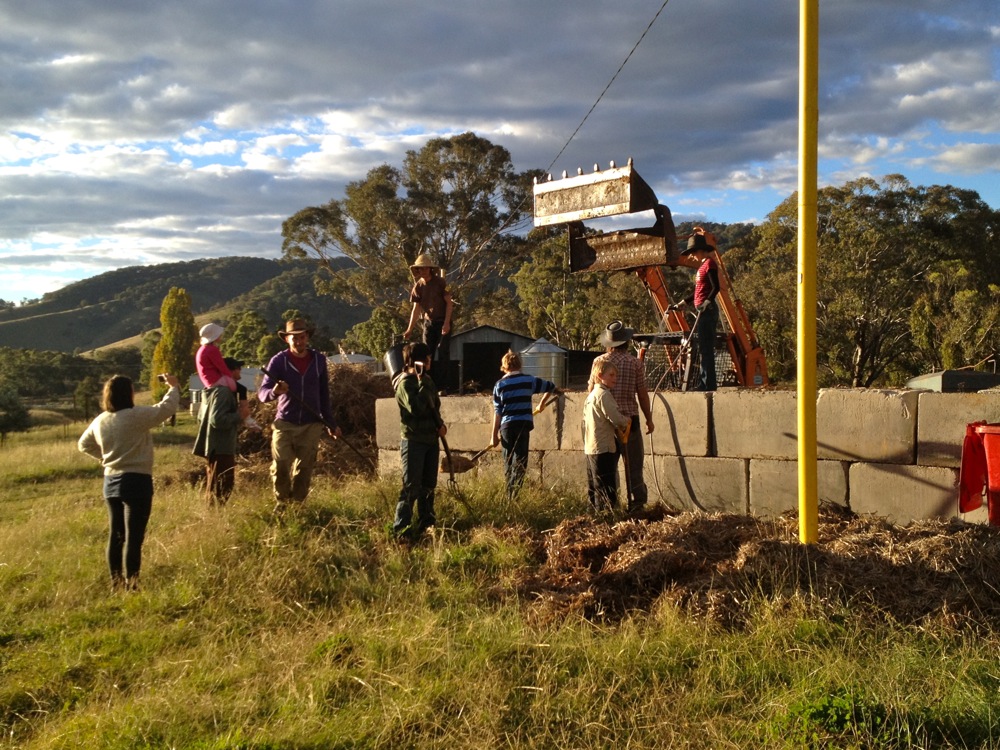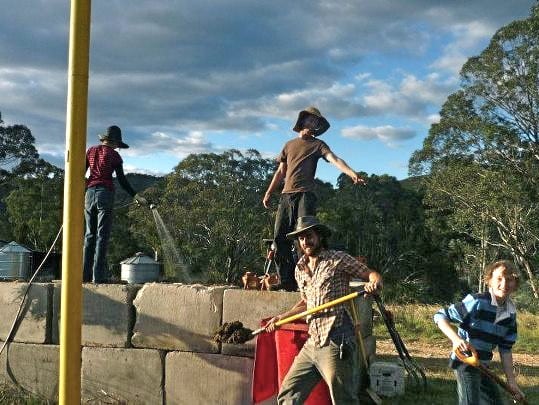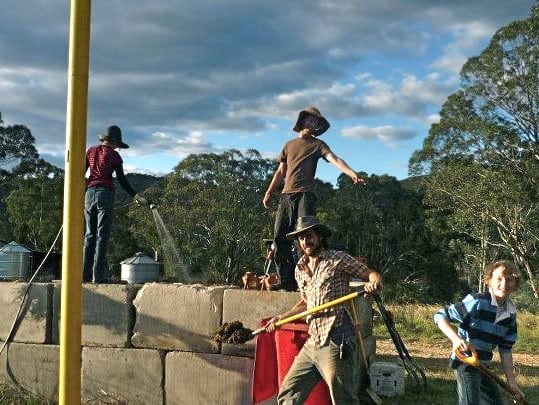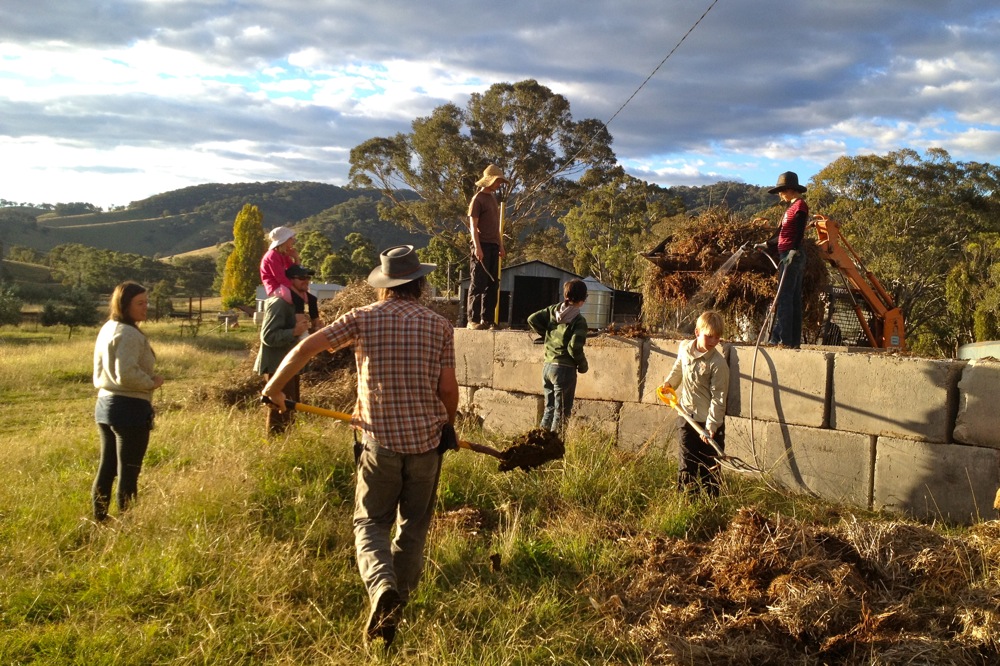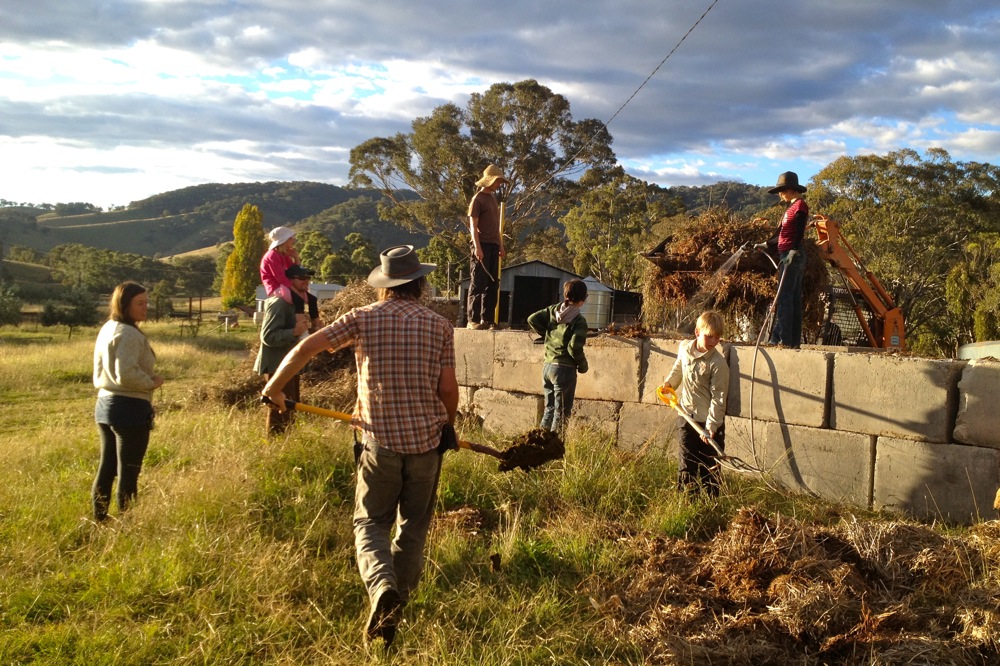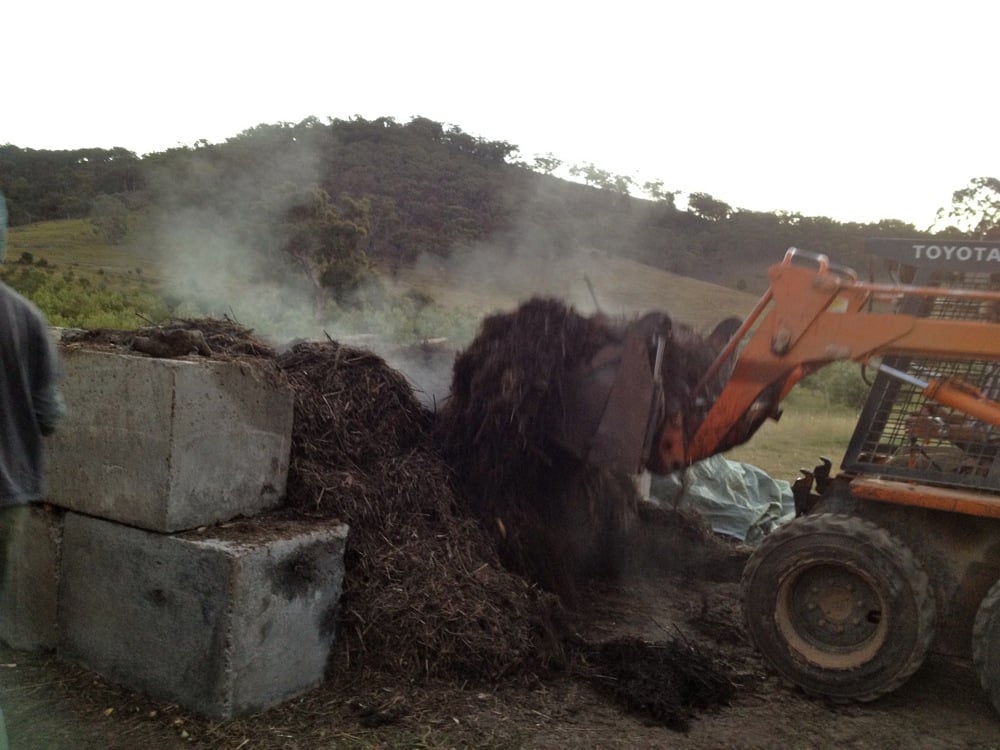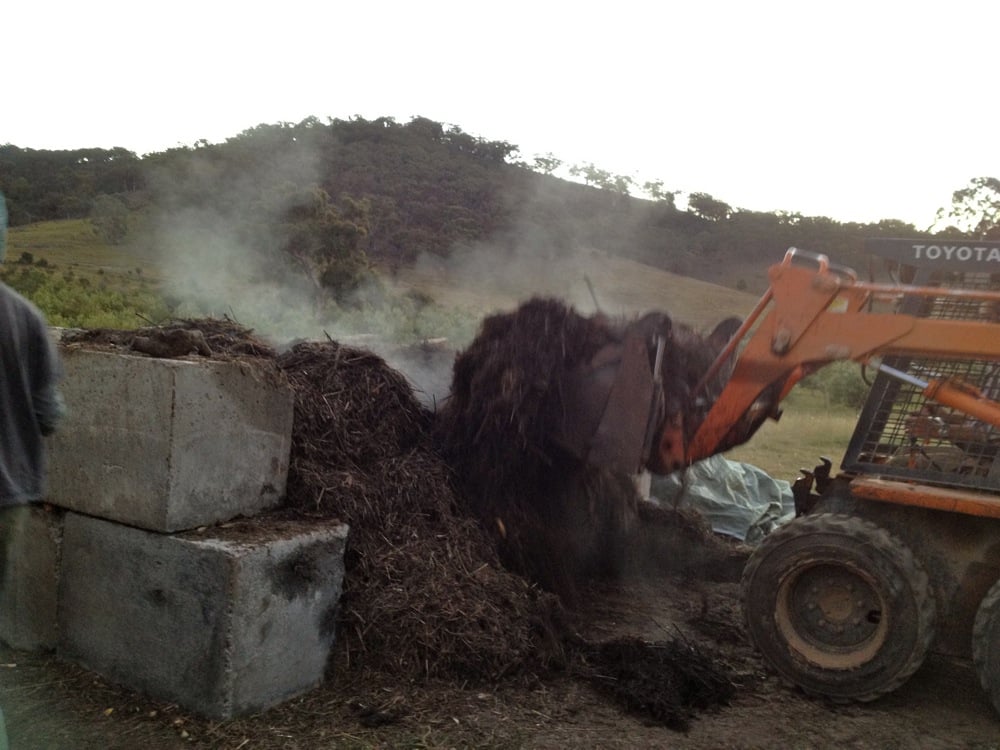 Our temporary composting system is 2 bays made from concrete blocks (the blocks are waste concrete from the local depot). We made a gigantic compost pile in one bay, layering high carbon materials with high nitrogen materials at about 5:1 and making sure the whole pile was kept moist as we went.
We made this pile using a bobcat from next door, in order to get it done. We covered the pile with a tarp, and once it got hot, we moved it to the next bay using the bobcat (and someone on hose patrol to ensure adequate moisture). When it got hot again, we moved it back to the first bay.
This system is working better than anything else we've tried on the farm. It's probably a combination of factors: the sheer size of the pile ensures a degree of thermal mass, as well as a sizable population of micro-organisms to get on with the job. The concrete bays protect the pile from drying out, and provide further thermal mass.
The bobcat part I'm ok with. If we weren't doing it this way, it's unlikely we could produce enough good quality compost by Spring for our spring planting in the market garden. Which would mean that we'd have to buy in compost. Which would definitely be made with a big, oil-guzzling machine.
This way, we have providence over the compost's ingredients, and all the micro-organisms as well. And the nutrient cycling of the farm can continue. Our future, perfect on-farm composting system will ideally not involve machinery, but we'll let you know when we get there!
Long term, we would like to replace the Berkeley method piles (ie active turning) with a series of big slow cool compost that didn't need turning..  because that would be truly low energy input. We have some good leads on techniques for this, it's just a case of getting far enough in front of 'the compost needs curve' to get such piles rolling.
All in all, it's far cry from how my first compost pile turned out:
Hmm. And here was I thinking back then that we'd only ever need enough compost for a veggie patch for two. Funny where life takes you, eh?
>> more posts about composting and nutrient cycling at Milkwood Farm
Many thanks to all the family, interns, woofers, students and friends who've helped turn compost piles at Milkwood over the years. Our on-farm fertility thanks you all!