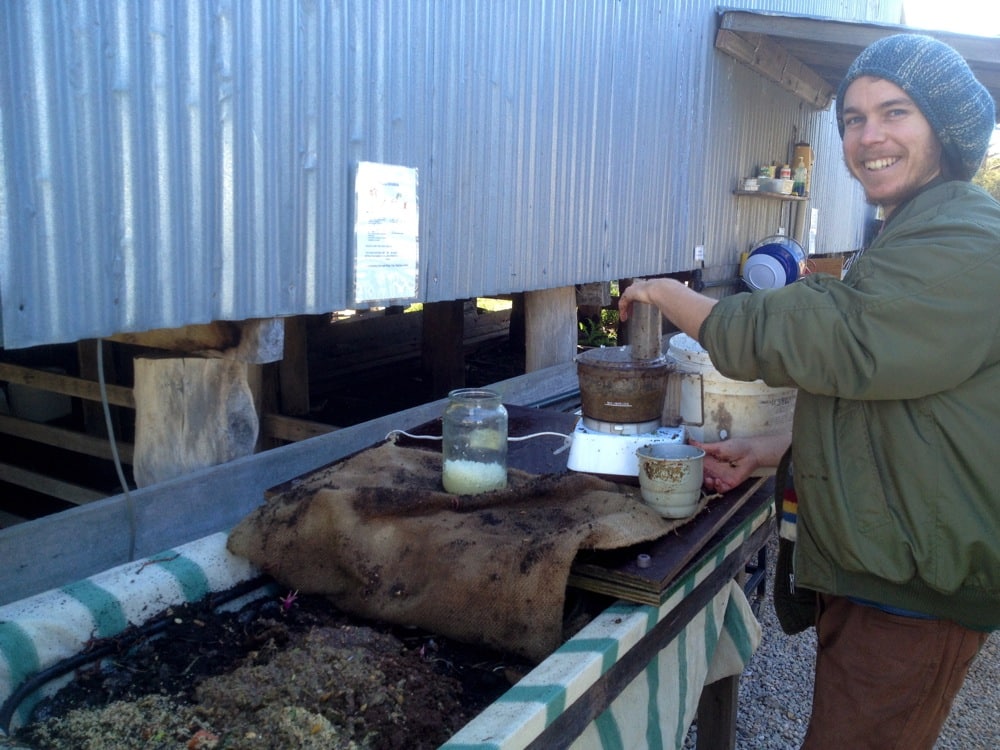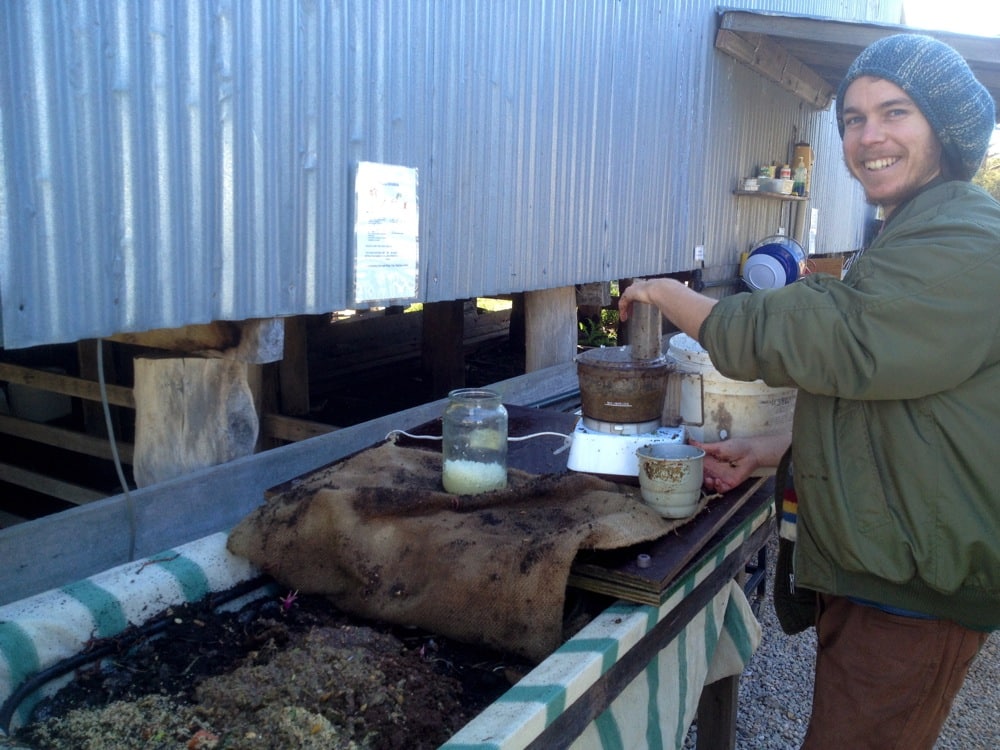 While worm farms are pretty normal to find nowadays in many yards, their capacity to cycle essential nutrients and make nutrient dense soil additives available to you, for free, can't be understated. Worm farms rock, seriously.
Our bathtub wormfarm next to the kitchen garden, with it's built in vertigation (direct worm juice injection into the irrigation system for the veggie beds), has been going strong for a couple of years now. However Michael needs lots of worm castings (worm poo) as an ingredient for his soil block mix for seedlings, so we're souping up production.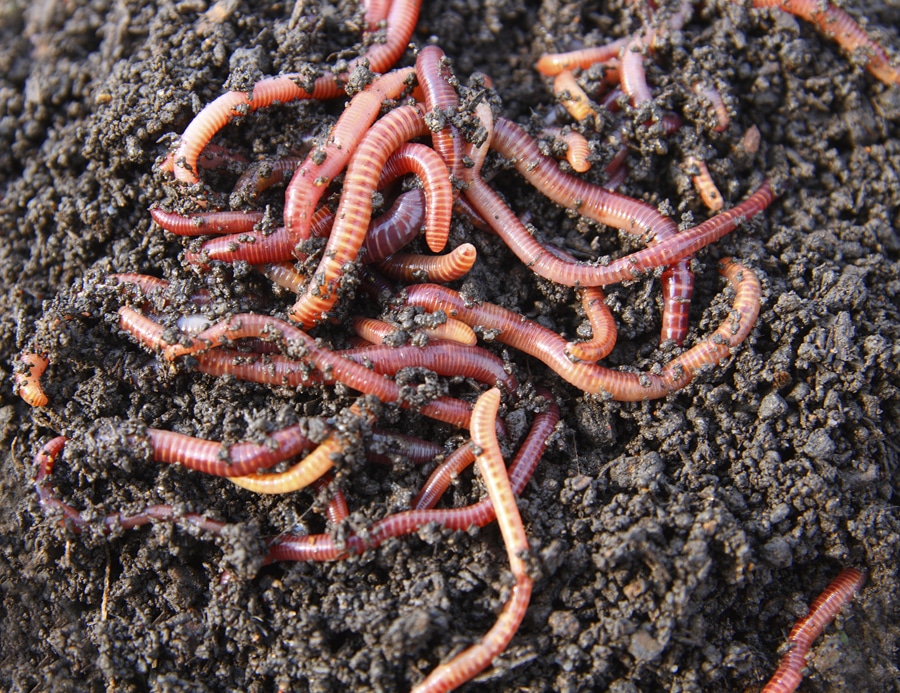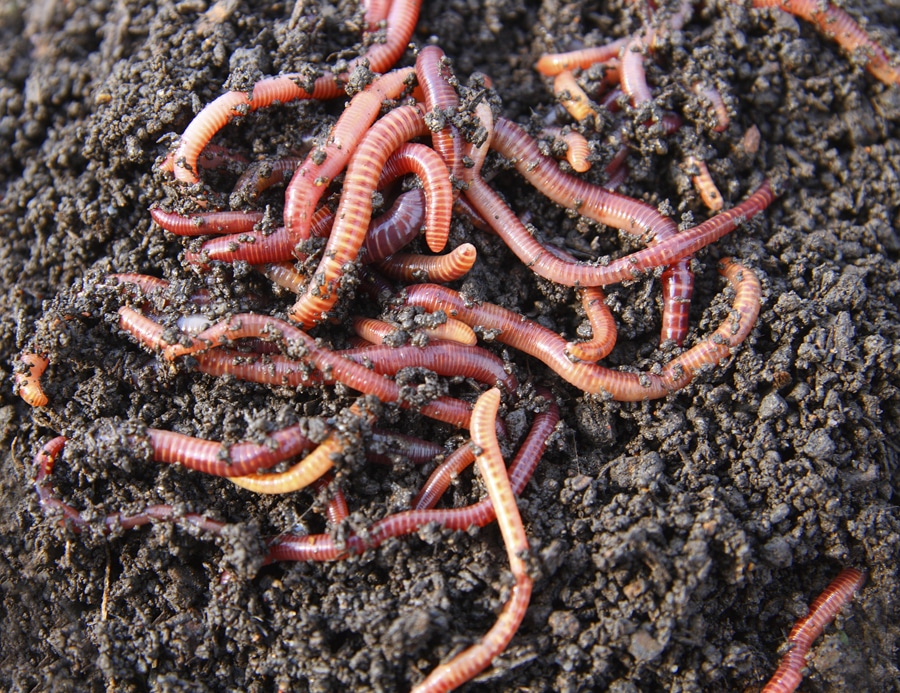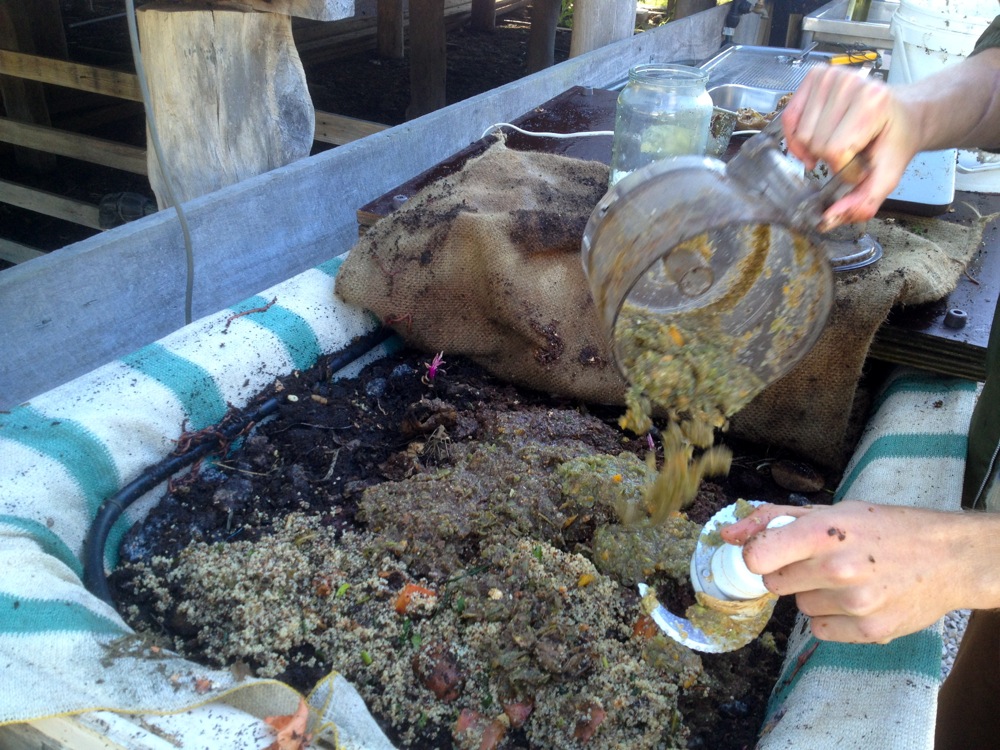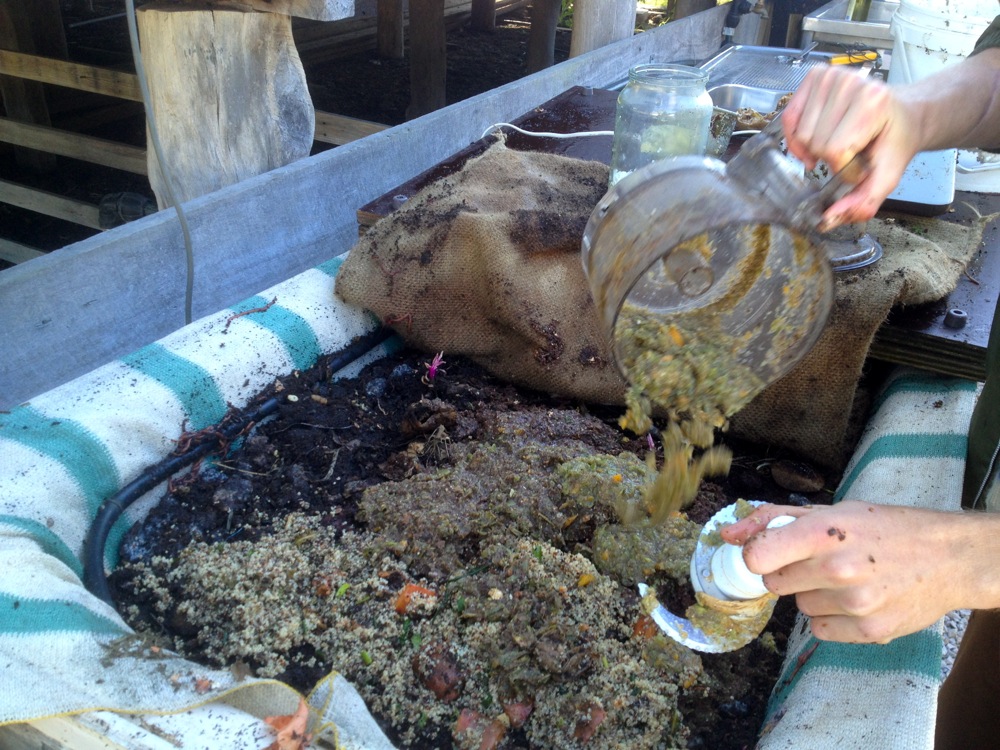 In short, we need the worms to work overtime, and produce worm castings as fast as they can. The best way to do this is to deliver their food in munch-ready form, so we've started blending a bucket of kitchen scraps (veggies only, no meat or dairy) every other day to work to the  worm farm.
Adding scraps as a slurpy mush of brassica leaves, potato ends and beans for the back of the fridge, means the worms can get right down to ingesting the food faster. Which means in turn that they cycle the nutrients in those scraps quicker (witht he addition of the bacteria in their gut as the food passes through), and produce more worm castings more quickerer.
And more quickerer is what we're after. In an intensive, beyond organic vegetable growing system, worm casts and worm juice are gold. They represent nutrients in a soluble form that the veggies can slurp up and turn into leaves and fruit.
And since we're harvesting nutrient (in the form of yummy veggies) from the garden nearly every day now, that means we have to put a heap of good nutrients back into the garden regularly, to avoid nutrient depletion and to keep the system stable and growing.
Worm casts are also a part of our current soil block mix, which we use for starting off various types of crops. Worm casts are sticky, and the consistency of a soil block needs to be just right to hold the mix together. Stickiness is good. Especially when combined with nutrient.
Our plan later this season is to set up more worm farms and to escalate production, to make more worm casts available. If we can design it right, this might become part of a black soldier fly larvae system (to provide high-protein feed for the chooks), as black soldier fly larvae poo is, in turn, great worm food, which doesn't need to be blended in order to be assimilated into the worms quickly.
Will it Blend? Well we don't have a fancy blender in this first stage of the system, but we do have an old kitchen wizz that my mum thoughtfully found at an op shop for me, and which Michael has now commandeered for worm casting production. The worms are rocketing through their food, so yes, it does blend. For now.
Hopefully in the future we can figure a way to remove the powered blender from the equation (bicycle powered blender, perhaps?), but that needs a big farm hack brainstorming session. Maybe next week….