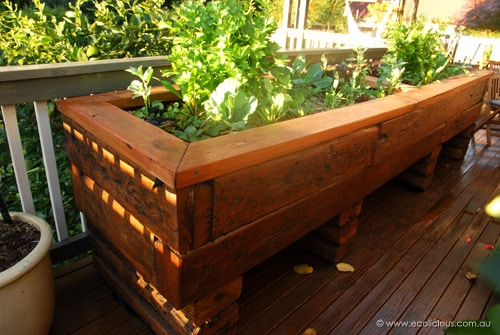 Charlie has been busy in Sydney making beautiful and functional aquaponics systems far and wide of late, of which he'll be sharing the designs and process during our Backyard Aquaponics Workshop happening in Sydney next weekend on the 20-21 October 2012.
While he's still making lots of bathtub aquaponics systems, Charlie's also find that a lot of people want a system right next to their living space (for easy access to the veggies, herbs and the sound of trickling water), which means aesthetics is an important part of the system's success.
First of all, here's the system Charlie build with Costa on Gardening Australia for an inner-city school recently.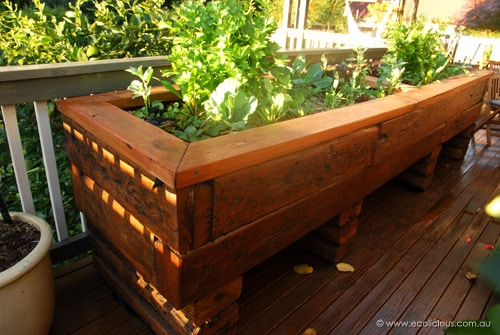 This small domestic aquaponics system has a growbed for herbs and greens made from recycled railway sleepers (polished and oiled) with an internal membrane to contain the water and growing medium.
The tank in this system is under the deck, as space was an issue, and also makes a great habitat for the fish.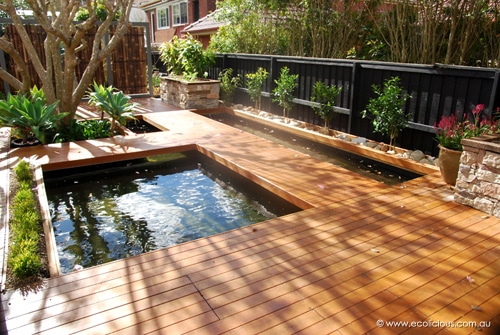 A very creative and beautiful system with 'floating' deck to maximise pond space, in order to grow more fish – for this system Charlie collaborated with Mathew (owner), William (Architect) and David Ting to create this stunning 8000l (800mmdeep) pond with deck.
The deck is on a steel frame with a single pylon, a large oase pump and pressure filter, with UV light run the system. Growbeds filter nutrients and grow herbs and veggies in and beyond this photo.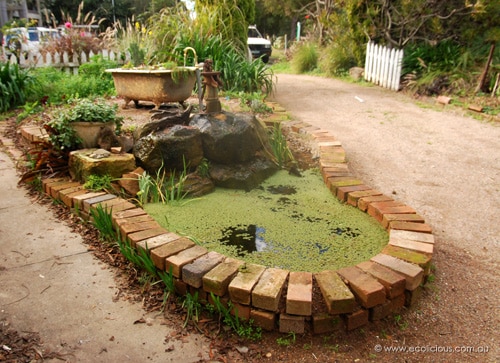 Pond and cascade with clawfoot growbed, installed as part of a permablitz!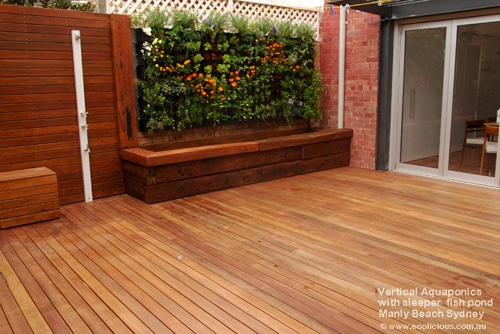 Charlie designed 'the ultimate small space vertical veggie patch aquaponic system' (according to Better Homes and Gardens), with sunken pond (1500l) constructed with railway sleepers.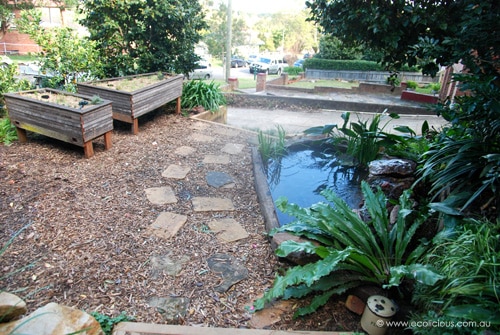 Front yard aquaponics! Charlie designed this system with wedge shaped growbed to optimize the amount of sunlight as the front yard has a large tree, and because he wanted a change from rectangular grow beds.
The system also includes a pond (2000l,  800mm deep) and a cascade, which s connected to the growbeds by pipes under the path. The growbeds were made from recycled hardwood decking which was the owners original deck, a great example of keeping materials cycling through a system.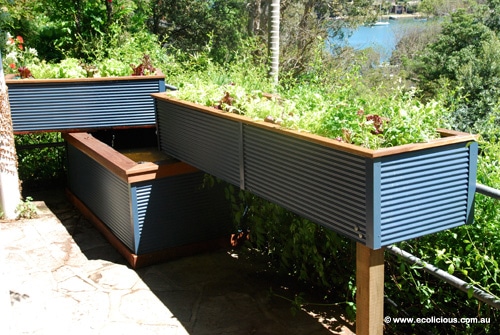 Balcony aquaponics – a little designer system that Charlie created maximising limited space for maximum effect.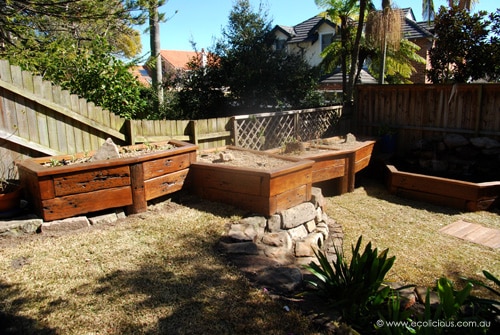 Kid-proof Aquaponics: A full and robust Garden makover with 4 aquaponic growbeds for greens and herbs, a pond (2000l, 800mm) and cascade, in addition to extra soil-filled garden beds around the place.
The polished recycled sleepers ensure both beauty and soccer-proof growing!
Not to forget our gorgeous little DIY bathtub aquaponics system in Alexandria, made from recycled bits and pieces, still going strong 2 years on from it's building, with virtually no maintenance (apart from planting and picking) since it began…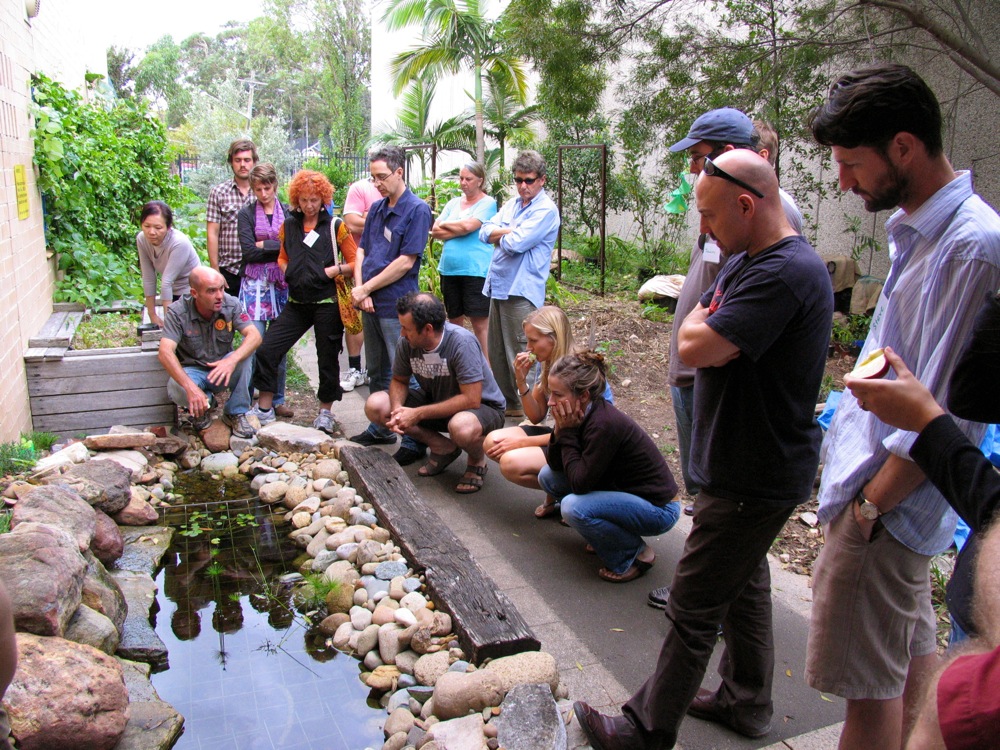 As said above, we run Backyard Aquaponics Workshops  in Sydney. This is your chance to participate in 2 days of intensive theory and practice about how to design and build a wide range of aquaponics systems for a range of backyards. Please tell your friends! Thank you!
Many thanks to Charlie of Ecolicious for use of the above images