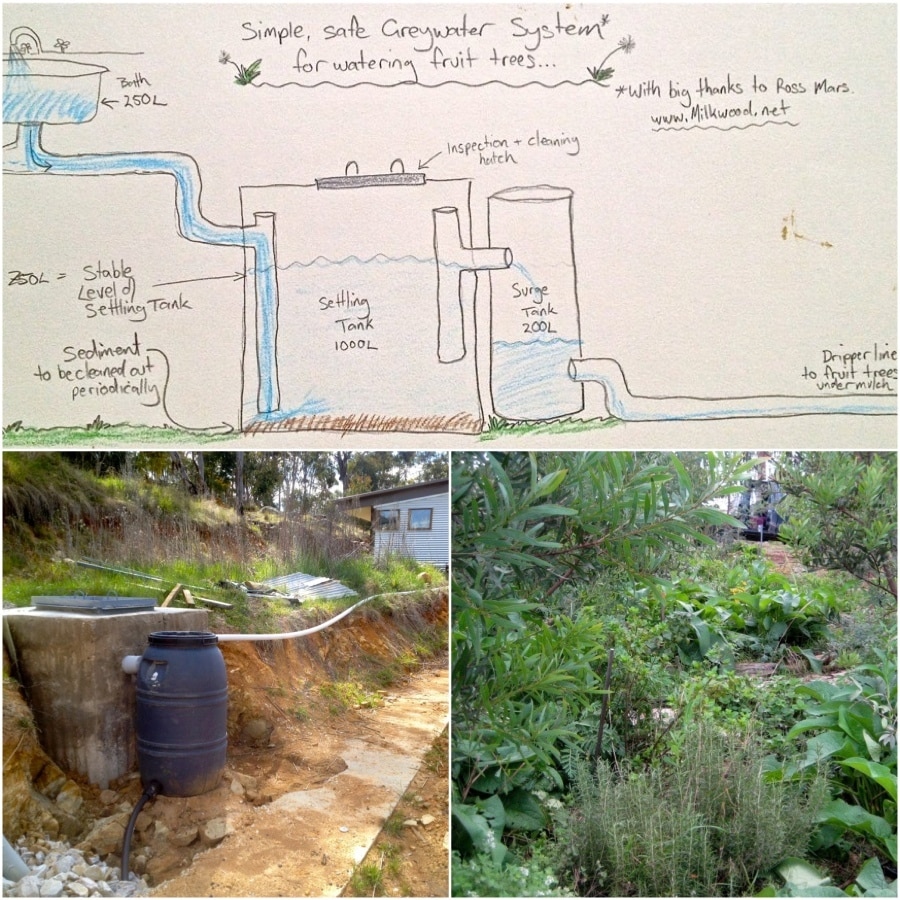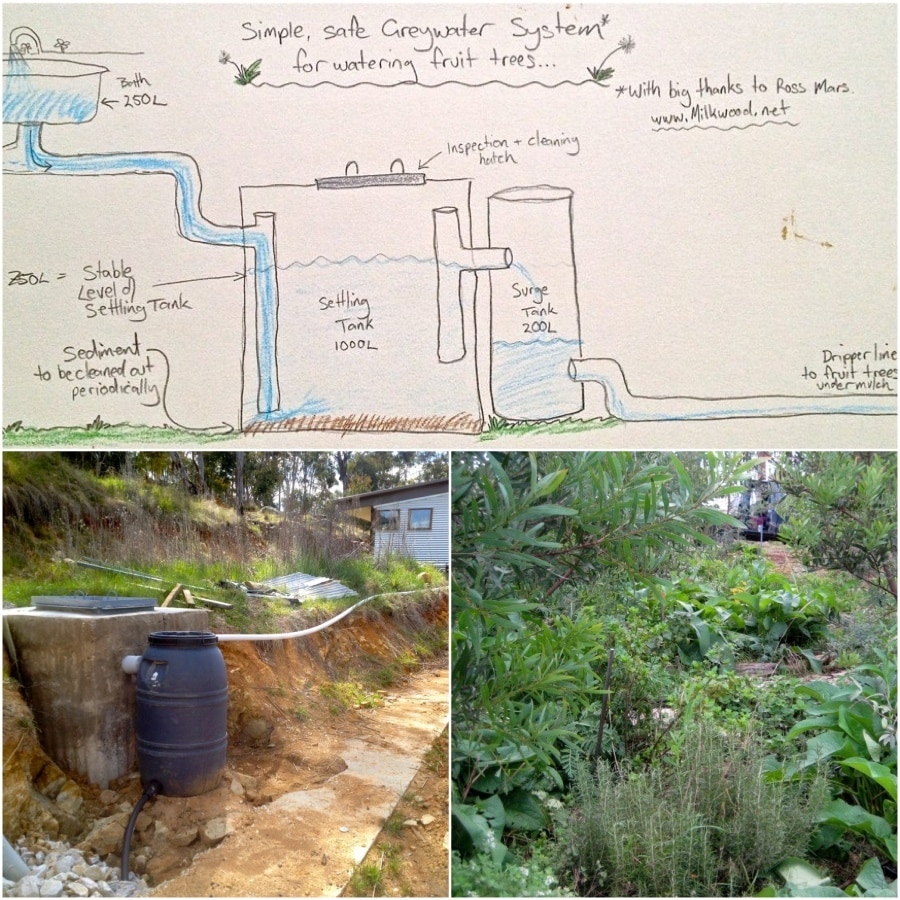 Our criteria for building the greywater system for the tinyhouse was pretty simple: cheap, made from readily available materials, and effective. We also wanted to use the outputs to irrigate a grove of important fruit trees, as water is very precious here, especially in a dry year.
After many, many hours of research on systems involving reed beds, infiltration trenches, fancy UV zappers and all the rest, we decided, on the advice of permaculture and greywater specialist Ross Mars, to keep it simple, and let the biology do the work.
To summarise the approach (and Ross Mars' general take of domestic greywater), we decided that the intermittent trickle of water coming from our bath and shower would be best dealt with in a living and dynamic system, rather than in a series of reed beds or trenches.
I should note here that our greywater output is coming from just our bath and shower, so it contains water, a little soap, and the inevitable bits that come off a human when they wash. All the kitchen water is processed via a different system appropriate for blackwater, which i'll explain some other time.
We had expected to take the reed-bed route, and pass the greywater through a series of gravel-filled reed beds to clean it up before irrigating the fruit trees with the output. However, Ross mentioned a good point.
Reed beds need to be cleaned out every 5 years or so, as they do clog up with biological material. And of course you don't want them to overflow with raw greywater into an area not designed to take it, as that would defeat the purpose.
Incase you've not have the opportunity to dig out a gravel pit full of reeds and their remarkably extensive root systems, let me summarise the experience – it's hard and dirty work, and it takes ages. And then you have to wash the gunk off all the gravel, and put it all back again.
Henceforth, the periodic 'cleaning out the reedbeds' is usually one of those things on the to-do list that doesn't get done when it should. Which in turn means many a reed bed greywater system that works great for the first 5 years, and then poorly after that.
What Ross suggested was a very simple system. Super simple, even. And he has just finished conclusive research to show that it does definitely provide as good an outcome as any reedbed system, as far as health and safety goes. But with far less overall energy inputs.
The basic structure of this system is a settling tank, followed by a surge tank, which feeds to a dripline under mulch, to water forest garden plantings.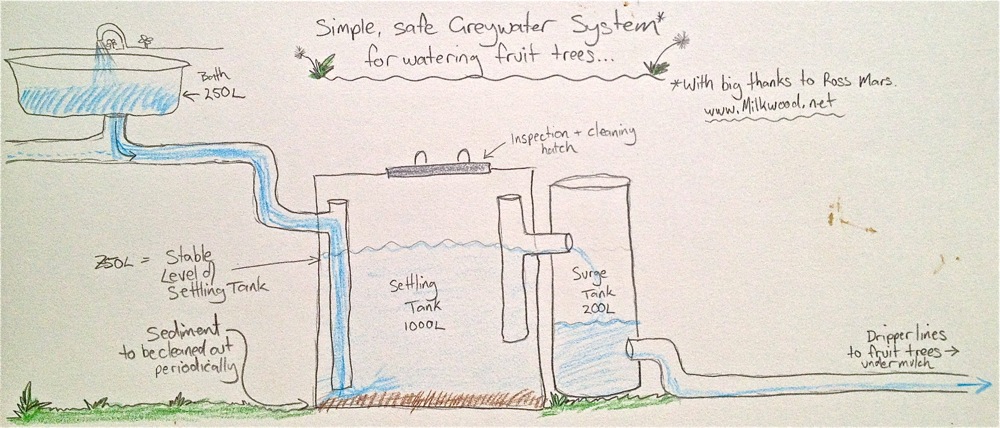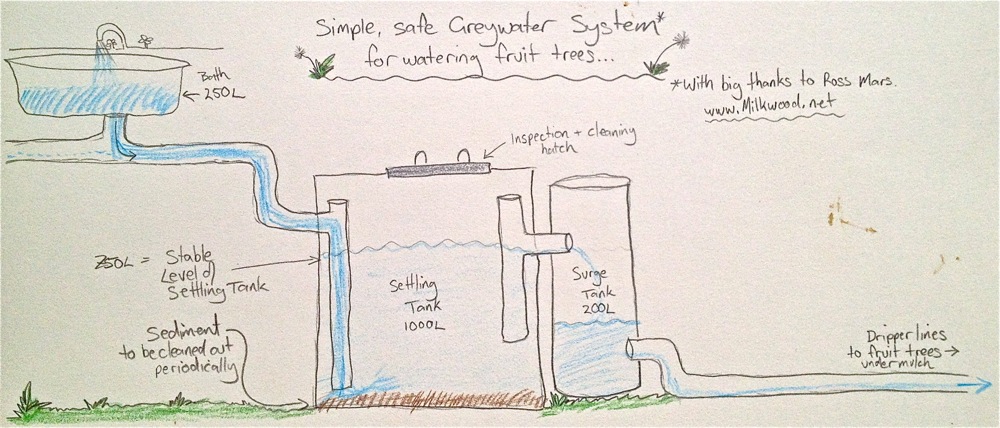 For our settling tank we used a plastic IBC, and built it a concrete surround. The tank has an inspection hatch at the top , and will need to be cleaned out once a year with a siphon pump to prevent sediment build-up
When this tank is over 3/4 full, it overflows to the surge tank. The water in the surge tank then drains to the dripper system. In this way, the drippers get intermittent watering.
The placement of the inlet and outlet pipes is important in this design. The right angle on the inlet pipe does a lot to dissipate the water's energy. The way that the raw greywater enters the settling tank pushes the water that has been there longer (and henceforth dropped out most of it's sediment) further up the tank.
This in turn means that the water overflowing to the surge tank is the water that's been in the tank for a couple of days already, and therefore is cleaner as it's particulates have had more time to settle.
The surge tank ensures the water level in the main tank remains fairly constant, which reduces turbulence in the main settling tank, and improves settling.
Once the settling tank is 3/4 full, when a surge comes (ie we empty the bath or have a shower), it overflows to the surge tank through a outlet pipe and onto the driplines around our fruit trees downhill, with the whole system working by gravity.
One of the many beauties of this system is that it doesn't need any filters as such – there is no filter on the outlet pipe, for example – Ross's research has shown that designing for fluid dynamics means good sediment settling – which in turn works much better than filters on pipes, and results in a much more overall passive system that is self-regulating. Huzzah.
The fact that the dripline is under mulch is another central point of this system. This way the outgoing greywater is in direct contact with the soil food web (and not with the air, weather and animals) when it gets out into the world.
This in turn means that we're putting the onus on forest garden soils – a large, stable and distributed ecosystem – to process the greywater in it's final stage, rather than concentrating the greywater in a pit and relying on the limited (in both space and numbers) biology in there will do the job.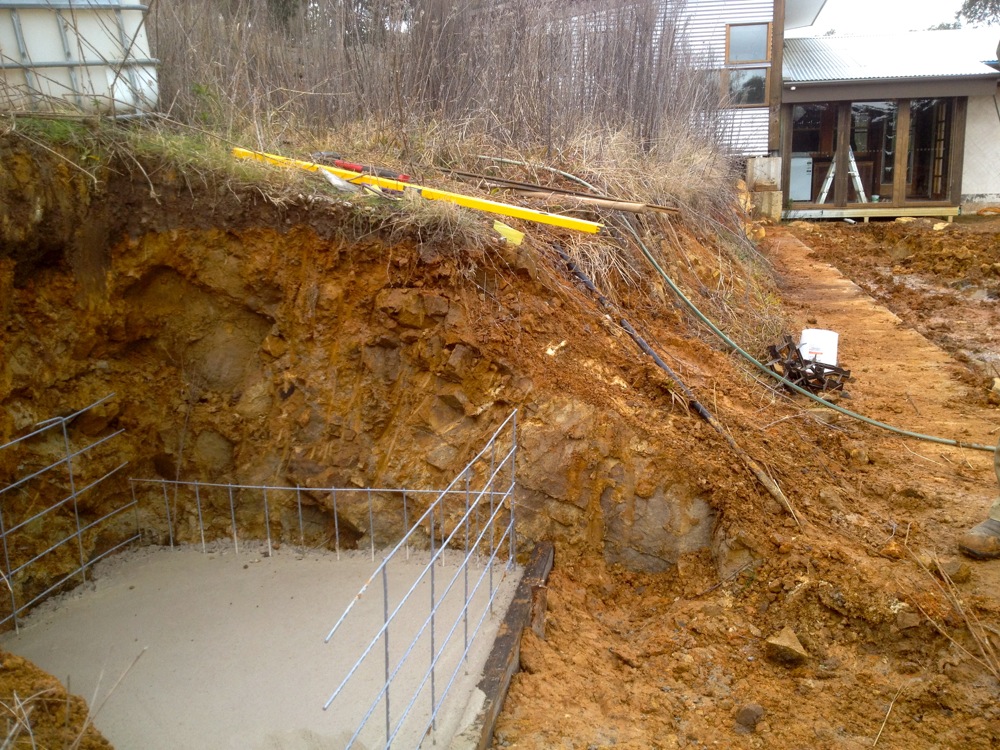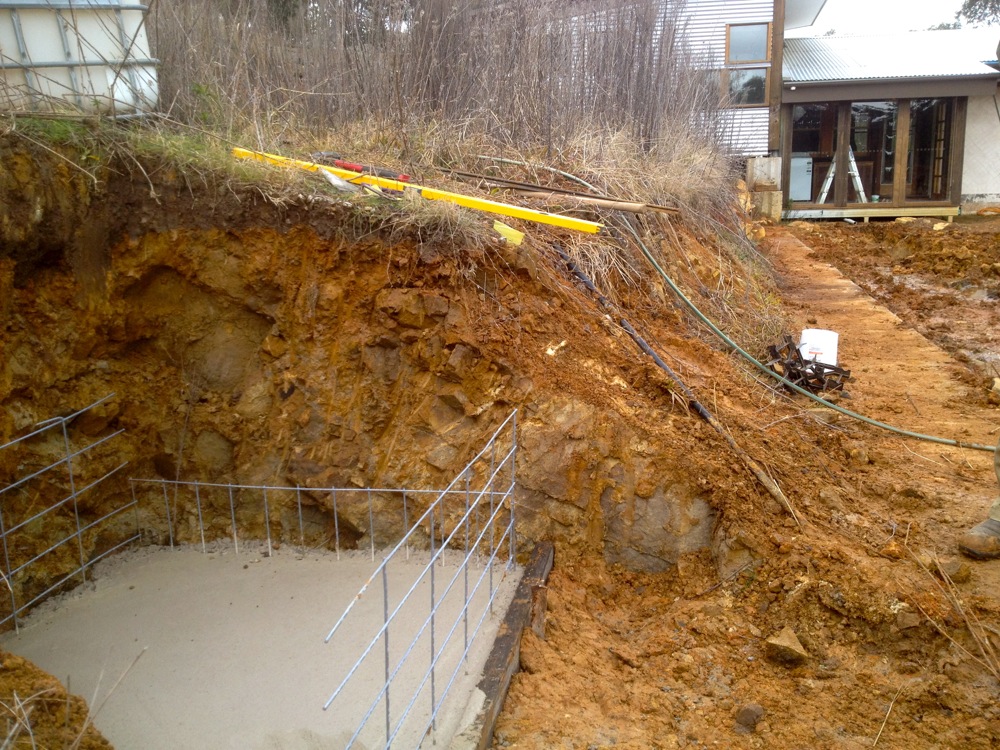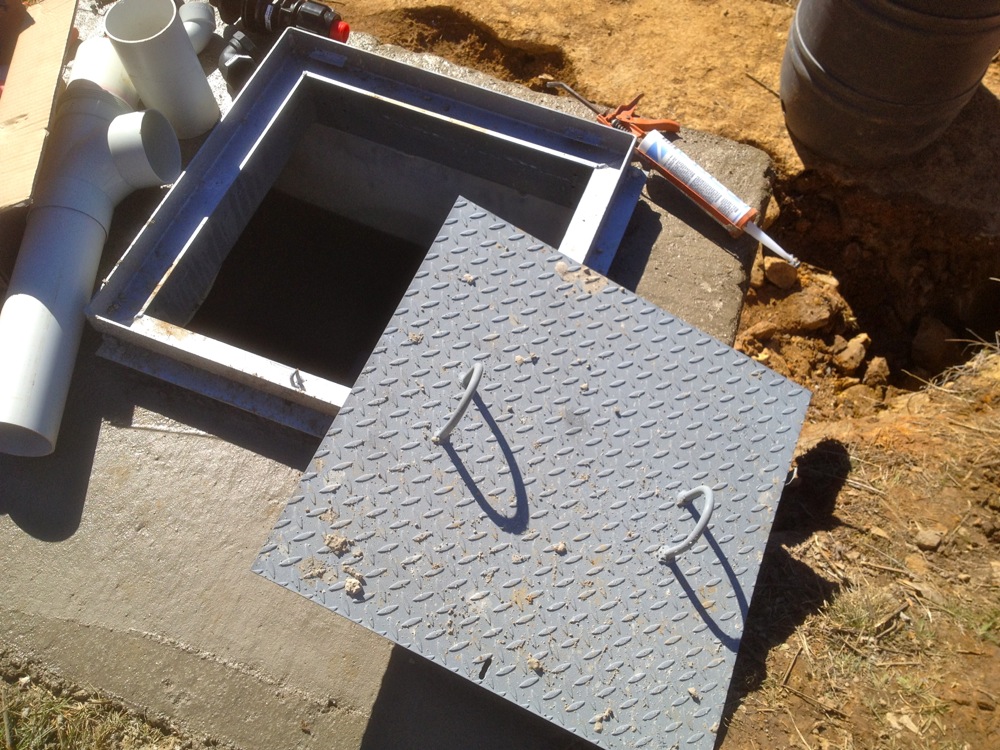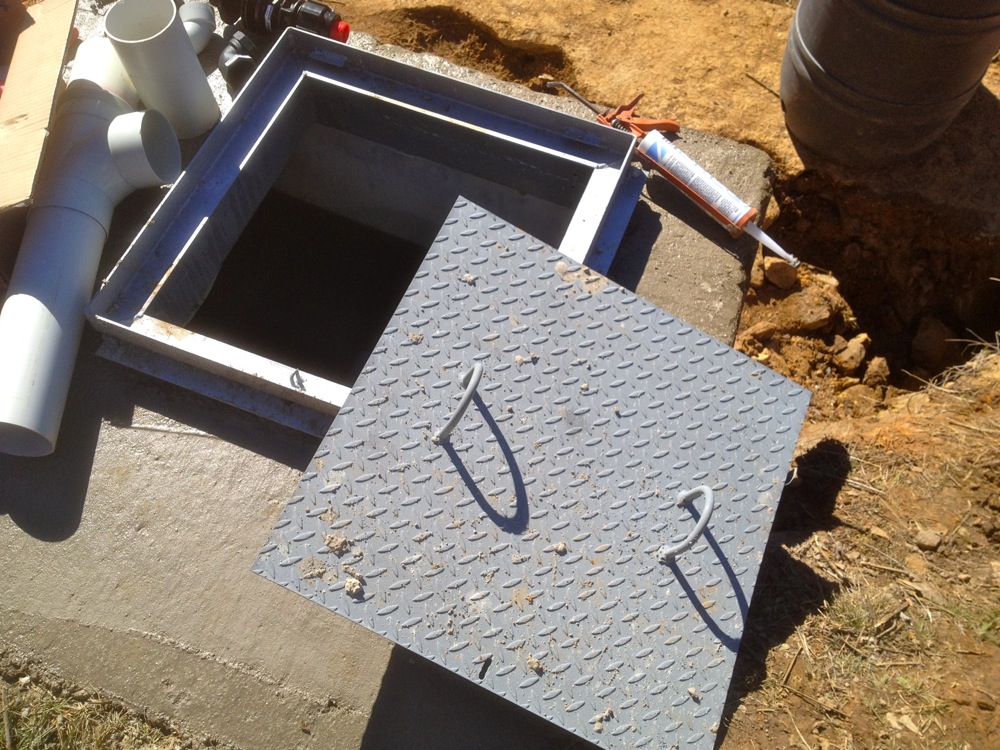 So in short, this system relies on getting the water out into the biological sub-terranean communities of a forest garden as quickly as possible to let biology clean it up and cycle it back through the ecosystem, rather than holding that water and processing in a pit or tank.
In part 2, I'll explain the octopus and how we're going about designing the output zone of this system, both in terms of plantings, dripline and all the rest.
Huge and noisy thanks to Ross Mars of Greywaterreuse.com.au for his generosity and good advice in our hour of need. Check out his site for lots of great resources and info about this important factor of sustainable habitats. As Ross says:
Greywater re-use for garden irrigation should be encouraged in both urban and rural  households. It utilises a valuable on-site resource, conserves precious drinking water and reduces the load on wastewater disposal systems.
If applied appropriately to gardens, greywater re-use presents minimal health and environmental pollution risks.
The key to appropriate greywater re-use is user-awareness of the issues surrounding greywater. With increased grey water knowledge, permaculturists can play an important role in promoting the sensible re-use of this household 'waste' water.