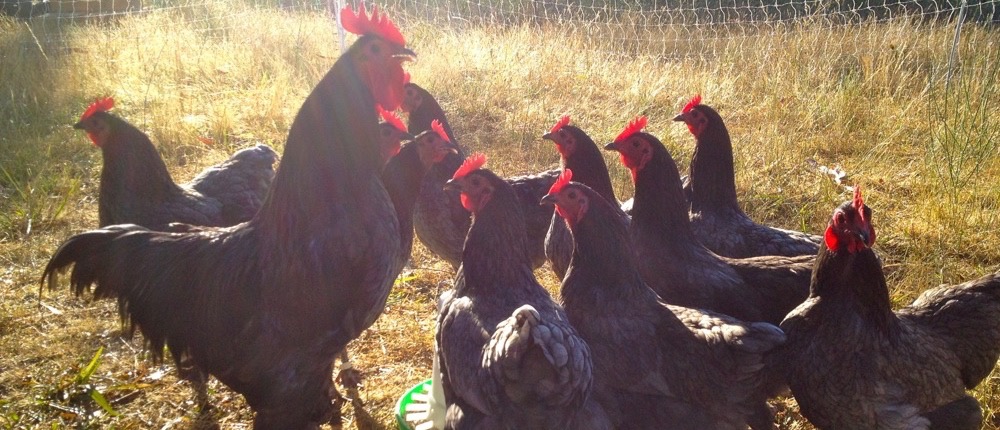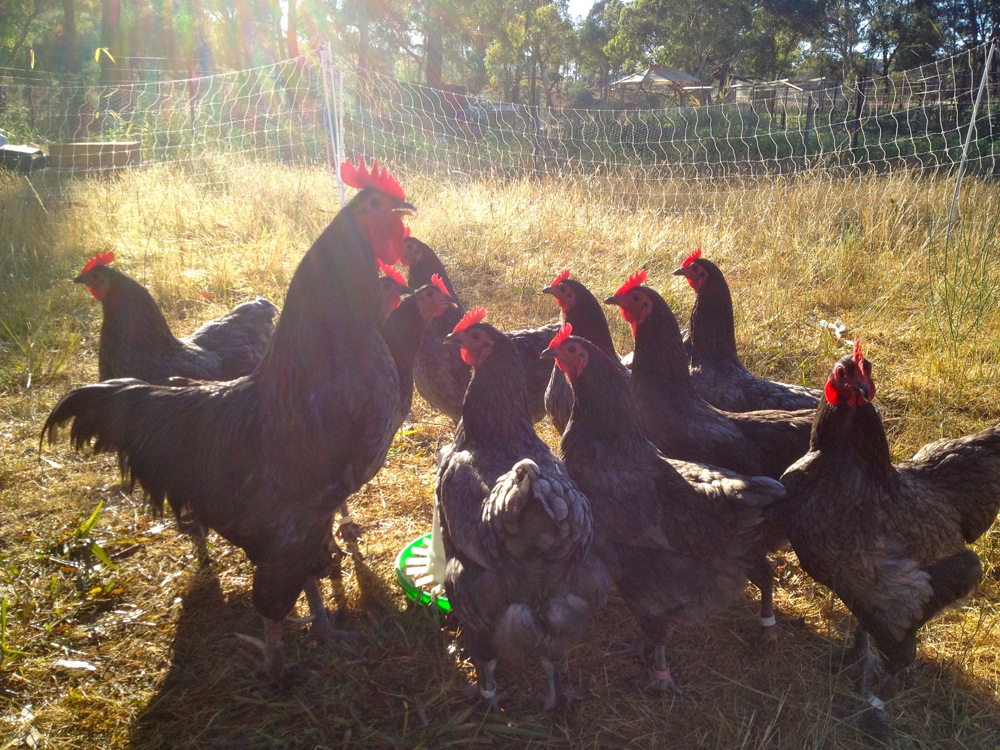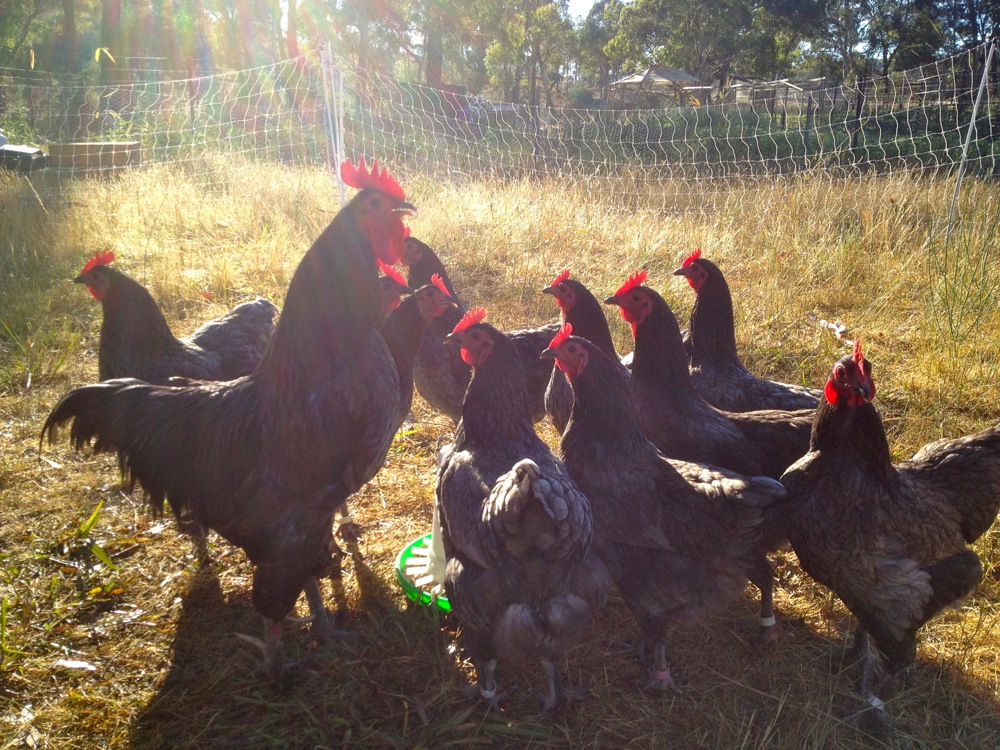 We've been researching egg mobile models for a good while now, in order to figure out how best to get our small (but growing) flock of layers rotating through our paddocks, enjoying fresh pasture and laying eggs aplenty. In the end, as with most things, it came down to working with what we've got.
Enter the Chalet. Or the Sherman, depending on who you talk to (in reference to the sherman tank, as this thing is robustly constructed). Nick's dad Karl kindly built us this construction a few years back, with the intention to put broiler hens in it. Now Floyd has converted it to an egg mobile of sorts, it's proving an awesome pastured poultry unit.
Initially, this unit was meant to be constructed a la Salatin… ie like Polyface Farm's broiler pens – low profile, light construction, and on skids. However Karl put some extra touches on it, most notably in roof height, and we ended up with the Chalet.
The chalet has turned out to be pretty awesome for its current use as an egg mobile. Because of the roof height (which you don't really want in a broiler pen) we could put roosts in there, and Floyd welded up some laying boxes to fit the side panel.
Shelter for the birds was the next main thing, but we wanted to avoid too much more weight so that the egg mobile could be moved by hand via wheels on the sides and a pulling bar on the front. So corrugated iron cladding was out. The solution? Election signage, of course. Light, UV resistant, easy to work with, and free.
Ben van der Wijngaart and Monique Dare-Ward may have moved on from their appointments as greens councilors of the Kiama district long since, but their team photo lives on at Milkwood Farm, in montage. Bloody useful things, corflute signs.
Floyd made the nesting boxes in the same style as the ones we have in the rawbale chookhouse – removable plastic drums with sawdust bedding – cheap to make, easy to pull out and clean, nowhere for lice to hide, and the chickens seem to like them.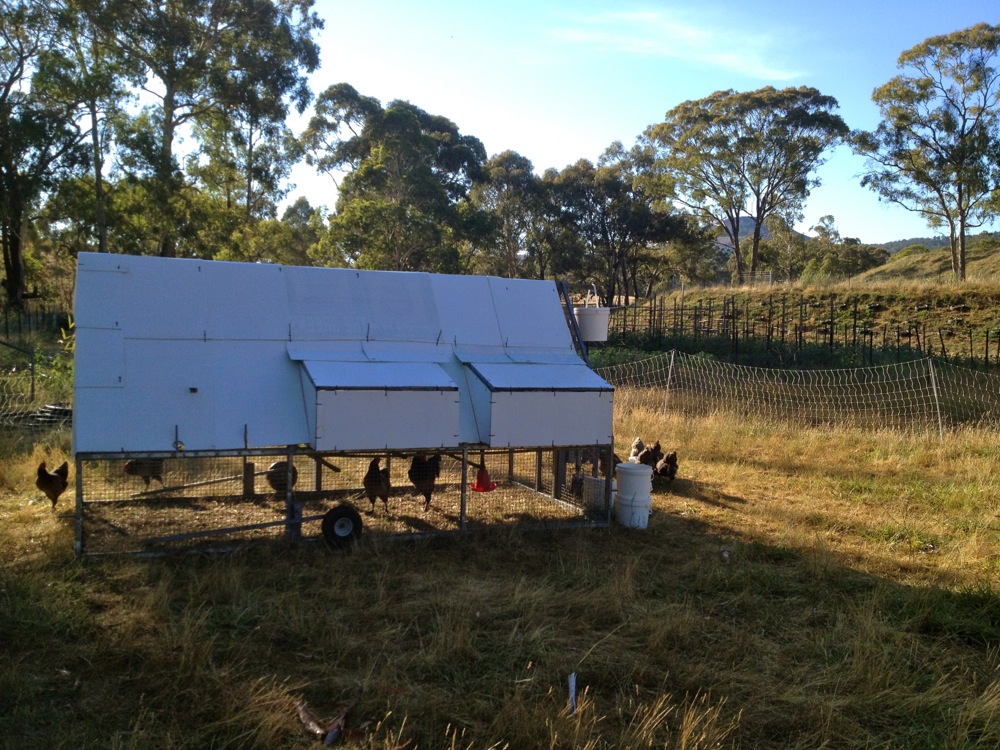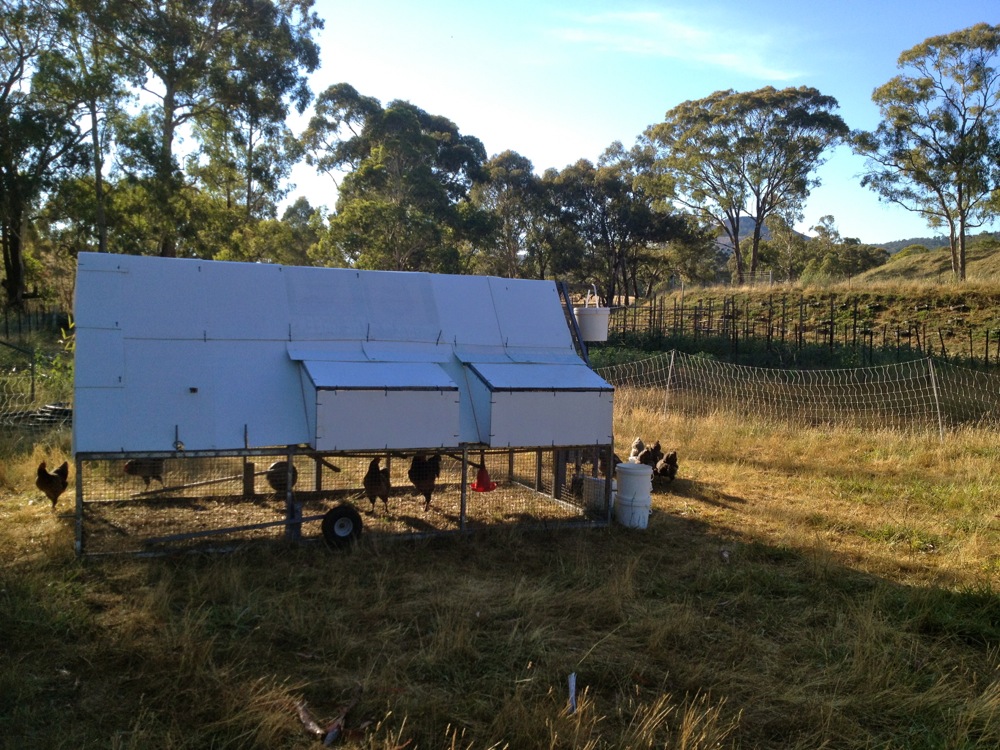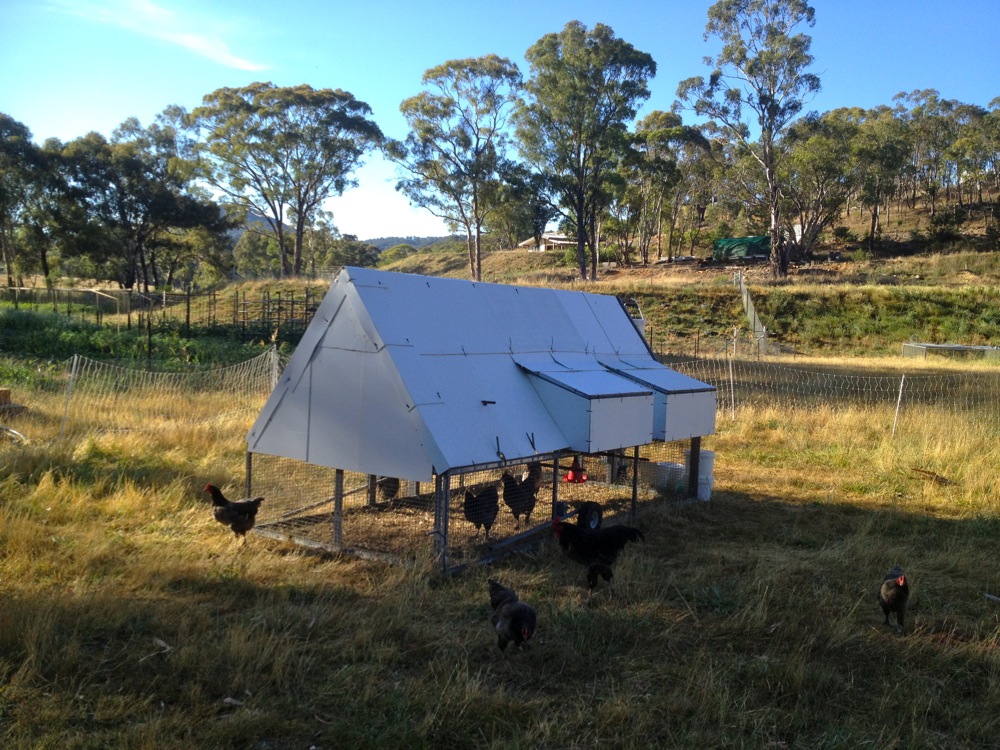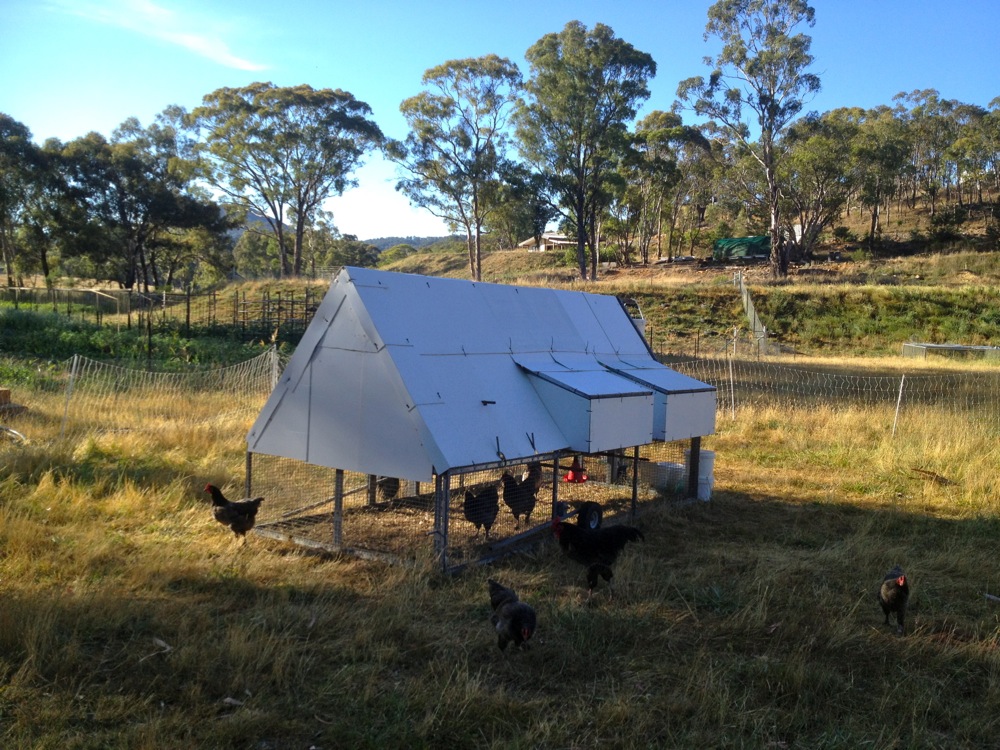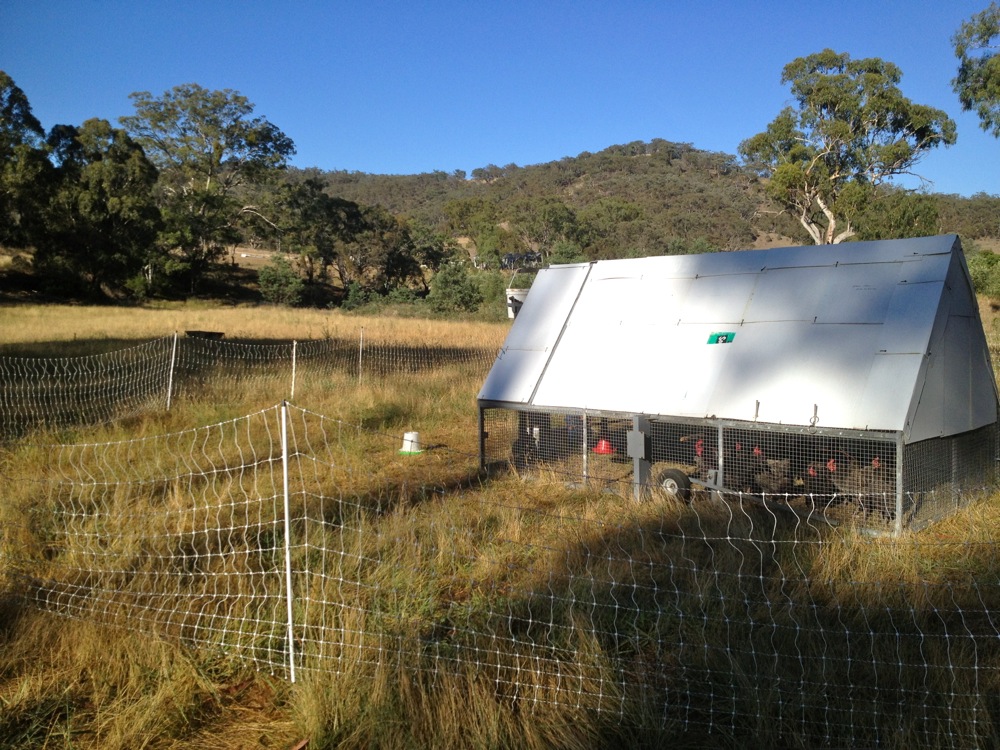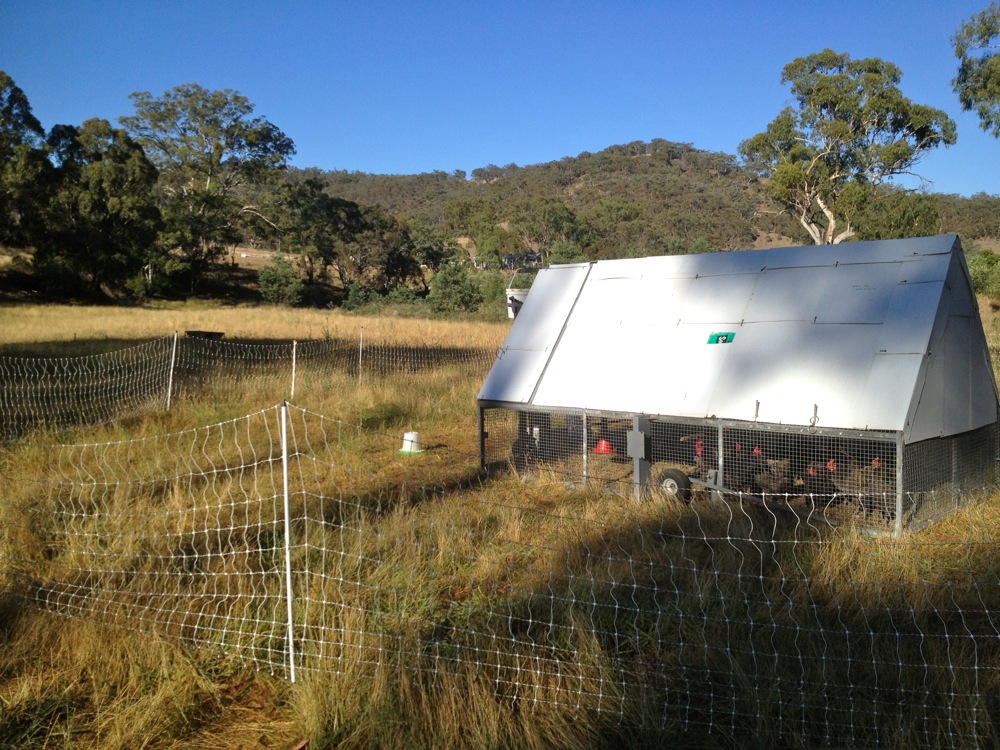 The chickens are locked in each night and free range in the electrified netting by day watched over by Dollar, who's not the biggest rooster you've ever seen but who protects his ladies well. They're very happy, very healthy, and the egg count is up to one per bird per day – not bad for a heritage breed!
Yes these are the Blue Langshans we bred up last year, minus all the roosters (mmm rooster). Nick wanted to experiment with these as they're a good natured, hardy, dual-purpose bird – good for eating and laying eggs both. While isa browns would produce more, we want multi-function chickens if we can, and preferably ones that we can breed here at the farm rather than shipping them in.
These chickens are currently being rotated across patches of pasture on the creekflat – we're not in any high-intensity multi-species rotation scheme at the moment with the dry the way it is (which means not much grass around), so this is a very low-fi, low impact system.
At this point we're moving the egg mobile and the electronet fencing intermittently – it's not an every day job at all, because the number of hens means a small amount of impact on the pasture. This is an exercise in incrementally increasing pasture fertility in a dry year, while getting a good yield of eggs, in a low-maintenance system.
Where will we go from here? Maybe towards broiler pens, or maybe towards a larger, more serious scale of pastured egg production. At the moment we're just getting a feel for it, and supplying all the beautiful orange-yolked eggs we need for farm crew and course catering.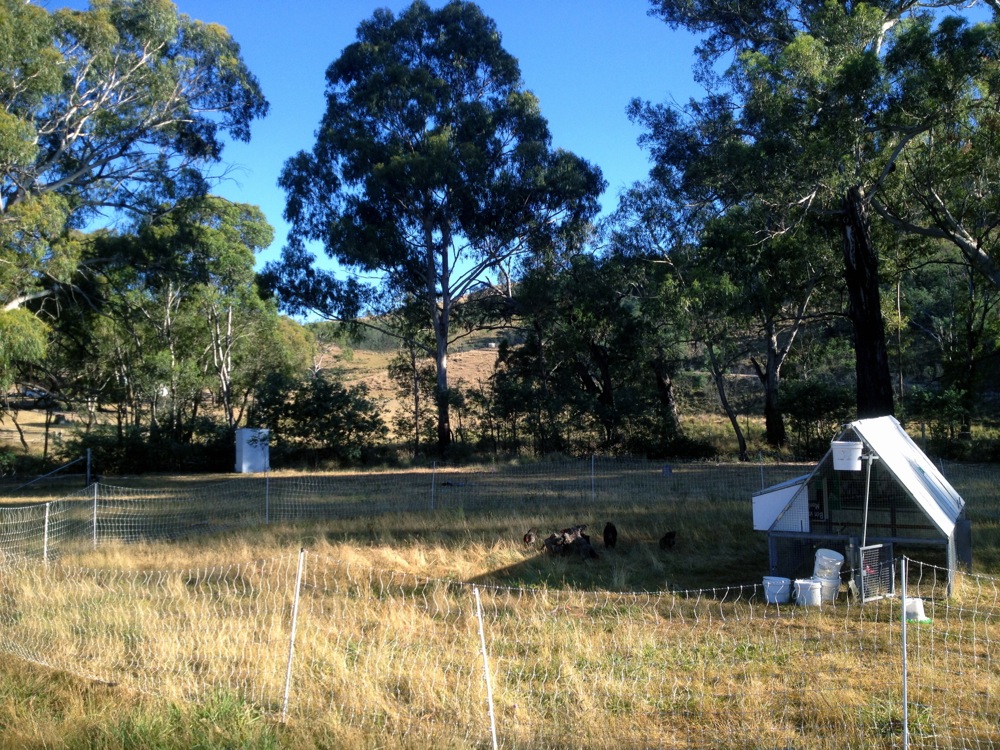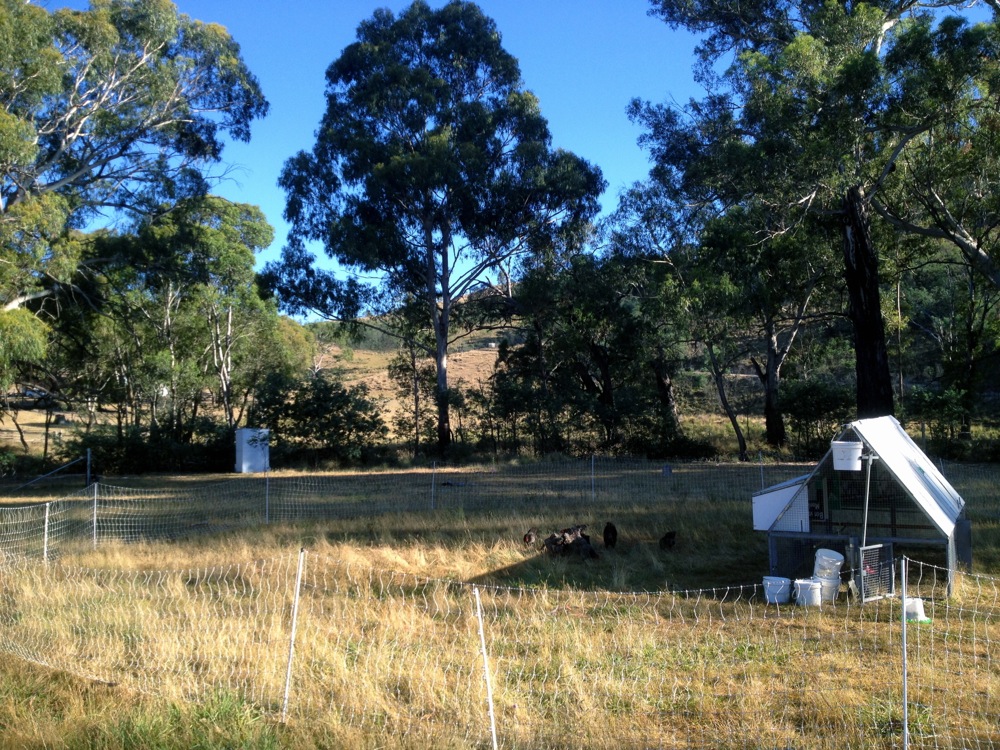 In seasons to come we may use this system (perhaps with a different eggmobile that is more all-terrain friendly) to follow after mob-grazed herbivores such as goats, sheep or (fingers crossed) cows. In multi-species systems the chickens have the added advantage of dispersing the manure of the animals before them, as they search and peck for grubs in the manure.
Even as a single species system, however, pastured egg production of this kind makes so much sense. Happy chickens, moved regularly onto nice fresh ground. Happy earth getting nutrients it would not otherwise, happy people eating real eggs. Hooray for integration.
We're hosting a Pastured Poultry Masterclass with Joel Salatin in February at Kiama NSW if you'd like to join us for a full day of insights about successful small-farm pastured poultry systems (eggs, broilers and turkeys).
Big thanks to Karl for building the Chalet/Sherman, and to Floyd for the egg mobile renovations. And to Jim (Kirsten's Dad) for the lifetime supply of corflute signage.