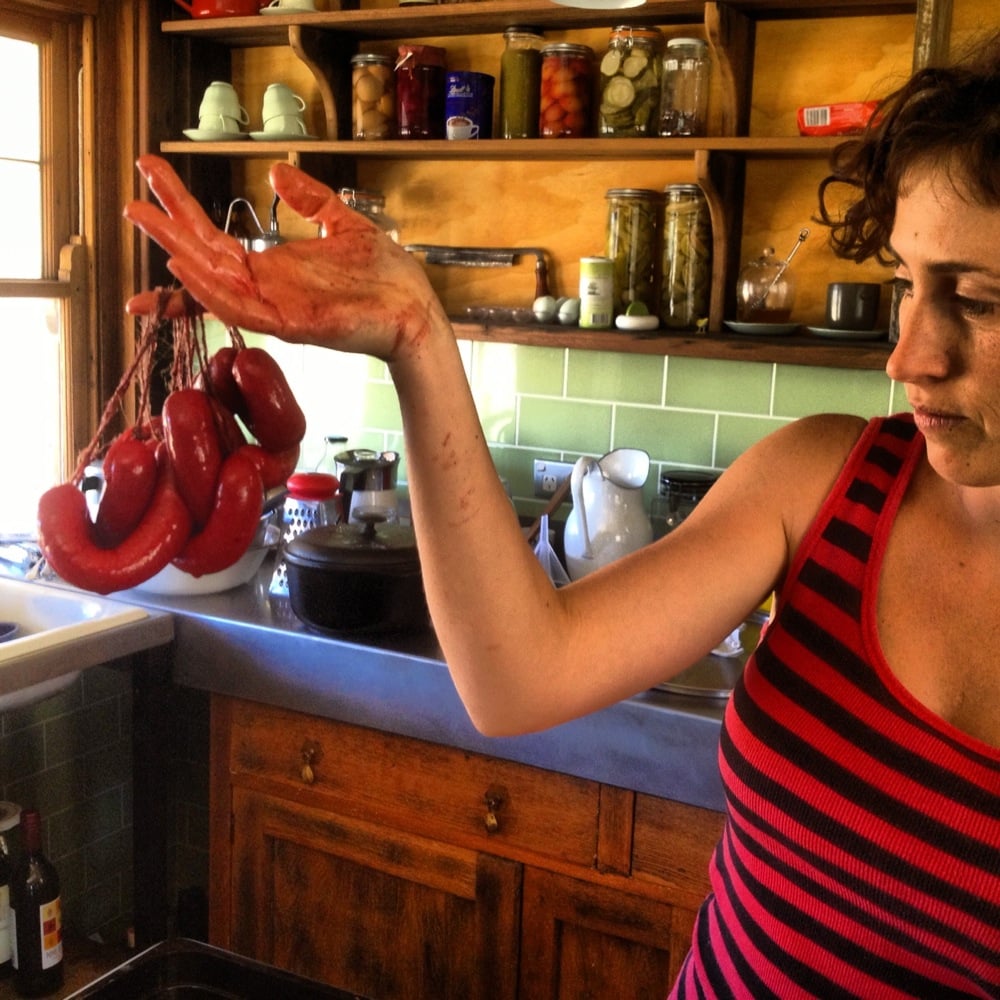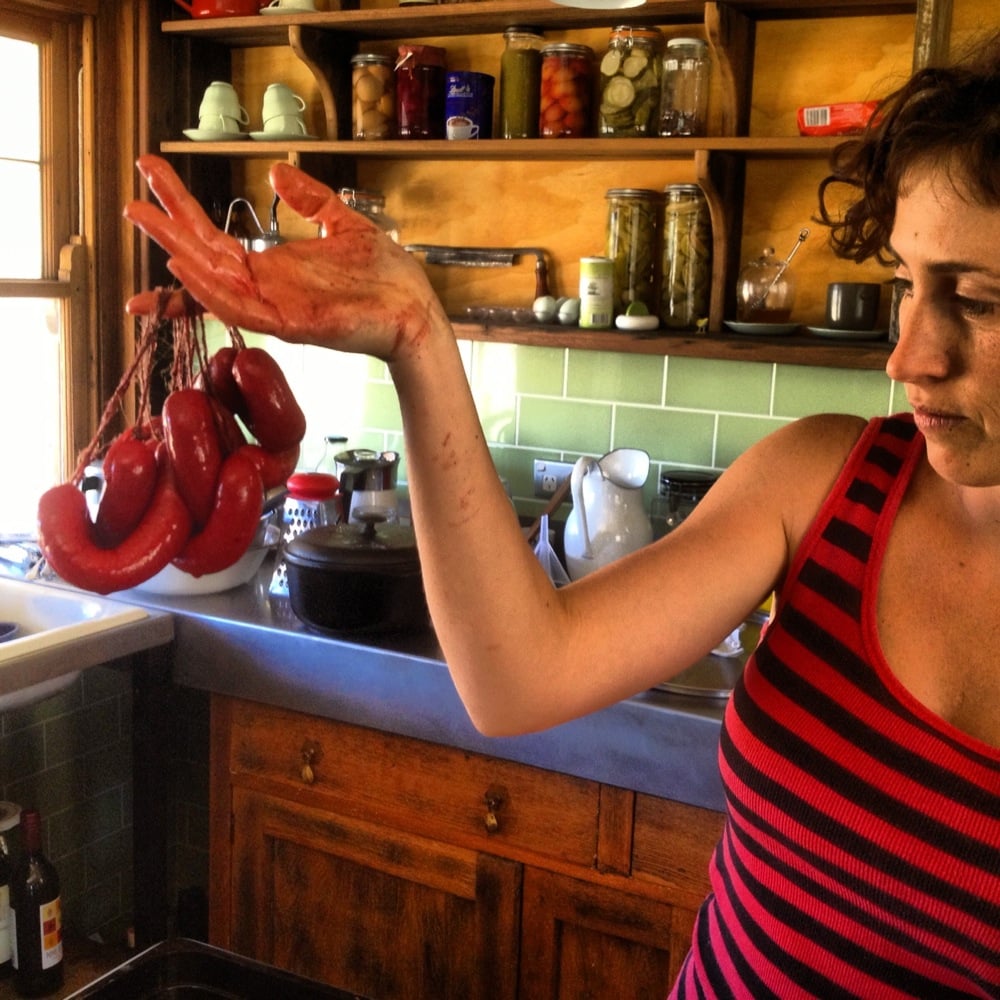 Blood sausage is a central aspect of harvest day. Large-ish animal harvest day, that is. And it's one of the central acts of honouring the animal's life, as well as getting close to the act of the animal's death, because it's something you must make the same day you slaughter.
Blood sausage is a central dish of whole animal eating – it doesn't get much more thrifty than this. Doesn't get much tastier, either, if done right. And it's not very technical to make, if you're up for it…
**please note – this post contains photos of people making blood sausage, from start to finish**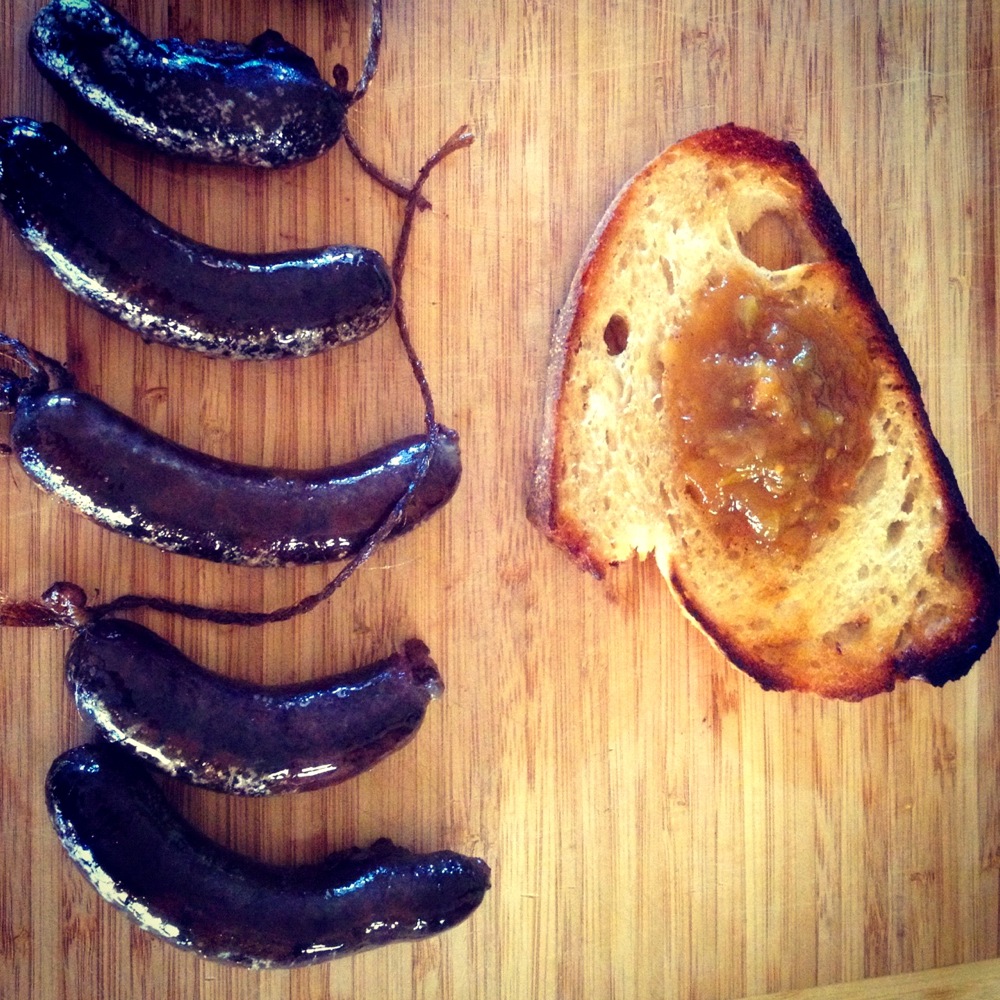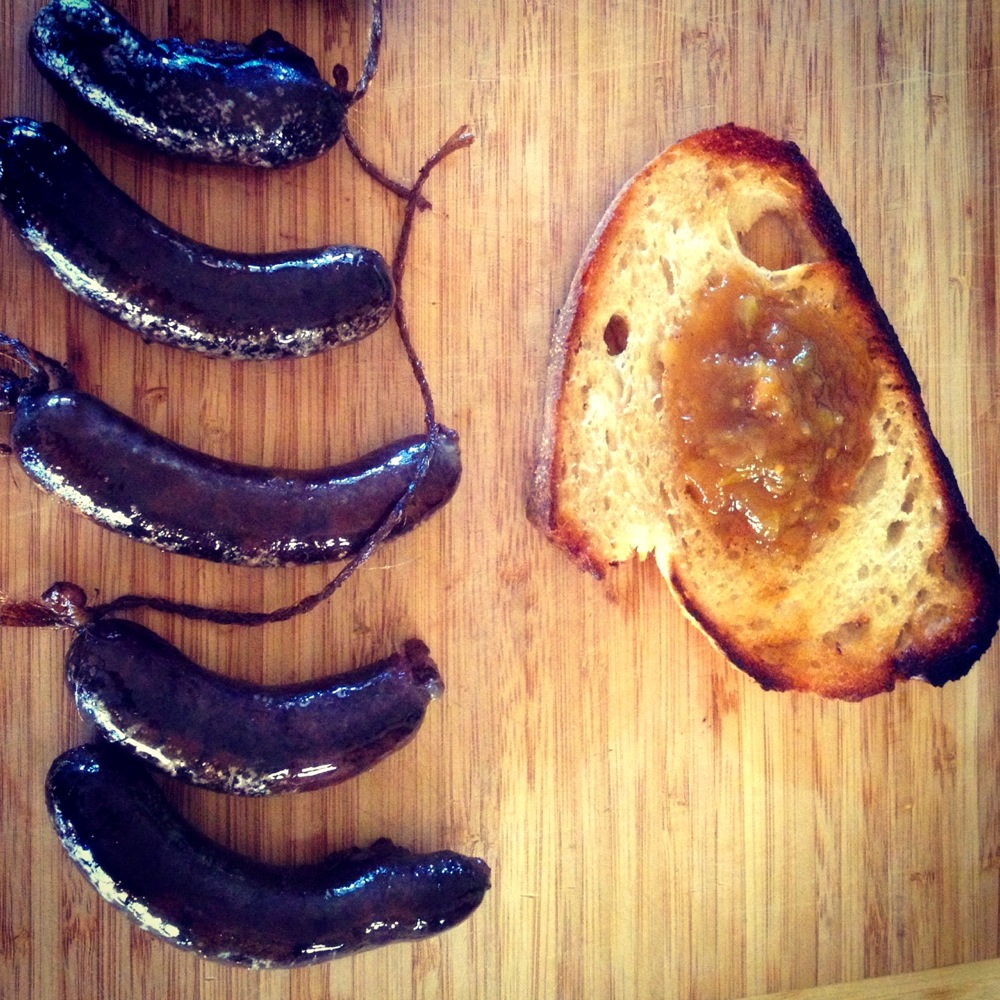 We made our first batch of blood sausages from our pigs that we home-harvested, but you can make blood sausage from any animal, really. The point is that it's mostly fresh blood. and spice and sometimes cream or egg.
Blood Sausage has as many variations as there are cultures – the koreans put sweet potato noodles in theirs, the french just cream and egg. The spanish add potatoes and paprika. See here for a blood sausage flowchart that skilfully describes the many types.
But the central point is the blood. That you've just collected from an animal which was alive this morning.
Blood, spices and sometimes other things to pad it out – finely diced fat, rice, noodles or maybe potato. All poured into sausage casings of some kind and tied into links of the length you prefer.
When you simmer these slippery liquid sausagy things in salted water, the blood congeals and they become about as firm as a regular un-cooked sausage.
Then once that step is done, you fry them up, and serve them up as part of the lunch you've made for all the crew who have gathered to help process your pigs.
And you all sit there, chewing over both your food and what it means to be nourished by the blood of something you helped turn from animal into meat, that will help feed your family all winter long.
It's quite something. It's the real deal. You want ethical, hyper-local meat and charcuterie  as part of your seasonal, mostly vegetables diet? Well, better roll up your sleeves, and wake up early. Because this is not just a matter of opening a packet.
**Notes on pig process: it's important for us that our pigs have both an honorable and painless death. The pig is therefore killed with a rifle shot to the brain (while it's eating it's breakfast and is quite oblivious) and then bled out immediately after. Just wanted to flag this important point.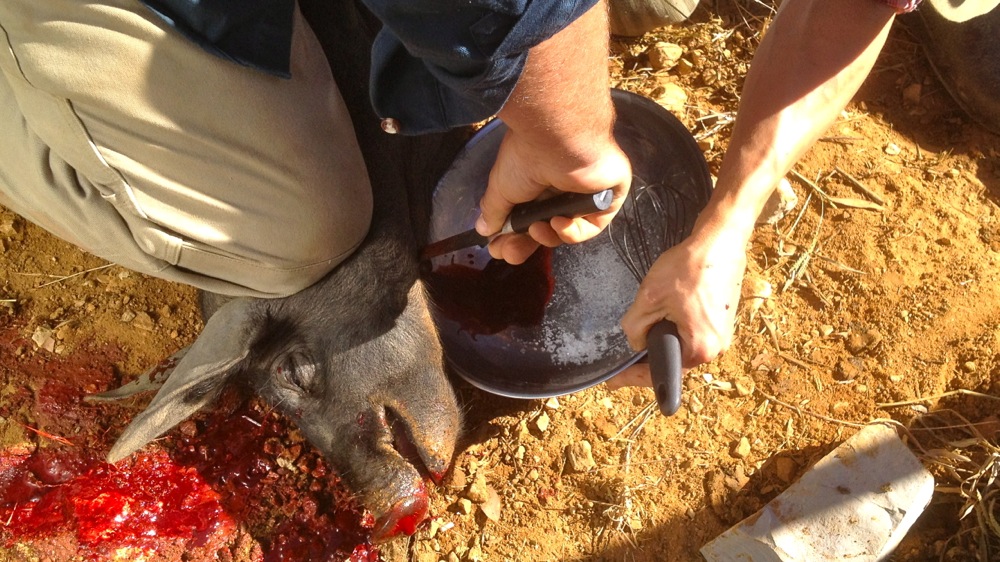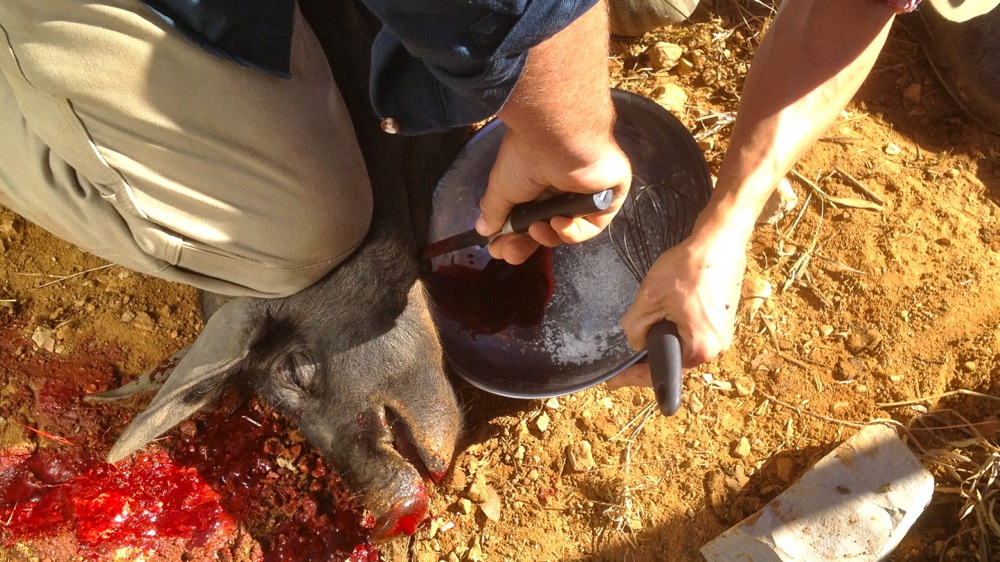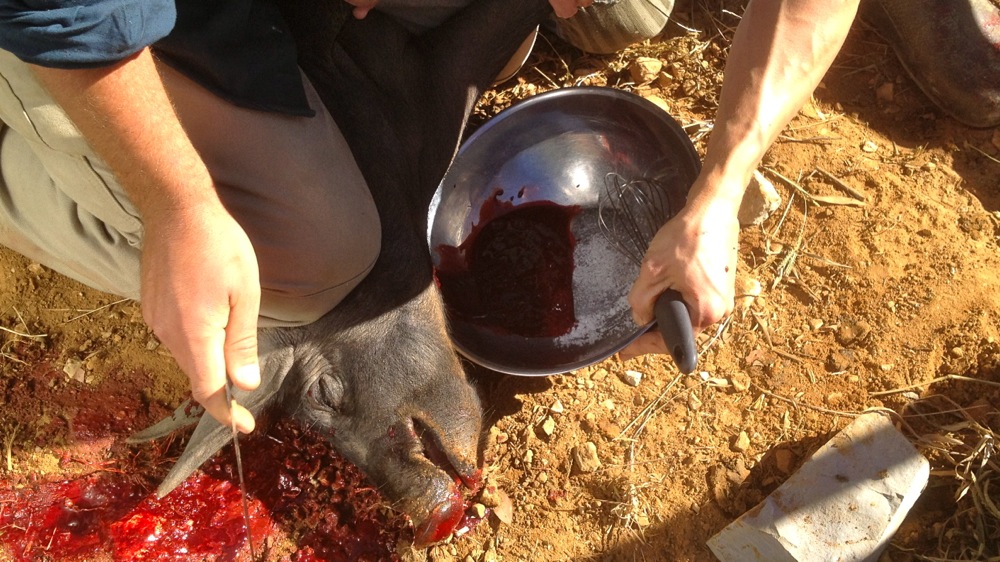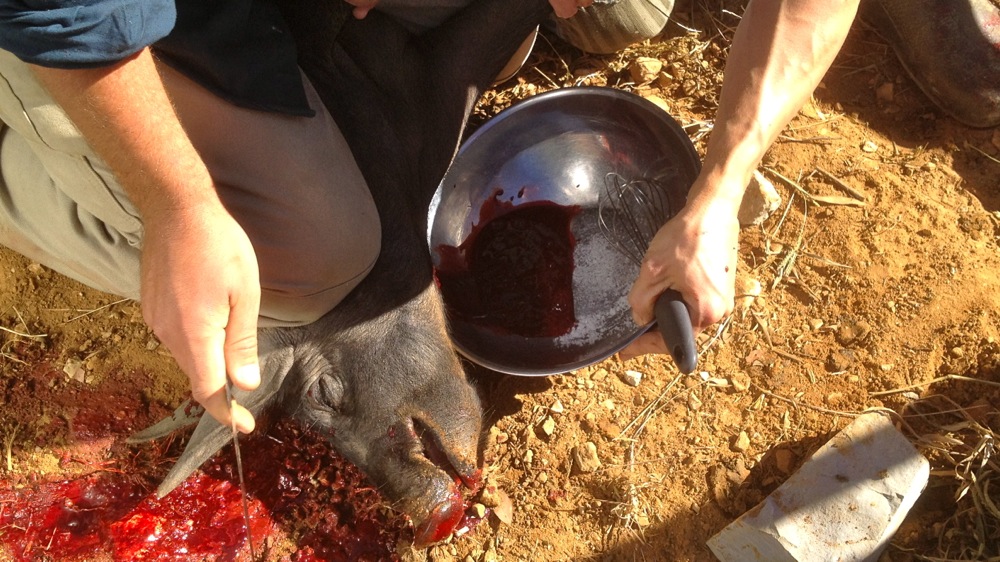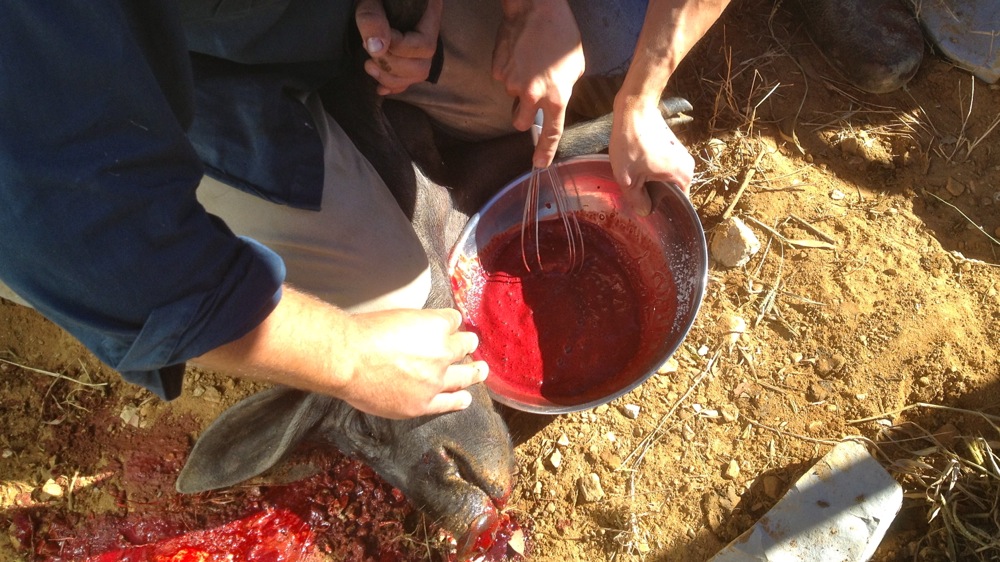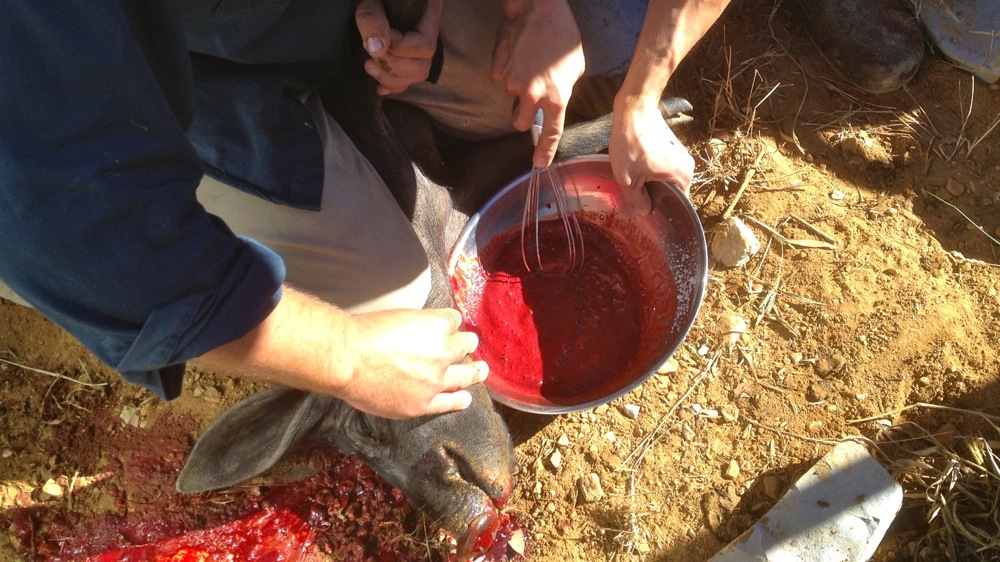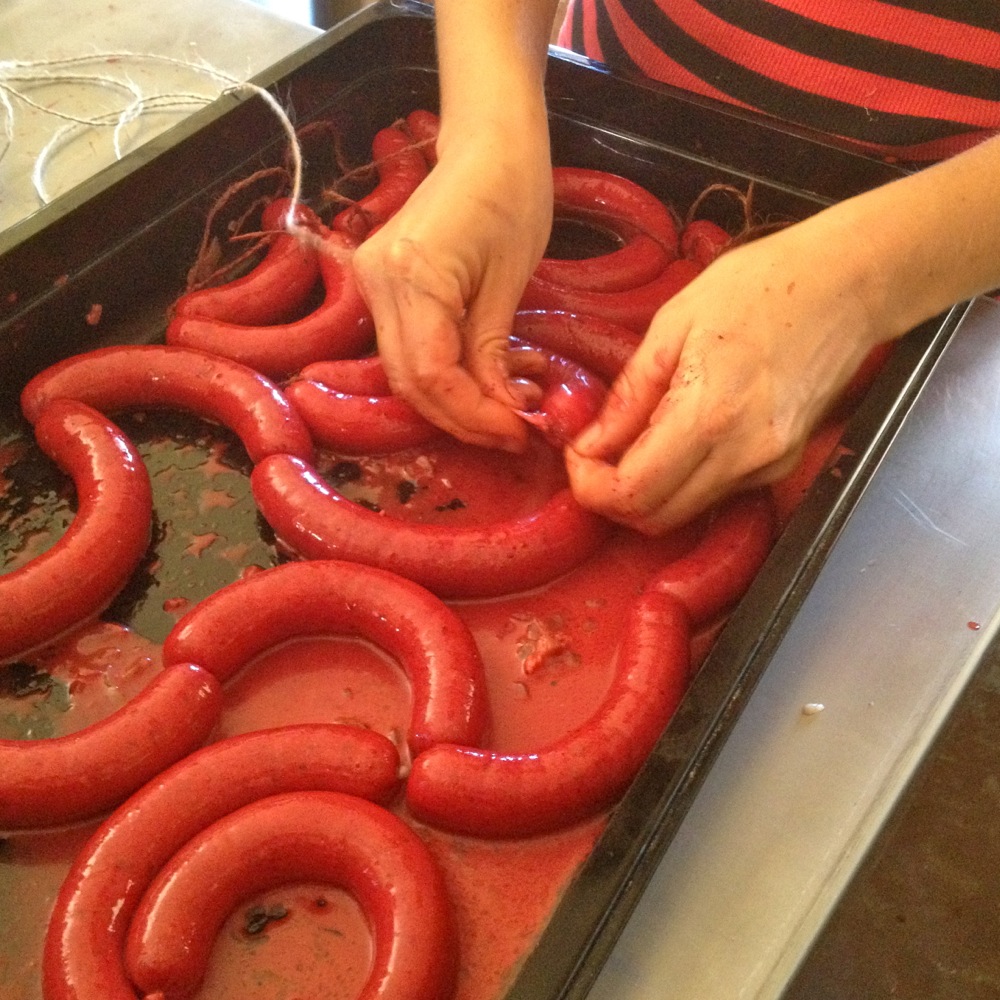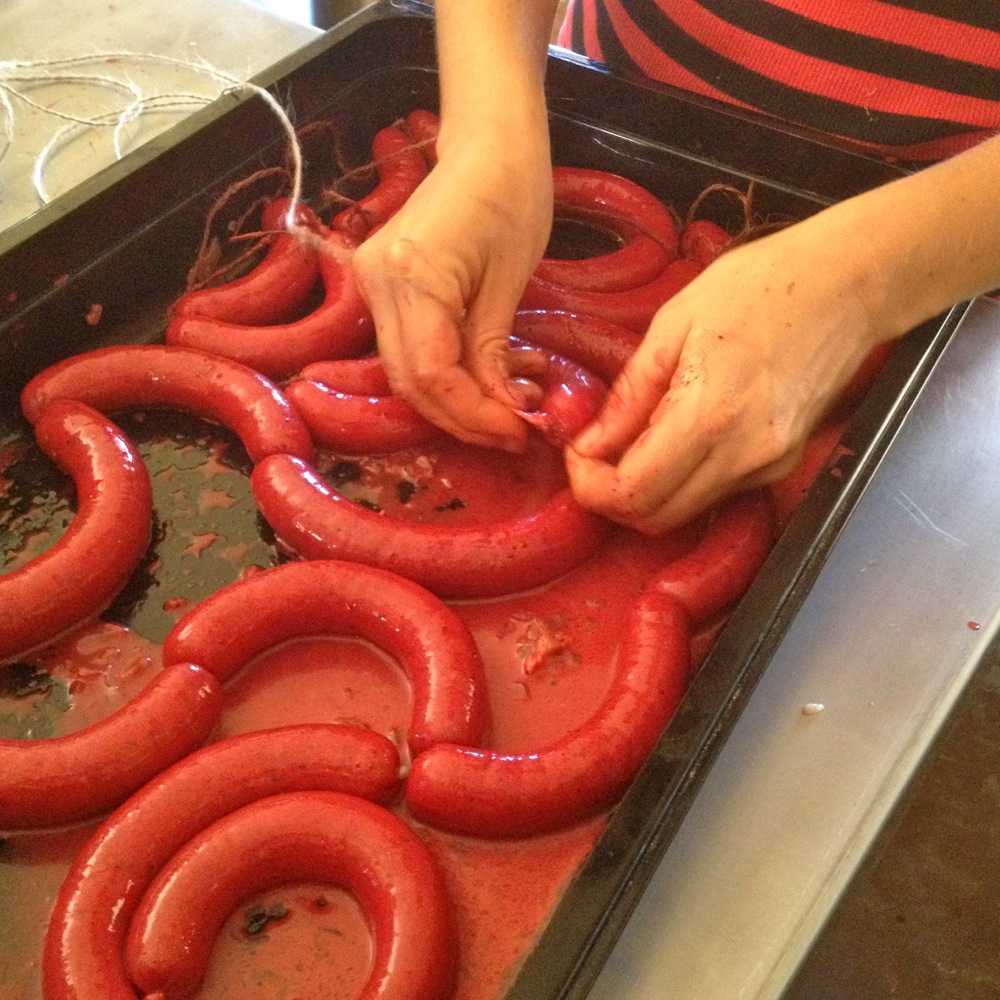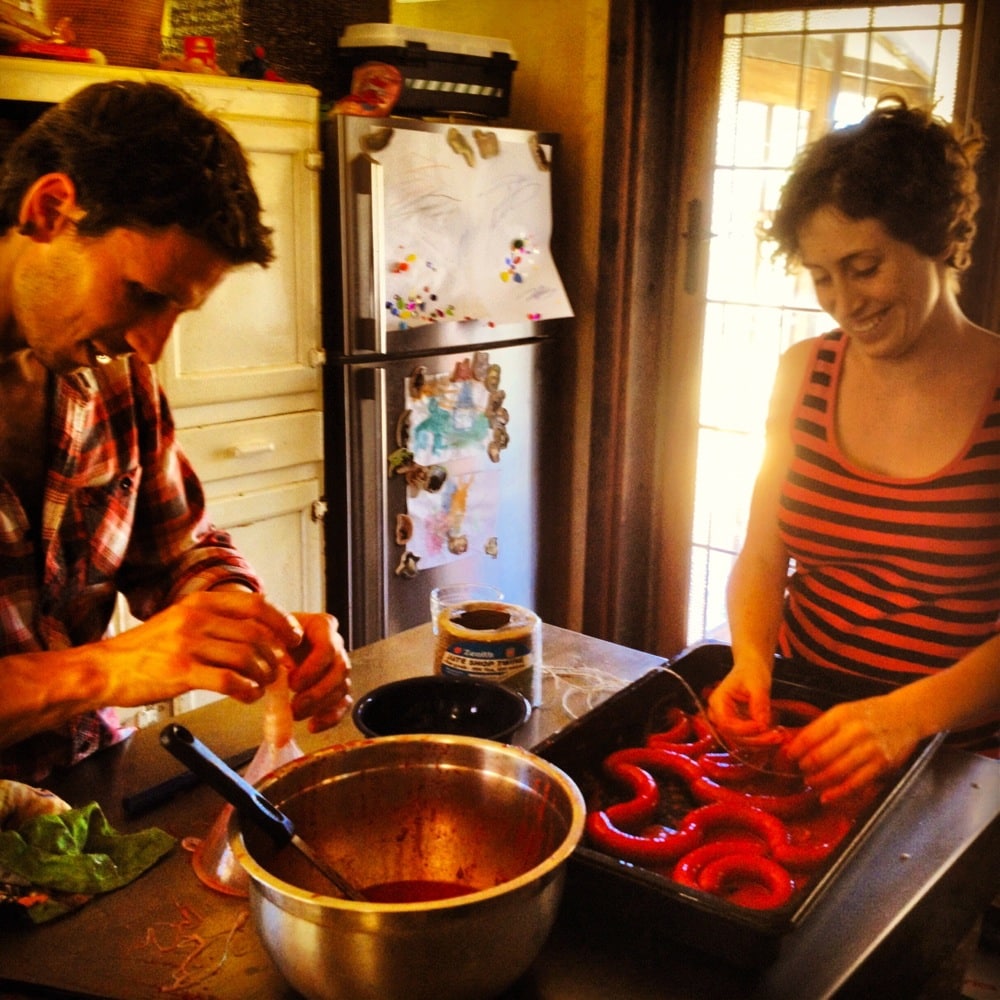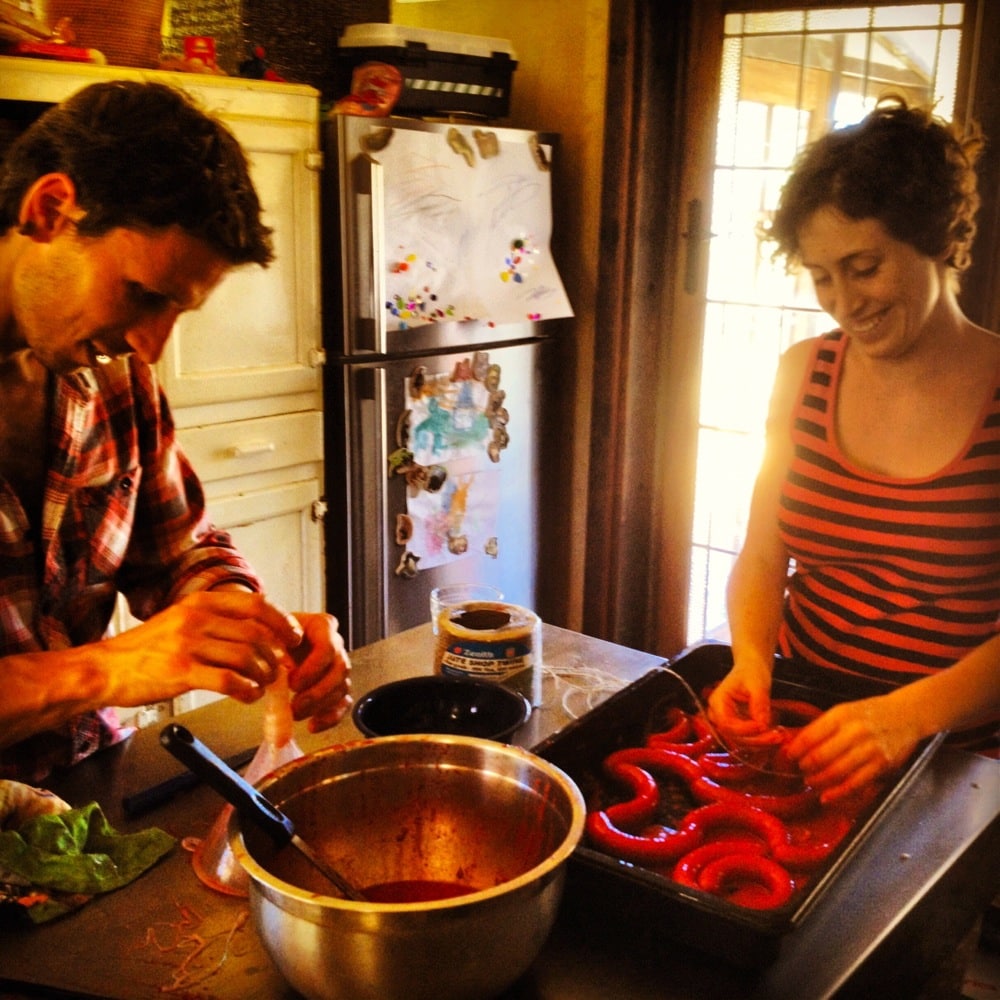 If we were 'sending our pigs off' and getting them back as sides of pork from the regular transfer station / abattoir / butcher loop, utilising the whole pig wouldn't be possible – at least where we live. So things like fresh blood sausage, caul-wrapped terrine and such are only possible to make if you take on the whole paddock-to-plate-deal, at home.
Will we do our next batch of pigs via this home-kill home-processed method? I can't say. It's a lot of work, for a lot of people. It is intense, for everyone involved. It takes time and it takes skill. It's not something that you can rush, or shut down halfway through to finish another week.
And it's much easier to just put our little piggies in a trailer, drive them to town and then get back sides of pork in a week. No mess, no fuss.
No scraping of hair or whisking of blood or wondering if they knew we were about to stick them. No figuring out how to cook the lungs and the brain, to be certain we make the most of all that we have, and all that they were.
Realistically, we will probably take both approaches each year, depending on the expertise we have on hand. The abattoir route is more time efficient and less emotionally demanding, the home-kill route more intense and more honourable.
Ultimately, though, we work with what we have in any given week, and that includes energy and time. May there be enough of both, to explore many blood sausage variations in years to come…
For details on our harvest day, including how we dispatched the pigs, see learning to be ethical omnivores…
A big thanks to Olivier Sofo – chef, farmer, former Milkwood intern and perpetual ball of enthusiasm, for taking the time to show us the ropes of pig harvest and nose-to-tail processing. Thanks also to everyone who helped out process our pigs over these two days.
>> More posts about pigs and food at Milkwood
Lastly, check out (if you haven't already) Farmrun / Farmstead Meatsmith's truly beautiful video The anatomy of Thrift which includes the making of blood sausage…