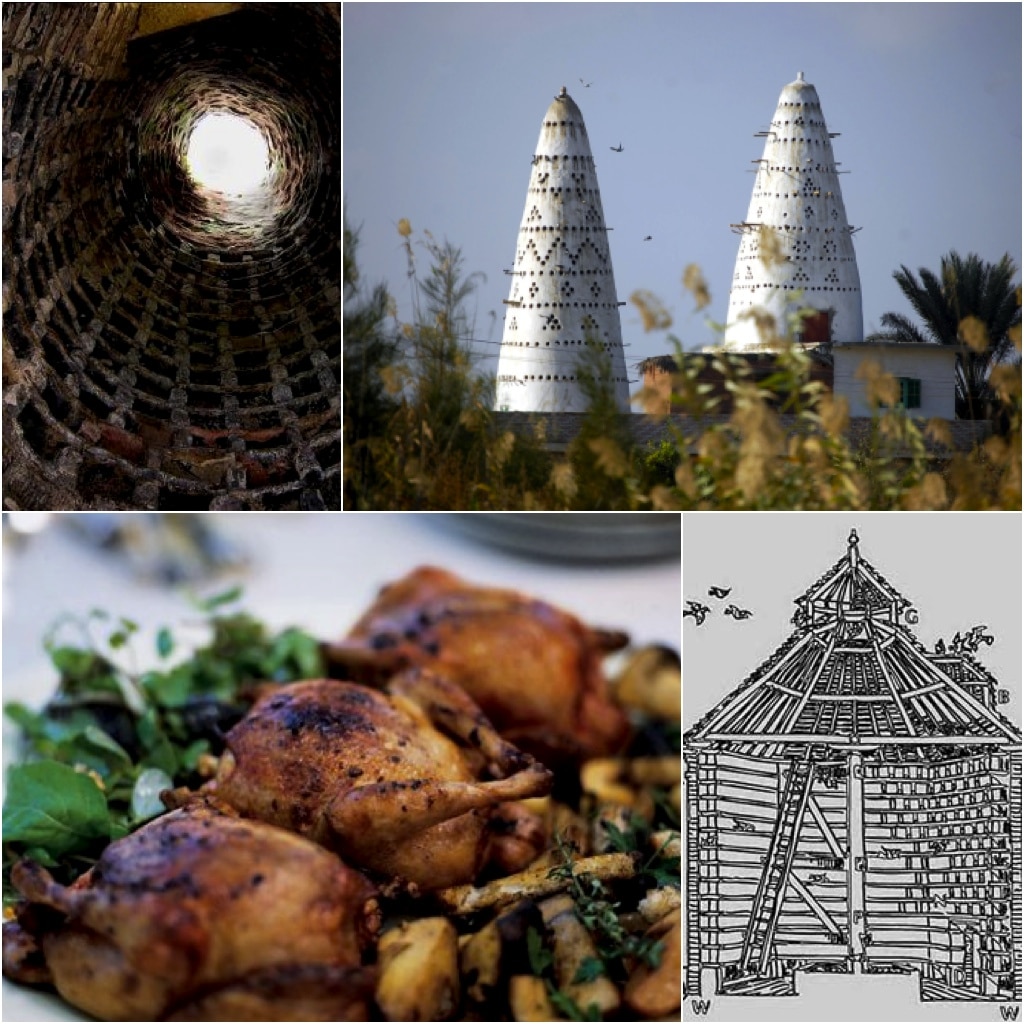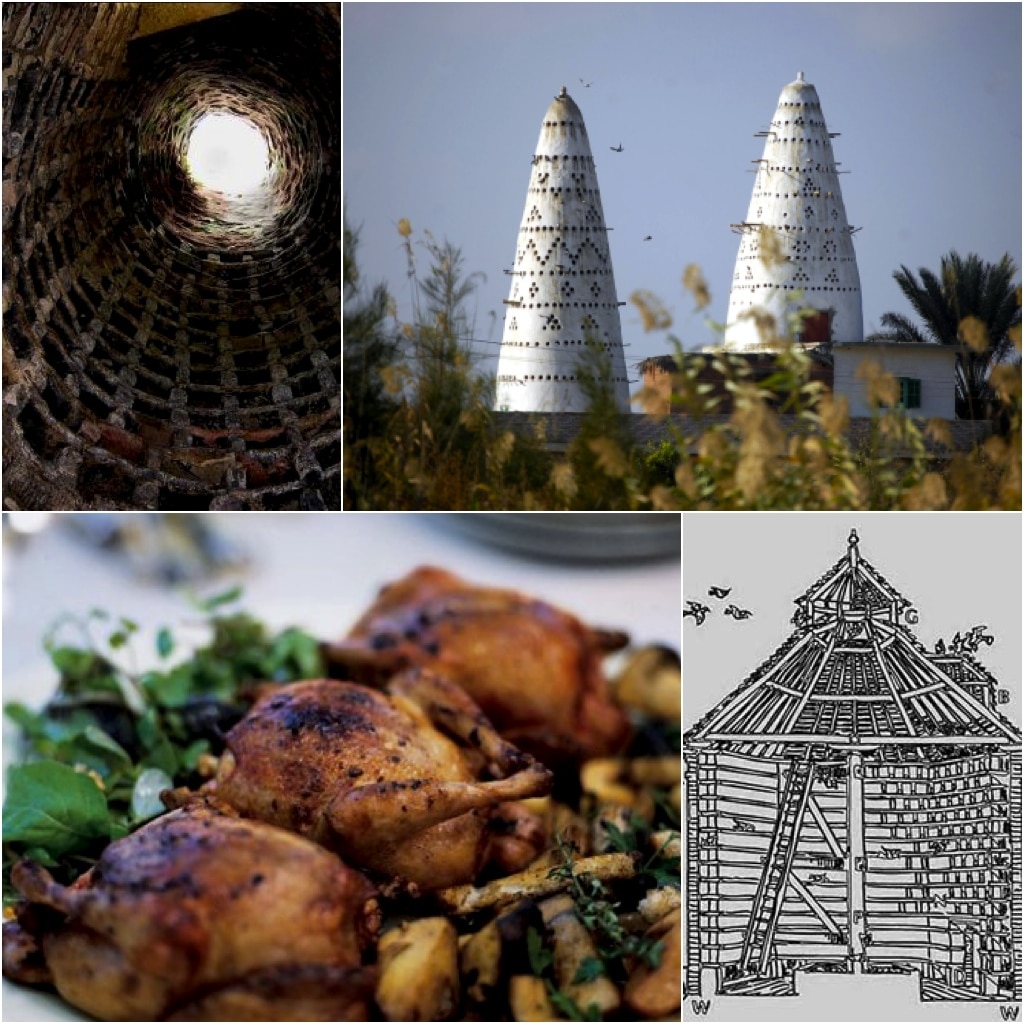 Dovecotes are a great addition to any small farm (and possibly your backyard too). Keeping doves is like keeping chickens, in a way, except there's minimal feeding involved if you take the traditional approach. The doves fly off every morning, forage within their natural radius, and come home each night to roost.
And when they come home, they deliver to the floor of the dovecote free nutrients, in the form of guano. So firstly there's free fertilizer, with no feeding costs. Secondly. if you're that way inclined, there's a seasonal supply of dove eggs, and squabs. Wild protein, delivered to your door. 
It's the wild protein that we're most interested in, to be blunt. We're looking for more resilient systems to stack together at Milkwood Farm – to provide multiple  intermittent streams of animal protein for the lowest possible inputs.
We have our flock of laying and utility (multi-purpose) chickens, and they're great. So are the ducks. But they all take an awful lot of supplementary grain and pellets to supplement their grassland scratch-and-pick diet.
Doves, however. They don't, in theory, require daily feeding, except in particularly bad drought conditions. They fly off, forage as they may, and come home at dusk to roost. Gotta love that as a daily routine.
In addition to being 100% foragers, your average dovecote is quite fox-proof, which are the main predator around these parts. Rats we will have to guard against, but i rekon that's doable.
Just to flag it, the term dove and pigeon is considered by most folks to be interchangeable (at the risk of bringing both dove and pigeon fanciers down on me here). Some refer to the larger breeds as pigeons and the smaller breeds as doves.
Dove life cycle:
Doves start laying in mid-spring from what I can tell, with an average of two eggs per clutch. After hatching, the young doves (squabs) can't fly until after the 4-week old mark.
Until then, the squabs sit in their parents' pigeonhole within their dovecote, and get fed 'pigeon milk' (regurgitated food) by their parents. They grow rapidly until they learn to fly, then get shoo-ed off by their parents at about 5 weeks old.
The kicker here is that, at the 4 week old mark, squabs cannot fly. This means they are composed of tender meat which has not yet 'muscled up' through daily flying. Yet at 4 weeks old, squabs are at least 1/2 the size of their parents, and sometimes closer to 3/4 of the size.
Of course if you don't want to eat them you could just let them go. Or sell them. Or collect the eggs, so that you never end up with squabs.
But if you do like the idea of adding an occasional amount of zero-footprint, forage fed, hyper-local, non-factory bird meat to your diet, squab pie it is for you. And for us, hopefully one day soonish.
Adult doves can raise between 10-15 squabs a year, for up to 10 years, which sounds like a pretty resilient system to me. Some adult doves live up to 30.
Squabs 'dress out' at about 200g a bird from a 'wild fed' operation, which is admittedly not heaps. The industrially-farmed versions of squabs dress out at around 600g, either by artificial feeding or by feeding the parent doves god knows what. But that's not the system we're looking at so let's leave that there.
So – 200g of dark meat which is apparently lusciously tender and somewhere between chicken and duck, with reasonable fat content. A batch of them sounds like a fine occasional pie.
Keeping in mind also that all (yep, ALL) the chicken that you have ever eaten in your entire life (unless it was your own roosters or hens) was killed when it was between 4-6 weeks of age (though some  broiler operations take them to the ripe old age of 8 weeks) , the above age for squabs is… well, it is what it is.
So. If you're ok with all of the above, then a Dovecote could be a darn fine idea.
Dovecotes: the options:
Dovecotes range from cutesy i-dont-even-have-doves garden versions to magnificently large contraptions of stone or adobe, depending where you're from.
Traditionally dovecotes in Europe were a sign of status, with various laws decreeing that only the upper classes could have them. Therefore squab was also an upper-class meat in those areas.
The dovecotes in the middle east seem to be a different affair. They're just another layer of food security, especially in urban areas. They are big or small, round or square, and made of adobe.
Keeping Utility Pigeons:
There's many varieties of doves and pigeons. The majority are bred for showing or for keeping or for racing, not so much (at least in the west) for eating.
The ones bred for meat (utility pigeons) vary also, depending on whether you're looking for foraging birds who fly out on a daily basis or (to put it nicely) the stay-at-home types…
Once you've got your doves and built your dovecote, your pigeons need to be 'homed'. This is the process of re-setting the doves' ground-zero, as it were… resetting their internal compasses to ensure they actually come home (to the home you've built them) each day at dusk.
To home your pigeons  you need to shut them inside the dovecote (if it is large) or alternately in a netted area immediately around the dovecote (if it is small) for an entire lunar cycle. Or up to 6 weeks, if the birds are older.
Once the moon has gone through one complete month (during which time of course you need to feed and water them inside the dovecote area), your pigeons' internal compasses are apparently re-set to where they're currently housed as the new dovecote. And then you are in business of keeping doves.
What type of Pigeon:
From what we have gathered so far, the most common utility pigeon in Australia is the White King Pigeon.
However I haven't been able to get anyone to tell me if the currently bred utility version of this breed can actually fly when fully grown, if allowed. It seems highly geared to the commercial barn-raised pigeon market where they just hobble about.
Other possibilities include Yellow Carneau's and American Reds. I also like the look of the Texan pioneer although, as one breeder states, they're not chickens.
From the research I've done so far, however, most western pigeon keepers who breed utility birds for the table now seem to keep them in cages, not in dovecotes. I think this is probably for ease of handling, to allow for grain feeding and to maximise body mass in both the adults and the squabs.
And also possibly because the breeds have had flight bred out of them, through a focus on weight gain and also because of the weight gain. Not dissimilar to broiler chickens who are bred to come to full size at 6 weeks old and which couldn't fly if they tried.
However the system we're looking at is the old-school version… shut the doves in for one month, then let them fly and forage, coming home to roost. Becuase the main components of this system that I'm interested is the pigeons gathering of nutrient from the surrounding countryside, and bringing that back to our farm, so we can harvest it as nutrient rich guano, and squab meat.
I think I might need to join the Australian National Pigeon Association and see if i can find some like-minded folks.
Fielding
Fielding is a term to describe when racing pigeons don't come home on time because they've literally found a field. With things in it to eat. And so they stop and have a peck, instead of racing home again in record time.
So I suppose what we're going for is a dovecote full of pro-fielding pigeons. Not that we live in a area with many grain fields at all – it's all sheep and grapes and cattle around Mudgee, But there's plenty of forage out there in the form of seeding grasses, all the year round.
Nutrient harvesting – guano
Dove and pigeon poop is high in nitrogen and a much prized fertiliser for various crops. It turns out that the nitrogen in pigeon guano is much slower-release than the nitrogen in chicken and other bird droppings.
Also, doves and pigeons rarely poop in flight, so they deposit the majority of this resource at night, while they're roosting.
While some cultures see the guano as the primary reason for having a dovecote and routinely harvest the guano from their dovecotes and apply it to their various crops (some compost or age it first, others don't), there is also a camp of folks (mostly on western internet forums, from what i can tell) who see pigeon guano as almost radioactively toxic.
Again, there's probably parallels with chicken production here. If you're talking birds raised in an intensive environment or in high concentration, then toxicity of the guano is likely due to its concentration and the bird's general health.
As with any animal manure collection from an area that has a high concentration, we'd expect to take precautions when harvesting this resource – mask and gloves. But precautions like this seem obvious and reasonable. Just part of the task of harvesting a valuable resource.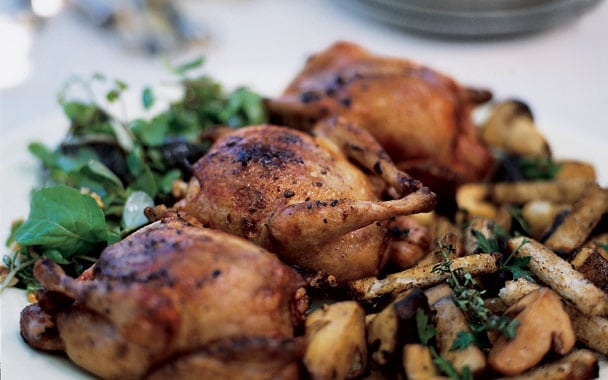 Nutrient Harvesting – squabs
Here's something to look forward to… there's some pretty tasty recipes out there – here's a great list that also includes a pigeon plucking guide.
As said above, the harvesting of squabs would be an occasional occurrence within this kind of system, but no less tasty for that. Just like our irregular supply of hunted rabbits, squab is another kind of wild game, as it were, that intermittently supplements our farm diet.
So there you have it – another strategy for catching and storing energy, and also valuing the marginal and the edges to strengthen the overall resilience of a system. A little peck here, a bit of grass seed there… And occasionally,  BBQed squab.
And nitrogen-rich guano for our food growing systems, composed of foraged nutrients and minerals. Sounds like a pretty good small-farm animal system to us.