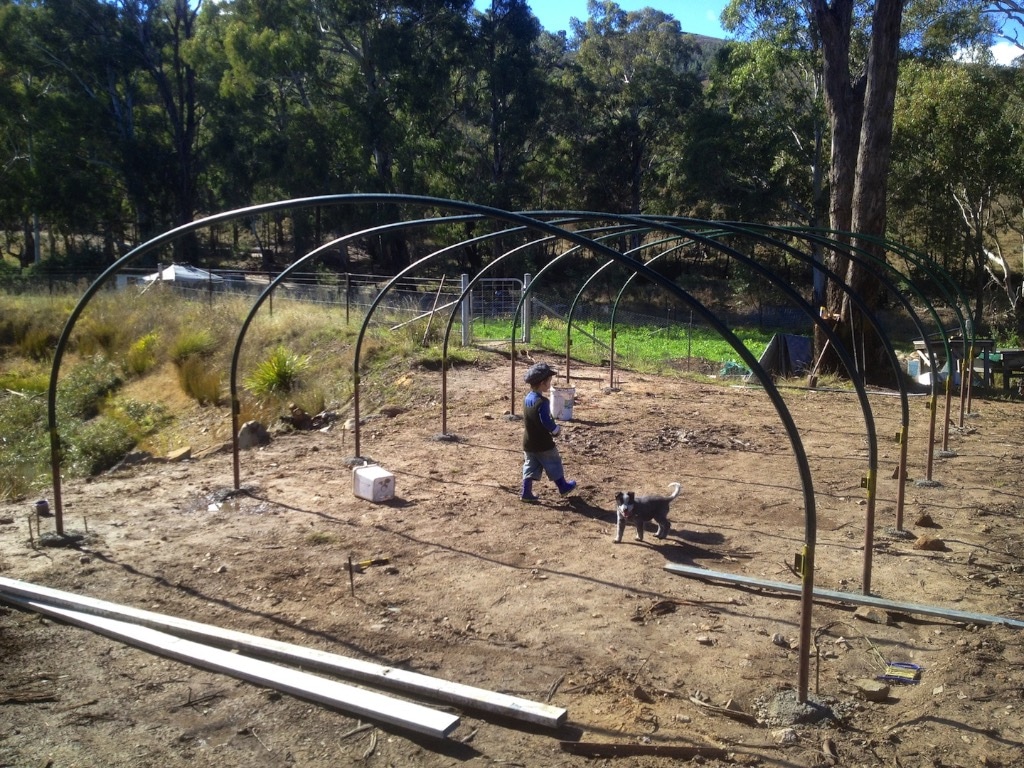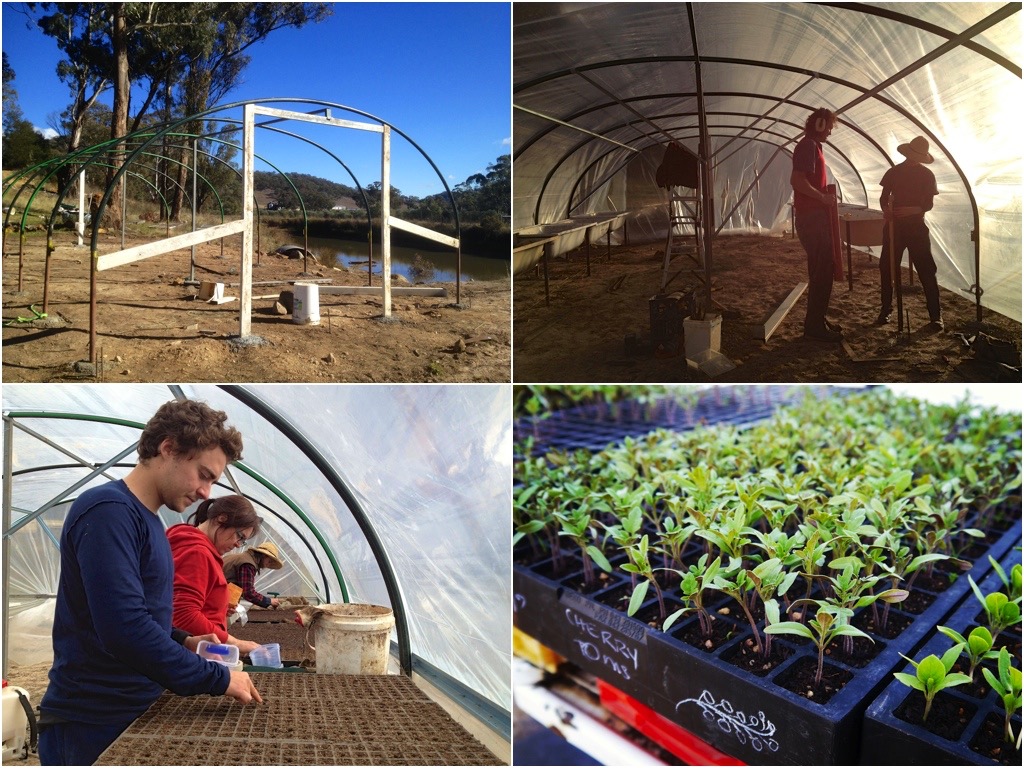 'Next year, we'll build a proper greenhouse' – how many years in a row have we said that? At least five. But at last, it's happened.
Given the frosty conditions and temperamental weather here, a happy space for our spring seedlings to germinate and grow has been a wonderful, powerful thing. No more seed raising in the loungeroom and everywhere else they will fit! Huzzah. Here's how we did it.
The collective brief for this greenhouse was thus: keep it cheap, make it strong. So how best to make do?
Simple polypipe loops bent over star pickets, stretch the plastic across, and hope for the best? With the windspeeds we get up here, that was unlikely to last a season.
Buy a second hand frame? Possibly, but we couldn't find an option in the area after a few years of searching (until just after we'd built ours, as per Murphy's Law), and all the ones we could find for sale further afield were gigantic in size.
Buy a greenhouse kit new? Er, maybe one day. But not this day. Thems kits are pricey.
So. The answer was somewhere in between… polypipe rafters with cross bracing and welded uprights, to ensure stability and ceiling height for comfortable working. A door frame. And a proper greenhouse skin.
The greenhouse skin Michael sourced was a Hortiplus 180, and we're happy with it thus far. Everything else was scrap and scrounged materials.
The greenhouse was sited above our bottom dam, to make the most of the reflected light and thermal mass of that body of water. And also because of that site is right next to the to the market garden, where everything gets planted out to…
Once it was all up and happening, Michael and his fabulous intern team of Felipe + Heather got planting…
The benches in the greenhouse are all bathtub wormfarms, which provide valuable nutrients for seedlings and the greater garden.
The wormfarm benches have another benefit too – they provide thermal mass, and heat the seedling trays from below. Only slightly, but every little bit helps in our climate, especially on those frosty nights.
The solarium effect of the greenhouses made our lettuces and greens and onions jump out of their seedling trays before being planted out, and we're now eating them with gusto.
The tomatoes will all be planted out to the garden next week, once all risk of frost has passed. And then our growing season will really start to take off.
We're pretty happy with the results of this communal effort – it's strong and sturdy, a great space to work in, and making solar-powered food production possible, without inputs of artificial heat.
Big thanks to Michael, Talib, Shane, Felipe, Heather, Floyd, Karl and Nick for all contributing to the creation of this much needed seed raising area.