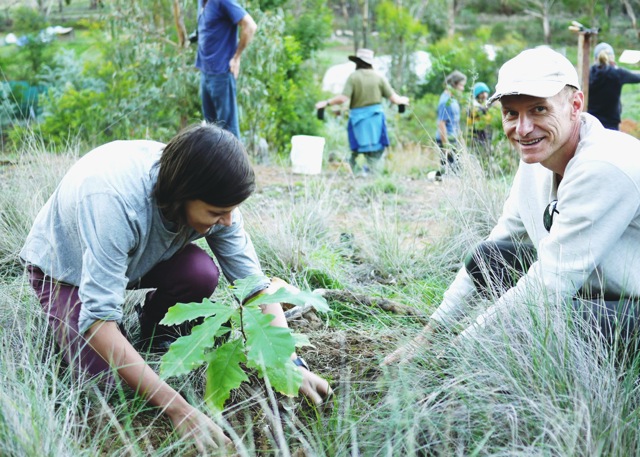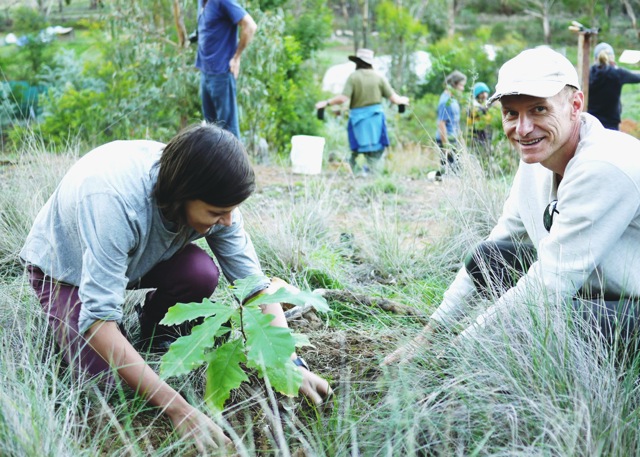 Planting a tree is a simple act. But, as we've learned on a site that's sometimes less-than-welcoming to tree establishment, there's ways, and there's ways that work.
Last week, with our Permaculture Design Course students, we planted oak trees. And for this site, there needs to be a little more involved than poking holes in the ground and inserting acorns into them…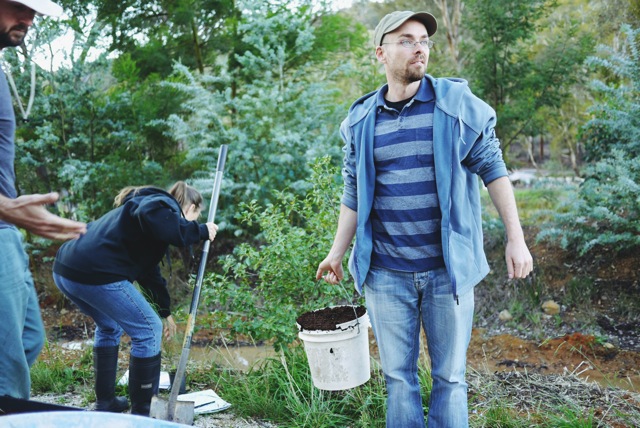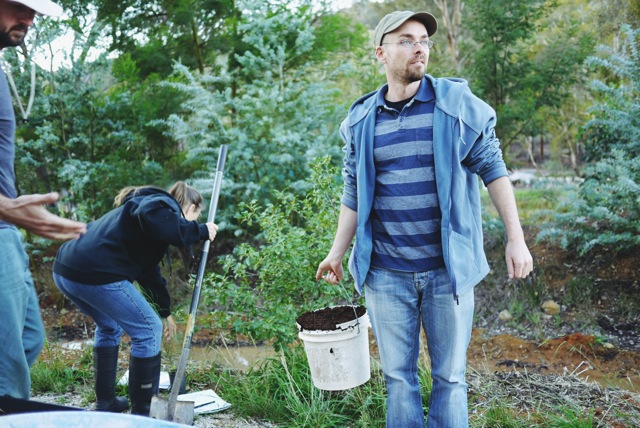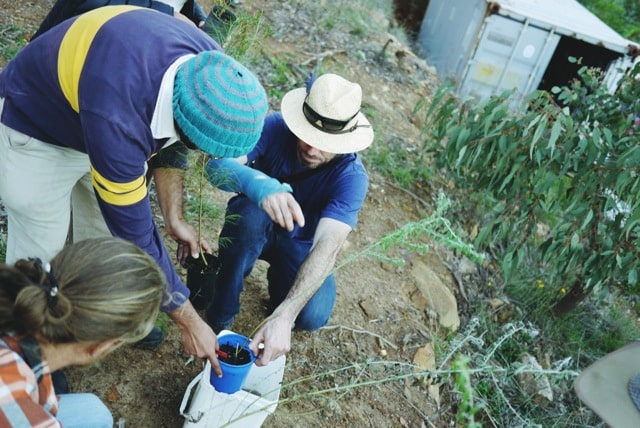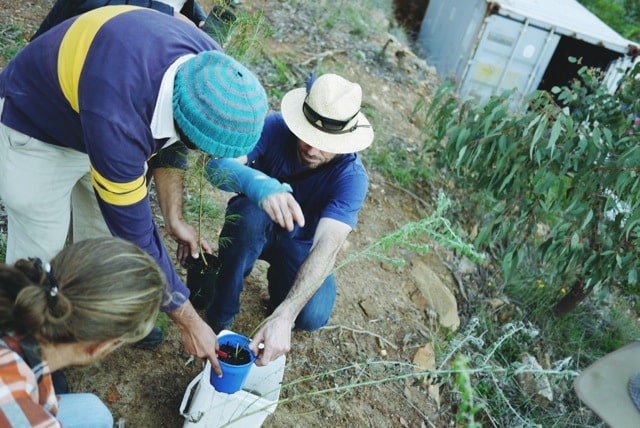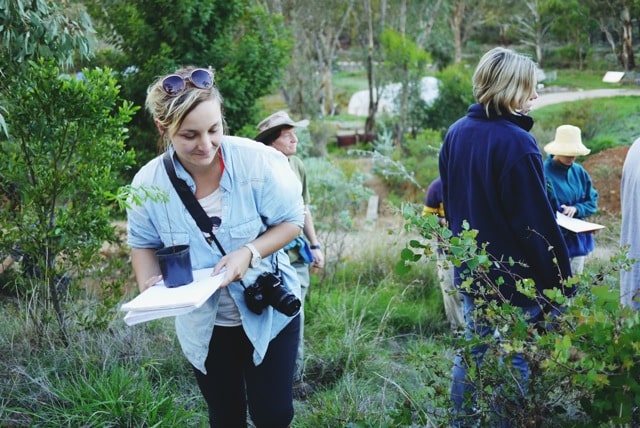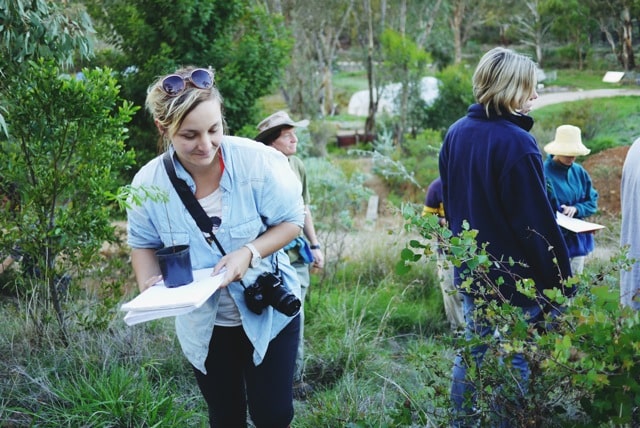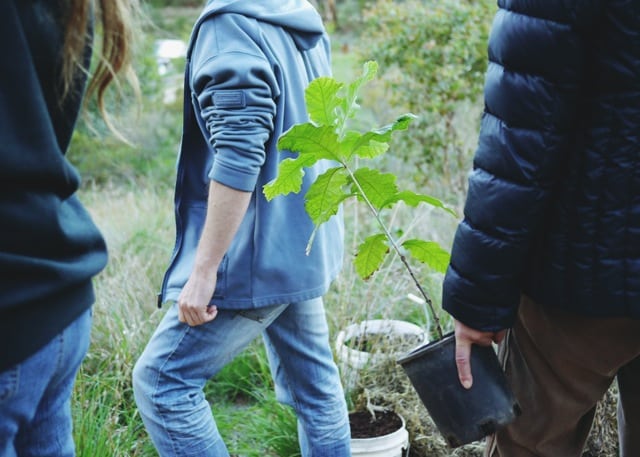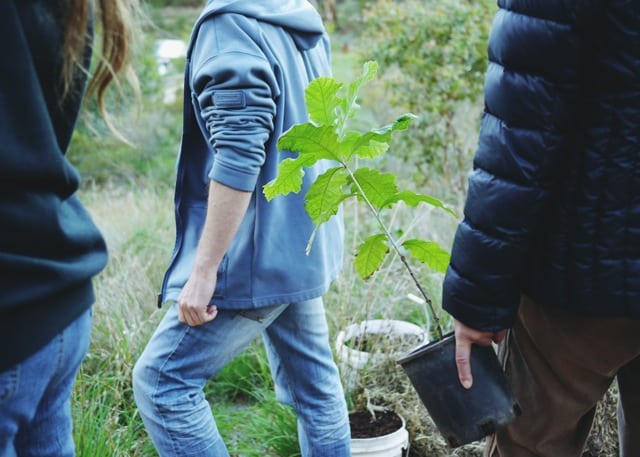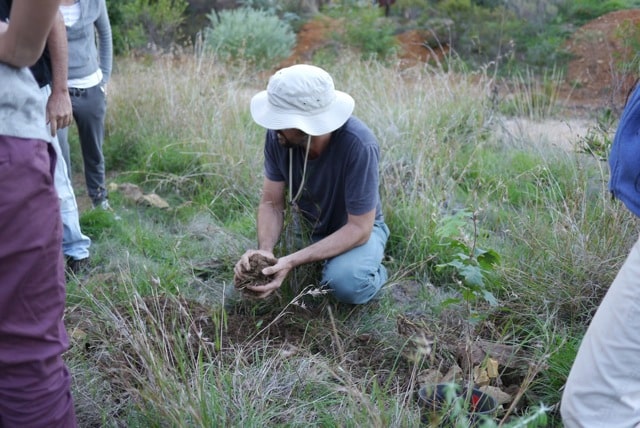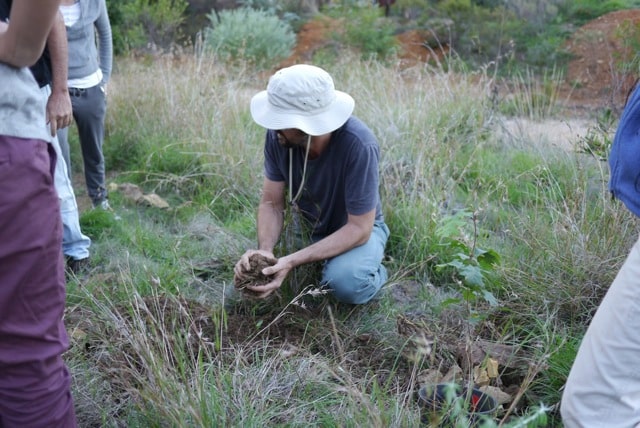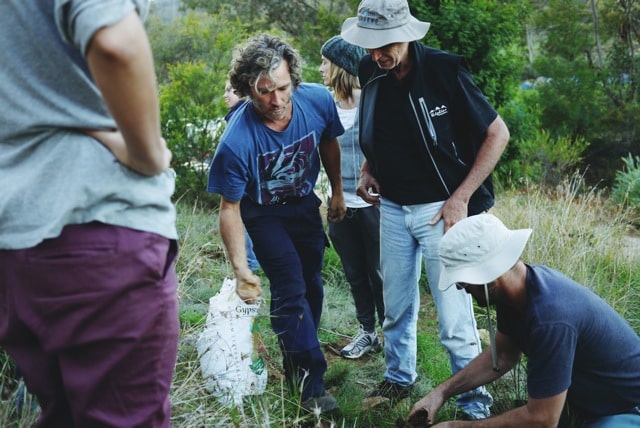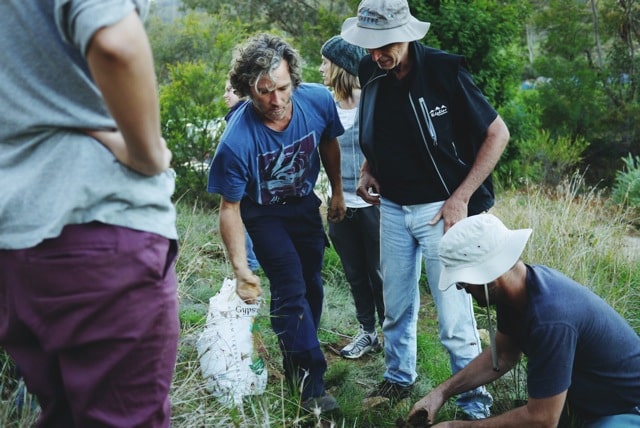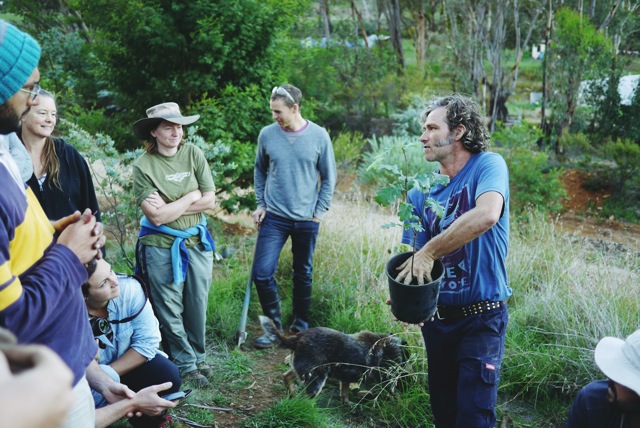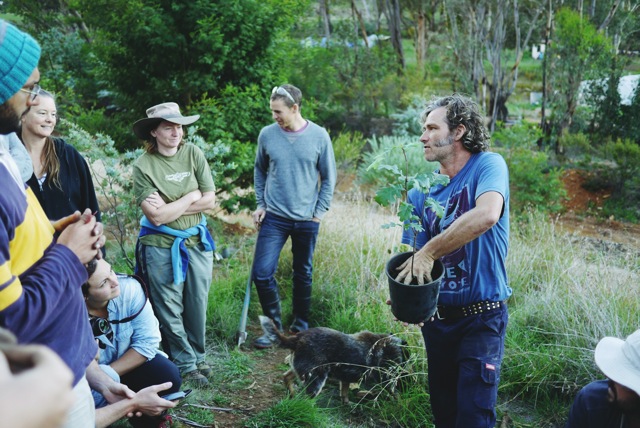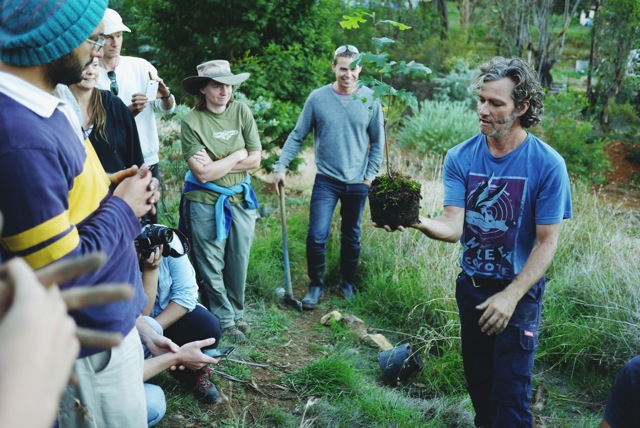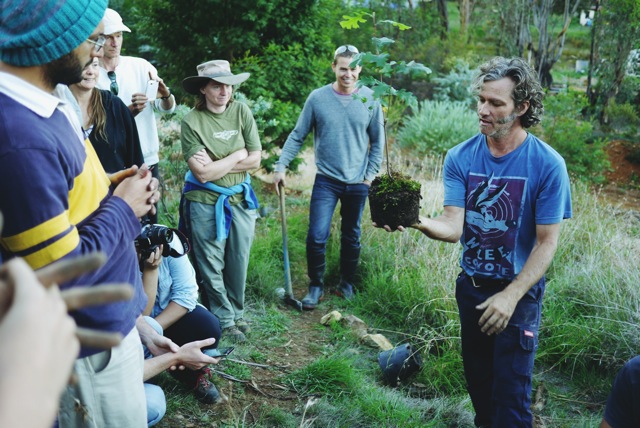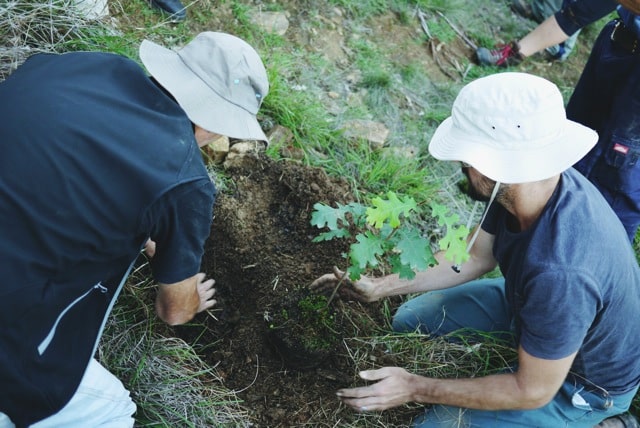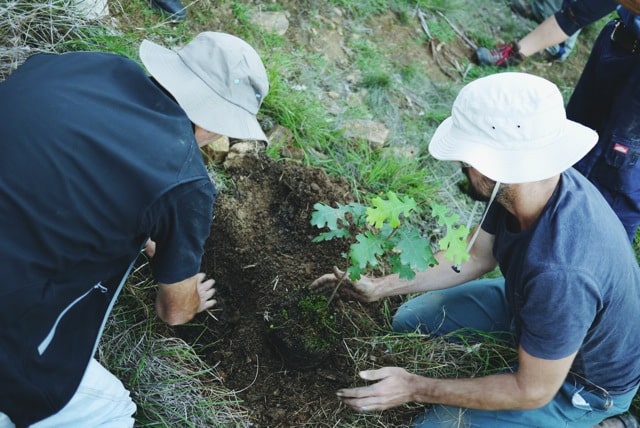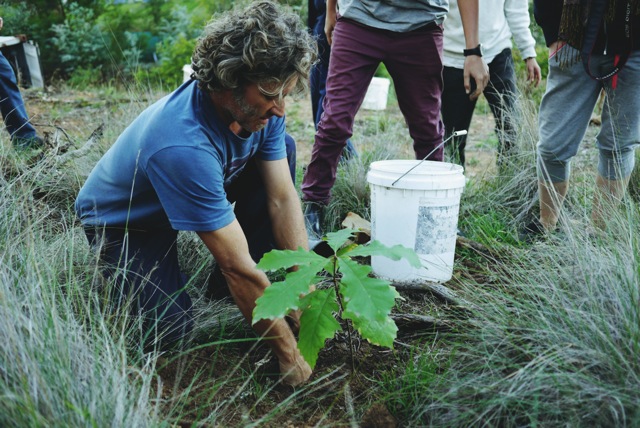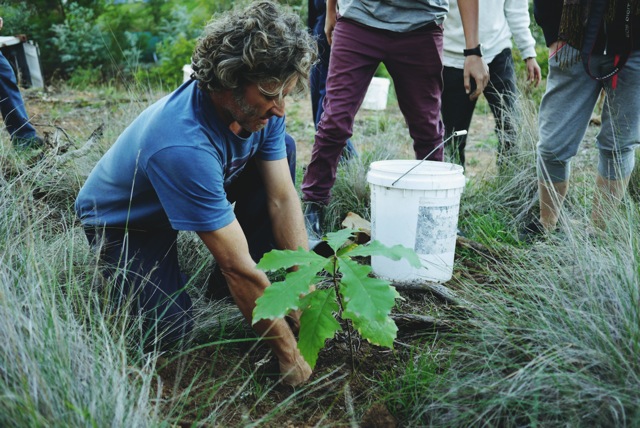 How to plant a tree, Milkwood style
– Dig a hole twice as deep and wide as the pot of the seedling you're planting. This creates a loose soil zone around the root ball for easy growth and good water holding ability
– sprinkle a small handful of gypsum in the hole. Gypsum starts breaking up the clay around the edge of the planting hole to help new roots penetrate outwards
– Mix up spadeful of compost with the soil you've removed from the hole, at a ratio of about 1:5. To this mix add a handful of trace mineral dust or mycorrhizal tree starter, if you can get your hands on some
– Insert a few spadefuls of that mix you made into the hole
– loosen roots of potted plant a little, especially if tightly bound.
– put plant in hole and push remaining dirt mixture in and around, pushing down firmly with your fingers.
– If we're talking a big hole here, water it in as you backfill with soil mixture. This will help things settle properly without air pockets.
– mulch planting hole and surround, leaving a small open ring at trunk
– mulching right up to the trunk can cause fungal problems in some plants.
– Water intermittently (maybe every week or so) if it's especially dry in the first month after you planted your tree.
Big thanks to Brendan Morse for his contributions above and leading this tree plantathon.
Notes of growing Oaks in non-oaky places
Oaks are a fantastic tree, for all sorts of reasons – they're fire retardant, hardy once established, deciduous, beautiful shade trees from beneath which sprout tasty mushrooms (if the right mycelium are present beneath the tree).
Then there's their timber – great for shiitake logs in the short term, or perhaps a boat, one day.
So ever since we moved here we'd been poking collected acorns in holes, hoping they'd all grow into a nice oak forest. But the acorns refused to grow, year after year.
We then tried acorns carefully tended to in pots, and still, nothing.
The way we finally got them to grow was by collecting some leaf litter, or duff (or tuff, or toof, depending on which British isle you're from) from under the mature oak trees we were collecting acorns from.
We aded a goodly sprinkle of this duff to our pots, when planting our next round of acorns.
And whaddaya know. We grew happy little oak seedlings.
The thing is, not all soil types have a complimentary soil food web for some trees. Sometime, the necessary microbiology and mycorrhizal relationships that a certain type of tree needs to thrive just ain't there.
This is not a situation limited to oaks either, of course.
Anways, collecting some duff from under healthy trees of the type you're trying to plant can have a huge effect on the health of your future seedlings, by introducing just enough beneficial microbiology to get the soil food web pointed in a direction that's complimentary to that tree.
This same technique can also be applied to trees that are not doing so great, with no apparent reason.
It works particularly well on trees like casuarinas, for example.
A word of warning though: there's the potential for bringing across diseases etc with this technique, as well. But it seems to us that if the duff you're gathering is from under a super healthy tree, it's highly likely that you're bringing across primarily good stuff.