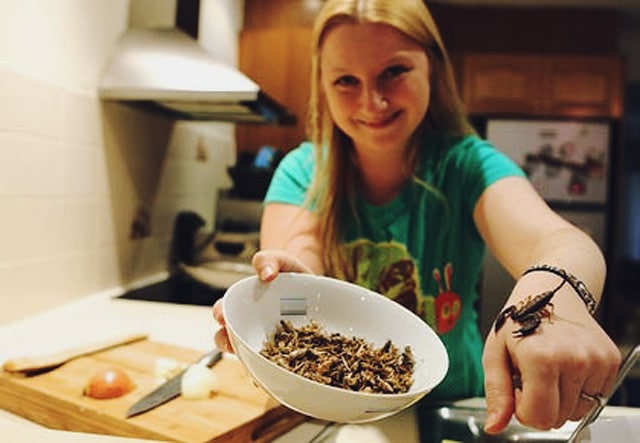 Protein can be a wee point of contention sometimes. Talk to most about food production and our environment and you are likely to come across the discussion of meat.
As you no doubt know, much of the animal protein we eat produced in Australia is responsible for the use of exorbitant amounts of water, and not-so-great levels of methane emissions.
And then there's a very big humane argument to be had… 
While there are a few solutions rearing their head slowly for this, from plant proteins to small farms raising animals ethically, another is bugs.
With their low space and input requirements, and a few well-known chefs including Kylie Kwong adding the like of crickets and mealworms to their menus, eating insects has become more publicly open for discussion.
One producer who is leading the charge is Skye Blackburn, also known as The Bug Girl.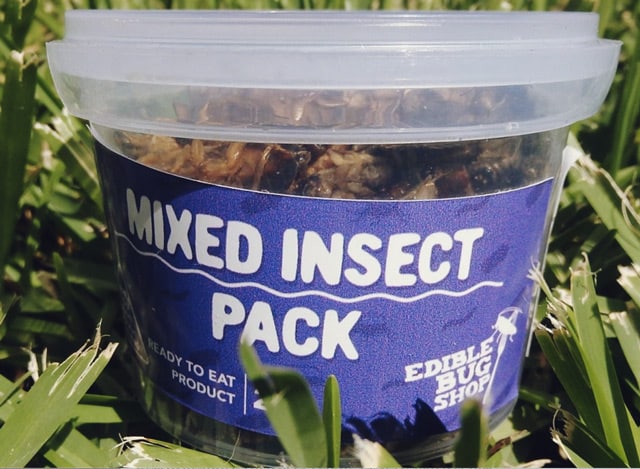 On her property on the outskirts of Sydney, she's been running a bug farm for seven years, growing the likes of crickets, mealworms, and scorpions among others for human consumption. We got in touch for a chat…
What inspired you to start farming bugs?
I've always been interested in creepy crawly things ever since I was little, so when I went to university I studied entomology (bug science). We started our insect farm in 2007, breeding butterflies and making life cycle kits for schools.
But as the business grew we were looking at different kinds of things to do and thought of edible insects.
We just did them for a special event, but because they were so popular we basically had to keep doing them. The business just grew and grew from there, and we've been farming edible insects since 2007.
What does the process of bug farming involve?
It involves, as with any kind of animals, a lot of husbandry work, a lot of cleaning – the majority of our work goes into cleaning and feeding – and because I have a degree in food science as well we use that to make up new products that contain edible insects and make sure they comply with the Australian food standards.
What insects do you raise?
We breed crickets, and mealworms, which are the larvae of a darkling beetle. We also breed wood cockroaches, ants, grasshoppers, giant water bugs, scorpions and silkworms.
What inputs are required?
The main things that we feed them are different kinds of organic vegetable and fruit.
We do give them a little bit of grain depending on the insect – mealworms require grain but crickets don't require any, they can go the whole way on fruits and vegetables.
We normally don't need to give them any additional water, they get most of what they need from the food that they're eating.
"In comparison to beef where you need about 4000 L of water to make 200 g of beef, you'd need about 1 mL of water to make the same amount of crickets."
What are the nutritional benefits of insects?
Roasted crickets are about 60-65 percent protein and if you're looking at a steak it's about between 20-28 percent protein so it's nearly triple the amount.
If you're looking at a fresh cricket, those are about 13 percent protein so it's still comparable.
Because the roasted crickets don't have any moisture left in their body it increases the percentage. So we make insect flour, which doesn't have all the water in it, and that brings the protein up to 65 percent.
In addition to that they've got a lot of micronutrients in them including iron, calcium, a lot of omega 3 and essential fatty acids that help with brain development.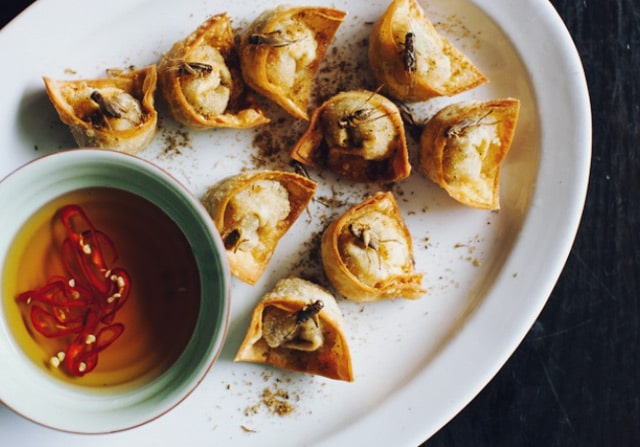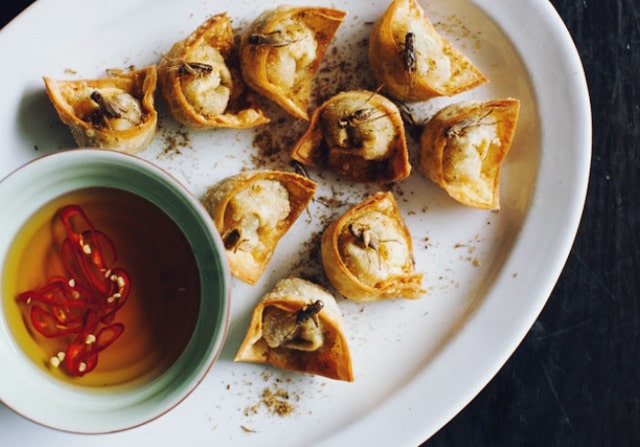 Skye's crickets and mealworms on the menu at Billy Kwong in Sydney. Image via Broadsheet
What's involved in preparing the animals for consumption?
When they get to the appropriate size – we do them in different sizes depending what they're being used for – we collect them out of the pens they're in, we purge them for two days and that removes all the food from their stomach, then we freeze them which is the most humane way of killing them before we process them further.
Who buys your product?
We supply to a lot of restaurants around Australia, including Billy Kwong and Stanley St Merchants in Sydney, a few restaurants in Western Australia, and Public in Brisbane.
A lot of places are using insects not as a novelty ingredient but as an actual ingredient in the food, which is fantastic.
We sell a lot through our online shop as well. People from the general public buy a lot of our retail products just so that they can use them in their everyday lives.
We've got a few customers that purchase a 500 pack of crickets every week and use that as two meals.
Could insects be raised in an urban environment?
We have a farm so we don't farm them in an urban setting – we're in Western Sydney so we have a few acres here.
But you can quite easily farm them in an urban environment – the insect enclosures can be stacked on top of each other.
You can farm hundreds of thousands of them in very limited space.
Is there a humane element in terms of space?
In most of the insects that we farm they don't actually require a lot of space to complete their life cycles, and in nature they would actually be in quite close quarters to each other so it doesn't actually affect them in any way.
Of course there are limits and you have to set them yourself to make sure everything is done in the most ethical way possible, and we treat our bugs fantastically throughout their whole lives, and that gives us the best product that you can possibly get because the bugs are happy when they're alive.
Are some species easier to raise than others?
Crickets and mealworms would be the best – if you don't like a lot of noise definitely go for the mealworms.
The crickets as you can imagine are a little bit noisy especially in the warmer weather. The mealworms can't climb either so they'll stay in the enclosure you've got for them.
And they reproduce quite quickly, and become a harvestable size between four and six weeks so you're getting a good turnover as well.
Some insects can take a bit longer – with the scorpions it'll be two or three years before you get a good size with those, while silkworms are about ten weeks.
How would you describe the taste?
The bugs themselves have a really mild flavour to them, so people that are a bit concerned about eating them can try them ground up in insect flour to make cookies, brownies, or banana bread. – so people can still get the nutritional benefits of eating the bug without having to look at the bug.
Then you can build up the courage to try a few whole insects and get the texture aspect of it as well.
Some people can get past it quite easily and for some it's too far ingrained in their brains that it's something they shouldn't be eating and they can't get past it.
Slowly changing people's minds is part of our jobs and that's what we're doing, we're slowly educating people and hoping that everyone can learn about edible insects and why they're so good for the environment.
Favourite bug recipe?
I really like making a muesli. I use honey, some brown sugar and mix them with oats, some mealworms and different kinds of nuts and berries. It's my favourite and I have it with yoghurt every morning.
Thanks Skye! For more info on Skye's edible insects visit her at www.bugshop.com.au and to try her products visit www.ediblebugshop.com.au
Have you had a culinary insect experience, or maybe even raised insects at home for food, either for you or your animals? How did you go? We'd love to hear…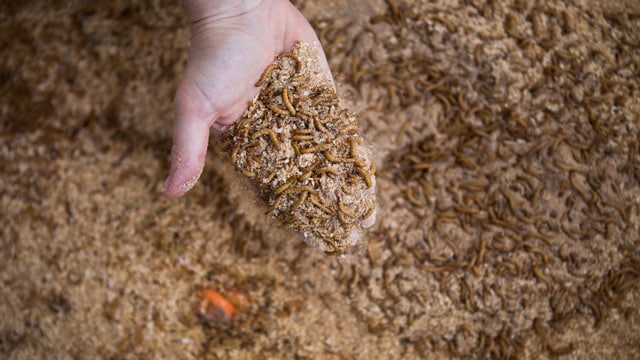 Skye's mealworm growing operation. Image via Munchies
Interview by Emma Bowen – grower of good things including GreenUpTop + Slowpoke Journal