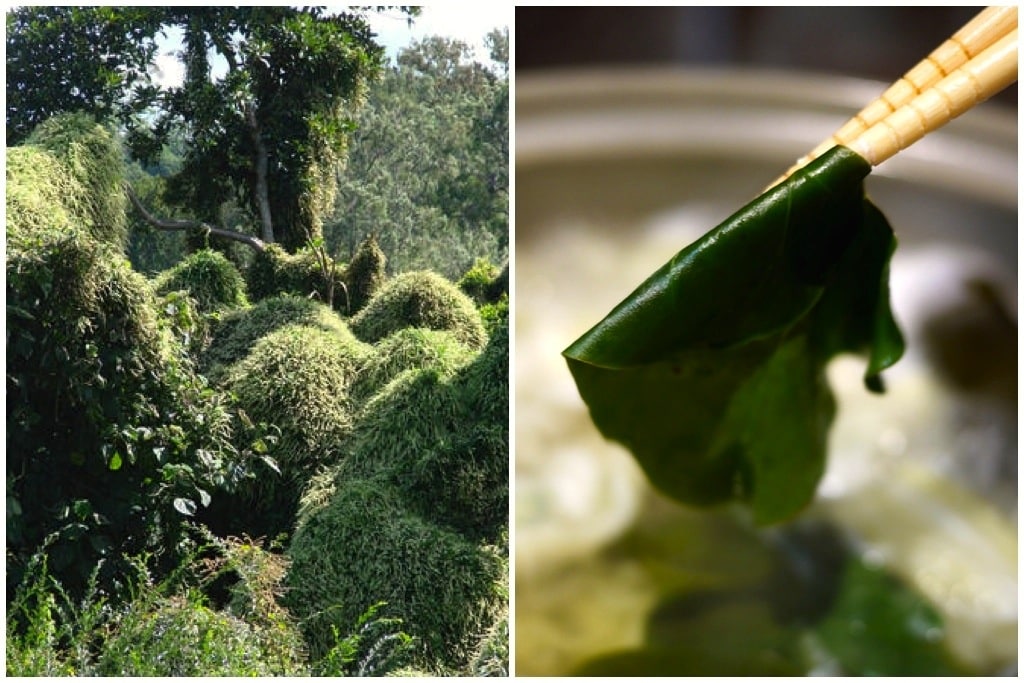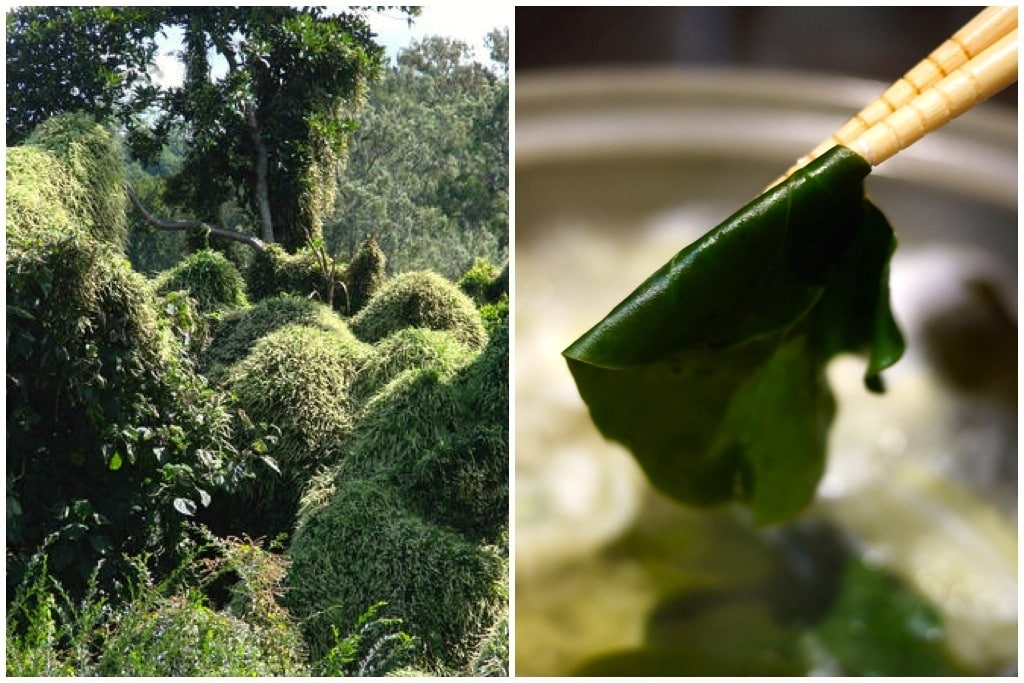 Now that we're gardening in a frost-free area we have to get acquainted with a new bunch of sub tropical-ish weeds. This week, it's been all about the Madeira Vine. In our new garden, the stuff is everywhere.
Look up Madeira vine and you will find gazillions of references to its invasive and terrible habits. But did you know that it's edible? 
Last weekend we got stuck into our new rental home's garden. Well, a corner of it, anyway. Small steps, obtain a yield, and all that.
Prettymuch every surface in the corner we started in was choked in the bright green, fleshy leaves of Madeira vine, a garden escapee which hails from South America.
Madeira vine (Anredera cordifolia) is a hardy perennial which climbs up trees and then proceeds to produce long tails of flowers followed by clusters of airborne bubils, which fall off, and make more Madeira vines.
It's considered a real problem all across subtropical Australia – choking the edge of rainforests and other native vegetation – like many resilient pioneer species, it's an aggressive little bugger.
And our new garden was choked with the stuff.
With the enthusiasm that only establishing a new garden can bring, I took on the madeira vine with gusto.
The tuberous roots were everywhere, and it trailed up the fence and the lemon tree, as well as thickly across the ground. I ripped and I ripped and I ripped it out.
During a pause in my ripping frenzy, I had a thought. And so I panted to Nick: "hey could you look up Madeira Vine and check what it's good for?"
It turns out that Madeira vine is highly edible. Medicinal, even.
Madeira vine leaves can be cooked like spinach and are highly nutritious
Madeira vine roots (rizomes) can be baked like potato
Madeira vine bubils (the aerial seed-ish things) are used extensively in Chinese medicine as an anti inflammatory, anti ulcer and liver protectant.
So here I am, ripping out a perfectly adapted, naturalised and nutritious food crop that can be used like spinach so that I can, er, plant some spinach.
Oh the irony.
Our personal compromise? To meet the Madeira vine half way. We removed it from our intensive planting bed, But we left it be under the lemon tree, where it seemed happiest.
Our future strategy? Management and reduction, via eating it.
So we won't plant any more spinach. Until we run out of madeira vine, that is.
As I looked through the very many online articles and references to Madeira vine as a noxious pest, I was struck by the fact that only one article in twenty mentioned the vine's eminent edibility.
Don't you think that's crazy?
I mean, don't get me wrong. Native vegetation is essential to preserve, as are our remaining pockets of functional rainforest. And weed removal is a part of that.
But conversely, in an age of food scarcity, of ridiculously wasteful and polluting industrial agriculture being promoted as the only way to feed Australia (because we couldn't possibly feed ourselves with localised small farm based food systems, apparently)…
In the middle of all this, we have yet another rampant food bearing plant that is everywhere, and which is being entirely ignored for the nutrient dense value to our communities that it represents.
In fact, we have a local food source dripping, literally, from the trees around us. And yet our only plan for it, no matter where it grows, is to eradicate it.
Does this mean we should let plants like Madeira vine strangle our local nature reserve? Hell no.
But this does mean that, yet again, we have an adapted, perennial, zero footprint and highly nutritious food plant right on our doorsteps, which we're trying our best to wipe out.
Because it doesn't fit our idea of food, our idea of nature.
But unlike many other edible weeds that are there for the foraging but which could be easily discounted from cultivation due to various factors, it's interesting to note that Madeira Vine ticks many of the boxes desired for a food crop…
It grows without much assistance, is hardy and produces prolifically.
It requires minimal cultivation.
It dominates an area where it is planted (meaning far less weed control is needed)
It is spread mainly by humans and by water flows distributing the bubils – an easy factor to contain with good design. Though possibly also by birds, which is a problem! Maybe compost the bubils if they show up, to ensure it doesn't spread?
And if that's not enough, Madeira vine is already successfully cultivated + eaten extensively in Japan, where it is called okawakame (land seaweed)
At any rate, I feel fortunate that we looked it up, and now know of another local food that can be used to nurture our family and friends.
Seeking sustenance by whatever means available, and necessary.
Madeira Vine resources
It's a pickle, isn't it – what do you make of this issue?
Actually, speaking of pickles, i rekon Madeira vine would make a good pickle or kraut addition…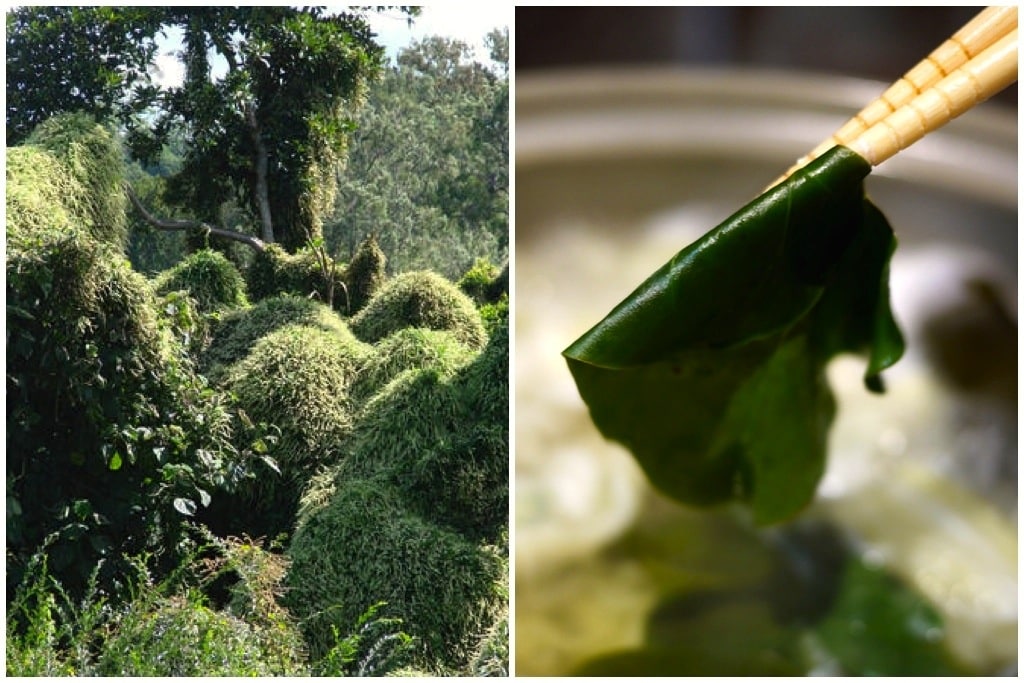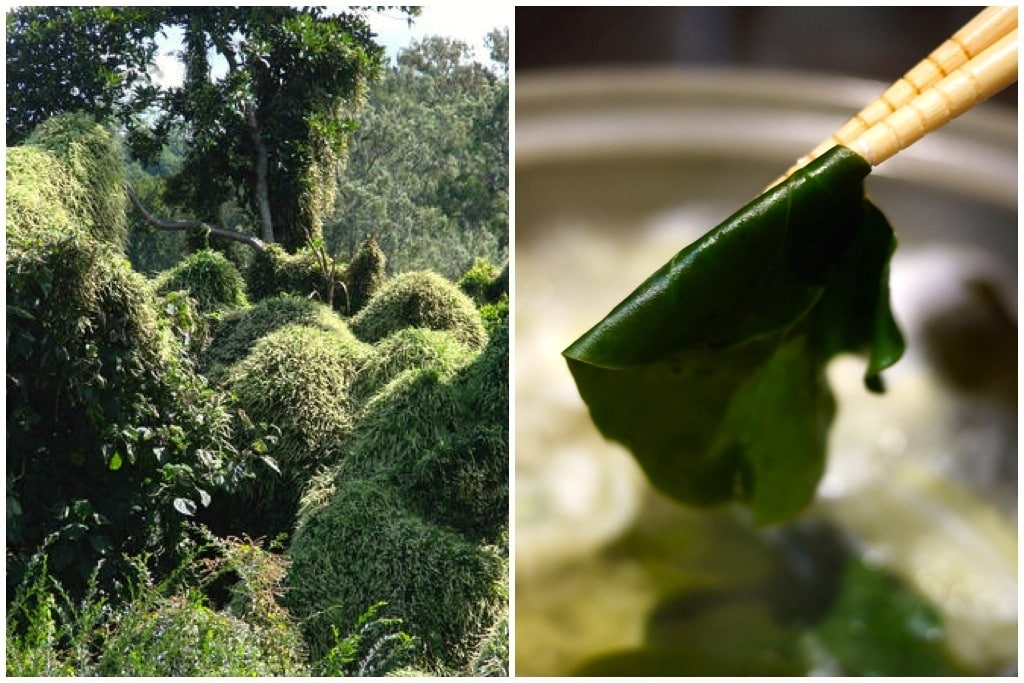 **Update in response to the various folks who are determined to see the above post as a promotion of cultivating noxious weeds – people, read the post again. It's not.
What I am saying is that using the resources around you (even as you attempt to eradicate them) is a good idea, and an ethical approach to energy + food consumption.
Whether it's madeira vine, feral rabbits, whatever – eating it is an appropriate use of energy, and should be considered over the alternative of  exclusively approaching the problem with glyphosate or pindone.
And if you really want to talk weeds and the destruction of the Australian landscape, let's start with the big ones – rice, wheat, canola, sugarcane and so on… it's a long list, if you look at it in terms of adverse and invasive impact on our ecosystems…