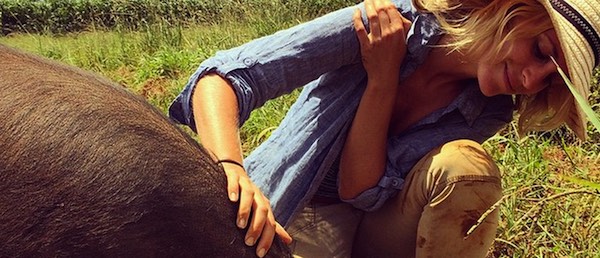 Farmer Cass is an example of how Permaculture Design Training (and a whole lotta gumption) can lead from a career in pet minding to full-time organic farmer.
Since doing her Milkwood Permaculture Design Course, Cass has travelled and researched different organic farming systems, interned and volunteered on all sorts of farms, and ended up as a full-time farmer at The Farm at Byron Bay.
We caught up with her recently to chat about her journey…
Can you tell us a bit about a typical day for you at the moment?
My mornings start just before sunrise each day and begin with pig and chook chores. This includes feeding, watering, moving, egg collecting etc.
After my beloved morning coffee, I usually head out to the field and depending on what day it is we'll be harvesting, prepping veg for the kitchen and produce store, weeding, planting and so on.
Before I know it it's dark, my list of things to do has seemed to have doubled and I can't keep my eyes open later than 8pm!
What led you to do a Permaculture Design Course initially? What were you doing before that time?
It is my dear friend Linda who I have to thank for introducing me to Permaculture. We both had dog walking and pet minding businesses in Sydney.
Already sharing a passion for working outdoors and with animals, we found ourselves walking each day, talking about food, cooking, farming and environmental issues.
I decided to start doing some short courses and Milkwood's PDC was top of the list.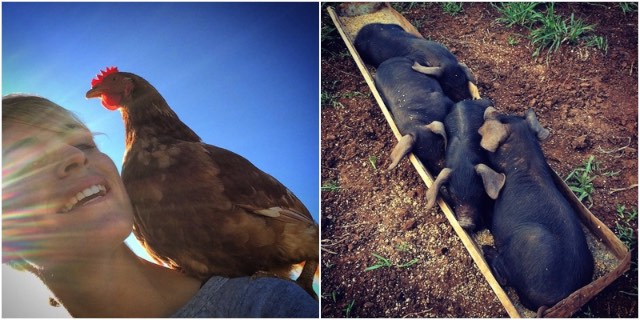 And what have you been up to since your PDC?
Completing the PDC certainly opened my eyes and inspired me to make some life changes. I sold my business and went wwoofing around Europe on various organic farms for six months.
This left me with an insatiable appetite to learn more about regenerative agriculture and upon my return to Australia I started looking for various internship programs.
I found it incredibly difficult to find any well structured, hands-on, curriculum-based farming programs here in Australia, which led me to pack up again and this time head to the US.
I completed a livestock apprenticeship at Stone Barns Center for Food & Agriculture in New York State which was an absolutely amazing experience.
I'm now working full-time at The Farm at Byron Bay, whose motto is to "grow, feed and educate".
How do you think Permaculture design has helped shape your thinking + outlook?
It certainly helped to shape my thinking in many ways, but the most valuable thing it taught me was to take a more holistic approach to everyday endeavours.
Most importantly, it made me realise that I can't care for the earth without cooperation and thoughtful consideration for the people and community around me.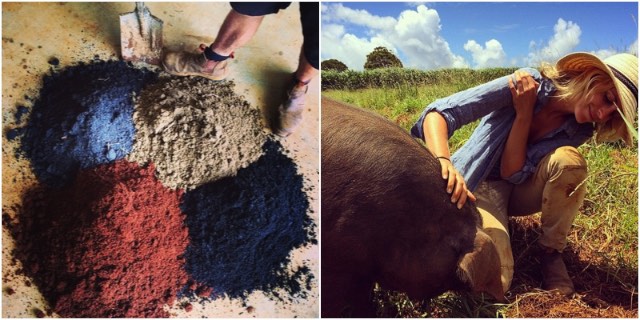 Your job at the farm sees you mixing with all sorts of people, as well as all the farm animals – what's it like helping people connect with organic food at its source?
It can be incredibly challenging working on a public farm (I sometimes feel like a zoo animal) and I am constantly having to remind myself of the bigger picture, which for me is to educate people about food production and how to eat consciously.
I'm always getting stopped throughout the day from curious visitors asking about the animals and what we are growing in the fields.
The greatest reactions are when we have a market stand and patrons from the restaurant come over and recognise the ingredients in the dish that they just ate.
It surprises me how many people react sadly to the news that our pigs and cattle are raised for consumption (and fertility of course), especially when they say that they are omnivores.
People like to turn a blind eye as to how the meat and dairy products they buy from a supermarket are raised, but here they can't.
I like to think that this connection will make people think twice when at the checkout counter.
The fact that over 50,000 people have visited The Farm since it opened in March gives testament to the fact that an increasing number of people are searching for a deeper connection to organic food and how that relates to their own health and vitality.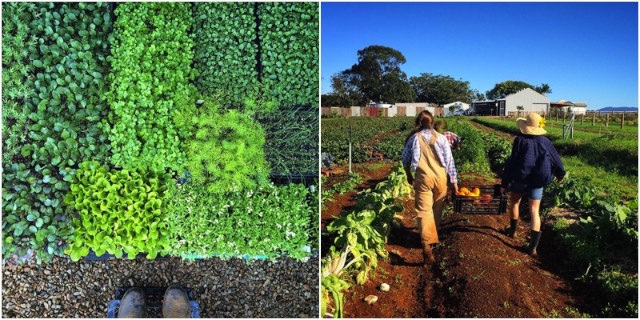 As a young farmer, do you have any thoughts about best-practice models that you've seen or heard of for enabling opportunities, security and tenure for new farmers?
I've done a lot of research about different models that have been successfully working in the US for the last few decades and hope that Australia can follow in their footsteps.
The food movement over there is massive and as such they have numerous paid educational programs on farms, regional networks for young farmers, land share/incubator opportunities and business support for those wanting to start their own farm.
I think that the first step is education and we need to look at providing paid apprenticeship programs for agriculture so that it is easily accessible and affordable.
It would also be wonderful to see farm incubator programs such as ALBA, The Intervale Center and NIFTI become established to assist new farmers wanting to start their own operation.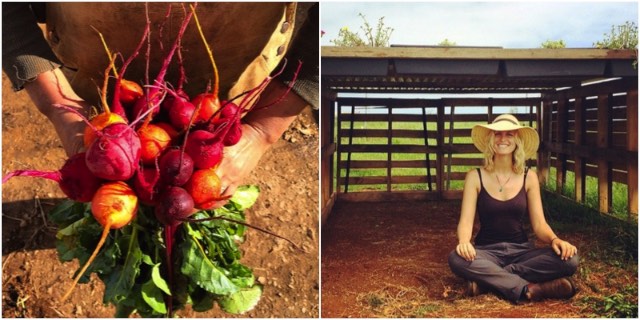 What's next for Farmer Cass?
Who knows! I have grand plans of starting my own farming project one day but I have no idea how i'll get there, so in the meantime i'll just keep learning, keep dreaming and enjoying this experience.
What a lady – go well, Farmer Cass! You can follow Cass Amundsen's adventures via instagram
Our next Permaculture Design Course is happening this October!
You too could come learn and get inspired to create your own permaculture future…

Thanks Cass – we look forward to following your farming adventures.
You can read more of our inspirational 'Permaculture Futures' folks here…