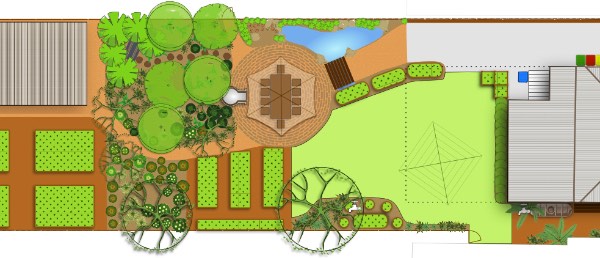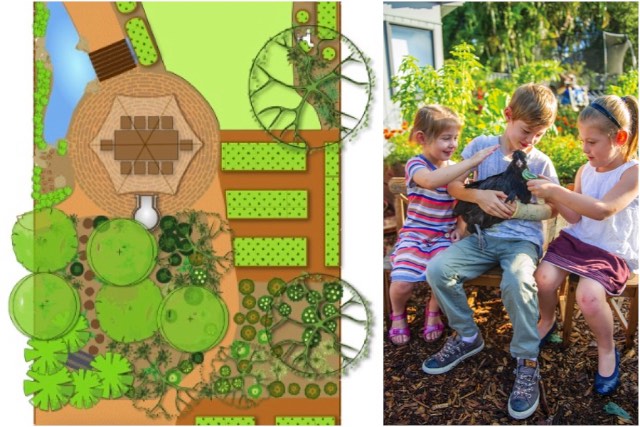 So how do you design a patch from scratch with Permaculture Design? Here's a breakdown of the backyard permaculture design Nick did for Organic Gardener Magazine's 'Patch From Scratch' project.
There's not many things more iconic that the Aussie suburban backyard – hills hoist, kids under the sprinkler…
But do you know what's even better?  A backyard filled with play AND food – backyard aquaponics, food forests, veggie beds, chickens, salad greens and shady places to gather with friends over a home-made wood fired pizza…
With reduced food miles, more hands-on organic gardening and play, kids getting to see the life cycle of their veggies, and collecting eggs from their chickens. That's the kind of backyard we want to see more of.
So – when Organic Gardener Magazine asked us to design them a permaculture backyard for their Patch from Scratch competition winners, we were more than happy to help.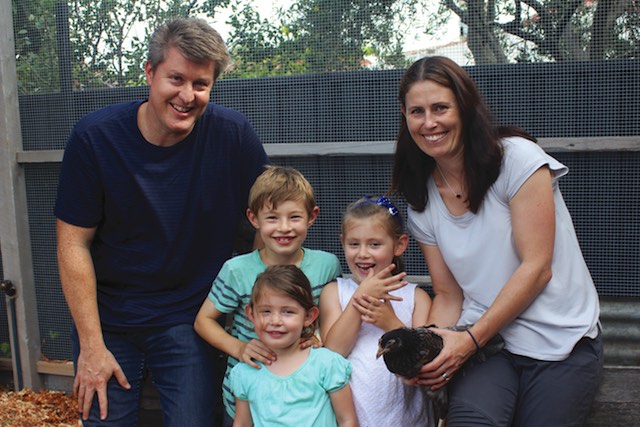 Meet the Patch From Scratch winners, the Gordon family of Dulwich Hill in Sydney. Stuart, Alex and their three little people were very excited to have won.
So Nick sat down with them and started figuring out what they wanted from their patch.

Goal statement
The first part of a permaculture design is the goal articulation – what do the clients want? How to they see themselves using the space? How do they imagine the space will be, how will will function, and what will it produce in, say 5 years time?
So first of all, Nick + the Gordon's brainstormed a list of things that the Gordon's wanted in their garden – fruit, fresh veggies, entertaining area, fresh eggs, a playspace and so on.
Then together, Nick and the Gordon's worked on a Goal Statement until they had a vision for how they wanted their garden to be – not in terms of 'tomatoes go here, chooks go there', but in the sense of the experience of being in the completed garden…
Once your goals are defined, it's much easier to work with the context of both those goals, and the site, and your budget, to figure out how to design your way to that final, beautiful place.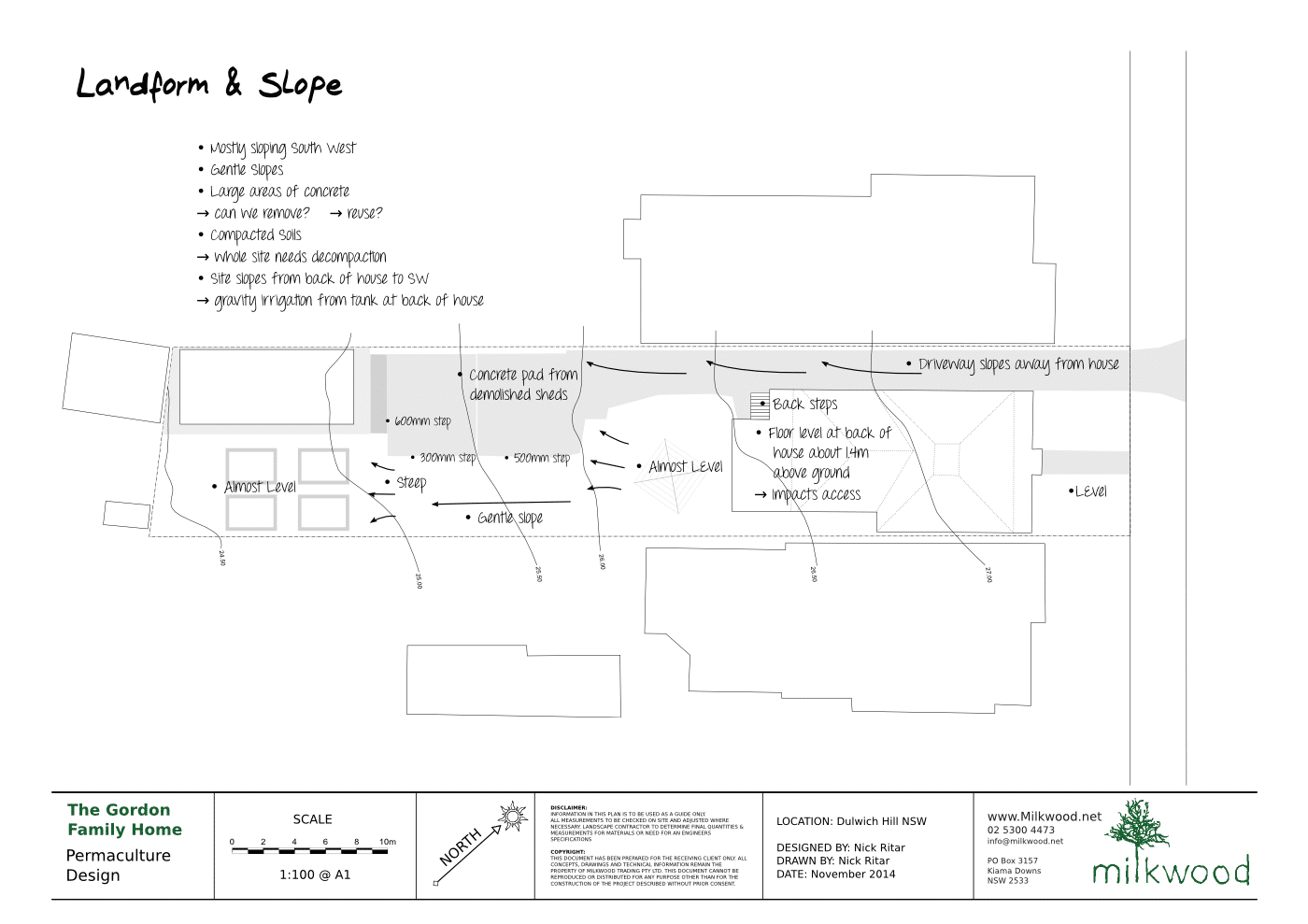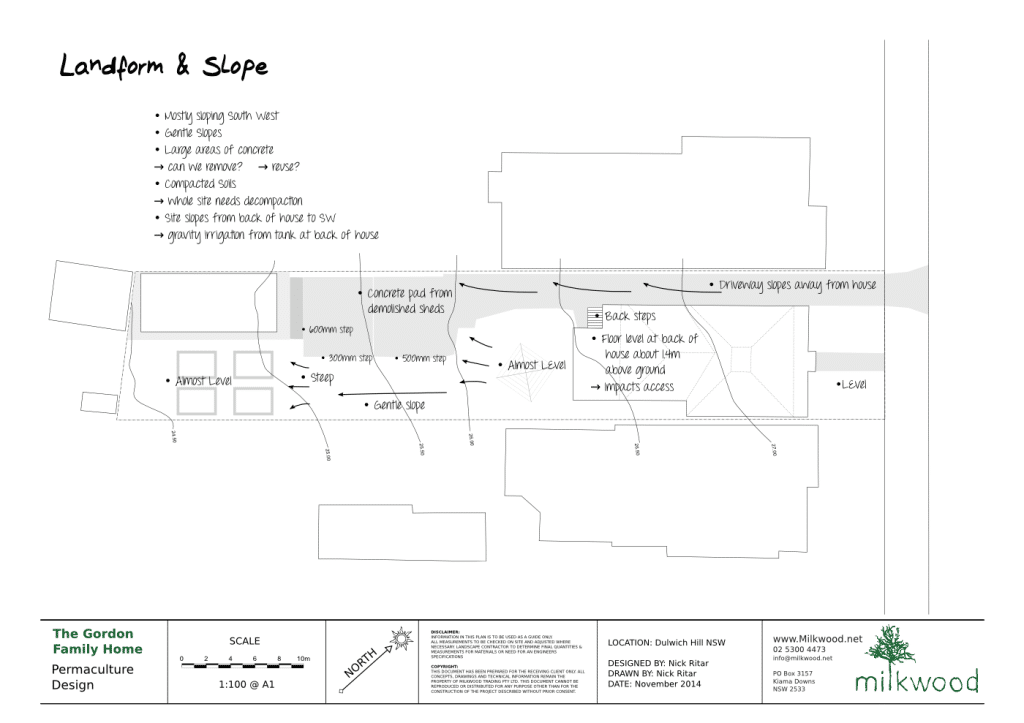 Site analysis
Next up, Nick moved into the site analysis phase of the design – figuring out exactly what the site had to offer in terms of features, microclimates, limitations and considerations…
Some of this information can be gathered by the designer's observational skills and researching available data, and some of it needs to come from conversations with the client.
Things like the fact that the Gordon kids frequently go next door to use the neighbours pool, for example, or that Stuart doesn't like bananas, are not things the designer can find out just by sitting in the space.
But armed with his own observations and also conversations about winds, neighbours, bananas and the planned kitchen extension, Nick soon had enough information to get cracking on creating a site analysis.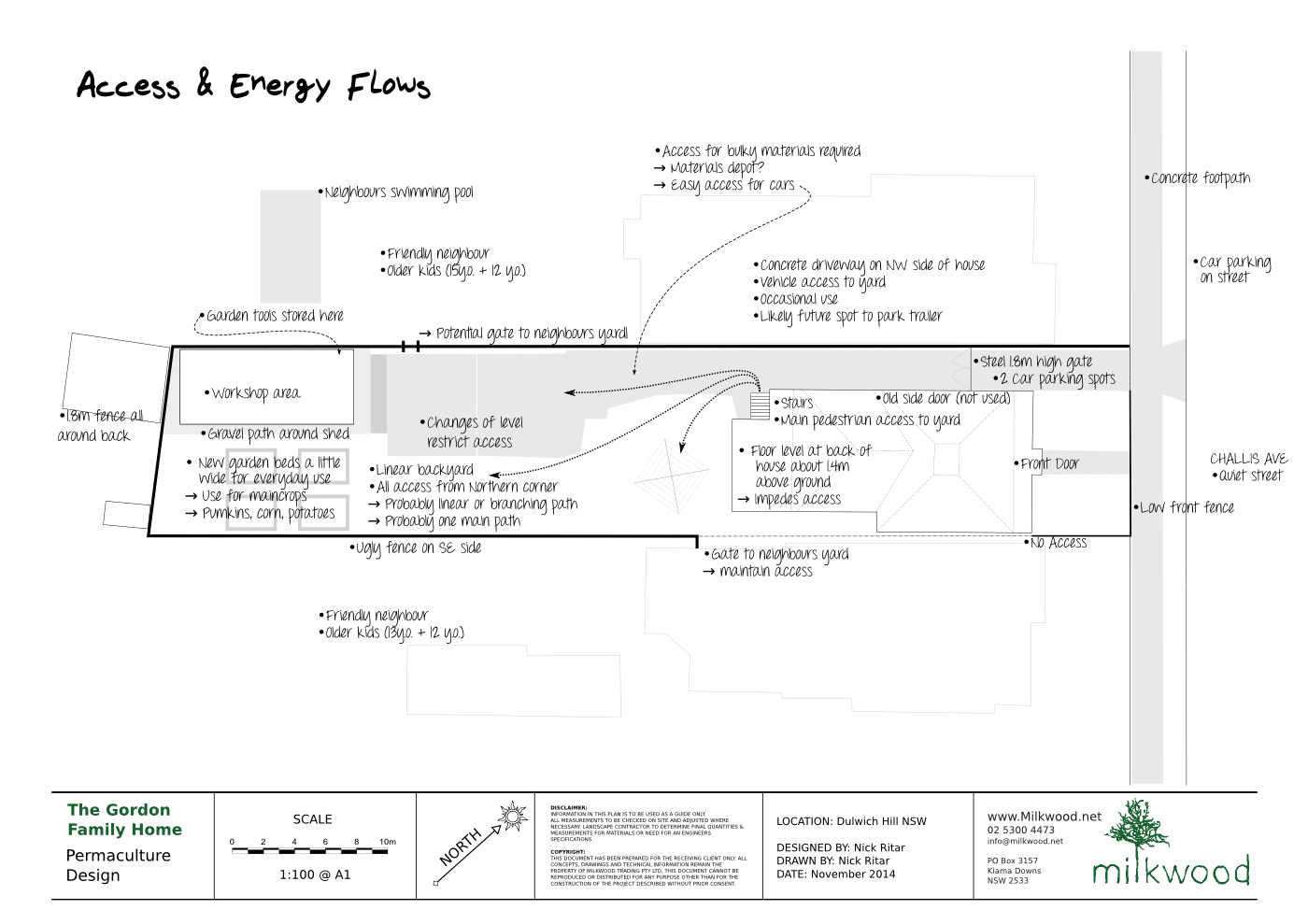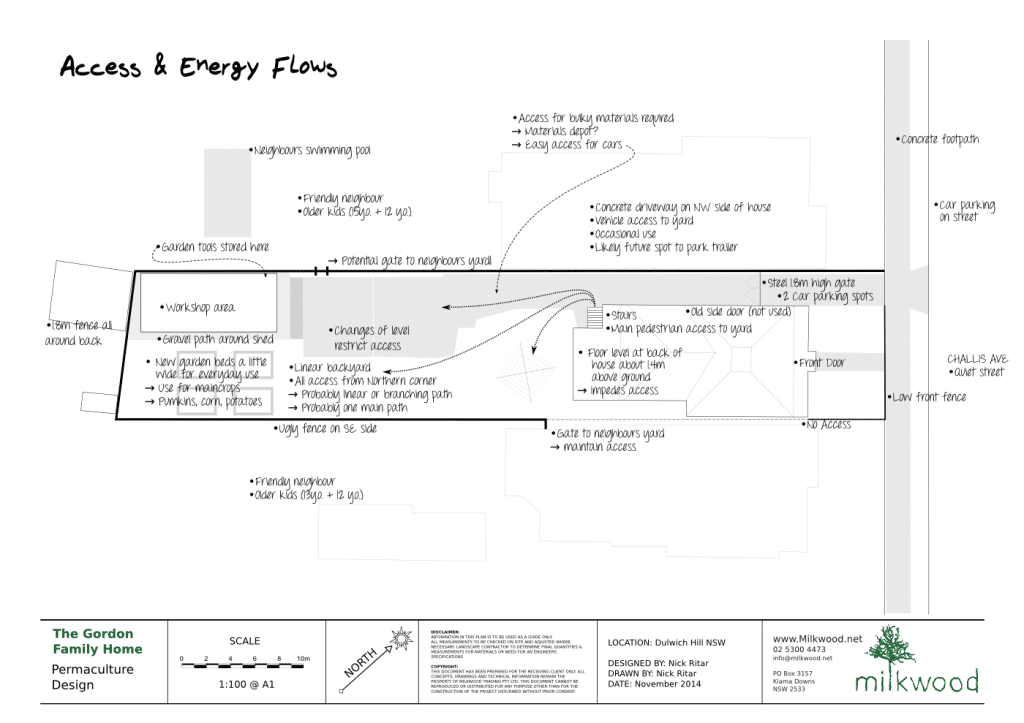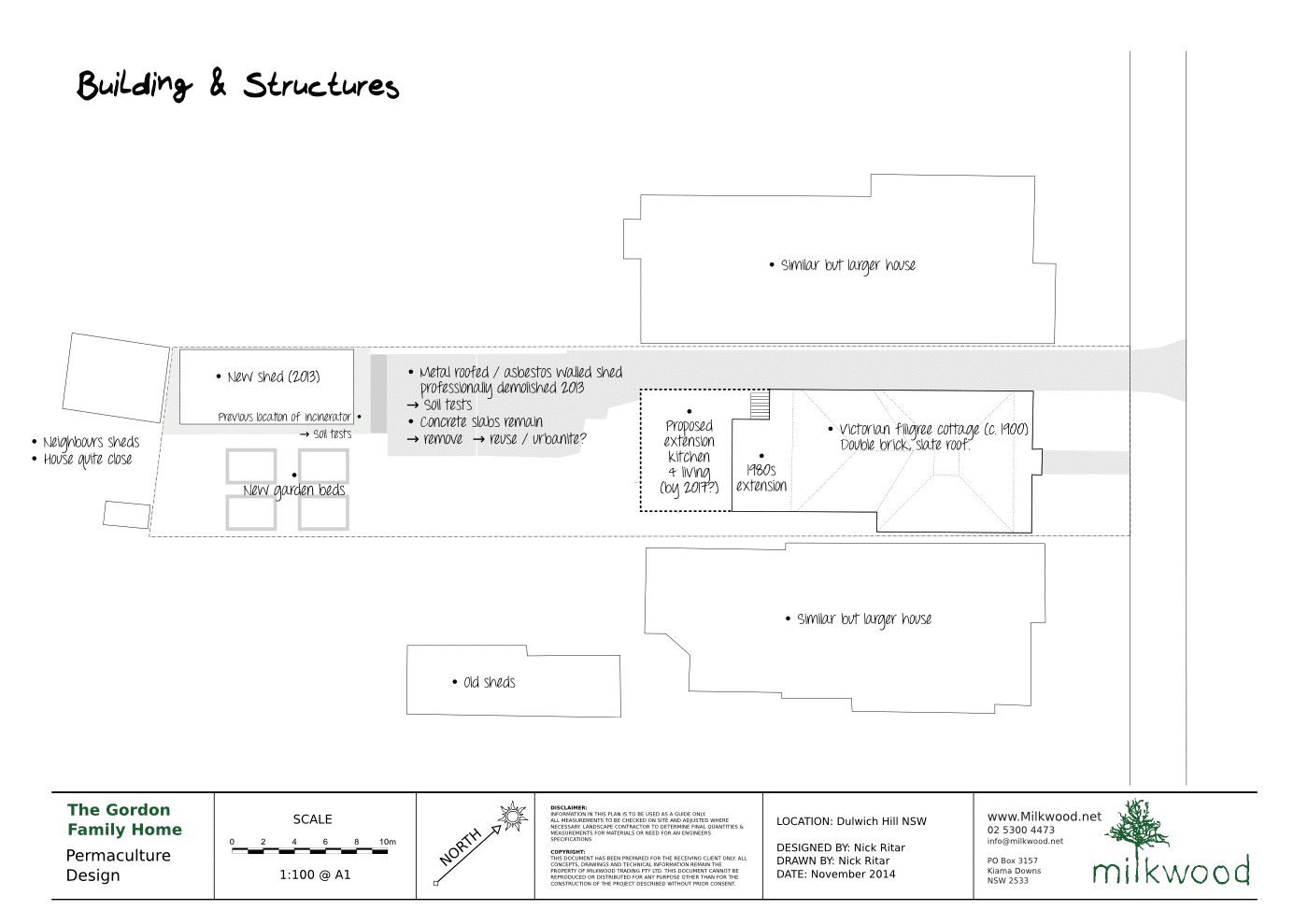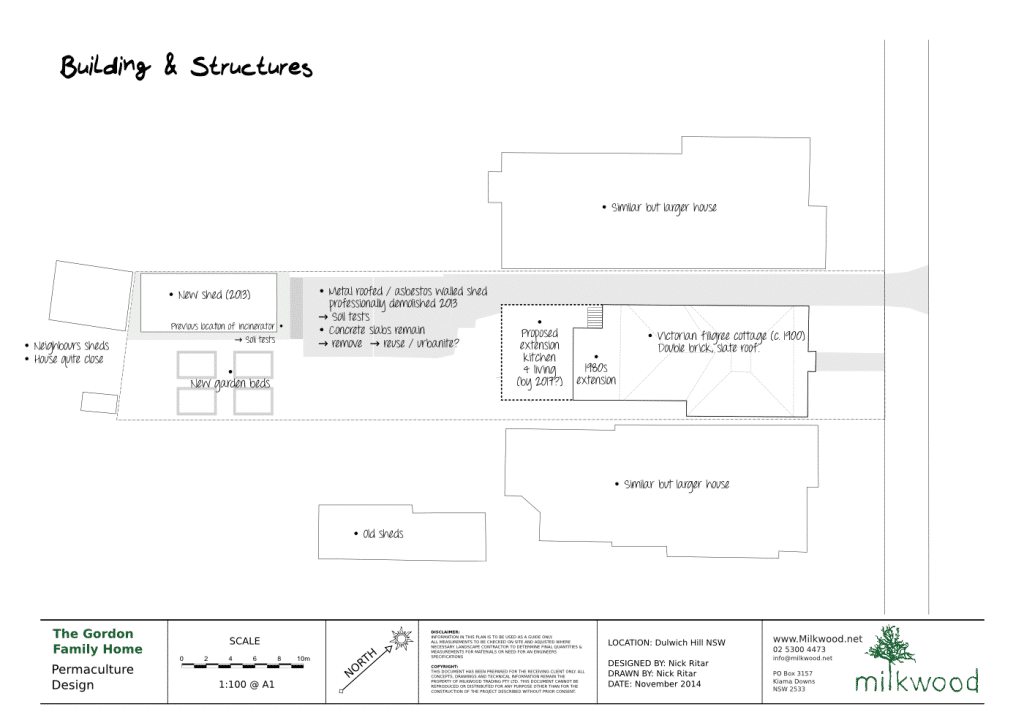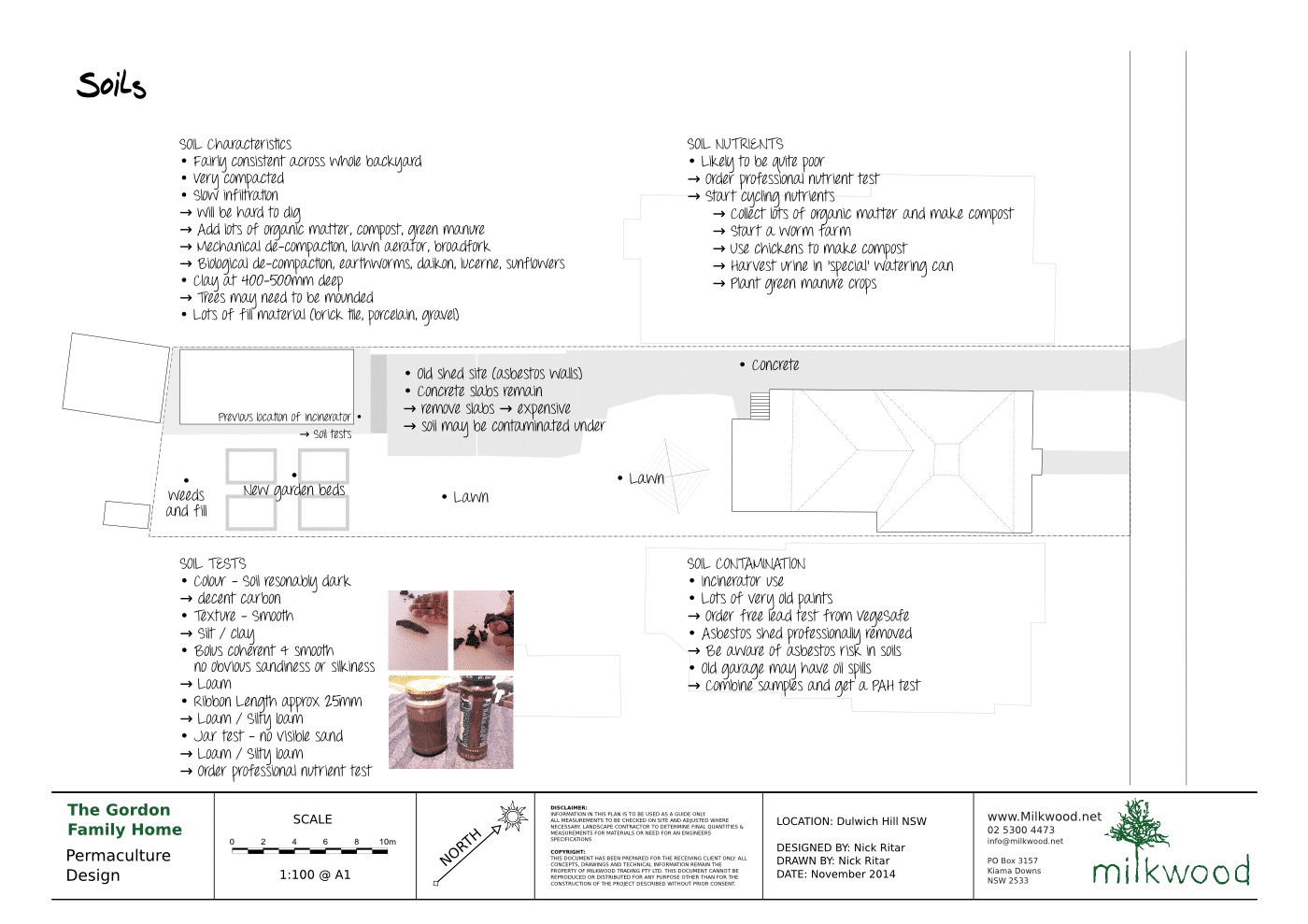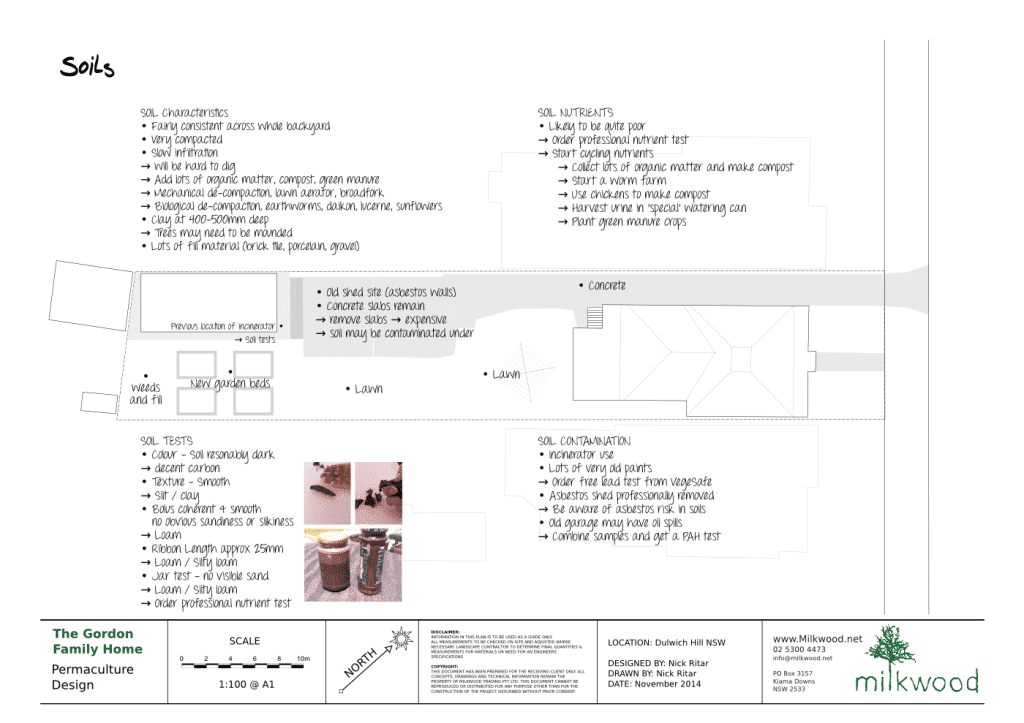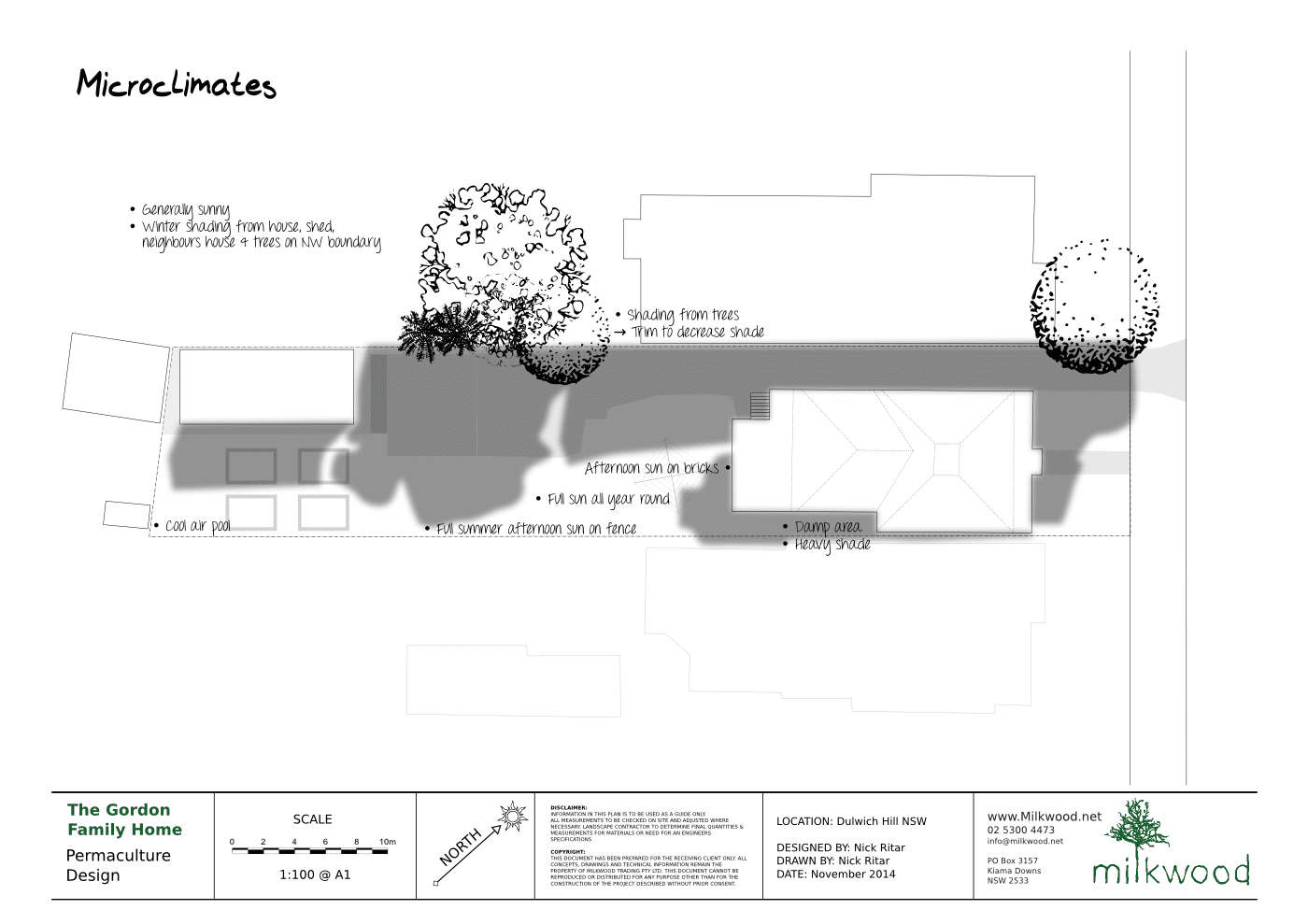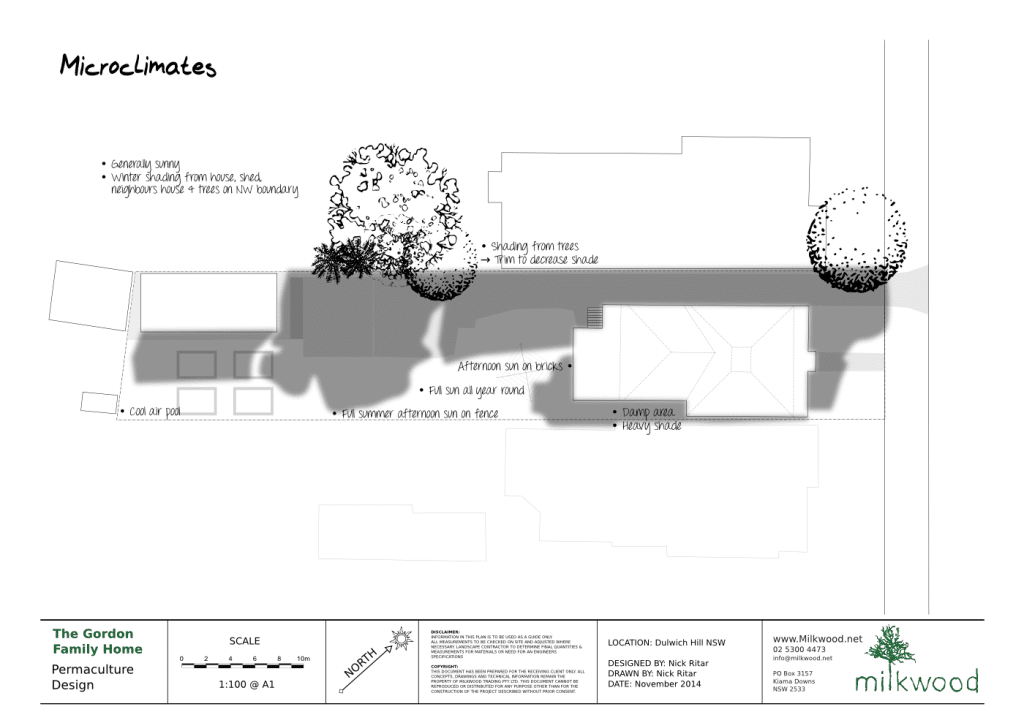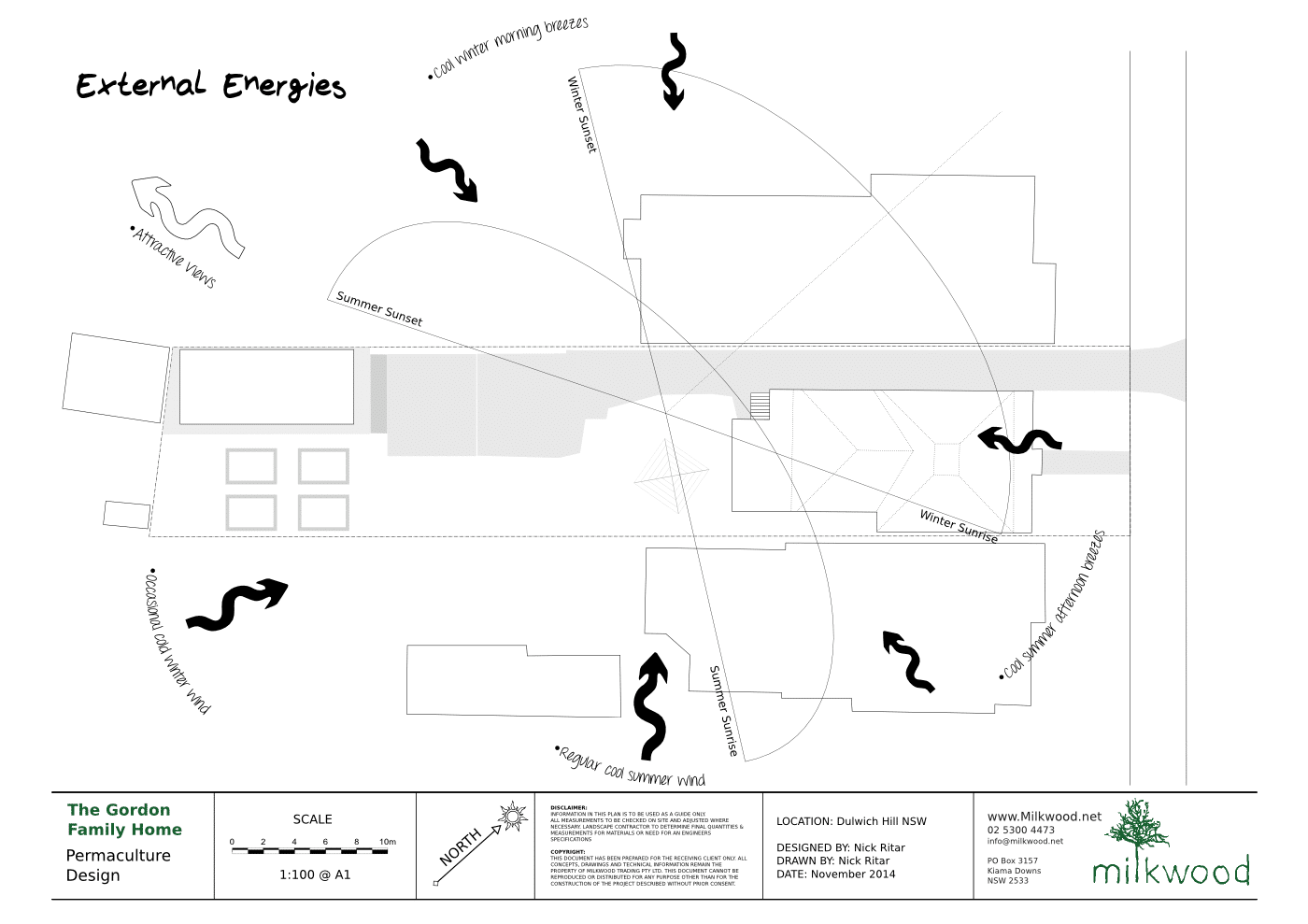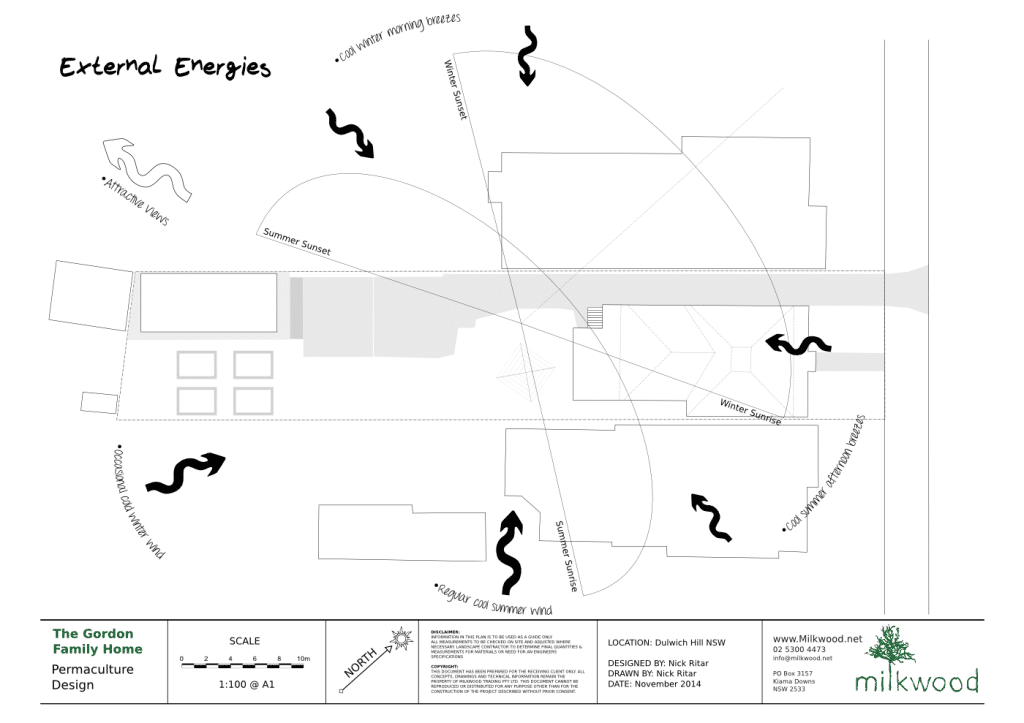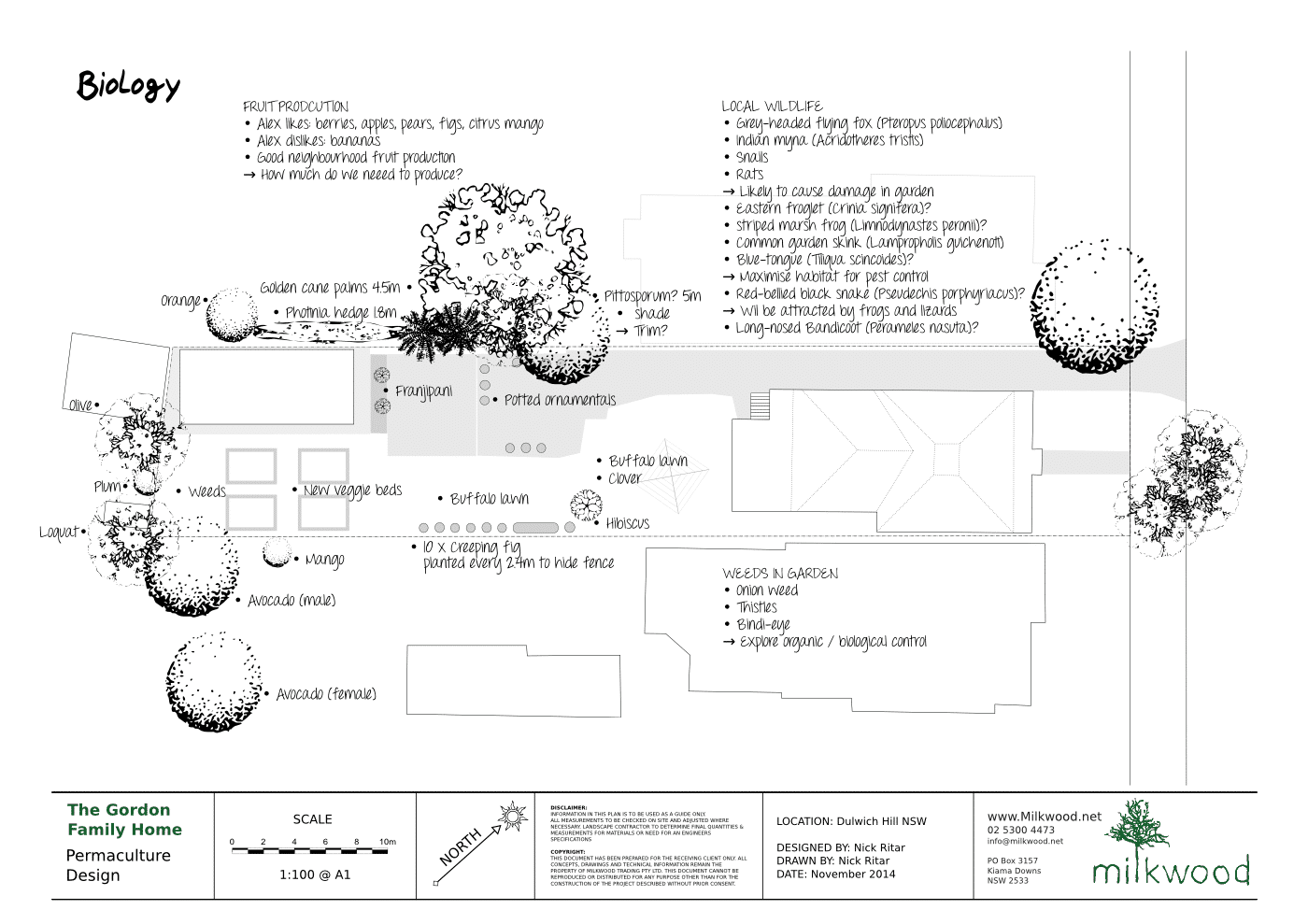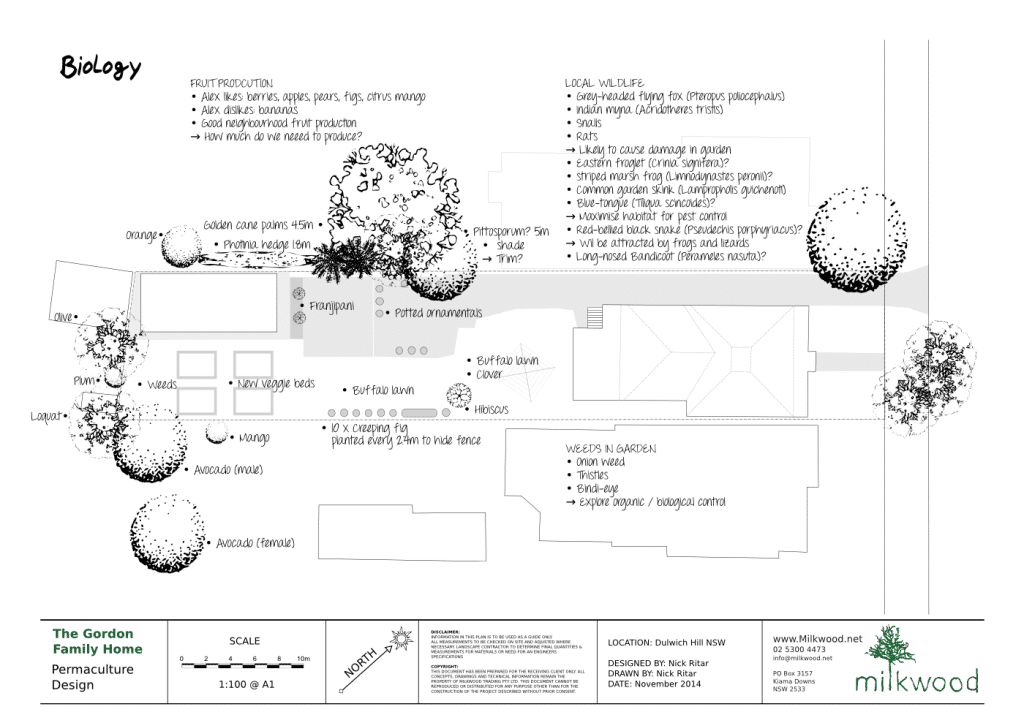 Concept Design
Once the site analysis had been completed and considered, Nick moved on to a concept design – a mud map of what would work where for this context, and the Gordon's goals.
Nick considered things like shade patterns, the project budget, and existing infrastructure (like the concrete footings on the existing neglected veggie beds) – as well as how much food the Gordon's wanted to produce, what they liked to eat, and how much time they though they could dedicate to the patch each week once it was all done.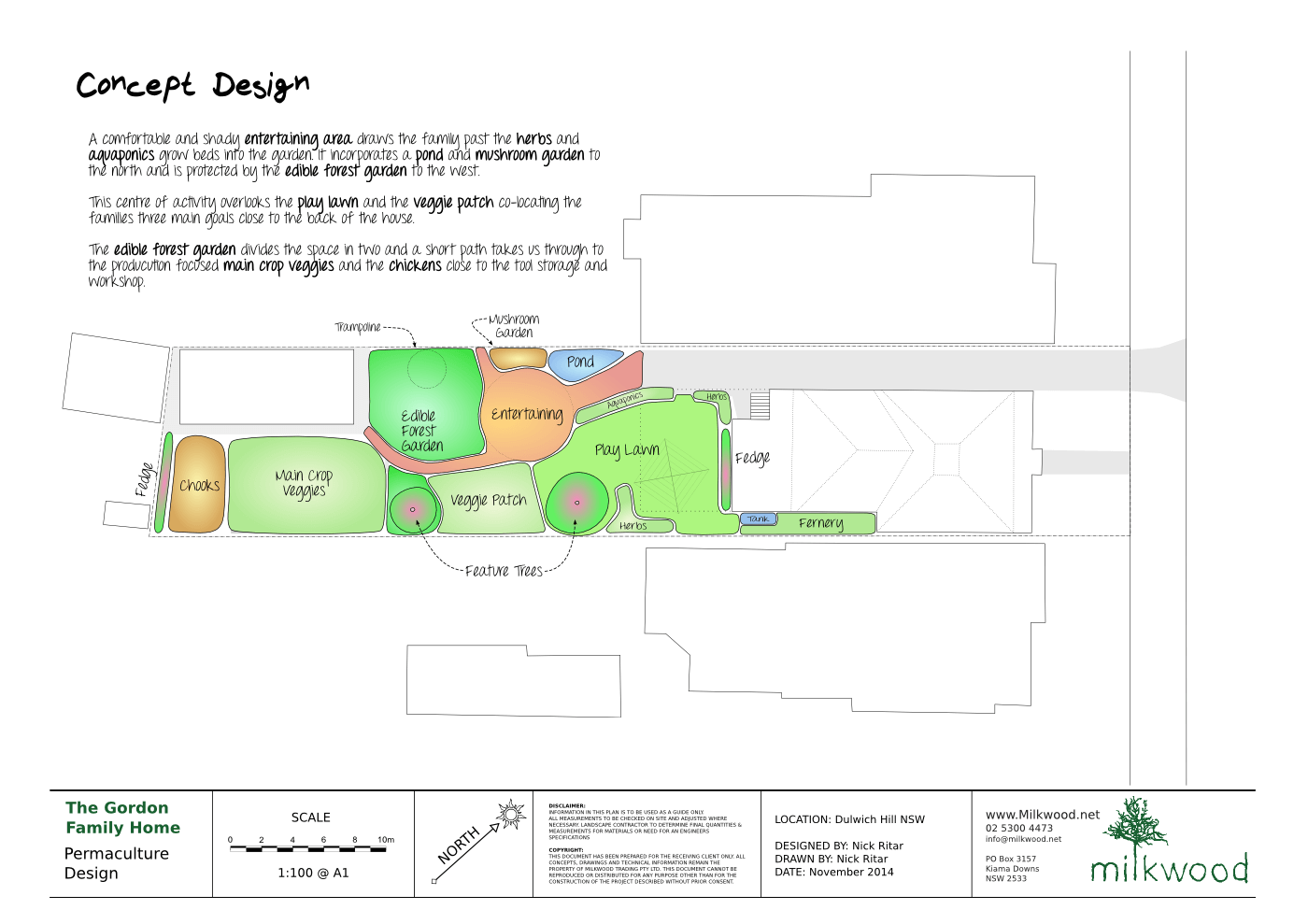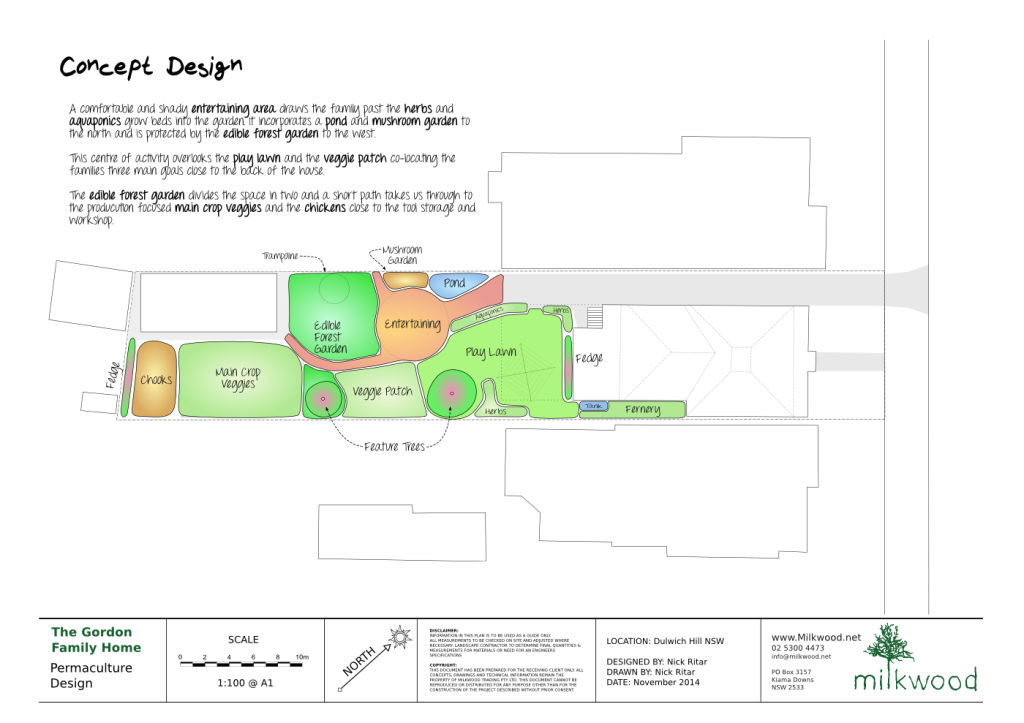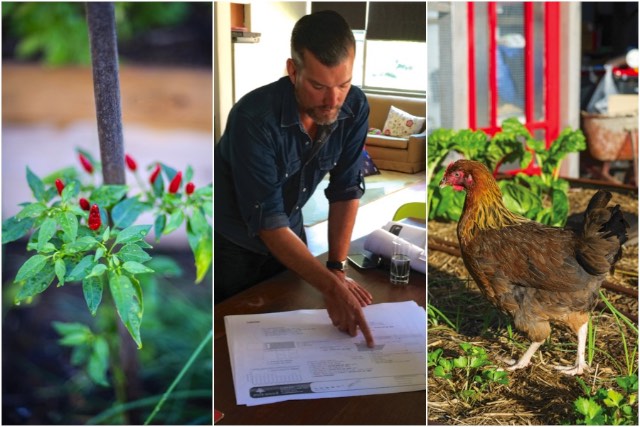 Concept Design Presentation
Once the concept design was completed, Nick went back to Dulwich Hill and sat down with Stuart and Alex to talk through the basics of the design and where he was thinking of taking it all.
Everyone was happy with the concept design, and keen to get going on making it happen. Full steam ahead.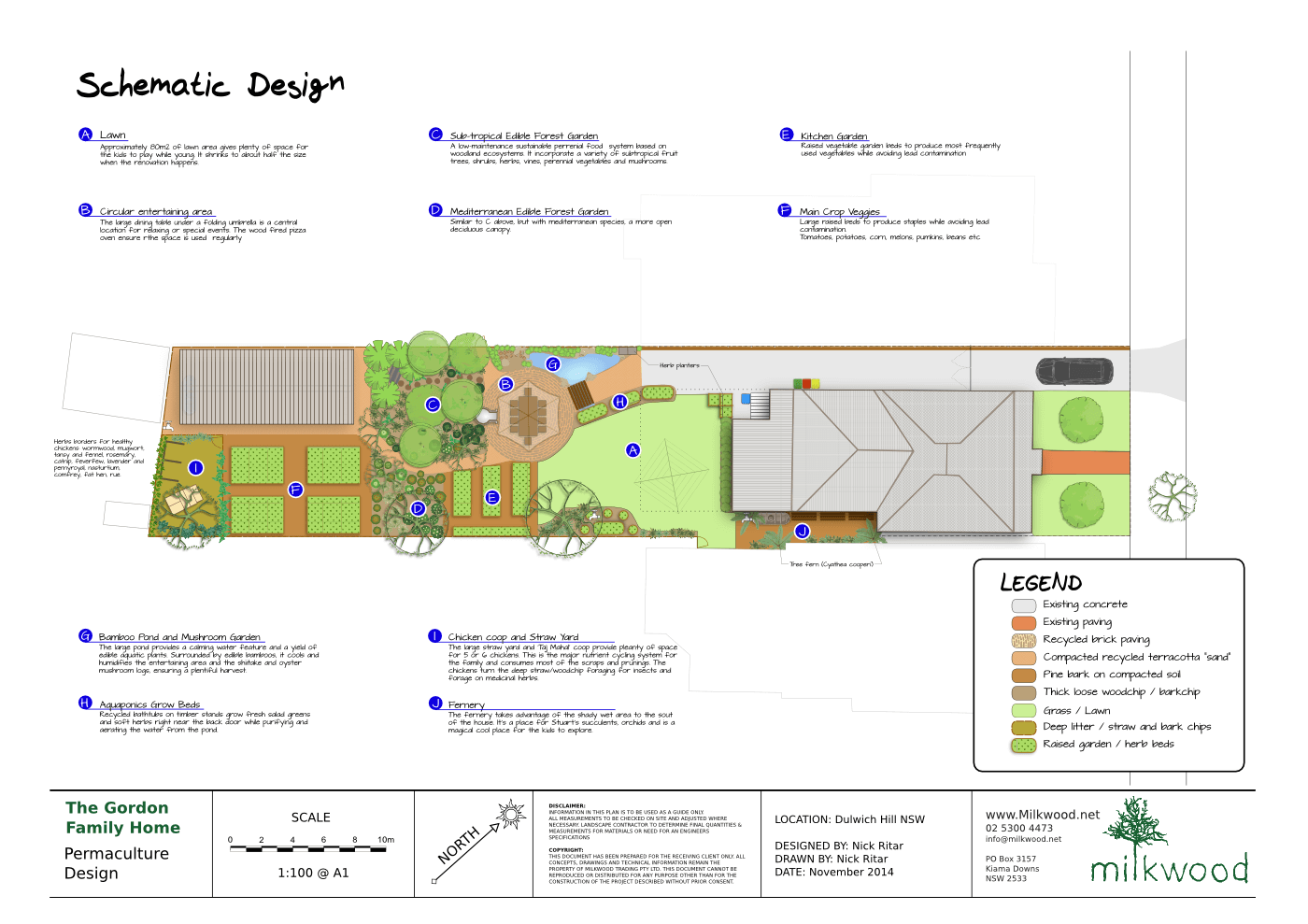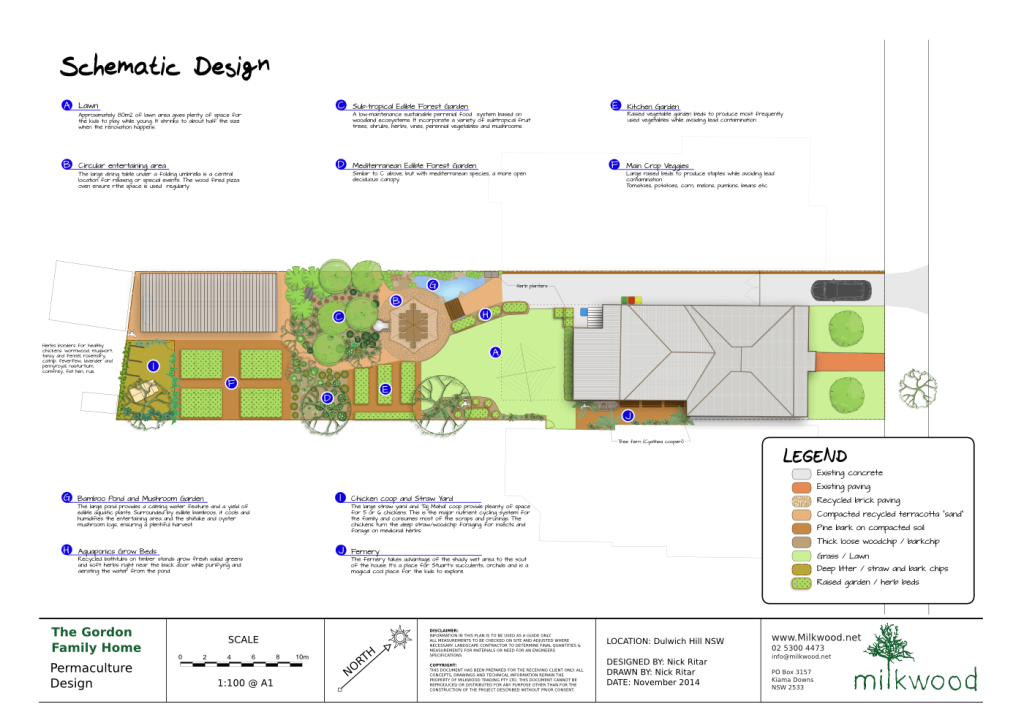 Schematic Design
Next it was time for the schematic design – now that Nick knew he was headed in the right direction for what the Gordon family wanted, he could get serious.
The final schematic design shows what elements will go where, and how the different areas of the design relate to each other.
Once this design is fully realised, it will embody the Gordon's goal statement and be the awesome permaculture backyard they've been dreaming of.
Nick then presented the schematic design to the Gordons, who loved it! And so the project moved into it's installation phase.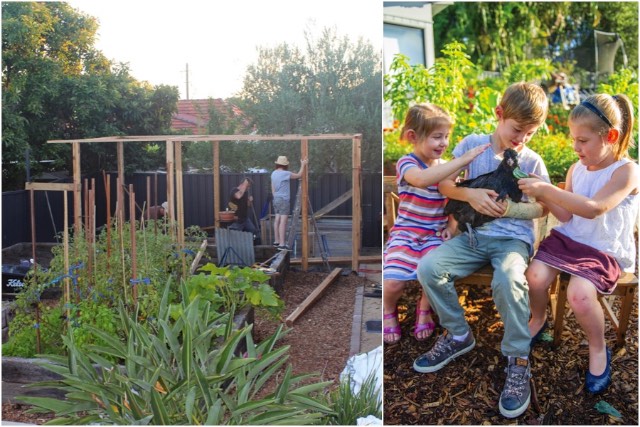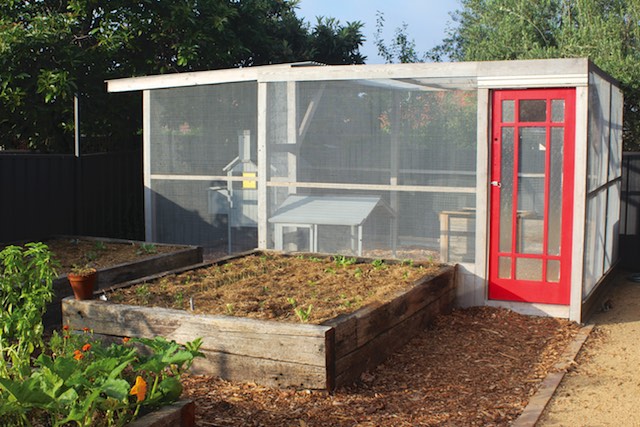 A few months later, the patch from scratch is well on its way to becoming a reality – the chicken run is in, the maincrop veggie beds are full of food, and the kitchen garden, forest garden and aquaponics systems are on their way.
We're looking forward to visiting the Gordons' again this Summer to show you how things have progressed even further!
Big thanks to Organic Gardener Magazine for the invitation to design this Patch from Scratch, and to the Gordon family  for being such lovely clients to work with!
Wishing you all many tomatoes this summer.
You can read more of our articles + how-tos on Permaculture Design here…