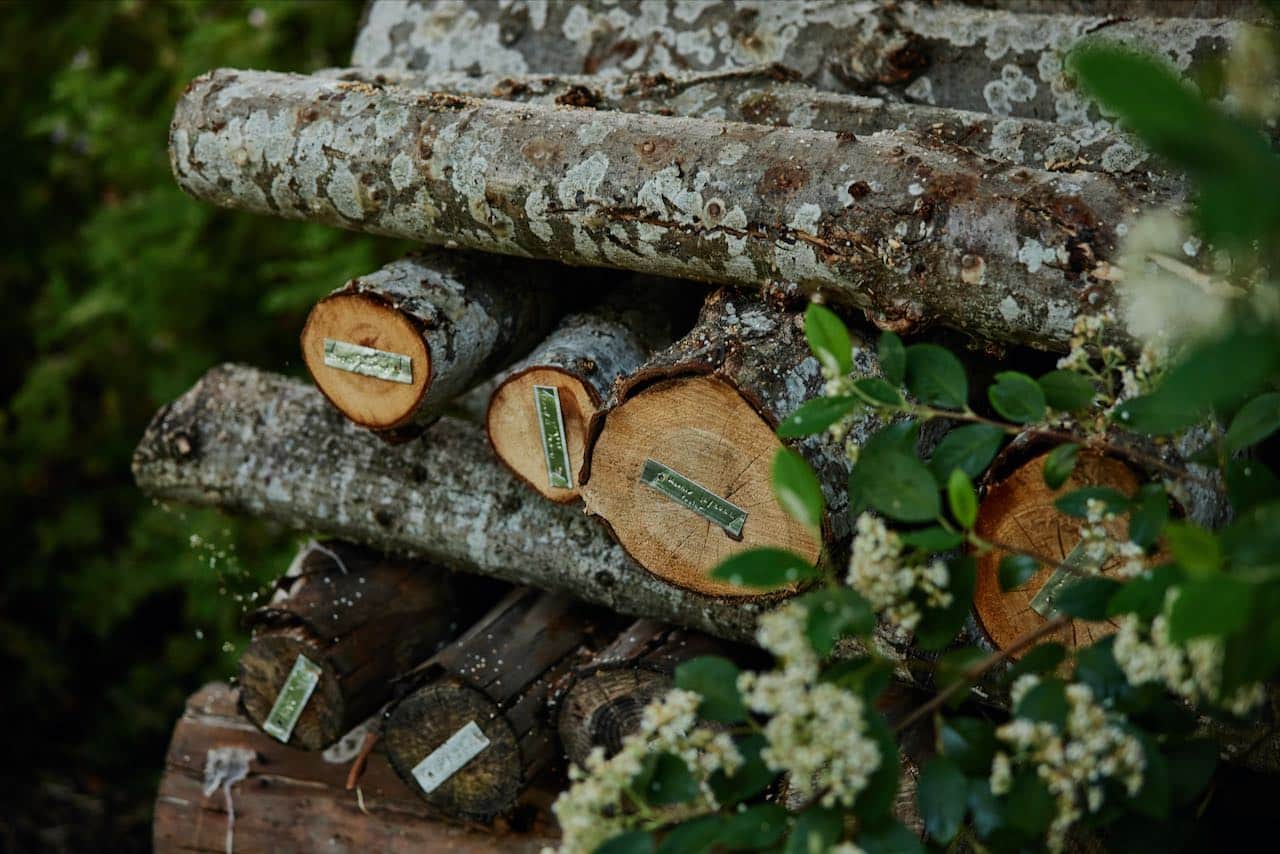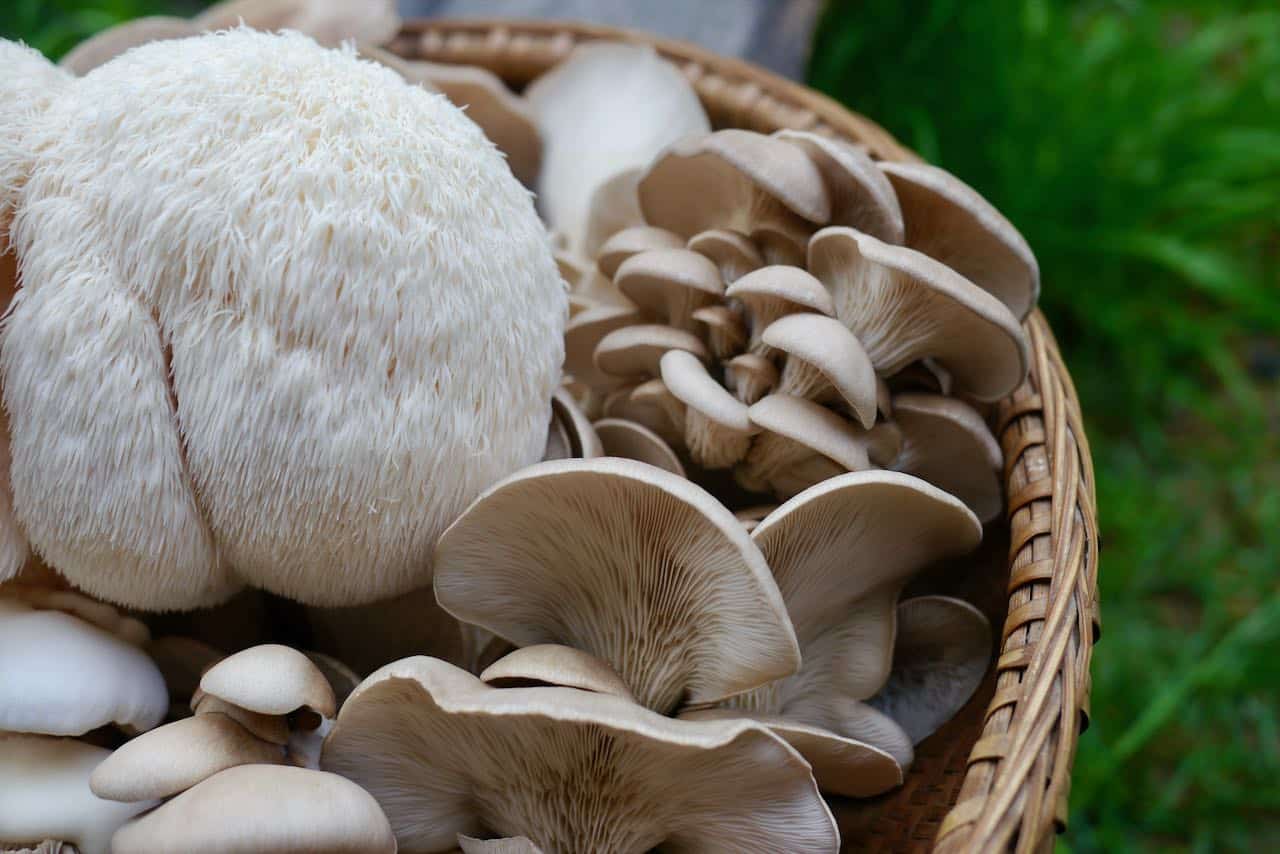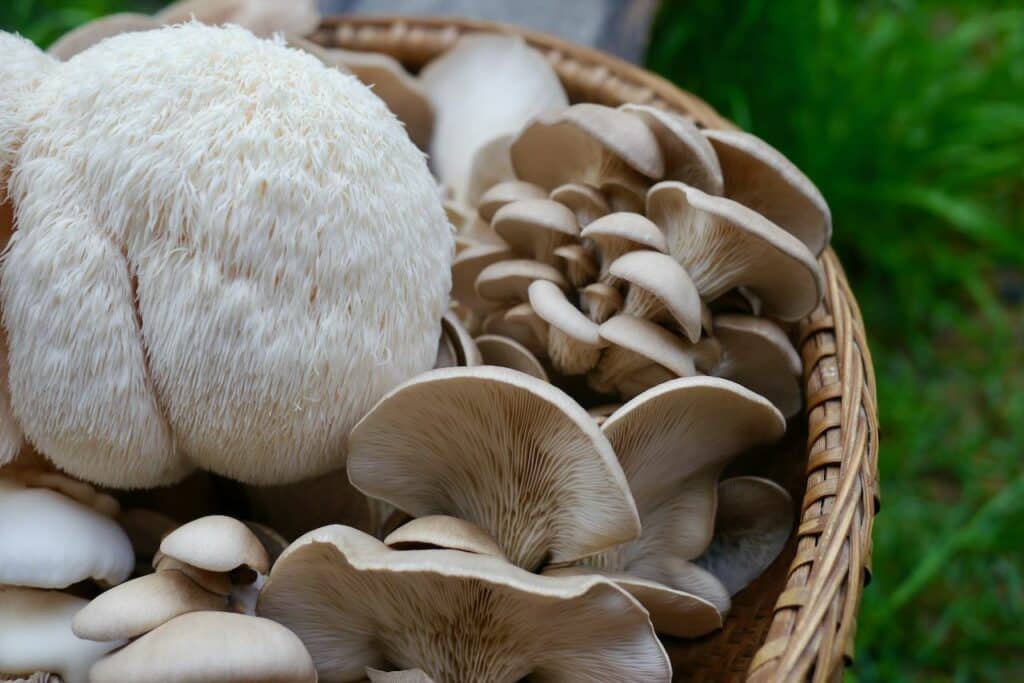 Growing mushrooms at home in a hot summer is entirely possible, and it can actually increase your household and backyard resilience (and nutrition!) in all kinds of ways – it's all about working with the seasons, and designing different functions to work together.
Quite doable, in any backyard.
From providing a diverse harvest for your household in wonky weather, to helping cool your house and actively support your bushfire preparedness, mushroom cultivation can play it's part, while providing you with delish mushrooms now, and with the promise of future harvests once the heat recedes.
This is not to say that hotter summers, fuelled by climate change, are not heartbreaking in every way. However – here we all are, in this world, in this mess, together.
And as well as direct action and all the things we can and must do, we also need to keep growing, and tending, and showing up for… The soil beneath our feet. The gardens that help sustain our hearts, and households. Our local food systems.
So – how can we help increase our household and community resilience, with mushrooms?
It's all about stacking functions, re-thinking location, keeping that all-important moisture up, choosing the best species for the job, and a few extra hacks that we'll show you.
We sometimes think of mushrooms as the kind of thing that stays in one spot – but in fact, mushrooms are some of the ultimate explorers, and they love to move around – preferably with a bit of help.
The mushroom fruiting body is gorgeously designed to both fling it's spores far and wide, and is also designed to be picked up and moved around by animals (including humans, sometimes), to further distribute their spores – which is why so many mushroom species are so darn tasty.
Ontop of that, the mycelial networks of fungi can travel surprising distances underneath the surface of mulch and soil, while supporting the soil food web as they travel, in order to find the best spot to fruit into mushrooms. Mushrooms LOVE to move around, in their own way.
So – by actively moving your mushroom logs, garden material or buckets and jars around to better locations, to ensure they continue to thrive throughout a hot summer – you're actually behaving a lot like mycelium, and becoming an increasingly functional part of your surrounding ecosystem.
The mushrooms have trained us well.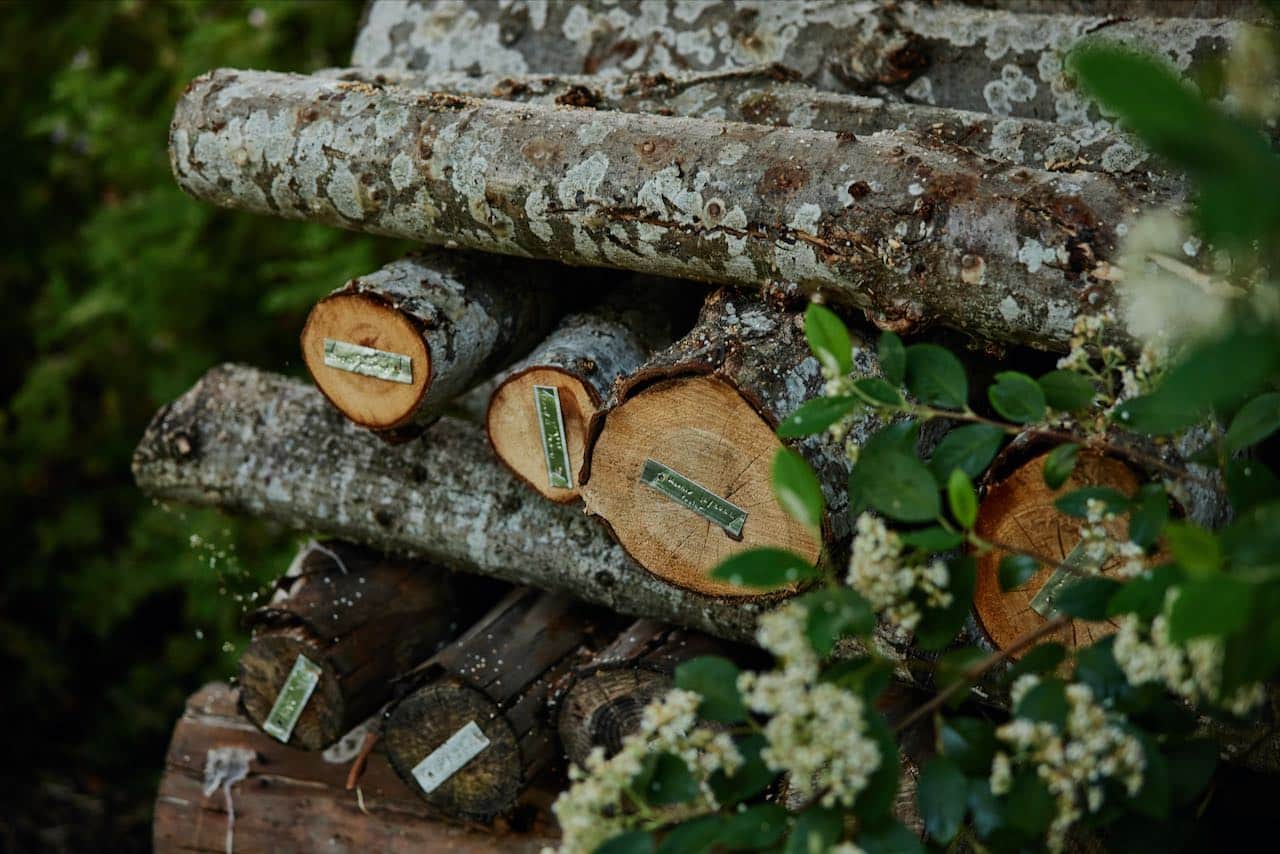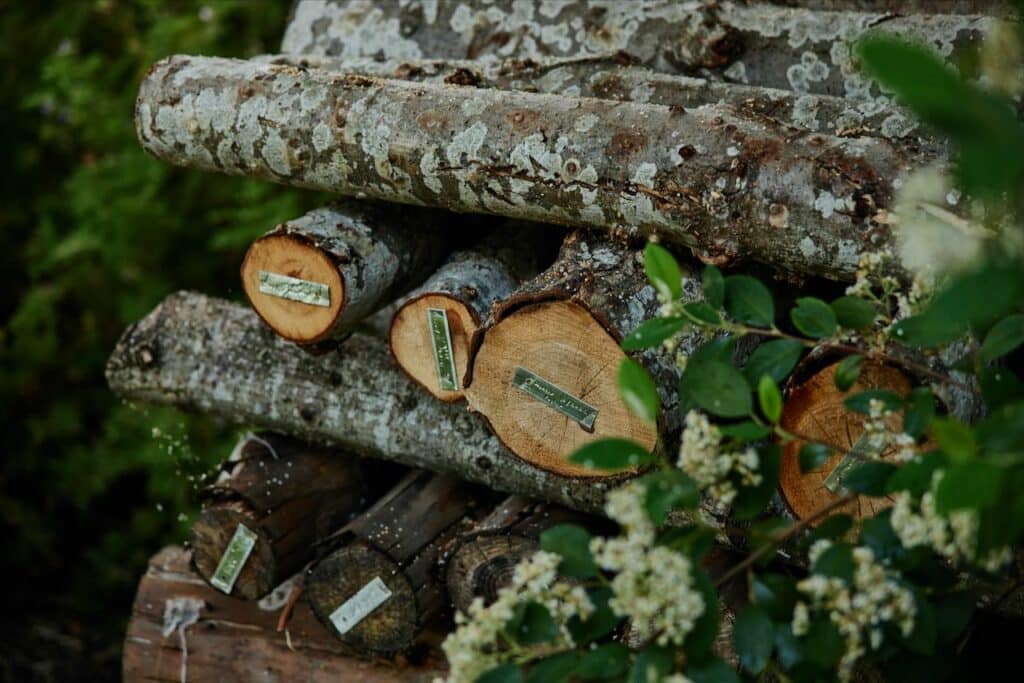 Why growing mushrooms should be part of your hot summer plan:
Because growing medicinal and edible mushrooms are an excellent way to increase household resilience.
For more diversity in your diet! In any season, but especially when wonky weather makes some things hard to grow.
Food for autumn and winter nutrition – because there's another season on the way, and thinking ahead is important.
The heat can lead to BIG harvests of certain species (more on that below) – enough to eat and also store for later.
Drying and storing your home grown mushrooms (both edible and medicinal) is super easy, and an excellent thing to have in your pantry, for both household and community resilience.
How growing mushrooms can help with summer preparedness:
Yes, let's talk bushfire preparedness. Because that's a part of summer. Every household needs to think about this anyway, so why not incorporate a yield of mushrooms into that design?
The thing is, with mushrooms, moisture is key. When growing in buckets, this contained space makes maintaining moisture levels relatively easy (yay) which is why we often recommend these techniques for beginners.
For outside cultivation, though – the mycelium in your mushroom logs and mushroom gardens IS very resilient, but both these types of mycelium need to have some level of moisture to incubate slowly, and a healthy level of moisture to thrive.
In a hot summer there's going to be sections of your garden that you try extra hard to keep watered and cool – for your own health and happiness, to maintain precious plants, but also for bushfire preparedness.
So start thinking about how to incorporate your mushroom logs and gardens into THOSE spaces, over summer.
Every output is an input: rainwater and greywater
As part of any resilient household, catching rainwater and using greywater are excellent options to consider – and the implementation of these ideas can be super simple.
Catching and storing rainwater is prettymuch always a good idea – it means more water for you when you need it, even if your rainwater is recommended for garden-use only. Catch it! Store it! Use it!
I've included a bunch of simple hacks for catching and storing both rainwater and grey water in the resources of this article.
Hooray for Humidity
In any climate that experiences low humidity in the warmer months, adding moisture near to your house can drastically reduce the temperature of that zone in summer, and therefore increase your own comfort, as well as being a great growing space for plants (and fungi!), and a refuge for other species too.
Humidity can be added with a simple misting system, more shady plants, or even just a small pond. Any water-based (or plant based) system near your house that brings the humidity up, will help bring the temperature down – and there's so many positive flow-on effects from that – less energy costs, better growing space, happier humans, and, potentially as a side-effect, more mushrooms.
This might be in a shady section outside your front door, which can then be opened to let that cooler air into the house. Win-win.
Using one or more of these techniques, you'll be keeping your household as prepared as possible, keeping a bit of green around you to keep your heart whole, and, by design, nurturing your future mushroom harvests as well.
It's working with what you have, to increase resilience for all the species in your garden.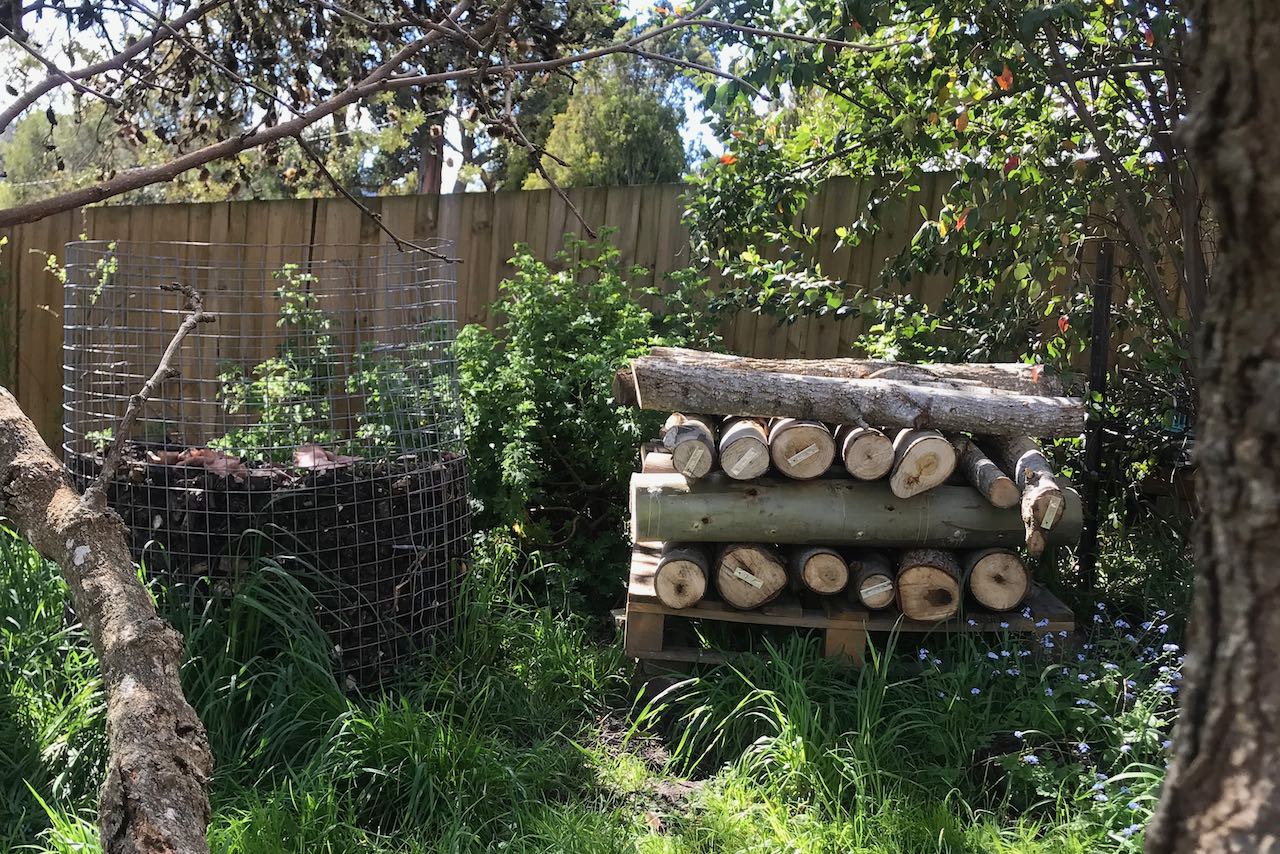 Keeping Mushroom Logs happy in a hot summer:
If you've got an inoculated mushroom log or two, or a whole stack, move the stack somewhere shady and cool in readiness for a hot summer. Perhaps you located your mushroom logs in this kind of location already (good job!), but either way – stop a moment and consider…
'am I going to prioritise keeping this area moist over summer?'
If the answer is 'mmm maybe not', then figure out which shaded section of your yard you WILL prioritise keeping moist and well watered over summer, and relocate your mushroom logs there.
This part of your garden might be your firebreak, where you've specifically planted fire-retardant trees. Or it might be a much-loved section of your garden that nutures you (and your garden's ecosystem) with it's green shade and abundance, which you are going to prioritise if water restrictions come into place.
Stack those functions!
In this way, you'll be able to keep your mushroom logs moist by default when you water this section of garden, it's one less garden job to stress you out in the heat of summer, AND your autumn and winter harvest of shiitakes, lions mane, oyster mushrooms or whatever else you've inoculated those logs with, will be assured.
A note on your log stack – pack it tightly and low to the ground over summer – this will help with retaining moisture, while the mycelium slowly colonises the logs. The open stacking that is used for the fruiting phase is not for this season!
Do that re-stacking into an open, harvestable format in autumn, when the dropping temperatures and Autumn rains will trigger fruiting. This is the season where you can expect a flush of shiitake mushrooms.
Another hack you can incorporate here – you can get a specific mushroom log blanket that holds moisture in, while allowing the logs to breathe (airflow is important). It's not as picturesque as a cute stack of logs, but it helps a lot with their moisture levels.
If your log location is less than ideal, covering them with hessian bags, shade cloth or geotextile will also help.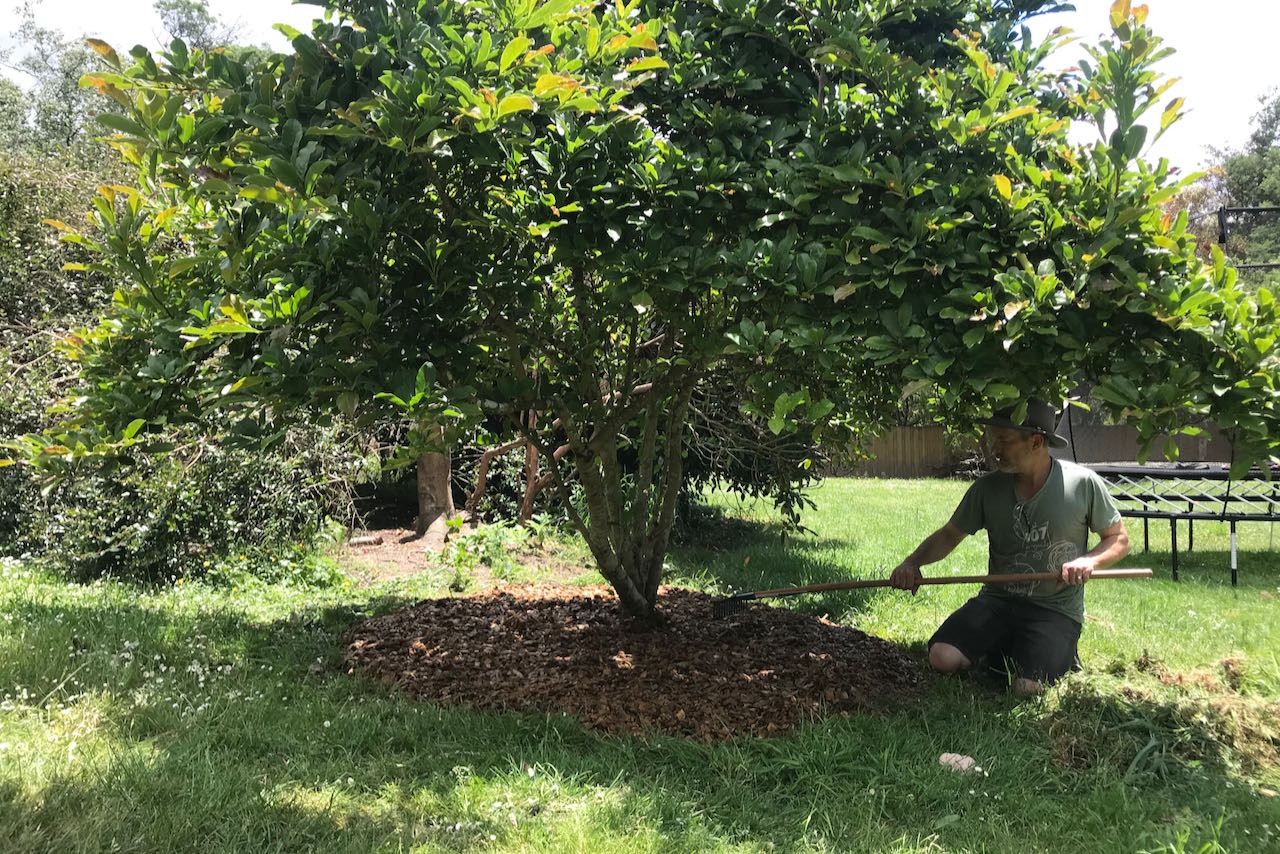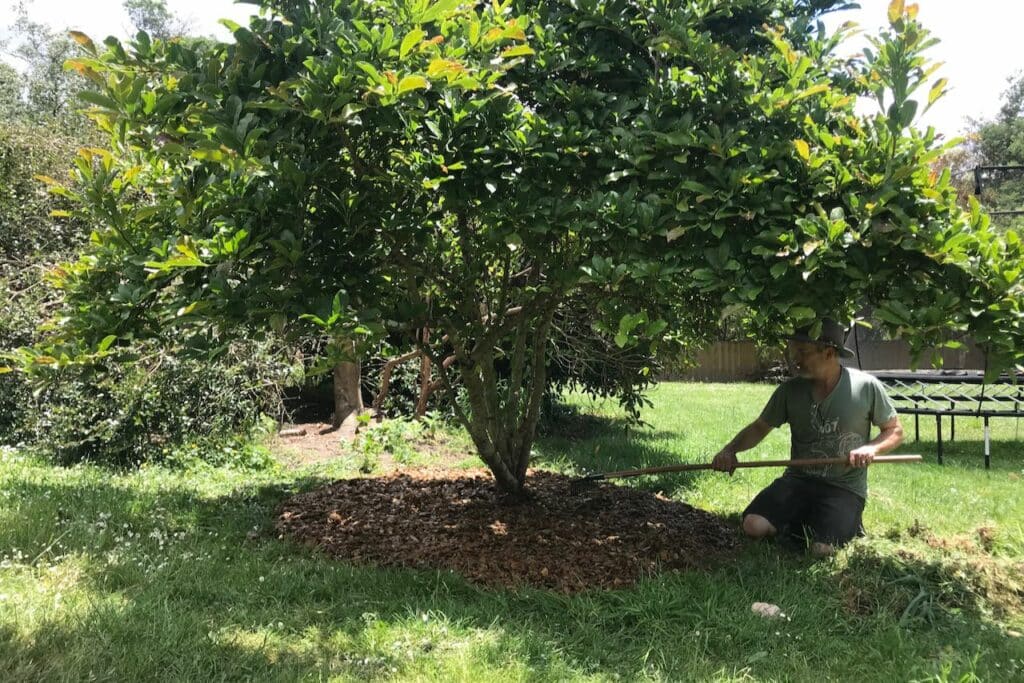 Keeping Mushroom Gardens happy in a hot summer:
Firstly, figure out which shady parts of your garden you're going to prioritise keeping watered over a hot summer. Maybe it's the areas around your most precious fruit trees, or similar. Are your mushroom garden patches in that part of your garden already? If so – yay. Water away, and expect mushrooms in the Autumn.
If your mushroom garden is not in a spot that you know will be kept moist over summer, you can:
Mulch your mushroom garden extra deep, and water well over spring – the mushroom mycelium will retreat downwards, towards the available moisture, but should be ok – water every few weeks to ensure it makes it through. This will also benefit the trees and plants that share your mushroom patch, making for more life and resilience in your garden ecosystem.
Move your mushroom garden to a shadier, more moist location. Ergh, yes, I know. BUT – in Australia, we're looking at 3x El Nino hot summers in a row coming our way. So if you're going to move your mushroom patches to a better, shadier, more moist location, now is a good time to do that.
To move your mushroom garden: prep a new site as per our Mushroom garden instructions, then carefully move your patch to that location with a big flat shovel, in chunks (keep the layers as intact as you can – don't upend anything), add some extra pasteurised woodchip on top, and water it all in well.
A note of encouragement – mushroom gardens are super resilient – partly because most of what they do is underground. And in a bushfire season – which hopefully doesn't contain an actual bushfire near your place, but who knows – we need more underground garden patches that can survive and pop up with nutrient-dense food to feed us all, after the summer is done.
Also – the more mycelium in your garden, the better your entire garden can cope with heat – mycelium distributes and retains lots of moisture, both for it's own needs and for the benefits of surrounding plants. So the more mycelium you have in your garden… the better for everyone, and everything – especially in a hot summer.
Which is yet another way that mushroom gardens can be an important part of building your household and backyard resilience. Thank you, mycelium.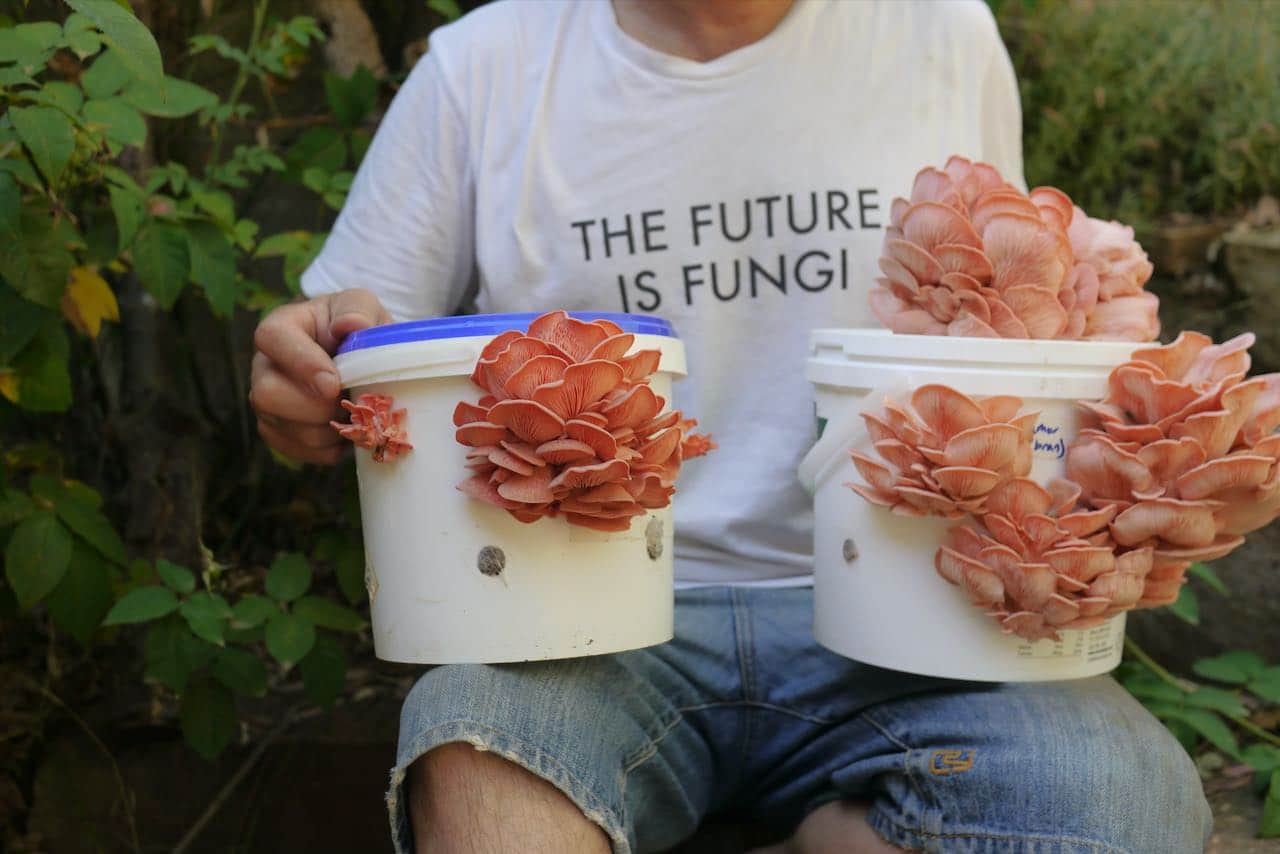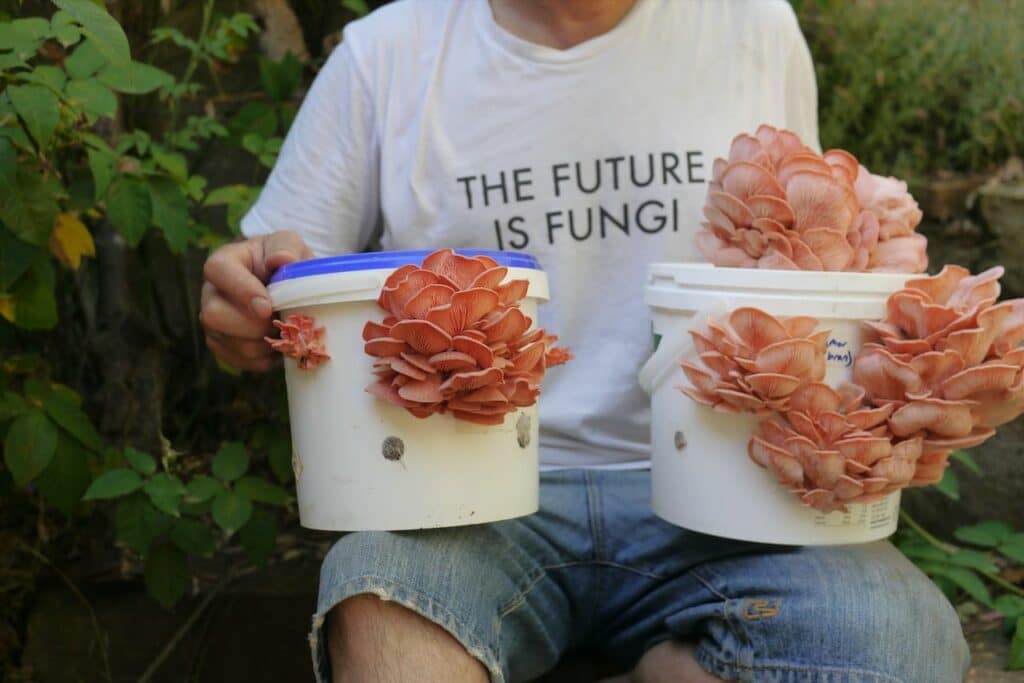 Growing Mushrooms in buckets in a hot summer:
As mentioned above, bucket cultivation is a great beginner growing technique partly because the container makes for easy humidity and moisture control during the incubation phase.
While you'll continue to incubate your summer buckets somewhere with a stable room temp between 15-20 degrees celcius, the same as you would at other times of year – do be aware that warmer weather may speed up the incubation time. So check your buckets or jars regularly during warmer weather!
For fruiting your buckets well in hot weather – humidity is key, along with airflow. So finding somewhere consistently humid which also has good airflow is the trick here.
So – back to the bit about how huge a help humidity can be in hot weather to cool your inside and outside spaces…. get your fruiting buckets involved in this setup, if you can! If you have a small outside shaded area that you can setup misters in, this the the perfect place to fruit your summer buckets of shrooms.
Other ideas for fruiting buckets and jars in hot weather:
Your bathroom or laundry may be suitable, if it's cool-ish and a bit more moist than the rest of your house
You can set up a simple fruiting chamber – either in your bathroom, or in a shady spot outside.
Thinking of setting up a shade house with a mister for seedlings this summer? Fruit your buckets in there! (Also works well for shiitake logs)
You could make an outside fruiting chamber made from upcycled junk, like we did once.
Also – have a think about what species you can grow in buckets this summer – you might be able to try some warmer-climate ones than you're used to.
Adapting to the changing climate that you have, with which species you grow, this year and into the future, is a core part of household and community resilience.

These home-scale techniques work hand-in-hand with supporting direct action for climate justice and halting all fossil fuel projects, of course!
Summer can be a BIG HARVEST time for the warmth-loving oyster species, so this is a perfect season to grow tonnes of nutrient dense mushrooms.
Once harvested, you can eat them and swap them straight-up, but also pickle them or dry them for eating in later seasons, and share some of your yield with those beyond your fenceline, to make life better for everyone.
Edible mushroom species that love hot weather (with sufficient humidity):
Pink oyster – Pleurotus djamor – buckets, logs
Yellow oyster – Pleurotus citronopileatus – buckets, logs
Queensland white oyster – Pleurotus ostreatus (var Queensland white) – buckets
Phoenix mushroom – Pleurotus pulmonarius – buckets
Reishi – Ganoderma lucidum – logs, buckets
King Stropharia – Stropharia rugosoannulata – tubs, gardens
And there's also ones like Straw Mushroom and The Milky White, for really warm places in tropical areas.
You can find details of our favourite species to grow in our top 10 mushrooms to grow at home article – including fruiting temperatures and what substrates to grow the mushrooms on.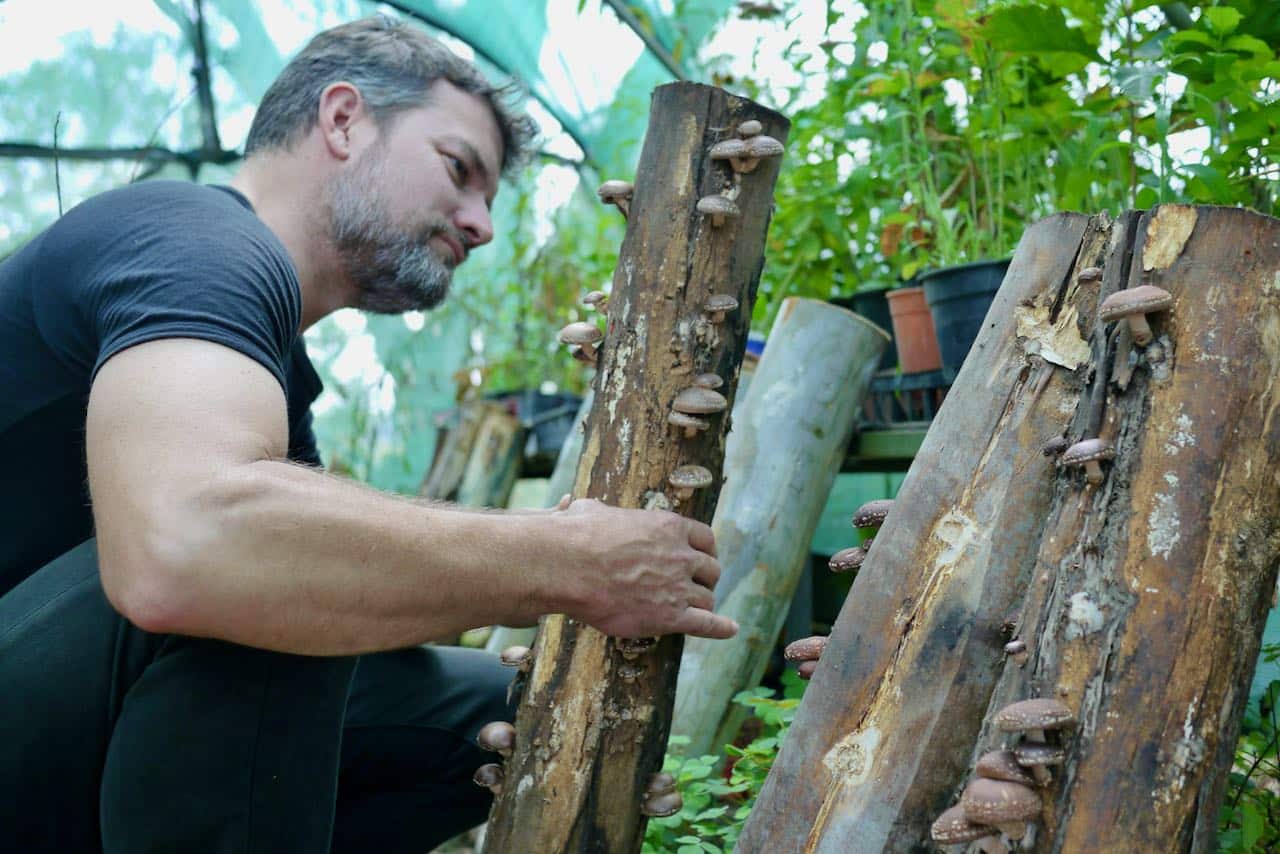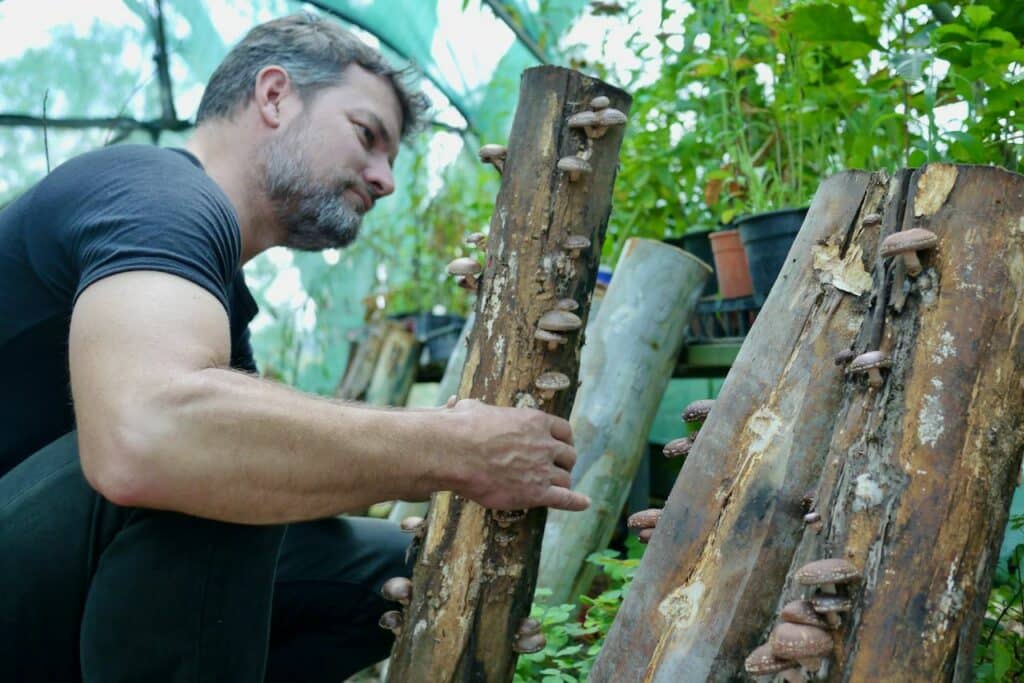 So just to re-cap….
Identify which parts of your garden you're going to prioritise keeping shady, cool and green in hot weather – and fold your mushroom cultivation into those areas.
Catch, store and use all the rainwater that you can – in tanks, buckets, and in the biology, mycelium, deep mulch and rain-garden features of your yard. The more water stored in your system over summer, the better for all life – including your home-grown mushrooms.
Redirect all the grey water that you can to be a useful input in your garden – perfect for fire-resistant plantings along your perimeter (which leads to more humidity in your yard) and for your mushroom gardens, too.
Consider setting up a simple, small misting system somewhere outside a suitable window/door to keep things green and thriving, to let that cool air into your house, and fruit your mushrooms there, as a bonus outcome.
Coming up to summer is an excellent time to start growing some heat-loving mushrooms – and can diversify your food supply dramatically, even when the weather is unpredictable.
Remember that the more different food and medicine crops we have growing in our backyards and beyond, at all times of year, the more diverse, stable and resilient our home and community food systems can become.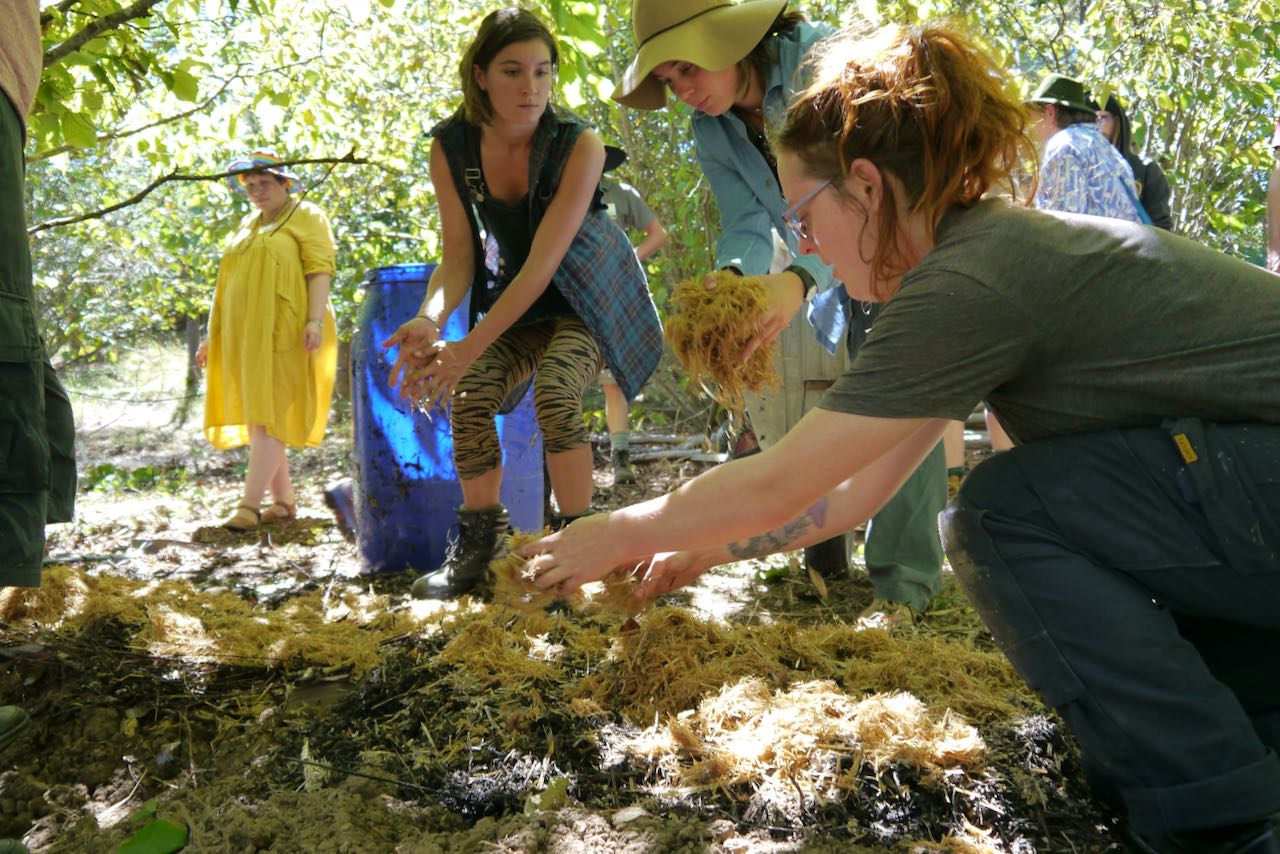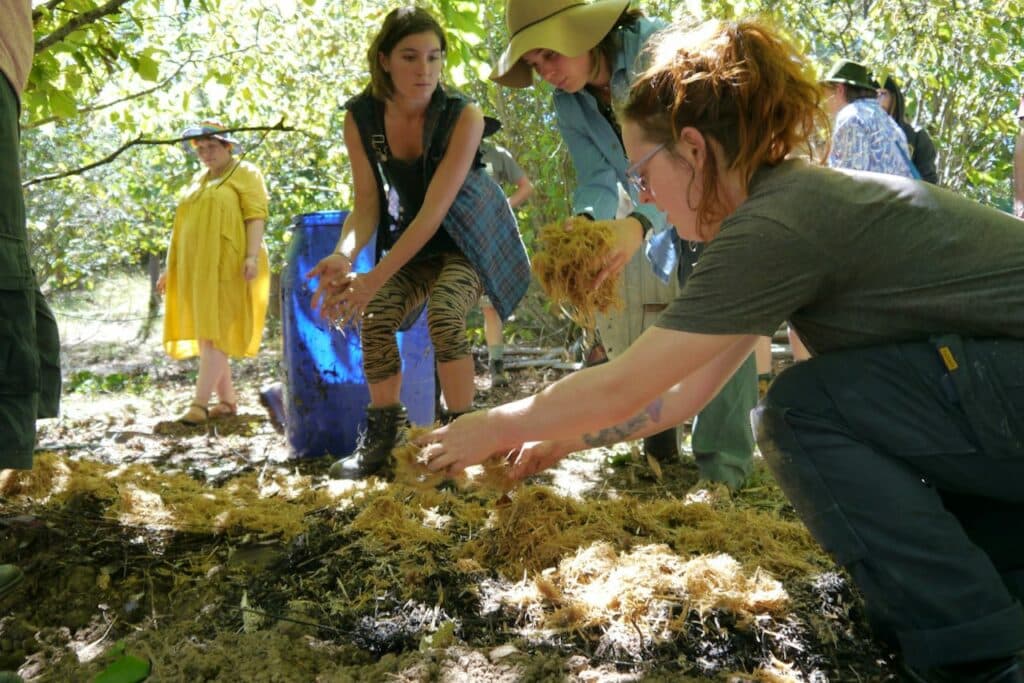 Further mushroom reading and thinking tools:
And a note that our last Home Mushroom Cultivation online class for 2023 starts soon, so if you're keen to learn with us, you're welcome to join:
If you have any questions on anything we've mentioned above, feel free to comment below – we're always happy to help 🙂