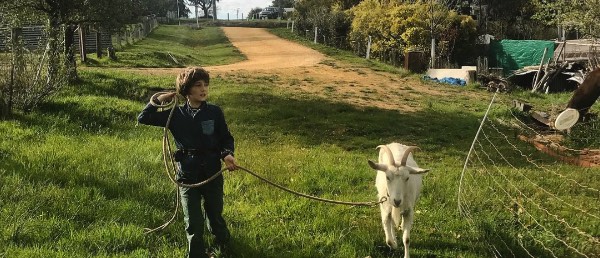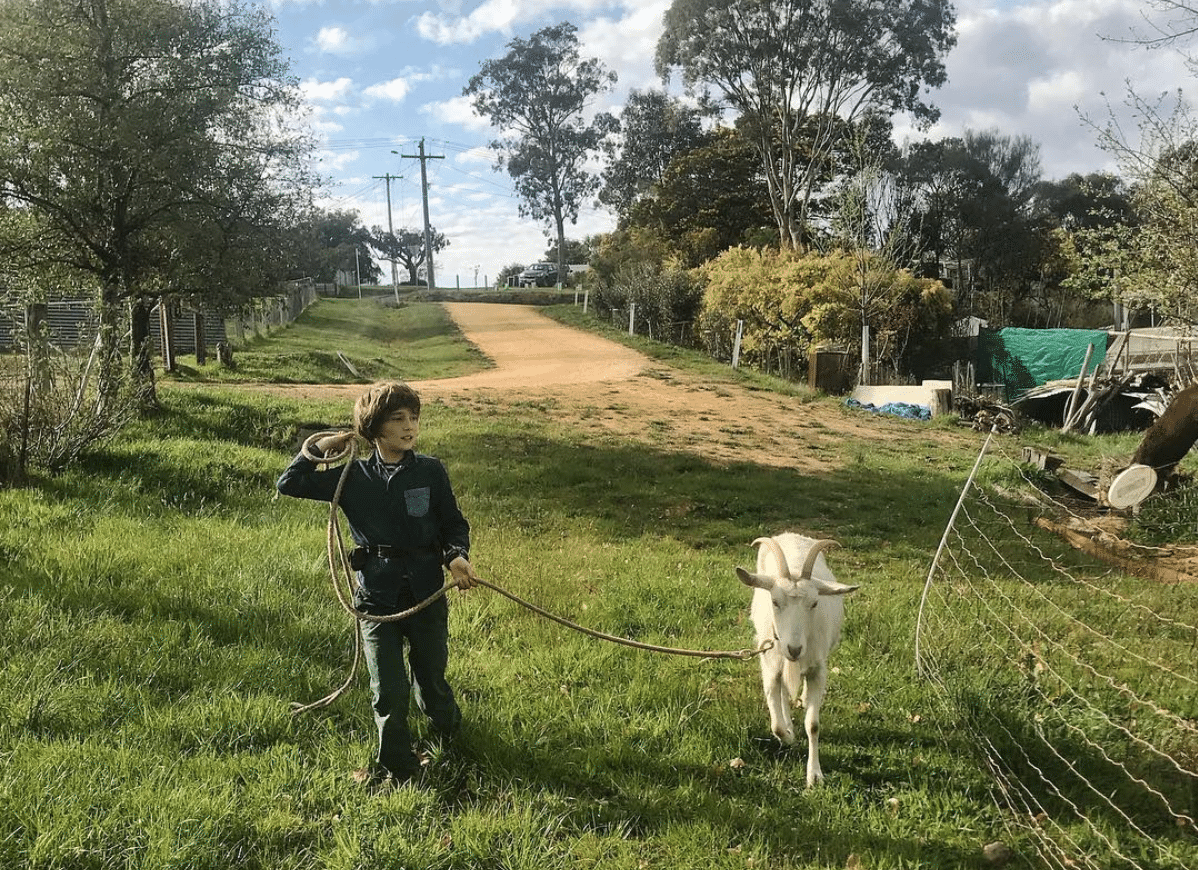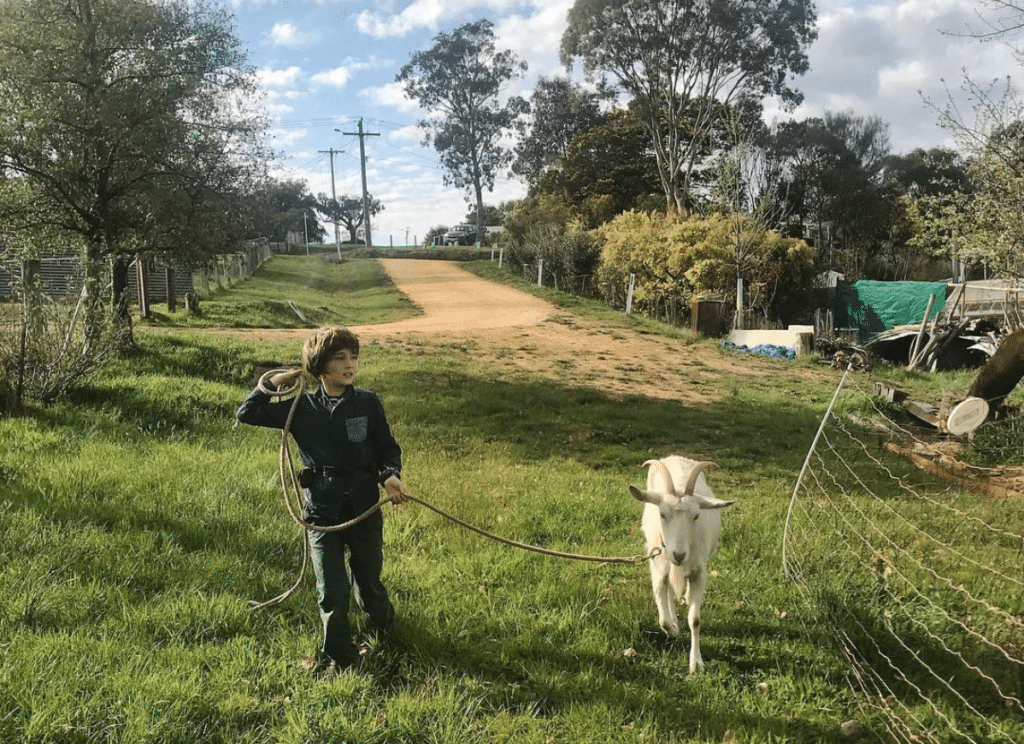 Looking back, I obviously should have gathered a lot more seaweed last winter – to feed the curious, the enthused and the yet-to be convinced who all came to our many book talks in spring.
But I was in a jungle at the time, side-stepping marching ants and dodging falling coconuts – which made it difficult.
January
The year started hot, and bright, with a kitchen table covered in leaking ferments – midsummer at Melliodora is a busy time of year. Twining tomatoes, picking berries, bottling radishes. Chasing baby chicks, and baby goats.
The mama goats' milk was up, way too much for my normal 4L milking pail. I had to upsize to the big pot – which has a wide lip that the goats love to hook their hoof into while they're on the milking stand, spilling the lot. Despite this, we made cheese to feed millions. Fetta, chèvre, labneh. The kitchen was never silent, with the sound of dripping cheese forms or labneh cloths. We all started to smell slightly goaty.
February
Deep summer kicked in, as we all became deeply and utterly overloaded, but in a good way. Kindof. David + Su released RetroSuburbia, the book they'd been working on for years.
Meanwhile, Nick and I dragged ourselves through the finishing stages of our first book, Milkwood, while attempting to stay on top of growing, harvesting + preserving the considerable goodness coming out of Melliodora.
The hawthorns down the gully ripened overnight (or so it seemed to me) and we celebrated our first honey harvest from the Melliodora langstroth hives, which we'd converted to natural management the season before. Honey flowed, the painted mountain corn was nearly ready for picking, and we slept when we could.
March
The thing about March, in the south of Australia, is that you know this heat, this dry, this incredible hot wind that desiccates ALL the little broccoli seedlings that you just carefully planted… it won't last forever. Even if it feels like the heat will never end, today.
Before we know it, we'll be celebrating rare sunny days in between cold wet weeks, and hoping we have just enough dry tinder to light the woodstove one more time, this morning. The tomatoes of March may overflow our sink and drive me nearly crazy, but it's now, and only now, that they are here with us. It's use it or lose it season. Preserve, or don't have a full larder to eat from when the cold winds blow and there's yet more rain forecast. Your choice.
So we're thinking about firewood gathering, and stacking – even during a total fire ban, as we also clear our gutters as a bushfire safety measure. We gorge on sun ripened figs, while also sun drying them for winter school lunches. And we celebrate when we can see the sink again, because we've bottled all the tomatoes now. Until tomorrow, when we'll pick the next load.
We also celebrated 9 years of parenting, as our Fox turned 9. The mushrooms sang along, there were so many of them.
April
Our book finally headed off to the printer (YAY) and I reclaimed a tiny bit of sanity as a result. The firewood gathering expeditions ramp up, and so does the fig harvest. Hannah shows up as a surprise guest for a few days, and magically plants all our garlic and re-arranges our pantry room so that you can actually find things (thanks babe).
The tomatoes continue and the gherkin harvest kicks in for real, meaning that every crock is loaded with dill pickles. This is obviously no bad thing, as it means pickles for everyone. We distribute accordingly.
The evenings are getting earlier now, and there's a little nip in the air some mornings. We're watching for the first frost, to ensure we can pick all the remaining capsicums and eggplants before it happens, but the first frost doesn't come.
May
While Nick went to teach a Permaculture Design Certificate, I picked up a thousand, thousand feijoas from under the trees. Happily I discovered that you can definitely preserve feijoas with their skins on, so no need to peel. A great relief. The madagascar beans were rattling in their pods, ready for saving like the white and purple jewels they are.
We planted the first round of broadbeans (dwarf, black flowered) and nearly cheered when the first frost arrived. I was worried that it wouldn't.
This important seasonal event marks the end of autumn in the garden – all summer crops out, broadbeans and final winter cover crops in. I could see the kitchen sink most days now, which was nice.
June
As the growing season slowed to a halt, we prepared for adventures. In retrospect, staying put and going to sleep for 3 months may have been the more responsible plan, but life is short, so we didn't. I roadtripped with Brenna + Jacq + Ashar down to Cygnet in Tasmania for the annual Deep Winter farmer get together.
Welcomed by strangers and friends as we journeyed, we ate cheese like kings at Elgaar Farm, before being so well looked after by the Cygnet farming crew.
And then, the big family adventure. To teach a Permaculture Design Certificate at Kul Kul Farm in Bali, and to explore Java as a family, too.
July
The way the small birds flit down to skim the surface of the spring-fed pools, and then magically, at dusk, give way to small bats which do the same thing. The way the ants crawl across the rainforest floor, making imperial highways for a day, or a moment.
The way the smoky haze at dawn contains so much magic and yet so many challenges, as the small piles of mixed single-use plastic and traditional bamboo baskets burn as rubbish together, outside nearly every home.
So many different greens, and new beetles, and so much life. And chaos, and challenges, and traditional ways, and invasions, and clove trees, and heritage rice, and dogs, and gamelans, and shadow puppets, and smiling kids, and all the kites with their sinuous tails, in the sky from dawn till dusk. Thankyou for everything, Indonesia. It was amazing to meet you.
August
Back. Welcomed by frost, and a to-do list longer than both my arms, outstretched. There's spring seedlings to raise, a book coming out next month, a book tour to create and schedule, workshops and talks to write, and outfits. Must find/get/borrow some book launch and talk outfits. With no dirt on them.
But the wild hive of bees in the willow tree survived winter, and the pea shoots are quickly ready to plant, and the tomato seeds sprout with a bit of extra bottom heat, and I make it down to the coast to gather seaweed, and manage dry it.
I also gather the last of the rosehips and turkeytail mushrooms down the gully, and dry them for tea. I tell myself it's only a few book events, no big deal – and don't belive me. I find a few outfits that don't make me look like I'm about to do the milking, or go to bed, which is my usual wardrobe. Nick seems quite fine with it all, damn him. We get ready to go.
September
Sydney and Melbourne and Byron and Brisbane. Books and more books and conversations. Lashings of seaweed butter, and honeycomb, and beautiful friends, and many new questions. Finding the right signing pen! Learning to ask people to spell that please, before I ruin their title page. Learning to send out books.
Confirming that it is NOT JUST ME that thinks foraging seaweed is cool – if i were less exhausted I might have a moment's smugness about that. An amazing seaweed dinner at Fleet. Many, many mushroom growing demonstrations.
Ashar soon learns that hanging out at all these bookshops bodes well for him getting many new books, plus booksellers just give them to him – everyone loves a reader I guess, especially when they're nine, and wearing a swordbelt. Community book dinners, of bring-a-plate madness.
Back home, we pull the last of the cabbages, and the tomato seedlings have survived our neglect.
October
Frightfully scheduled, was October. Nick was teaching a PDC, Dave + Su had lots of Retrosuburbia events to attend, and there were goats and gardens to care for, in between shooting off for our own book events. Plus that big climate change report came out. Are we doing the right thing with our days? Deep breath.
We talked bees and held honeybee high teas on farms from Gerringong to Cygnet, with people that cared. We were reminded that hope is how we roll.
On the upside, I met wakame (that's a seaweed) for the first time, on a rockshelf south of Hobart, Tasmania. Hello, long lost friend and noxious invasive weed! Best lunch ever of congee and crazy ferments with Adam of Rough Rice. A crazy kids seaweed foraging day with snacks and sand and seaweed everything. Sitting in the sun admiring Hannah's urban goats. Campfire potatoes on the banks of the Huon, with Michelle + Leon + Sadie + Matt.
And I even brought a cracking flu back from Tasmania with me, as a souvenir.
November
The poppies are out, and the snowpeas are snapping. We kraut the rest of the cabbages, which refused to head and are about to flower. The first gang gang cockatoos appear in the treetops, with their fuzzy heads and friendly faces. We pull up the garlic, and shell a million (no exaggeration) broadbeans.
The bees are busy. We check the hives on a warm day – all is well and the queens are laying. It might be a big honey season, this one. The elders start flowering. We're in proper spring here, now.
In Moruya I get inspired by the crew at The Sage Project community garden, and everyone gobbles up Stuart's seaweed gomasio pizzas. I talk seaweed and books with Fraser + Stuart, and get to visit Jo Lane's seaweed foraging business. In Sydney there's a Cornersmith/Milkwood dinner with tangy, foraged, delicious dishes, and I try to keep chatting to the guests throughout, though a cough from that flu is lingering.
A seaweed workshop with the gorgeous folk of Apollo Bay, and meeting more wakame in the harbour there, and bull kelp on the beaches, all around. Those southern forests have my heart, where they meet the sea.
December
The goats' milk is back up, after a winter of half-filled milking pails, so we're back in the land of daily chèvre making. The red-ripe cherry trees are picked clean by wattle birds (mostly) and children clambering in the branches . The berries begin – strawberries, raspberries and red currants firstly – though the blueberries nearly have a blush on them, too.
All the tomatoes are completely and finally planted, so we start to train them up their trellises. Ashar and Vavalov (the new baby goat) become best friends.
From here, there's a Melliodora Summer Solstice party to hold and celebrate, and then a few weeks of family time. From there, we'll cycle back through to January – leaking ferments, overflowing sink, bottled fruit and tomatoes aplenty.
Treehouse days for Ash and his friends, as we squeak in bits of deskwork where we can. Morning harvests, hot days, and evening swims in the lake. Before we know it, we'll soon be gathering firewood for winter.
……………
Thankyou so much to all the friends and students and other folks that supported us this year – whether it was buying our book, coming along to a talk, taking a course, commenting online or just making us a cup of tea. You're all inspiring, and much appreciated.
We wish you peace and love and all the good things for the new year, and may you too be able to see your sink, more often than not. xx