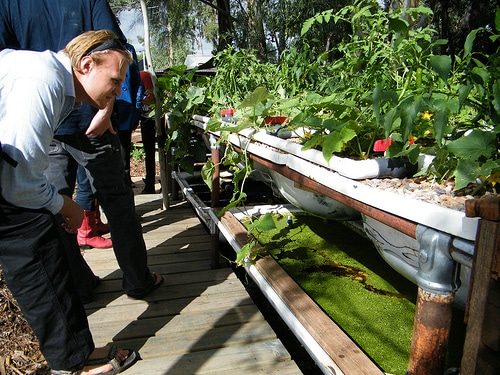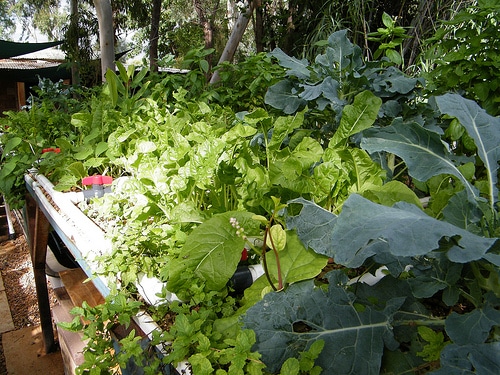 We've always been all about aquaponics in theory: a closed-loop system that provides abundant vegetables and fresh fish – what's not to like? But it wasn't until Nick took some PDC students on a tour of this amazing bathtub aquaponics system in Alice Springs last April that the true wonder of aquaponics really began to sink in.
Alice Springs is one of the driest places in Australia. But here, in Steve's backyard, was an oasis of mythical proportions. Fresh spinach, greens, vegetables, berries and beautiful shady pools containing healthy, fat fish. Not what you normally think of when you think of an Alice Springs backyard.
But best of all, this was an aquaponics system – which means it was a relatively 'closed loop' in terms of inputs and outputs: the fish swim (and poo) in their large, beautiful fishponds, creating nutrient-rich water. That nutrient-laden water is then cycled through gravel-filled growbeds containing vegetables.
The vegetable roots take up the nutrient to feed the plants above, effectively cleaning that water in the process. The now clean (and oxygenated to boot – thanks, plant roots) water is now drained from the growbeds and flows back into the fishpond. Happy fishes swim in their fresh, clean and oxygen rich water and the cycle begins again. And that, my friends, is the basis of aquaponics.
Now add some other ponds which produce duckweed, which is great food for the fish, and there you have it. A (relatively) closed loop system. Every output is an input for something else. This system produces a steady stream of fresh vegetables and fresh fish, all fed organically and all with an incredibly small footprint. In terms of protein and nutrition per square meter, this is as good as it gets.
The bathtubs in a bathtub aquaponics system refers mainly to the growbeds, although sometimes, like the one above, bathtubs are used for the entirety of the system. The fishponds are preferably larger ponds than bathtubs, for the health of the fish and so that the system has a bit more stability. Steve had yabbies in his system too! Mmm yabby and fish curry with growbed greens…
Aquaponics resources: