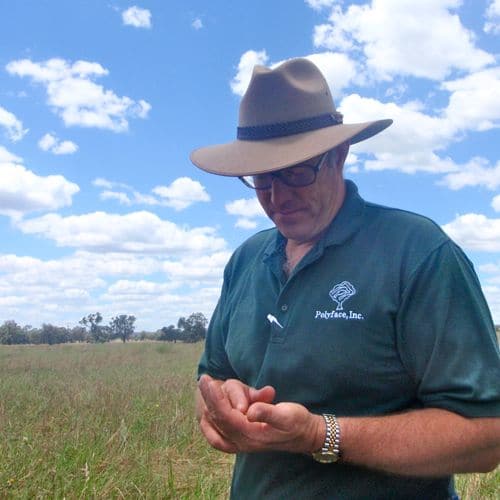 May all your carrots grow long and straight,
may the foxes be struck blind by your chickens,
may your customers love cooking your food in their kitchens,
may the rains be gentle on your pastures,
may your fields grow with soil,
may your earthworms dance with celebration,
may the wind be always at your back,
your children rise up and call you blessed,
and may we all leave a better world than we found…
With such a blessing did Joel Salatin close each workshop and talk he gave while in Australia on his recent RegenAG tour. And I could feel the crowd accepting that blessing with gratitude, each and every time.
We were lucky enough to run 3 public talks and 2 workshops with Joel while he was in Australia this year and I'm afraid he's changed our outlook on agriculture, land use, land stewardship and the funkiness of farming forever.
Like many people that attended a workshop or a talk with Joel somewhere between Bendigo and Cairns, we're still unpacking the momentous amount  of information we received, and we'll continue to do so over the holiday break.  But in the meantime, here's a roundup of radio interviews and articles relating to Joel's tour, which provide a bit of backstory on his approach to 'beyond organic' farming and the need for real food, right now:
And a bunch of articles in The Sydney Morning Hearald, Dominion Post, The Canberra Times, The Mudgee Guardian, and ABC rural report to name but a few.
If you want the one-sentence version, here is mine: Joel Salatin is a farmer, witer and innovator from Virginia USA who, along with his extended family, has chosen to approach farming and the production of ethical, nutritionally-dense food in a way that provides right livelihoods, strengthens the surrounding community and regenerates the land while allowing for enormous creativity, innovation and sustainability within that farming practice.
It is very hard not to gush about this bloke. I'll do my best. But we, along with 3 other farming families, had been planning this RegenAG tour for 9 months and we were understandably tremulous about whether reality would measure up to the momentum we'd been trying to build around Joel's arrival. We neeedn't have worried.
What is so unique about Joel's farming approach is that it assumes that inter-personal trust, hard work, innovation, stacking functions, good system design and mimicking nature will win the day over corporate interests, chemical fertilisers and industrial food systems. Which is a very nice assumption, and one that many ex-urbanite, wanna-be first generation farmers (like us) share.
But the assuming and the doing are two very different things. Poke beneath the surface of nearly any Australian family farm and you'll find one (or more) off-farm incomes that prop up that farming system. It's a widely held belief that to make a living out of farming, someone in the family has to work off-farm to make sure that farm remains 'viable'. Which is a great irony of most first-world family farming, but there you go.
At PolyFace Farms, however, the Salatins are actively living the dream we all have: a family of three generations that farms their land full-time, each with complimentary on-farm enterprises, and makes a very healthy profit in the process. Such a scenario, in our experience, was quite unheard of. Up until now, anyways.
The most powerful thing we took away from spending 8 days with Joel was that farming can be the most inspiring and creative livelihood there is, and that you can, if you are bold and brave, expect to make a real living out of your ethical farming enterprise. Which is what i'd always wanted to hear someone say, even if i wouldn't have believed them before now.
Polyface farm's systems are kind of like Permaculture on steroids. Everything is complimentary, each farmed species follows, intersects and supports the growth of another, every structure is used for multiple things, nothing is wasted. It's enough to make you snap shut your laptop and head off to start planning an integrated chook-mobile / pasture cropping / holistic management beef system immediately. Or maybe just a truly awesome kitchen garden.
Here's a screaming tour of the highlights of our 8 days with Joel:
On the 23rd November, Joel landed in Sydney and, following a quick whip around the harbor with Nick, immediately addressed a sold-out crowd of 400 at his Sydney public talk. We'll have it up online soon here at the Milkwood blog but I've not seen so many urbanites leave an auditorium with such a fire in their bellies and farming on their mind. Great fun.
The next day saw us all off to Canberra for another public talk, this time with 300 attending and filmed by ABC's Big Ideas. A preview of forthcoming doco Growing the Growers provided some unique insights. And then the first course. 100 farmers, feeders and thinkers crammed into our venue (the Mulloon Creek barn) for two days covering Polyface techniques, addressing everything from animal systems through to direct marketing to succession planning. A-maz-ing. Not a dry eye in the house during the part about creating a farm that children with treasure, and many folks giving heartfelt thanks at the end.
For Joel's day off we went to Allsun Farm at Gundaroo to visit his old friends Joyce and Michael. We'd been to Allsun Farm (an amazingly productive organic microfarm using Eliot Colman and Polyface techniques) previously but it was great to see it singing at the end of spring, with chooks and veggies clucking and blooming every which way. Then, we put Joel on a plane towards the Victorian and Queensland legs of his tour, drove back to Milkwood, and collapsed.
By the time we picked Joel up a week and a half later in Mudgee we were partly recovered, except for all the rain. So much rain. Too much, even. We had to make the difficult decision to move the Milkwood Farm course with Joel into town – we figured there was no point having this amazing guy in our woolshed if flooding prevented anyone else getting to our farm. So we made the call and moved the course to a big shed in Mudgee town. Sigh.
Fortunately we had Costa to perk us up. Costa introduced Joel to the audience at the Mudgee public talk and stayed on to do the course. Nick describes Costa as the fulfillment of  the un-requited promise of commercial air fresheners… because unlike air fresheners, the minute Costa's in the room, things do actually just get better, brighter and more pleasant.
Following the 100-strong Mudgee course (from which we will be publishing a series of mp3s shortly) and a dinner with Peter Andrews in which Peter and Joel swapped observations on the hydrology of our landscape, we took Joel along to Col Seis's farm to have a look at some pasture cropping.
Col Seis and Joel Salatin are two of a kind: creative innovators who have the ability to walk with the land and its needs, and create abundant systems in the face of opposition and assumptions of conventional agriculture. They nearly talked each other's heads off. They improved each other's systems thinking on the spot. And they each went away with a large amount of new ideas. It was a treasure to witness.
Following a quick lunch at Ormiston's Farmers Pantry we finally got Joel onto Milkwood soil, for his final night in Australia.
We dragged Joel around Milkwood and in his 20 minute tour he managed to suggest at least 4 really good ideas about how to do things more efficiently. We interviewed him about advice for first-generation farmers, fed him some of our lamb, local yabbies and the best ice cream we could find, and then put him to bed in our guest caravan.
And the next morning we let him go home, back to his farm and his family so very far away.
The inspiration lingers, however. Now it's up to us to use the knowledge we've gained to make Milkwood into something that Ashar will treasure  – because i don't mind the idea of my child rising up and calling me blessed. Or my carrots growing long and straight.
Resources:
Photos from Joel's time in Mudgee
[slideshow]
You might also like to have a look at:
our other posts on Joel Salatin