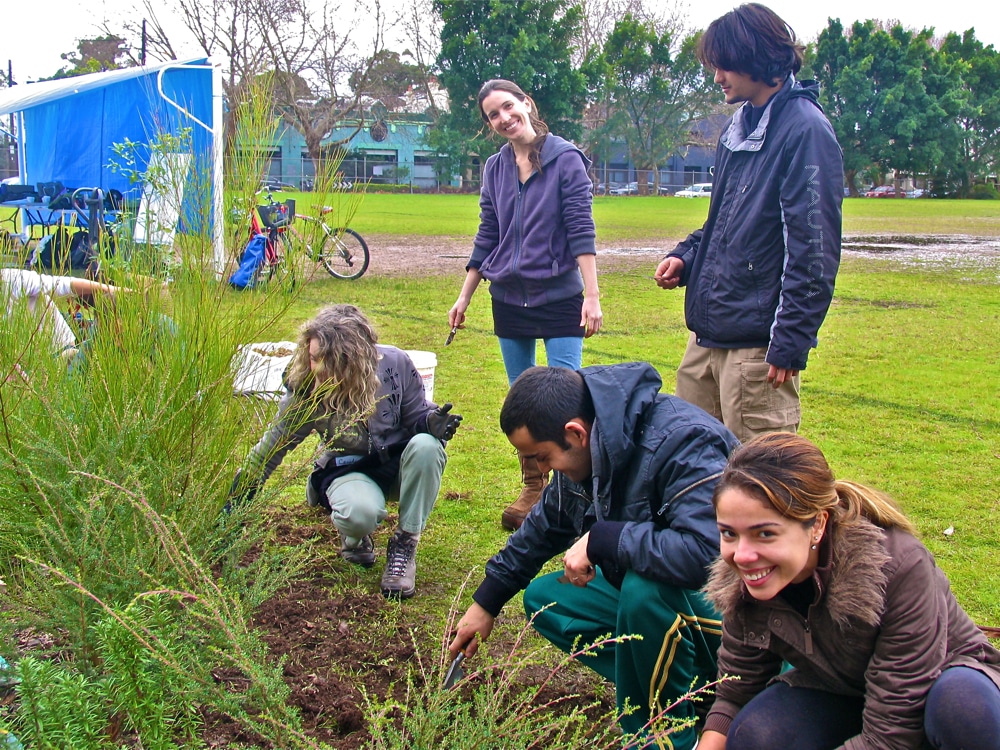 Last Monday we arrived at a soggy sports field early in the morning. We had a trailer-load of lucerne hay, 6 fejoa trees, masses of herbs and cuttings and one thing on our minds. Permablitz.
Would anyone else show up on such an unfriendly, rainy public holiday in winter? Unlikely. But in our heart of hearts, we hoped they would. And you know what? They did. Over 40 fabulous folks turned up to dig, plant, shovel, learn, and grow some community…
Alexandria Park Community Garden is a patchwork of gardens surrounding Alexandria Park school in the inner-city Sydney suburb of, wait for it, Alexandria. It's a fine example of a small community group creating edible landscapes in any spare patch of ground they can find, with the blessing of the School.
Like last year's permablitz, we again focused on the community garden on the side of the sports field. This garden gets the least love out of this patchwork of sites, on account of it having no permanent water, and being exposed and generally not close to anywhere else. It also takes the most effort to keep in shape.
All of which just means that this particular garden needs some thought and good design to ensure appropriate use. David Holmgren had a look at it recently, and suggested the following very simple but smart idea:
David's suggestion was to accept the limitations of such a space and use it for growing food which needs irregular attention in large bursts. He also suggested in aiming for its use to be entirely communal, rather than individual beds belonging to specific people.
In this way, this part of the garden could become space for a community 'maincrop' – something like potatoes, kumera etc. Such a setup would require occasional bursts of community energy and very little attention inbetween. The end result is a big crop of a couple of foods which the community can harvest as a group, and distribute as they choose.
I think this could be a great approach for this entire part of the garden, but the decision rests with the garden group as a whole.
In the meantime, however, we thought we'd get some more fruit trees in around the edges of the space, plant some support species around them, make another banana circle on the side and generally get things growing.
A big fat THANK YOU to everyone who came from far and wide to lend a hand. You all made our day. Especial thanks to Jo and Chris from the community garden, to LoveGrub for supplying us such excellent lunch, to Knock Knock organics for fab fruit, and to Jesse, Adam and Harris for being Trojans.
Want to join us next time? Like us on Facebook or sign up to our mailing list to receive updates of extremely interesting things like permablitzes.
 Things to look at:
Other related posts:
All our posts about permablitzes we've done