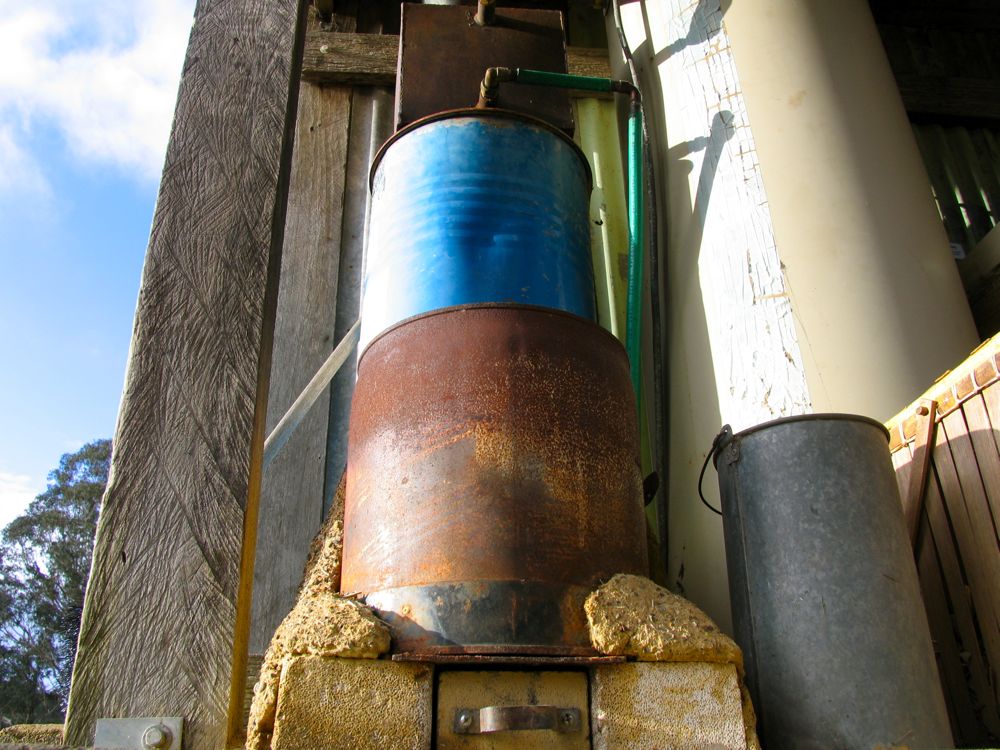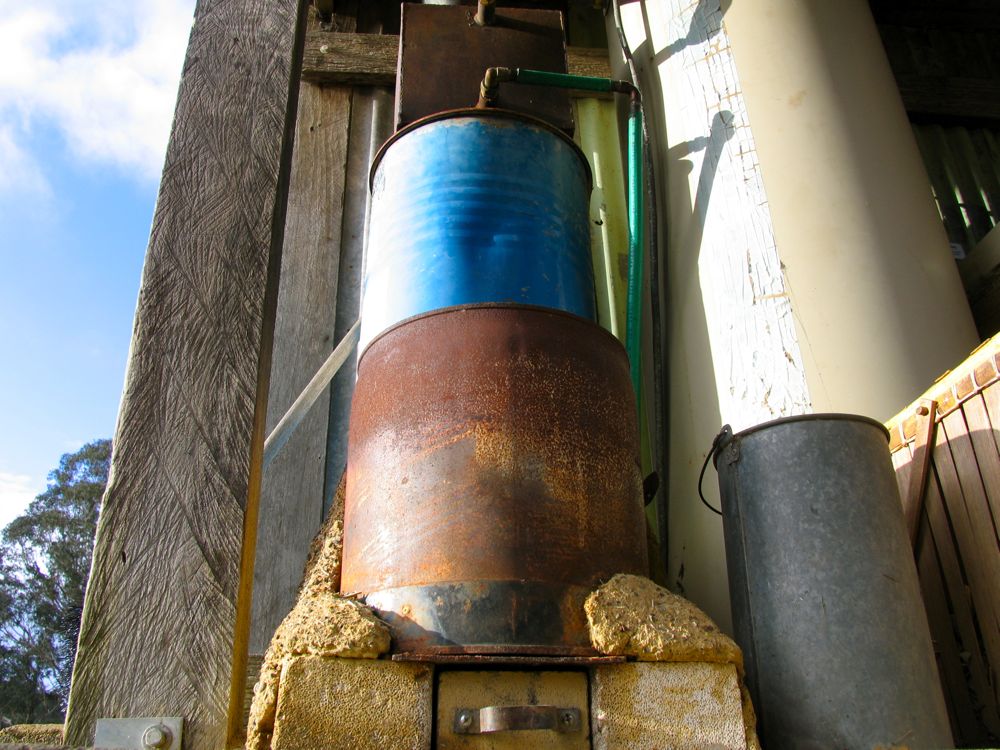 *Update* – Since writing this article, we've deconstructed, improved, reconstructed and cobbed this rocket stove. Have a look here.
Way back in the summer of 2009, we built a rocket stove water heater so we could have hot showers at Milkwood. What a revolution. And 2.5 years later, our rocket powered shower is, surprisingly, still going strong.
Since we get a lot of questions (and comments from warm, clean farm visitors) about this home-made hot water rig, I thought I'd do a little appraisal of the system: how it's fared and what we've learned from such a simple, effective system for happily heated water.
First of all, you should probably have a look at the original post dealing with building this system, The Rocket-powered shower. It explains the basic setup. I like to think I've got a bit better at explaining things since i wrote that post, but that's life. I'll leave it un-trammeled.
Our post Rocket Stove Roundup touches on the why, what and how of rocket stoves, and hints at their glory, if you're not up to speed.
To summarize, our rocket hot water system has a rocket-stove style feed barrel, with a J-shaped feed tunnel. The hot air moves up through the heat riser and through a heat exchanger, which is the black box thingy, where the water gets heated. This is the only tricky bit of the system.
After the (not so hot now) air moves through and beyond the heat exchanger, it goes up a chimney, out the top and that's the end of that. It's a very simple way of heating a very respectable quantity of hot water with minimal fuss, fuel, and footprint.
I'll go through each bit of the system and explain how it's faring, and whether we'd like to improve it:
Feed barrel:
Still works fine, though it could do with a re-cobbing. This is partly due to in sufficient roofing in the first year, where the water came in and the cob partly dissolved. Happy with the design and construction otherwise, though.
Ash pit:
Works well, we remove the ash daily when this system is in heavy use. The ash is removed via the little front door (a firebrick with a handle) with a trowel and placed in a metal bucket. From there, it goes wherever ash is needed on the farm. A simple task, easy to do before starting the first fire of the day.
Heat riser:
The internal insulation for the heat riser (vermiculite) has settled slightly and there's a 5cm part at the top of the heat riser that now gets hot, indicating to us that it's not as insulated as it was.
Not a big deal in our context, but if this system was inside your house it would be best not to have a hot part in the heat riser that your kids could burn their fingers on. Otherwise, this part of they system is fine and dandy.
Water jacket:
Slight rusting occurring (it is made out of iron), but otherwise performing perfectly. Best 20 bucks we ever spent at a garage sale.
Water tank:
Working well, no problems at all. Pressure release valve working fine (though this system rarely gets a chance to overheat, due to the enthusiasm to use the hot water a.s.a.p.)
Water inlets and outlets:
We modified these slightly, so that the angle wasn't so sharp for the water to pass from the tank to the jacket and back again. We also insulated the pipes with rubber, to make the most of the heat energy. Otherwise, working fine.
Fuel efficiency:
Reasonable. Or great, i'm not certain – this is the only rocket powered shower we have! The amount of sticks you need to get a truly hot shower does depend on the ambient temperature, but as a general rule in say mid-spring (18-25ºc daytime temp), you're looking at 10-15 minutes of feeding the rocket shower sticks for the first hot shower, then 3-5 mins of stick feeding for each hot shower thereafter.
In mid summer, that goes down to 5-10 mins of startup stick-feeding for the first hot shower and a couple of minutes of stick-feeding per hot shower thereafter.
Fuel storage:
We learned this one pretty quickly. It is a sad, sad and soggy day when you need a shower and there are no dry sticks for miles around. So we built a stick storage facility! It's right next to the rocket shower. Where else would you put it.
Doing 'the sticks' has become one of the daily chores when Milkwood Farm is buzzing with people. Each day, the appointed choree fills up the stick compartment. This means that even if it rains tomorrow, there will be enough dry sticks.
By having two levels, you could (in theory) separate a collection of wet sticks from dry ones, and hope the wet sticks dried by the next shower time.
Siting of the system:
As the above image only sort of demonstrates, siting your rocket stove shower system somewhere with a pleasant view is a good idea. You will be sitting there for 10-15 minutes each day, after all (assuming you are the first showerer). Ours faces west and there's some lovely sunsets to be had while firing the rocket. Hot chocolate recommended.
And that's about it, really. All in all, we're super happy with how this system has performed.
During our twice-yearly on-farm PDCs we have over 30 people at our farm for 2 weeks straight, all using this system exclusively for their showers. While I'm not sure everyone chooses to shower every day, many do and the system holds up under the enthusiastic strain. A pretty good recommendation, i think.
One of the things i still like most about this system is this: the energy in for energy out, and the simplicity and honesty of the transaction.
You want a hot shower? Go get ye some sticks. And then poke a fire a bit. Now you can have a hot shower. Now you may be cleansed.
A big, big thanks to all the thinkers and tinkerers who collectively brought rocket stoves into being, and have caused us at Milkwood Farm to be warm and clean these 2.5 years past.
Any comments or suggested improvement to the above system are welcome as always – bring it on.
>> Original photo set that outlines the construction process of our rocket powered shower.
*Update* – Since writing this article, we've deconstructed, improved, reconstructed and cobbed this rocket stove. Have a look here.
Related posts:
From our Store