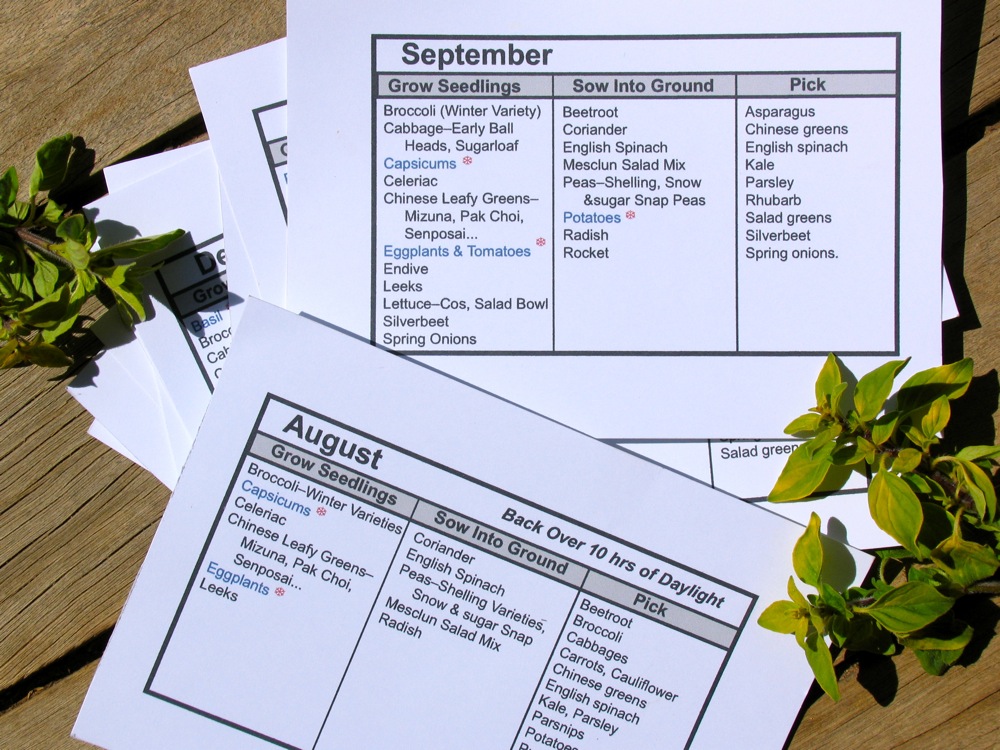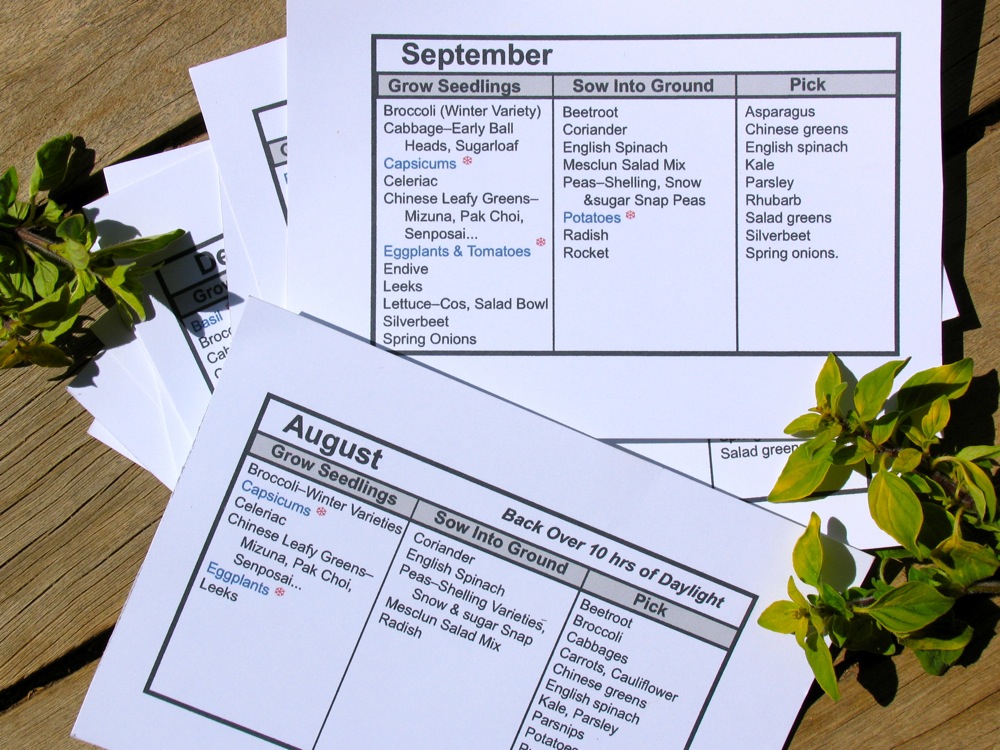 I must say that while I'm finding this market garden experiment very exciting, it's also rather daunting. What are we planting today? What are we planting next week? Where are we going? Who am i and where are my pants? The solution to all this is Allsun Farm's planting calendar system.
Joyce Wilkie devised this garden card system firstly for her market garden at Allsun Farm, but happily she's the kind of lady that likes to share. So she shared it with us. And now we can share it with you. It's un-tangled everything and put us on the straight and narrow.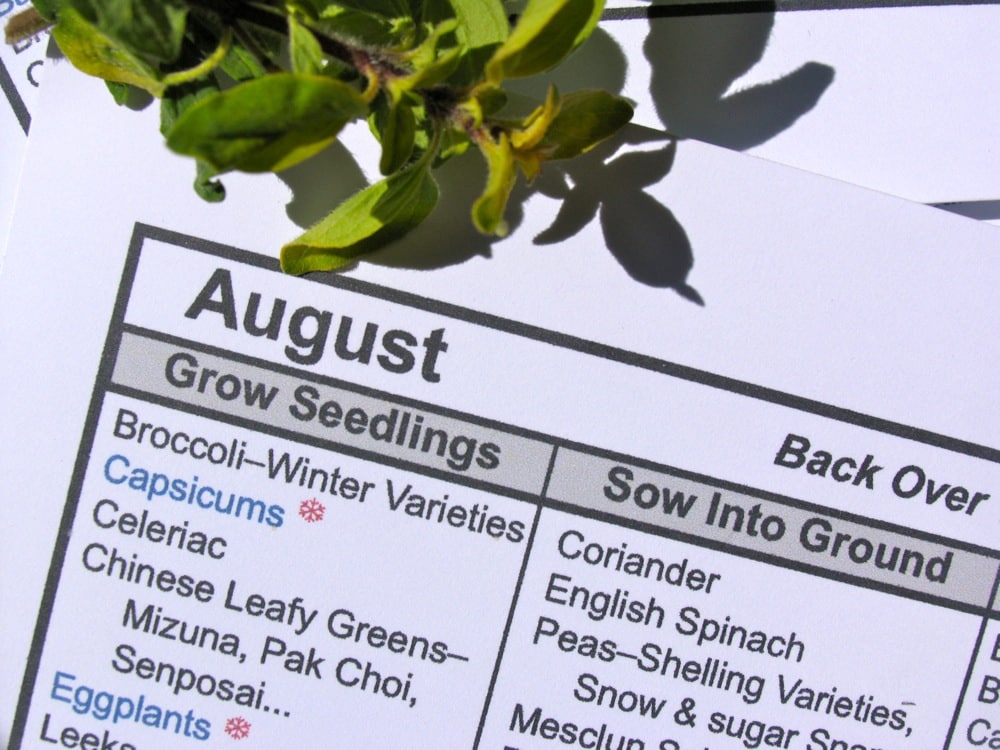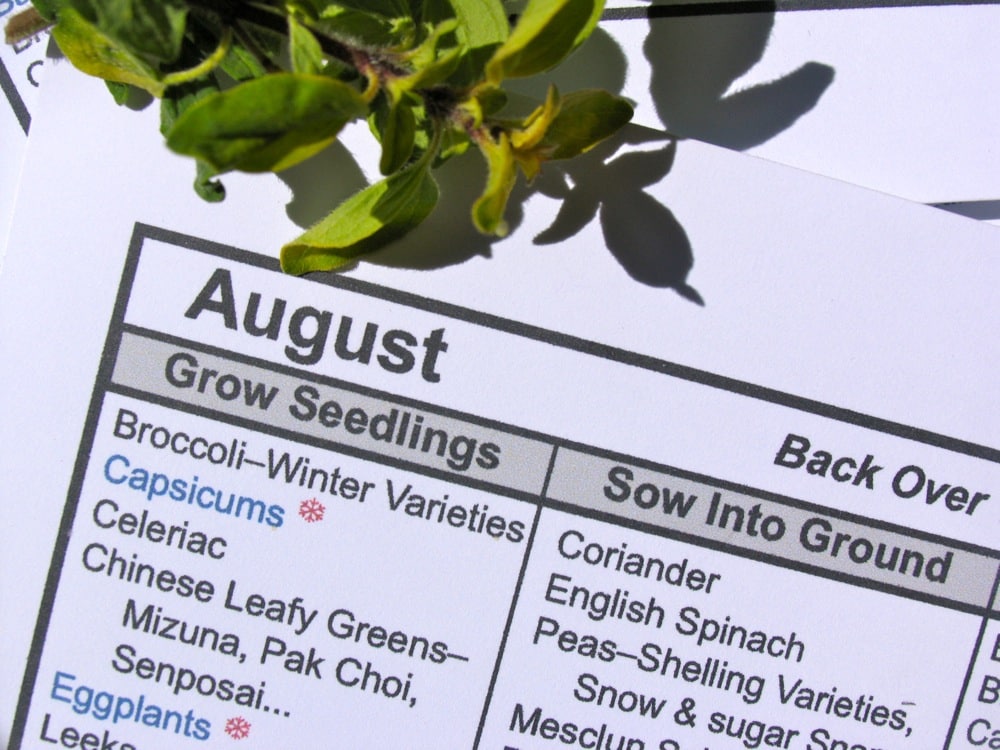 The Allsun Farm planting calendar system works in a simple but powerful way: Each month has a designated card. On that card is all the info you need to have about that month, for your particular climate, based on your planting plan, and what will and won't grow where you live at that time of year.
It's disarmingly simple, and powerful too. An excel spreadsheet or a complicated planting plan is great for the office, but to have all that info distilled down to a simple card, that you can take to the garden, makes the impossible suddenly possible.
Each month has three columns: Grow Seedlings (ie plant them into pots), Sow into Ground, and Pick. You organize the crops you're planning on growing into these three columns, and, assuming you're up to speed on how to deal with each crop, off you go.
If you don't know how to plant the crop in question, that bit of research should be done first. You could use Allsun Farm's Growing Annual Vegetables CDROM which is pretty darn comprehensive, or some other source.
The cards are also great because you can jot down important notes on them (numbers of plants, unexpected frost date, etc) and cross things off as they get done. At the end of the month, you may have a card covered in small additions, notes and numbers. Great! More info for next year.
The other great thing about these cards is that they are portable, pocket-able and powerless. Analog. Old School. You can't check your mail and you can't update your status. You are gardening now. Until lunch, getting that rocket in and those eggplants picked is all that matters. Focus!
The info on these cards is, of course, particular to your garden's bioshpere. And if you make a new set of these cards each year, you can easily track over time what worked and what didn't, as well as yeilds, harvest dates and so on.
You can also lay out the next six months in front of you on a table, while you sip your tea and get your head around how it's all going to work.  I like that a lot.
I'm learning that market gardening is all about planning, tracking and DOING. This card system helps all three of those things happen.
So what are you waiting for? Download a template of Allsun Farm's planting calendar and start building it to suit your garden.
The above planting calendars are for temperate/cool temperate Australia, but we trust you're savvy enough to amend the concept as needs be. If you don't have a garden just yet, you could do it as an exercise of what your biosphere could be expected to produce, based on local knowledge and/or your own inklings and research…
Many thanks to Joyce Wilkie of Allsun Farm for sharing this simple yet powerful resource!
Any other hand-held garden calendars out there that you've seen or used? We'd love to know about them…
We run market Gardening training for both beginner and masterclass levels. Check them out here.
Related posts: