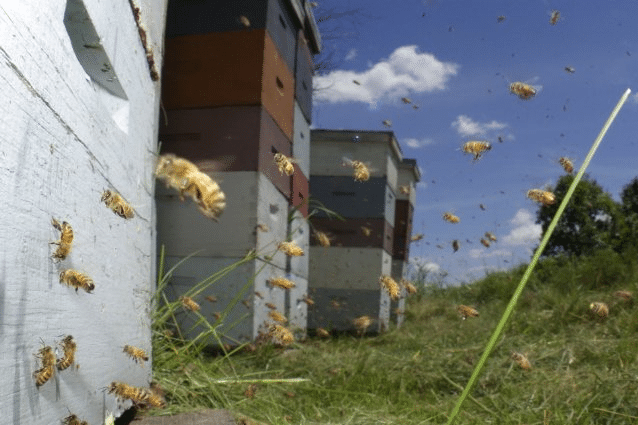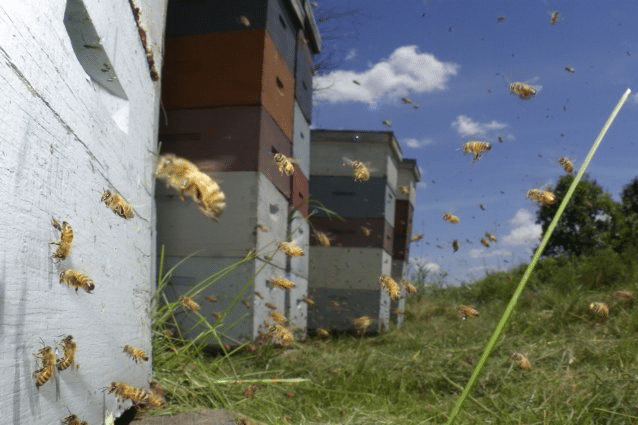 Roll up, roll up. It's our very first film night in Mudgee! We thought we'd start with Vanishing of the Bees, an amazing doco about why organic beekeeping (and farming) is so darn important. And it's free! Please join us for a local wine, a wood fired pizza and a great evening:
Wednesday 5th October, 6pm onwards at Roths Wine Bar, Mudgee NSW.

Our guest speaker for this event is Tim Malfroy, natural beekeeper extraordinaire. Tim has kindly offered to be a part of this evening and will attempt to answer questions raised by the film, which shouldn't be a problem given his rather impressive knowledge of beekeeping, bees, and what the future may hold for them (and us).
Join us for an evening of thoughtful drinking and interested eating as we all chomp, swallow and discuss this very important and fascinating issue.
Milkwood Social: Film Night: Vanishing of the Bees: Wed 5th Oct 2011
Roths Wine Bar, 30 Market Street, Mudgee NSW
6.00pm doors open to The Shed (with open fire). Get yourself a drink, and a seat.
6.30pm film starts
7.30pm film ends. Order a woodfired pizza, a local wine and join in the Q&A that this excellent film with no doubt bring up.
8.00pm keep eating, chatting and drinking as your night permits.
About Tim Malfroy:
Tim is a second-generation beekeeper, growing up on a large apiary in the foothills of the World Heritage Blue Mountains. He has been practicing organic and biodynamic beekeeping since he started keeping his own bees in 2006.
In 2008 he was the first beekeeper in Australia to build and trial a Warré hive, and traveled to Apimondia in France 2009 to take part in the first conference session on Warré and top-bar beekeeping.
He teaches apiculture to over 100 students a year through the Natural Beekeeping courses with Milkwood Permaculture.
Honeybees have been mysteriously disappearing across the planet, literally vanishing from their hives.
Known as Colony Collapse Disorder, this phenomenon has brought beekeepers to crisis in an industry responsible for producing apples, broccoli, watermelon, onions, cherries and a hundred other fruits and vegetables. Commercial honeybee operations pollinate crops that make up one out of every three bites of food on our tables.
Vanishing of the Bees follows commercial beekeepers David Hackenberg and Dave Mendes as they strive to keep their bees healthy and fulfill pollination contracts across the U.S. The film explores the struggles they face as the two friends plead their case on Capital Hill and travel across the Pacific Ocean in the quest to protect their honeybees.
Filming across the US, in Europe, Australia and Asia, this documentary examines the alarming disappearance of honeybees and the greater meaning it holds about the relationship between mankind and mother earth. http://www.vanishingbees.com
About Milkwood Social:
Milkwood Social is an irregular and innovative series of events run in Mudgee and Sydney. They're a chance to network, chat and share experience and knowledge about helping good things to grow. Usually free, always a good time. Join us.
So! Who's coming?
Related posts: