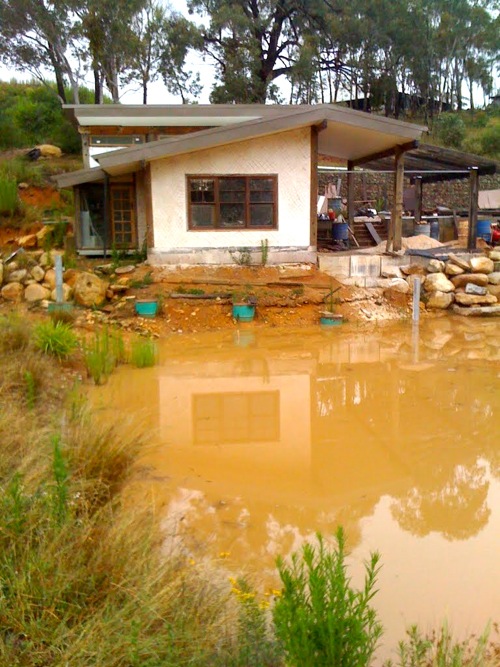 So just over a year ago, our house dam filled for the first time. And then went into scary nearly-melt-down. So we pumped the water out, fixed it, and then waited for it to fill again. And waited. For a year.
Do excuse multiple soggy shots of muddy pools, but this is big news at Milkwood Farm. Last weekend, for the first time, our swale and dam system filled, thanks to a big downpour on the tail of a very wet spring. And nothing went wrong. Yay!


If you'd like to read about our imperfect (but ultimately triumphant) history with earthworks at the farm, please read the Saga of the Top Dam and the Saga of the Middle Dam.
You could also read these if you're just feeling sad, and need to be cheered up by the fact that at least you don't have multiple heart-stopping earthworks structural oddities that nearly took your best-laid plans apart.
But that's all behind us now. The house dam is full! Not that it will stay full in this climate, we know that. But we are fairly sure that all the dams on our little farm work now. And that makes me extremely relived, for all sorts of reasons.
As you can also see, the tinyhouse is nearing completion. Hoping we'll be in for Easter, but hoping in a 'I hope The Decemberists play Sydney and I can escape child-free  for a whole weekend to see them' type way… it would be great (really great), but we'll live if it doesn't happen.
We'll be swimming + fishing off the deck in no time….


Thanks to Stephen Couling for the photos…