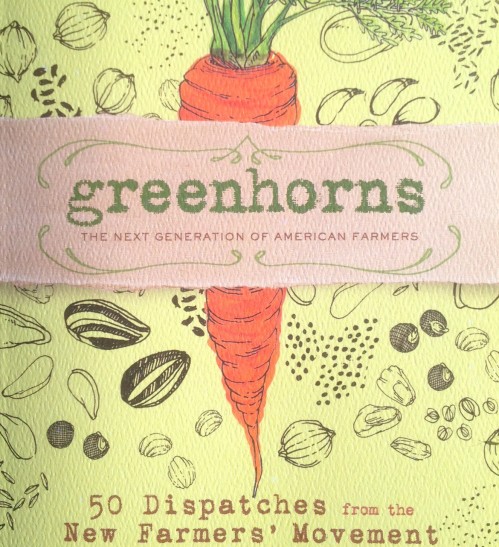 The Greenhorns: 50 dispatches from the new farmers movement is a collection of 50 essays by beginner farmers, and sits as a companion to The Greenhorns documentary. I seriously enjoyed this book more than anything I've read in a long time.
The book is loosely divided into subjects: family, crops, tools, finances, animals, access to land, part-time farming etc. All 50 of these essays are  short pieces written from the heart, with all the joy and tooth-exploding frustration that is learning to farm. But it was the subtlety of some of the insights that got me the most.
Take the whole concept of 'part time farming'. Working as we do, we have a lot of conversations with people about what constitutes a 'real farmer' or a 'real farm'. It's endlessly interesting to me that many people (and many farmers) think that if you're not farming, full-time, on a gigantic farm, then YOU ARE NOT A FARMER. NOT REALLY.
As multiple essays in this book point out, however, it's not that simple. Especially for beginner farmers who don't have access to capital, or secure land tenure. In some cases, working  a desk job 2-3 days a week and working their plot for the rest of their week is the balance needed to get to the ultimate goal, and no less real a commitment than a full-time farm.
Or take the very interesting problem of being brought up in a strongly union, working-class household, only to find as a beginner farmer, with a picking schedule to keep, you're needing to enter into employee relationships with you on the boss-man end. As one essay relates:
I was raised by leftist labor organisers in Kentucky, Detroit, and Queens, and it's fair to say that the plight of the Big Boss Man was not a frequent topic of conversation around our breakfast table. I learned the importance of work and the compromised position of the worker, and i was taught to question at every level the judgement and the ethics of the person in charge.
So, to that small subset of the American population that was raised in the inner-city by Marxists before going on to start small, diversified farms and employ several recent college graduates, i say 'hey, I can relate'. It's not easy to be a boss, especially when your workers are getting paid more than you are, the pigweed is as high as your navel, and the man at the farmers market is smiling while he complains about the price of your dill – Ben James, 'Worth'.
Or the essay on the winding road towards land tenure, via long-term leases, family loans and intricate not-for-profit structures. I love the reality and work-around nature of so many of these pieces.
I also like this book for its balance. It has entries by beginner market gardeners, small scale grain croppers, graziers, dairies and most of all integrated small-farm enterprises doing a little bit of everything as they figure out what works best to make the books balance and their backs not fail at the end of the season.
There's also a nice mix of essays from large scale farmers, small-scale, micro farms and urban farms too.
Running through  all these stories is a thread of the bottom line, which is actually really refreshing. These are not essays by folks who are playing with the idea, or the 'look and feel' of farming. There are no recipes for how to make rustic dishes, or how to make a raised veggie bed on the weekend (not that there's anything wrong with raised veggie beds – love em).
These essays are by the kids actually doing it, who are either in the process of, or recently have succeeded in packing up their former lives, given everything else away, and started off in pursuit of figuring out how the heck to grow good food for their communities, and not go broke doing it.
I'd recommend this book for anyone considering, embarking on or inside a life of farming, whether out on the range or in the city. It made me laugh and cry (corny, but true) and I gained a lot from the energy and insights shared by all the contributors.
>> The Greenhorns: 50 dispatches from the new farmers movement (+ Kindle version) edited by Zoë Ida Bradbury,  Severine von Tscharner Fleming and Paula Manalo.
We screened The Greenhorns Documentary in Gerringong in August last year with Joel Salatin… such a fun night…


The back of the book also has a dense list of resources full of exciting ideas, internship models, land access plans etc which got me dreaming of Australia-wide networked small farm internships.
But in the meantime, here's the websites of farmers who contributed essays, all of whom are doing really interesting things:CONTRIBUTING FARMERS
Whew! So much goodness. Go to it. Read the book. Start planning for the growing season. Eat well, sleep soundly (if only from exhaustion) and be happy.