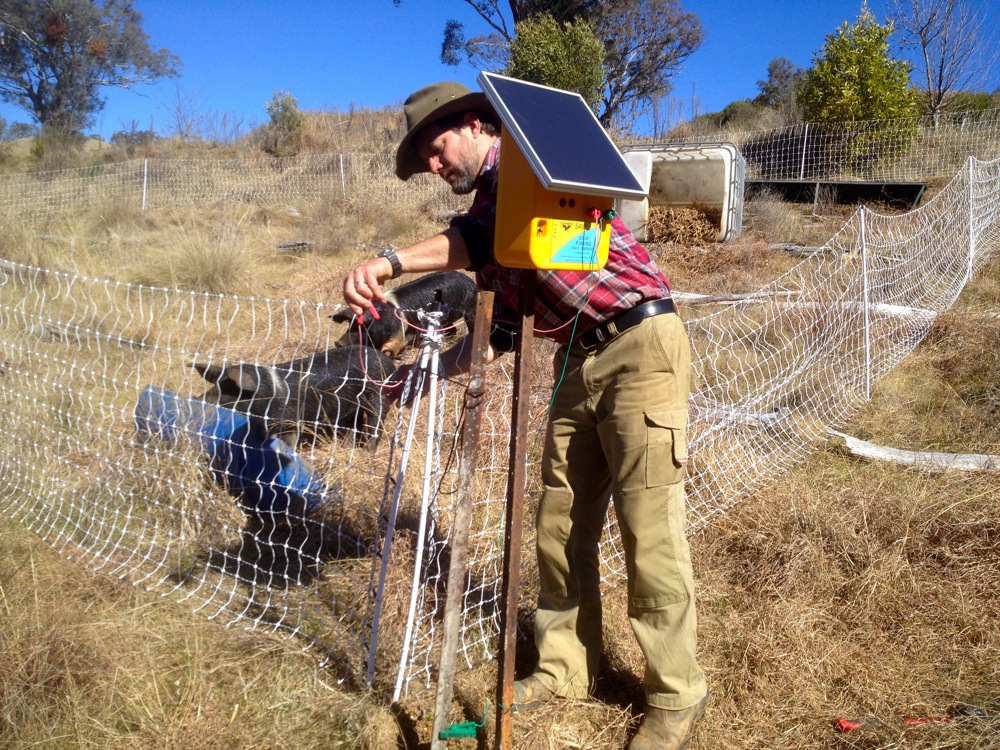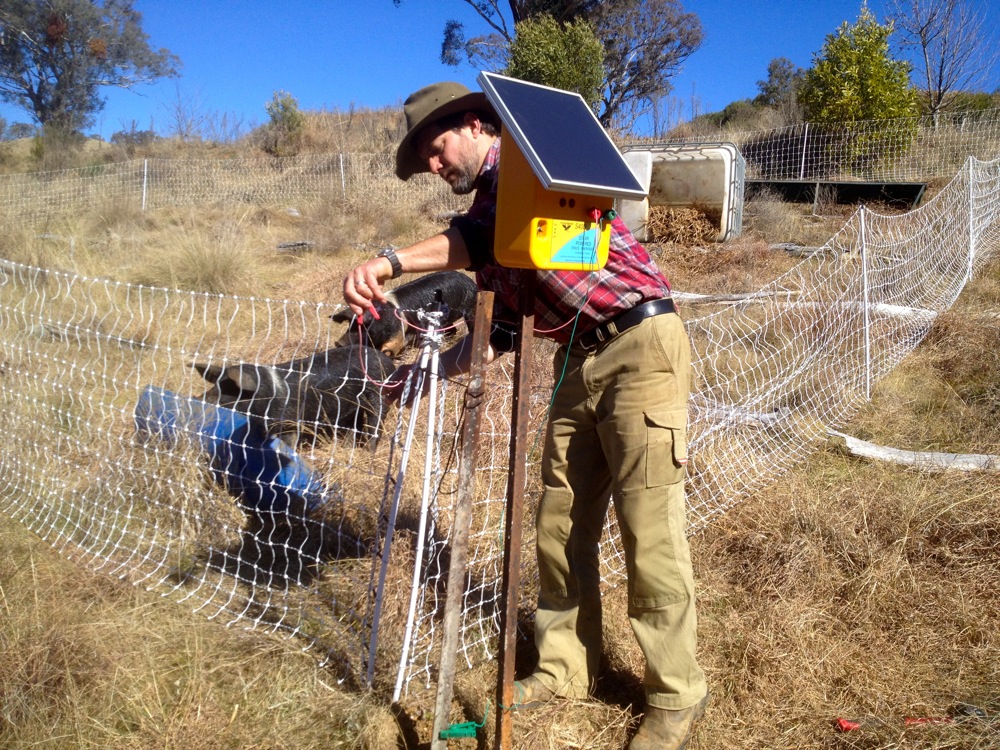 Time to move the pigs. They've done a great job tractoring and manuring up in the suntrap, in readiness for groundcover plantings. Now we need their help down below the swale, to help prep ground for the new forest garden.
Time for the biggest adventure the pigs' lives on their own trotters – all the way down the hill and around the corner. Will a bucket of feed be enough to entice them to go the right way? What if they make a break for it? Just in case, time to make some pig boards, the pig fancier's best friend…
We first encountered pig boards at Ormiston Farm, when James and Georgie kindly lent us some pigs last August to help us prep the market garden space. A full grown pig, it must be said, can be a little stubborn when told where to go.
Pig boards protect the pig wrangler from getting their ankles munched by a pissed-off sow, and more often, just provide a clear indication to the pig of where you don't want them to go. Let's keep this civil – we're all friends, after all. Friends in a bacon-loving way, yes, but companions nonetheless.
Now that we've got ourselves a couple of pigs (to get a feel for them, while we dream of forested pork action in the future), it's time for some pig boards of our own. I have no idea how much the red ones cost, or where to get them from, but we do have some spare plywood at the moment…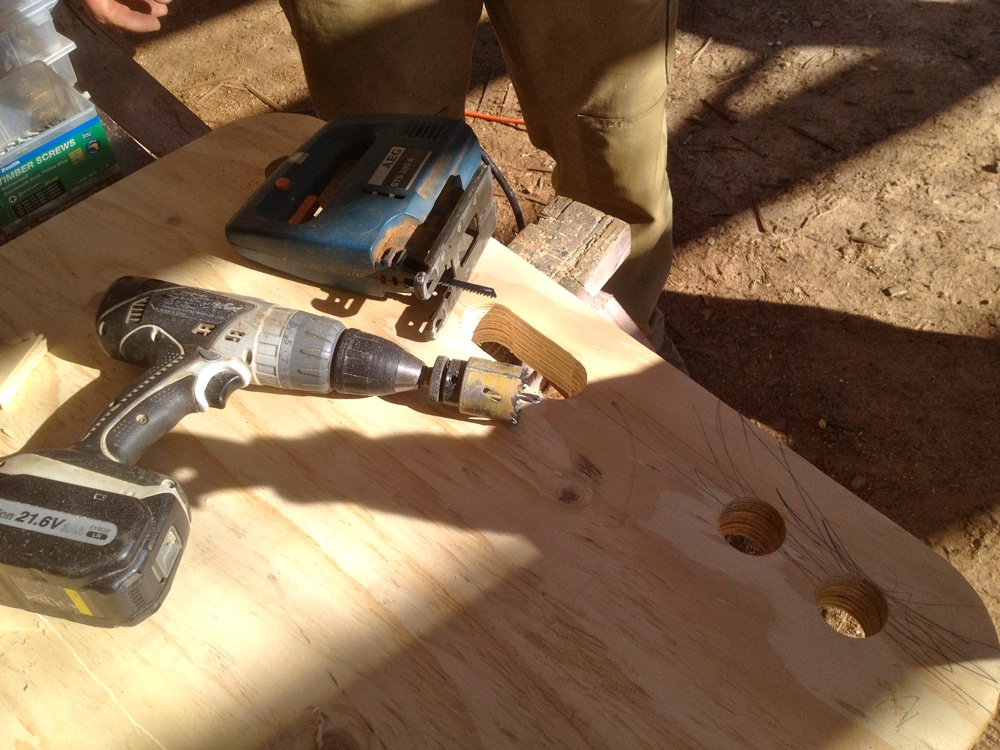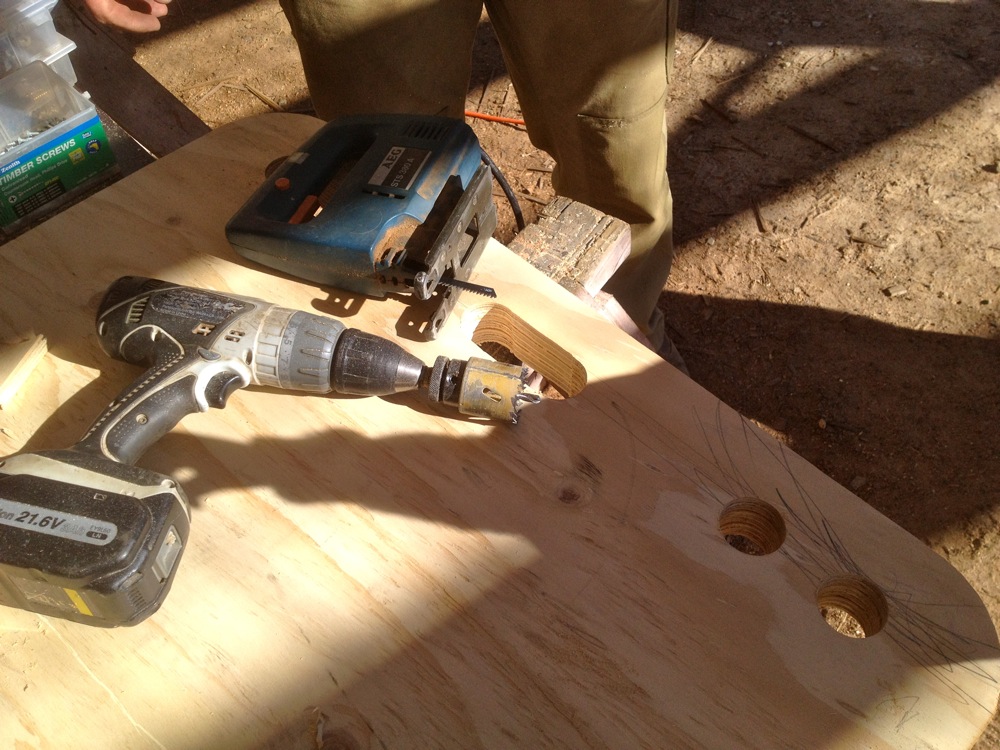 Nick's DIY pig boards – 3 handles per board. Each handle hole is made by cutting two big holes with a holesaw, and then cutting out the area in between those two holes with a jigsaw.
This makes for very comfortable handles, which is important if you're going to hold the darn things for 30 mins or so while maneuvering pigs.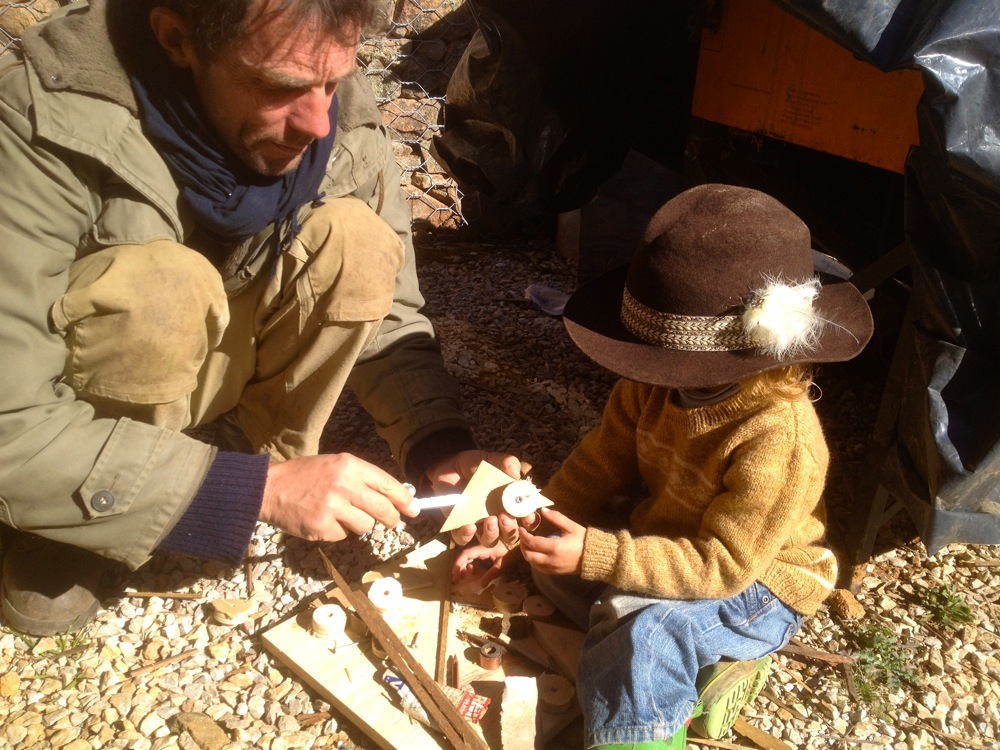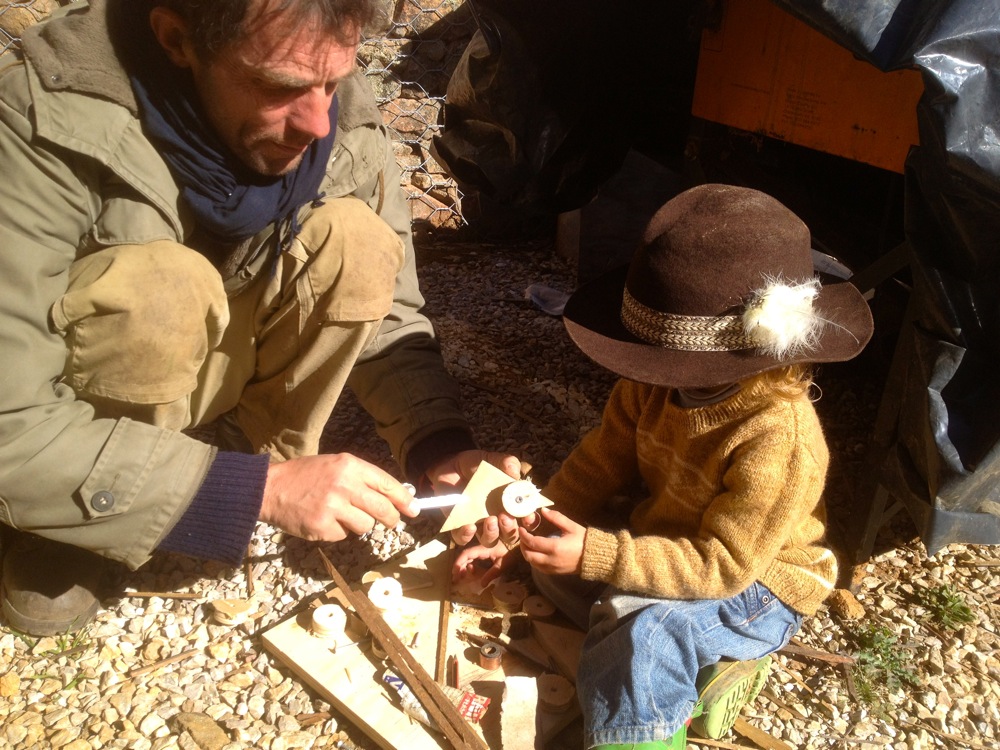 Plus, the cut out plywood circles make great car wheels…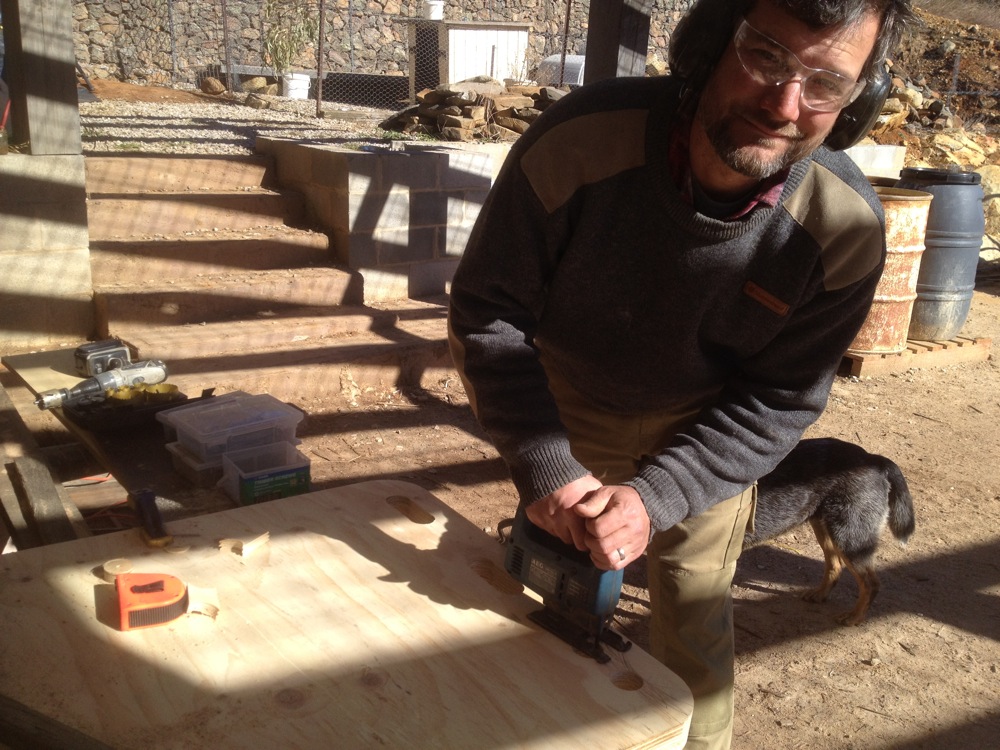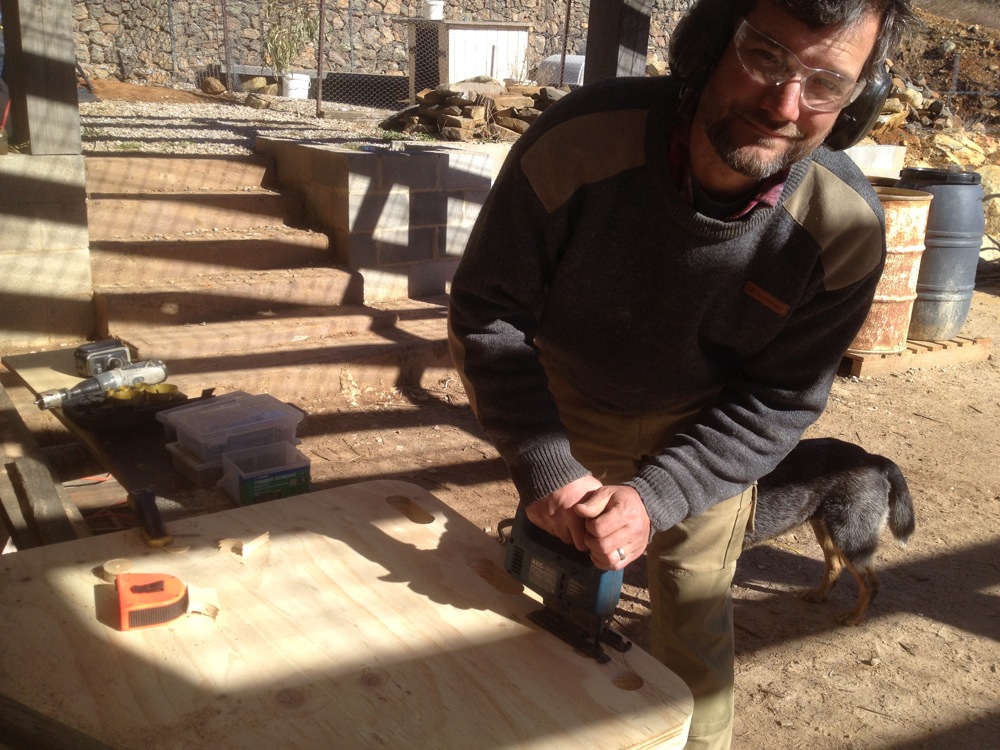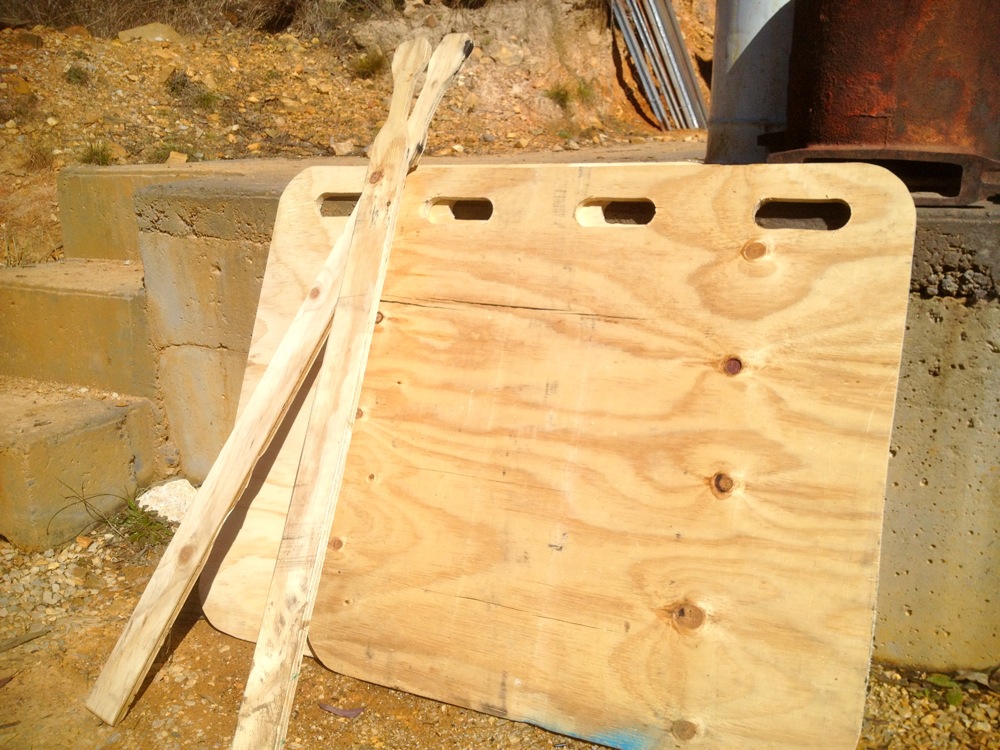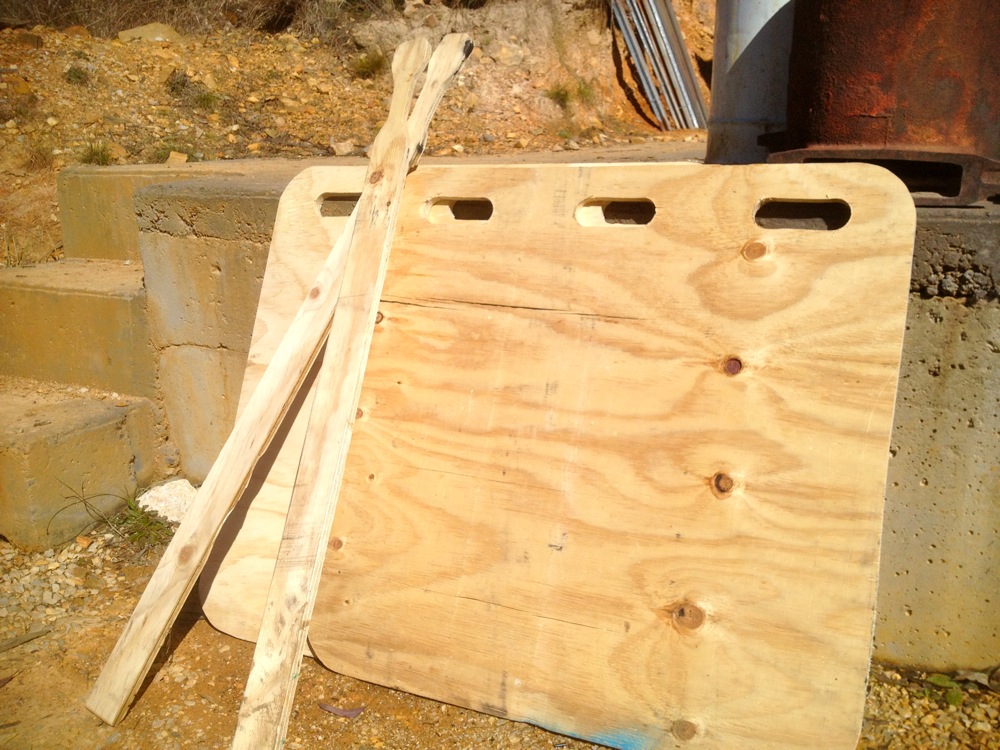 Completed pig boards! And pig-persuaders as well. We're ready to go…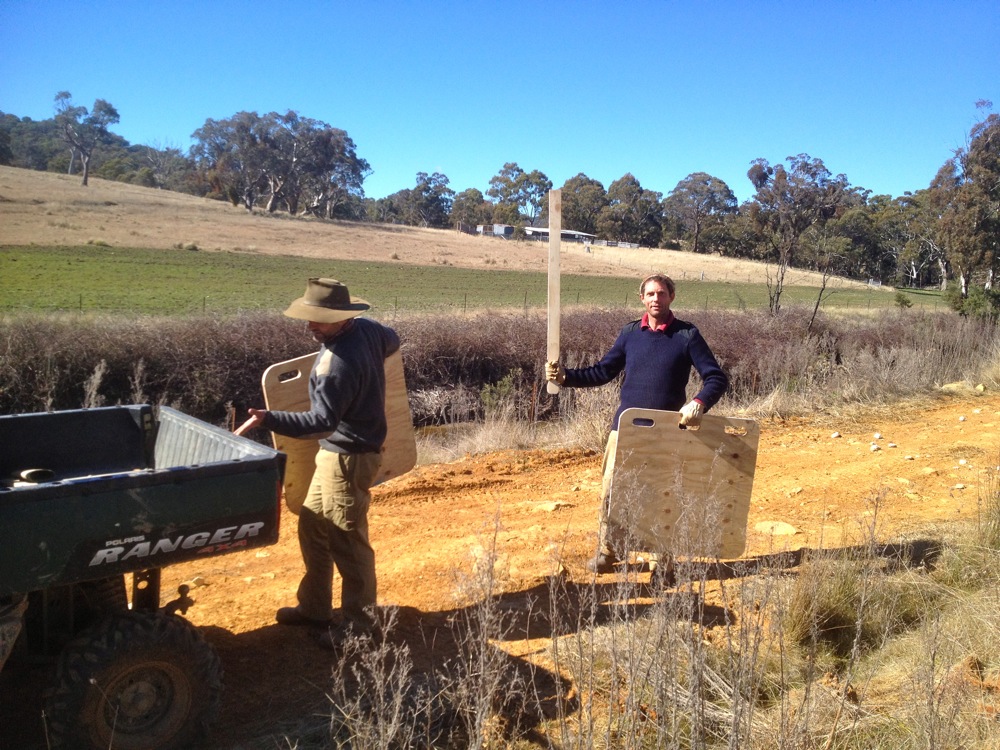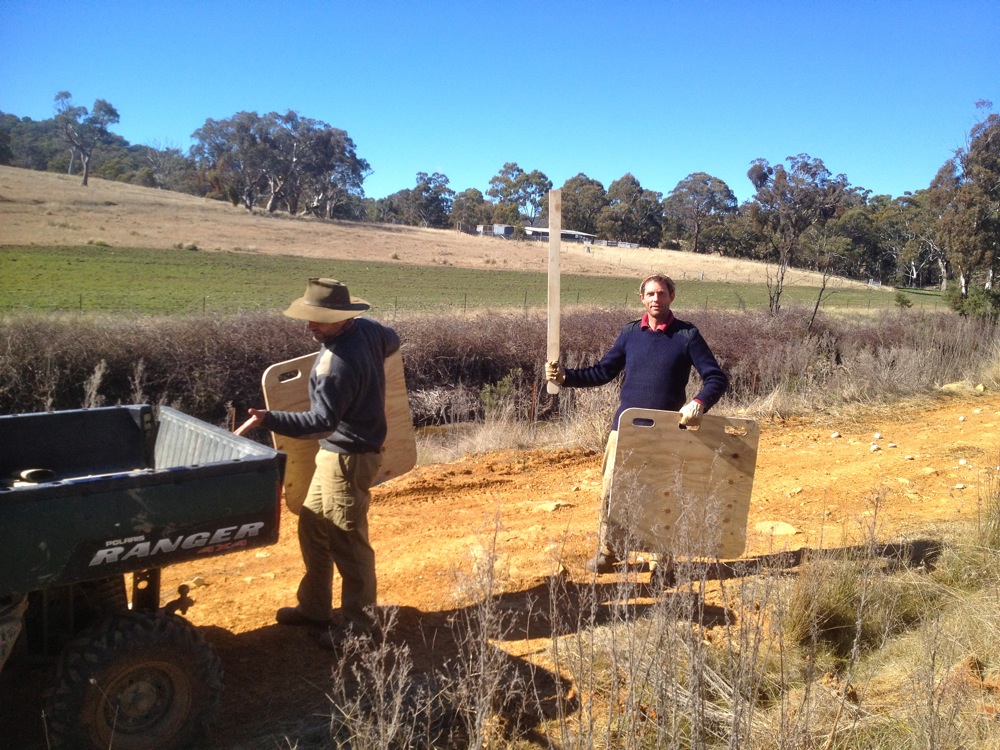 Which in Stephen's hands, quickly turned into talk about pig boards and pig swords, with many allusions to valiant knights, going forth (sigh). Let's go move the pigs, shall we?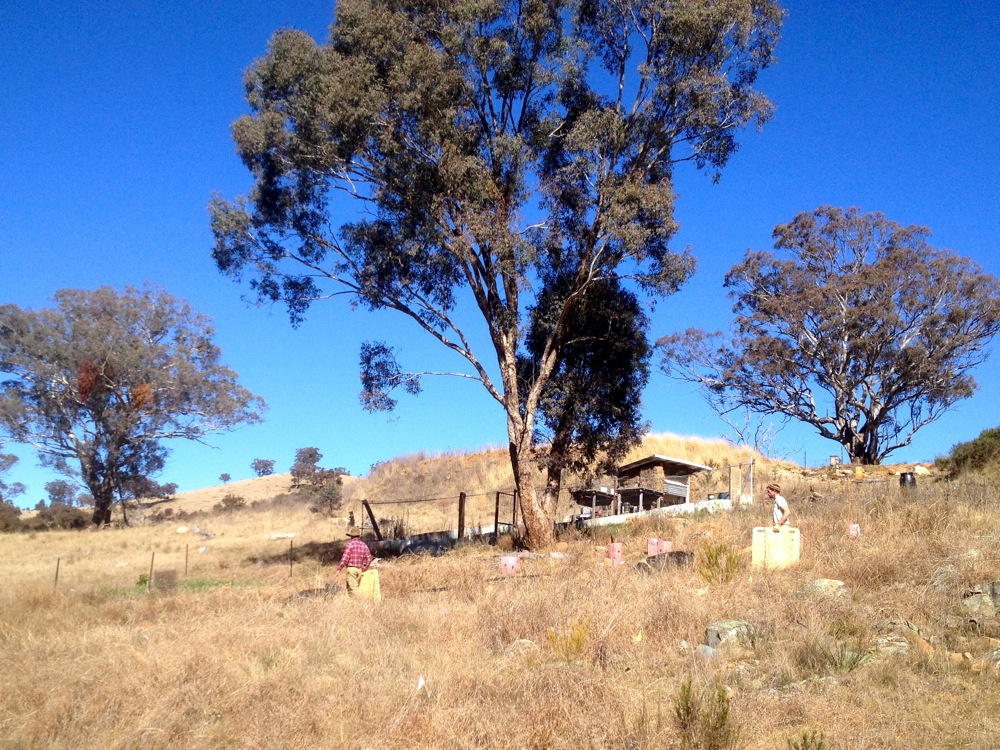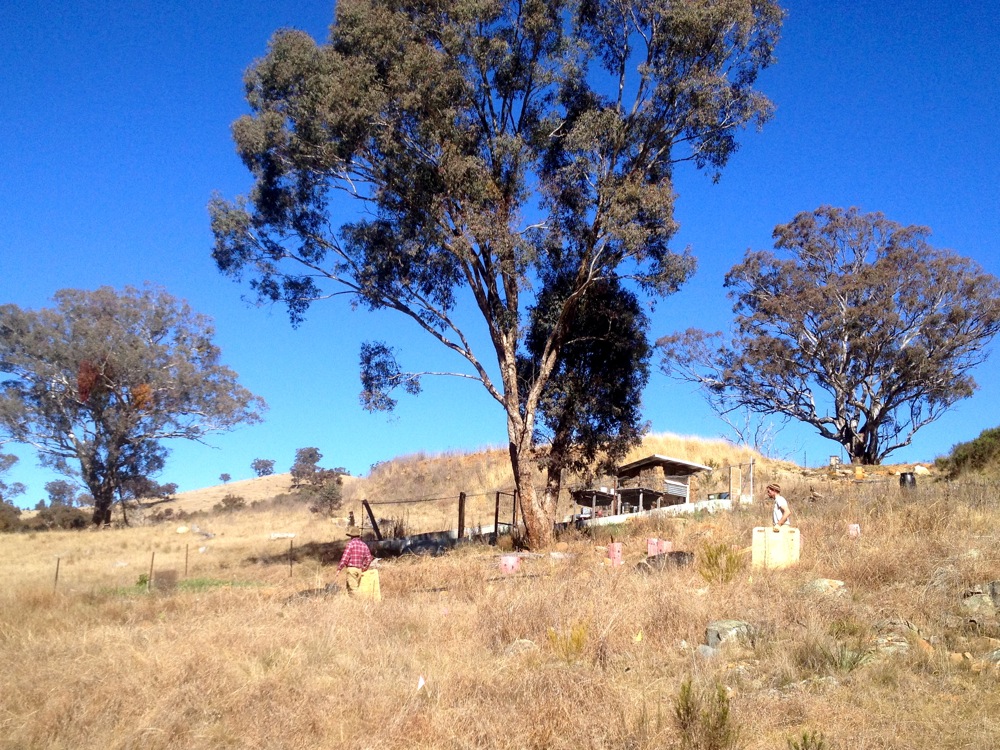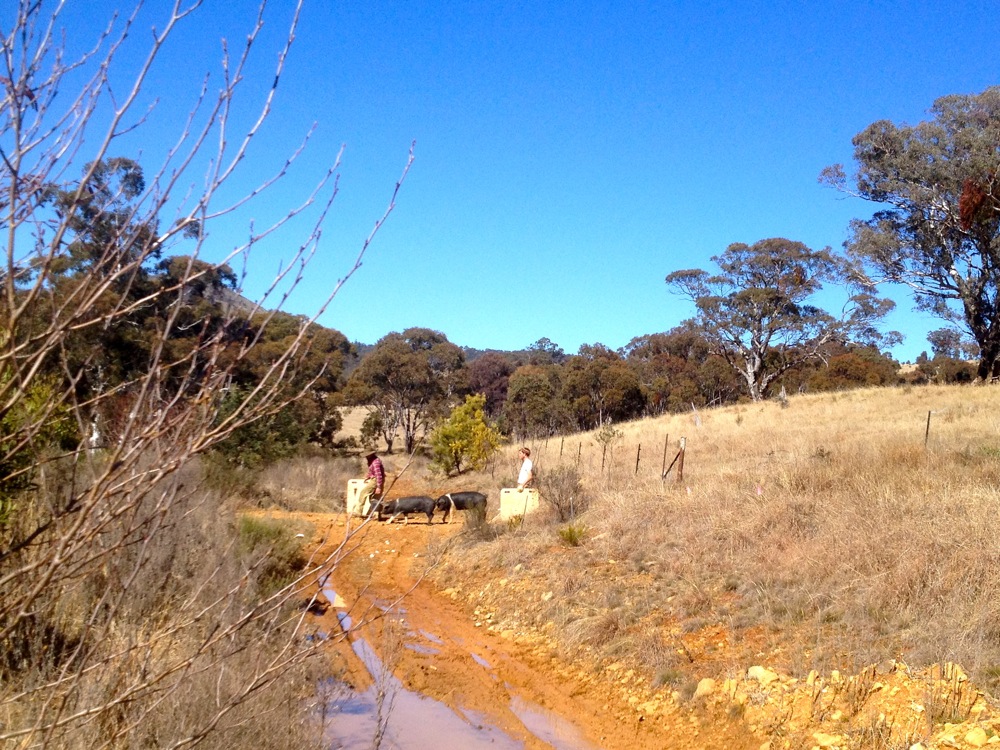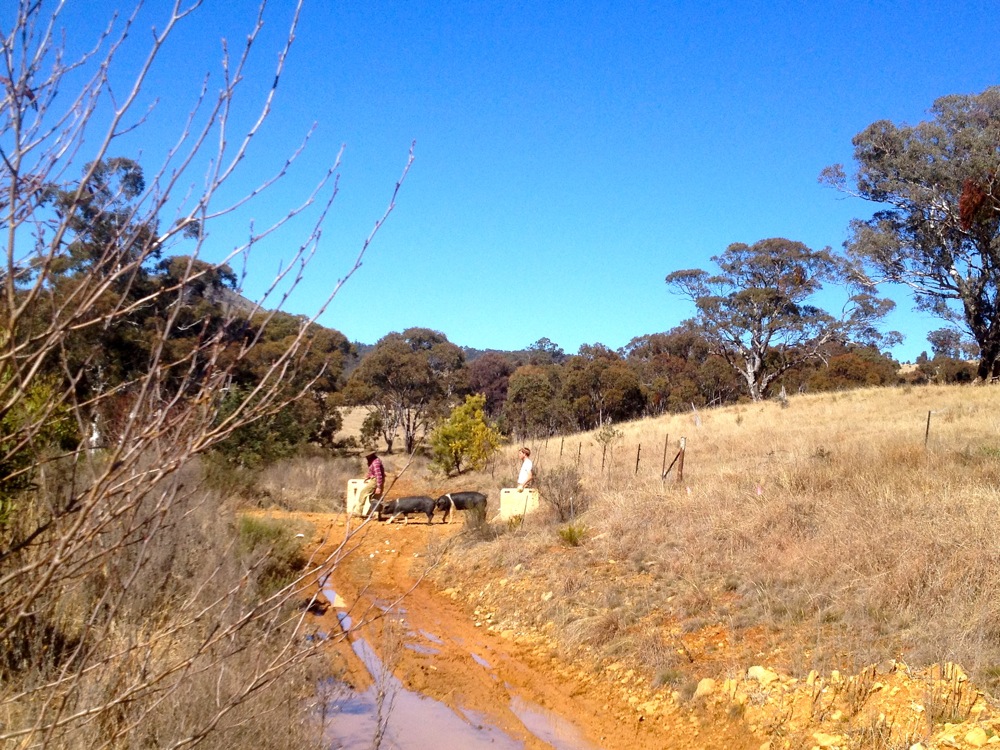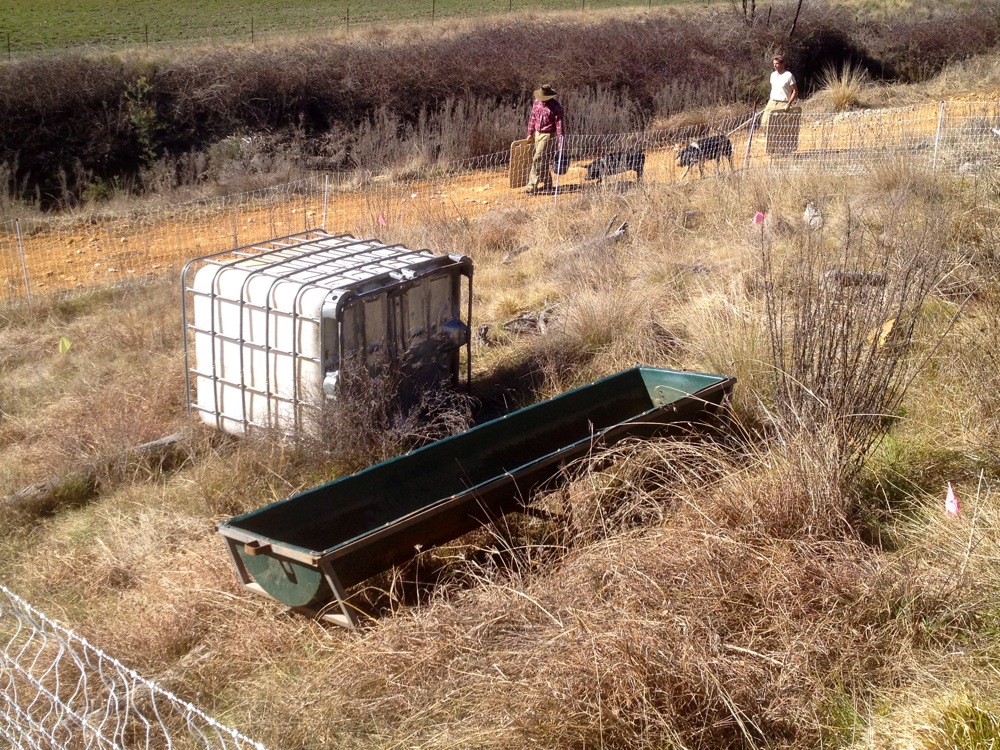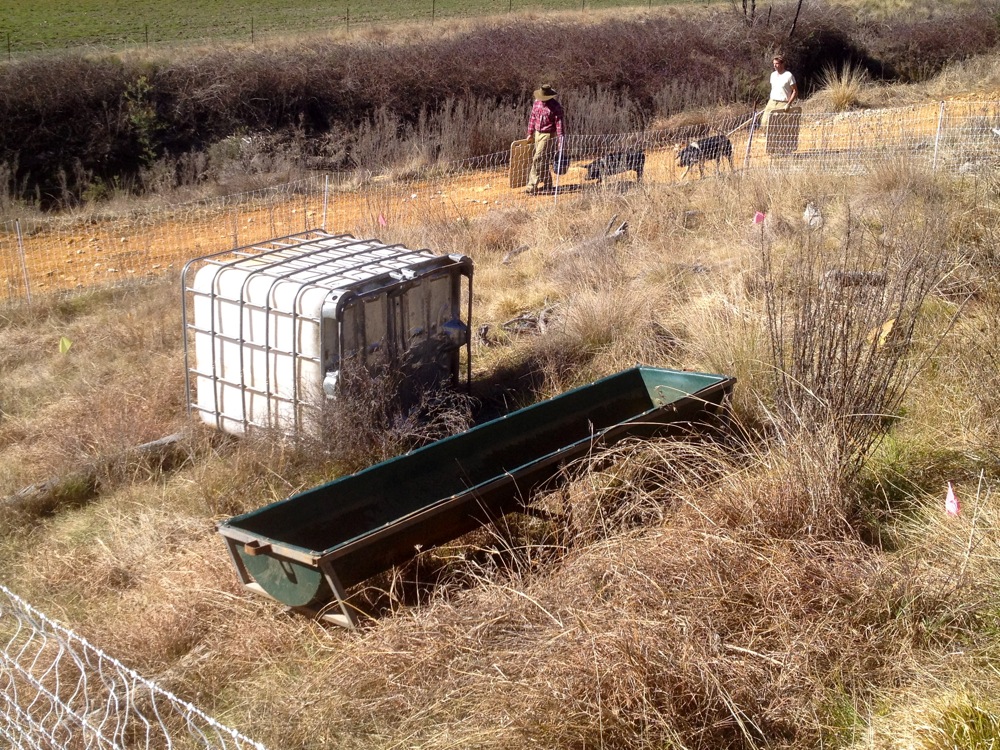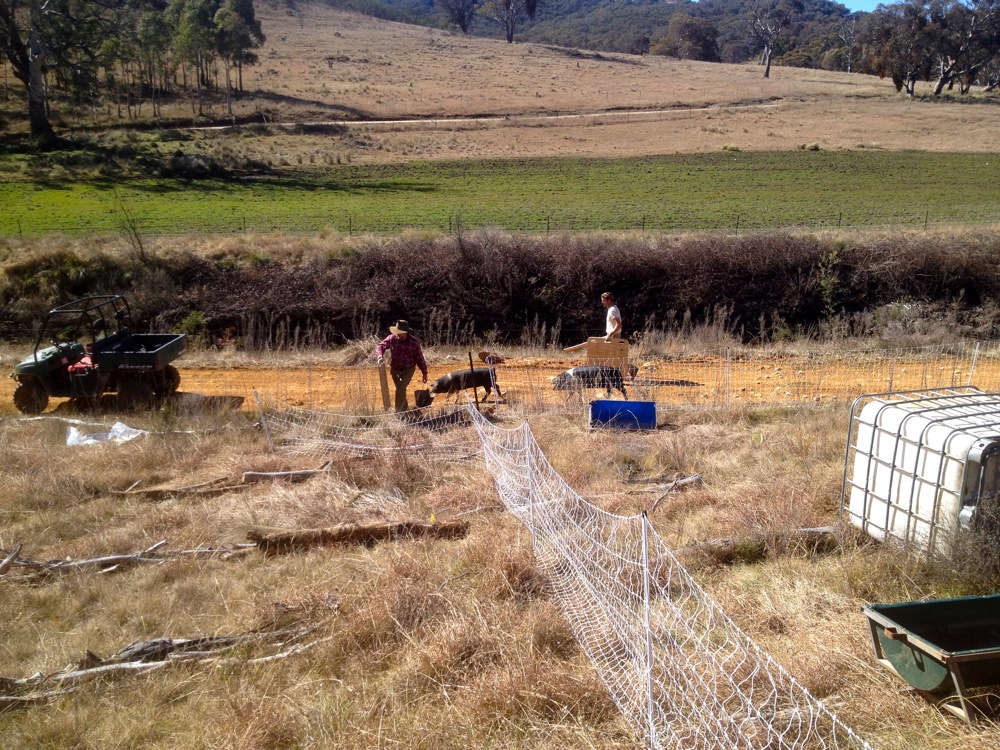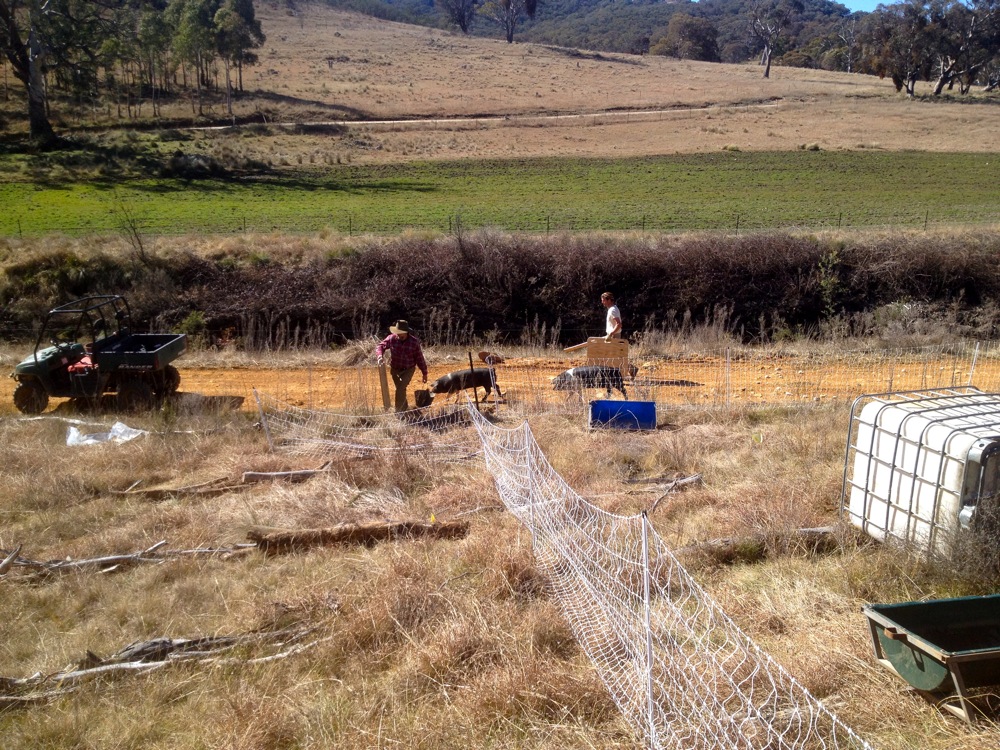 And it was all going so very well until…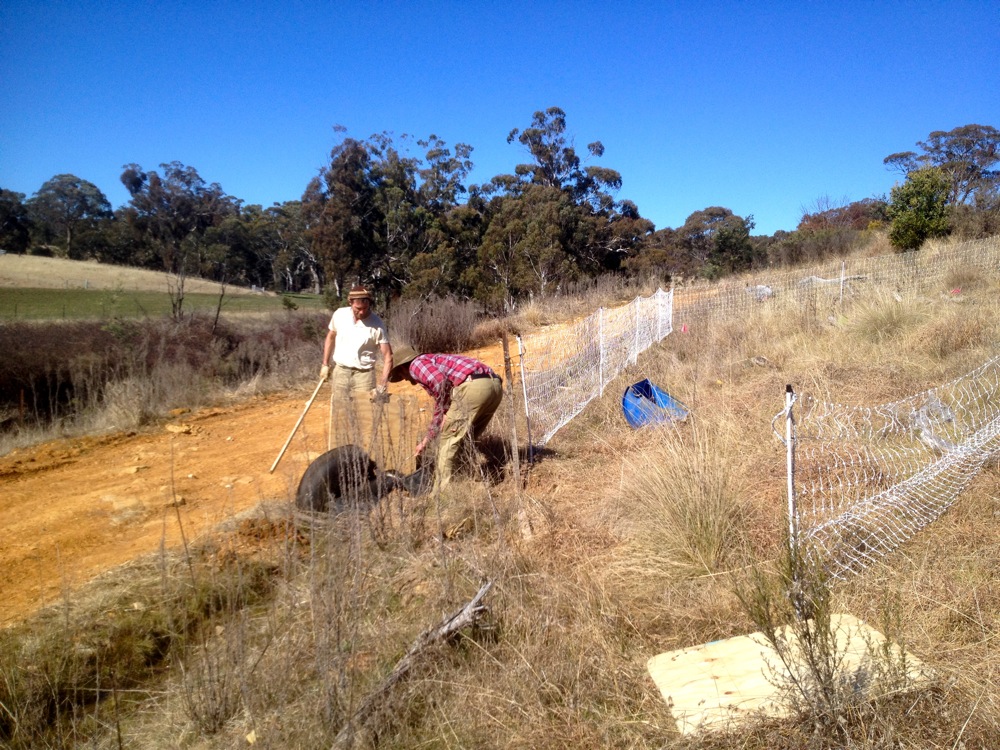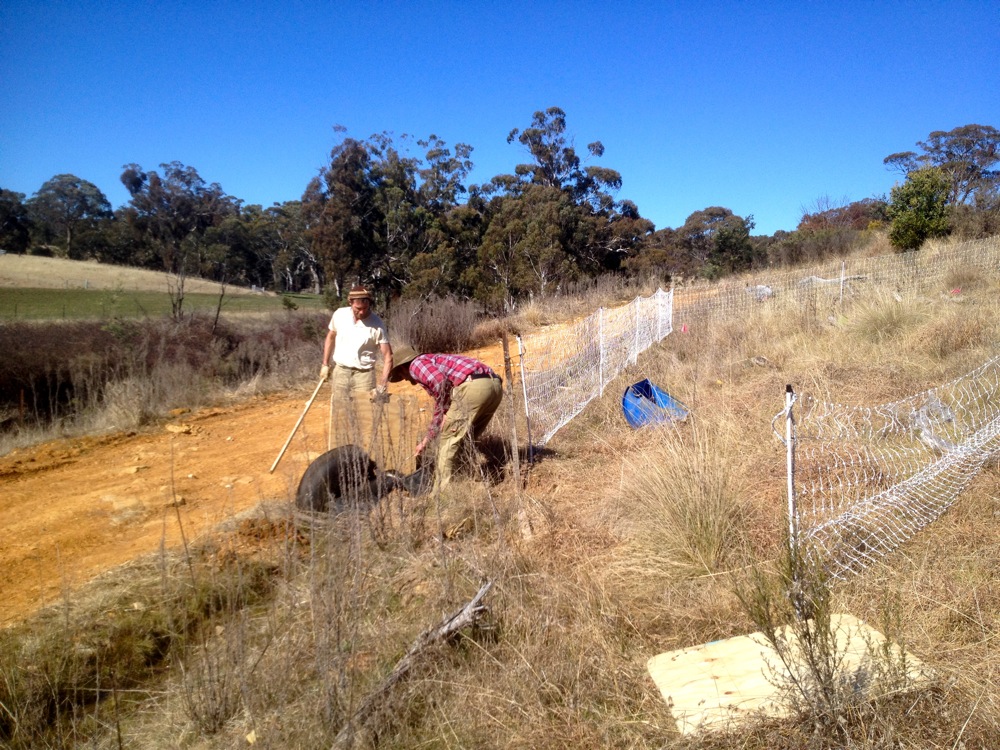 The piggies discovered a nice wet spot next to their new enclosure. Time for a wallow.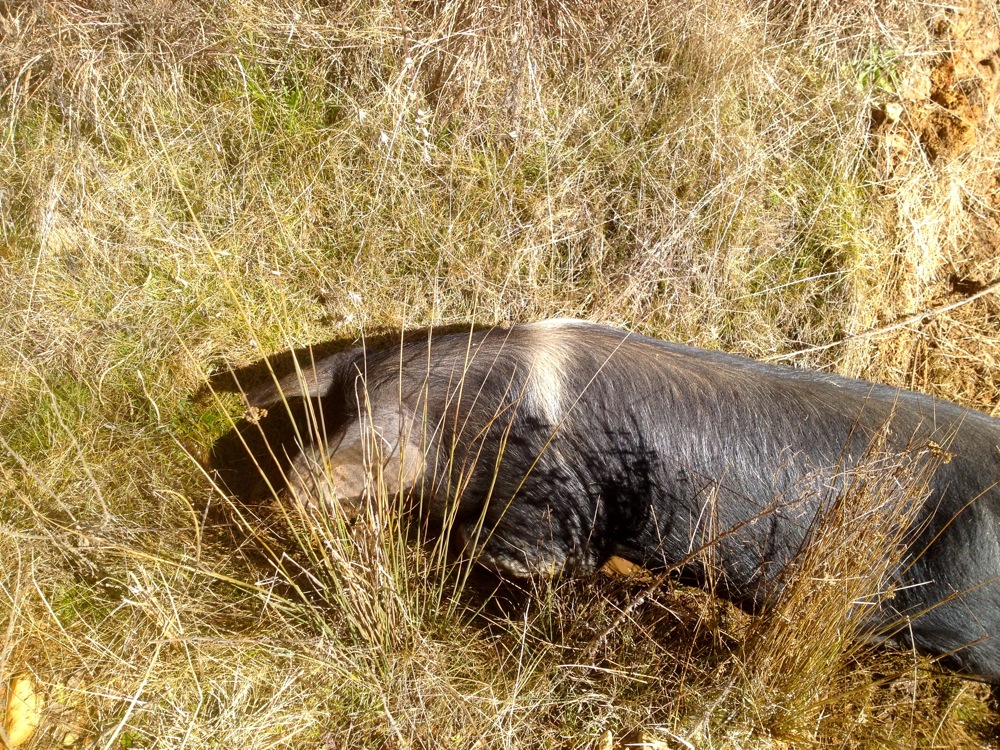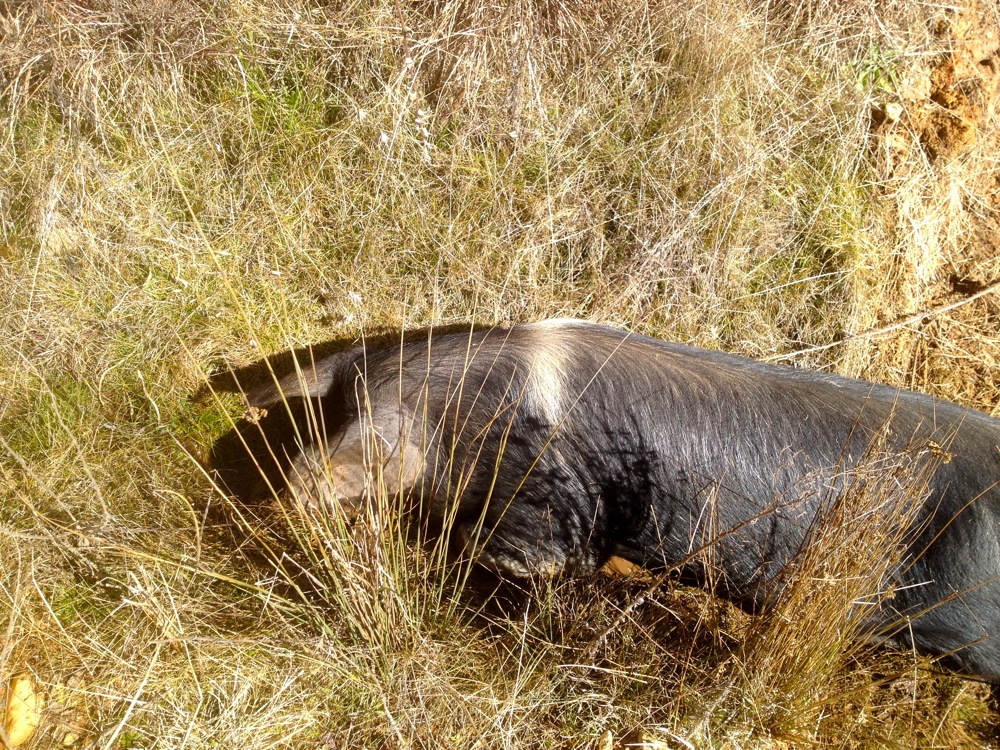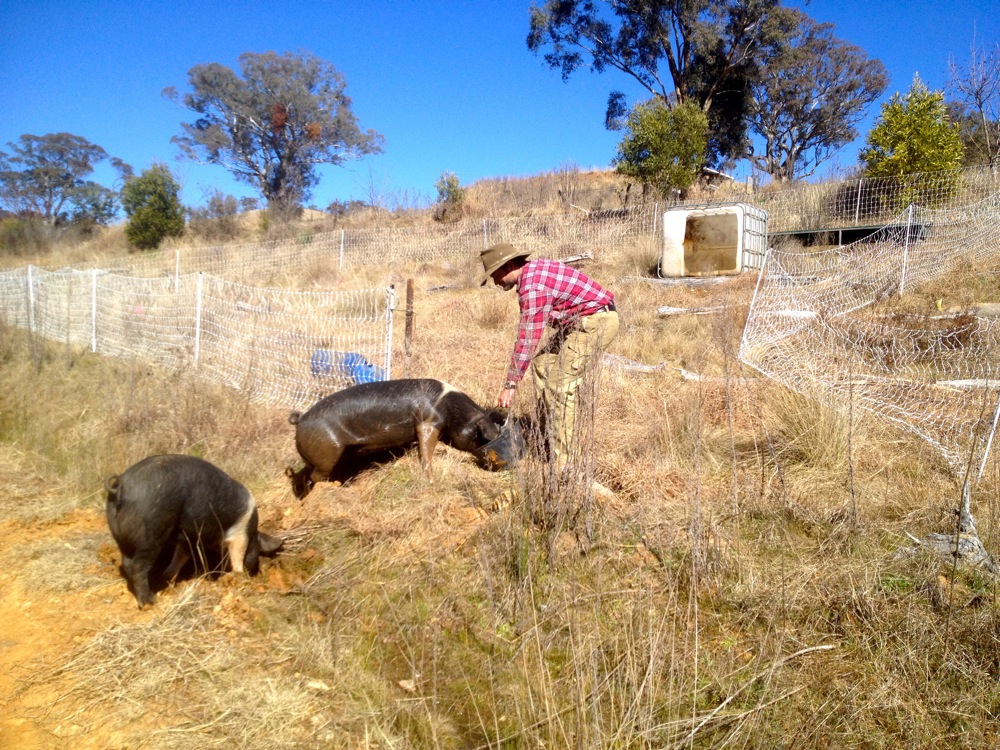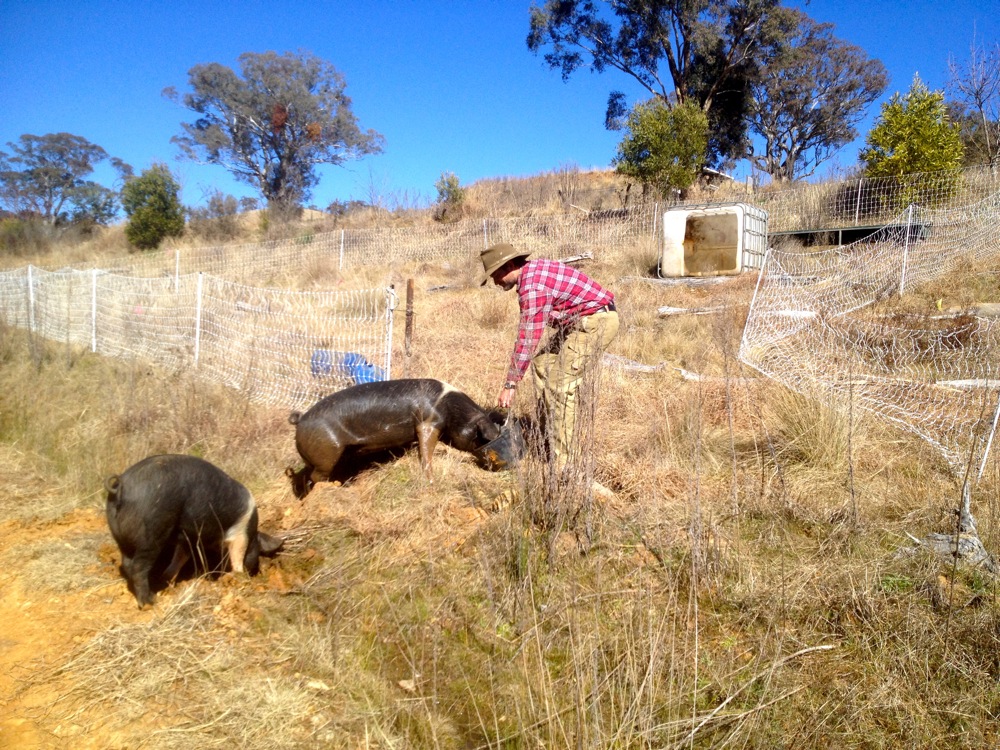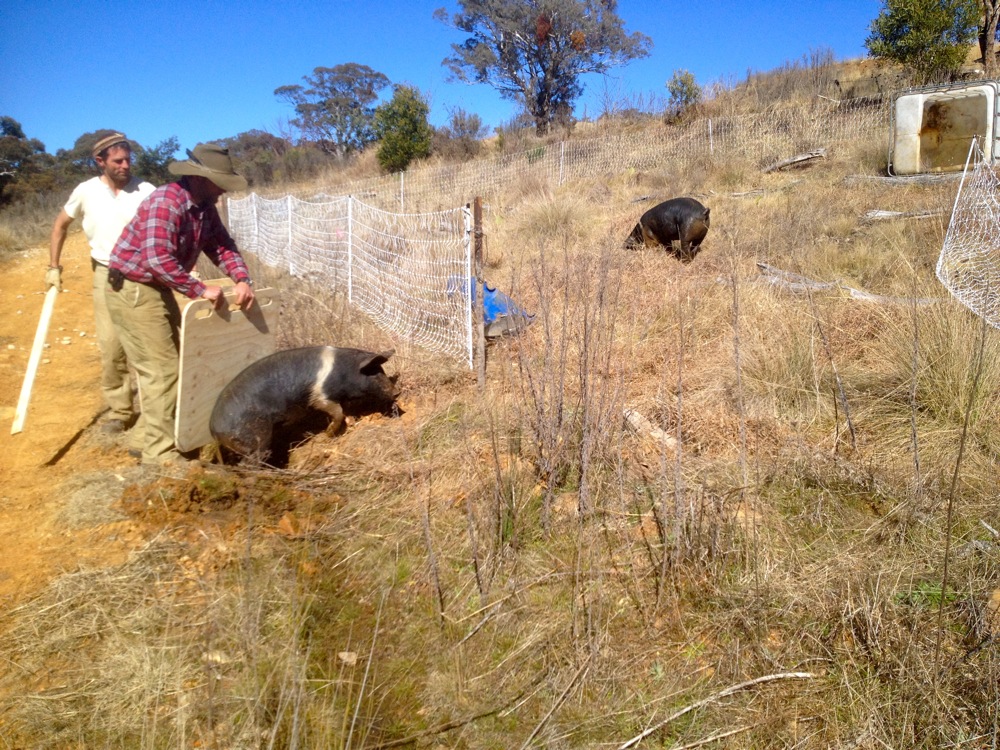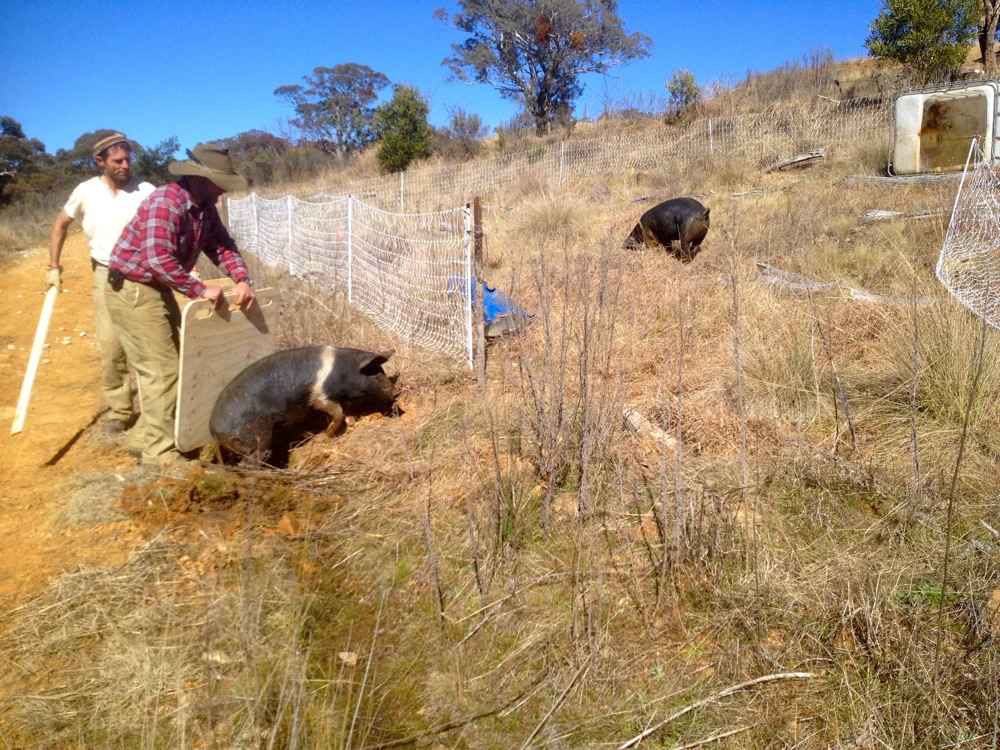 But between the bucket of pig pellets, treats of dried maize on the cob and the pig boards, we got them in…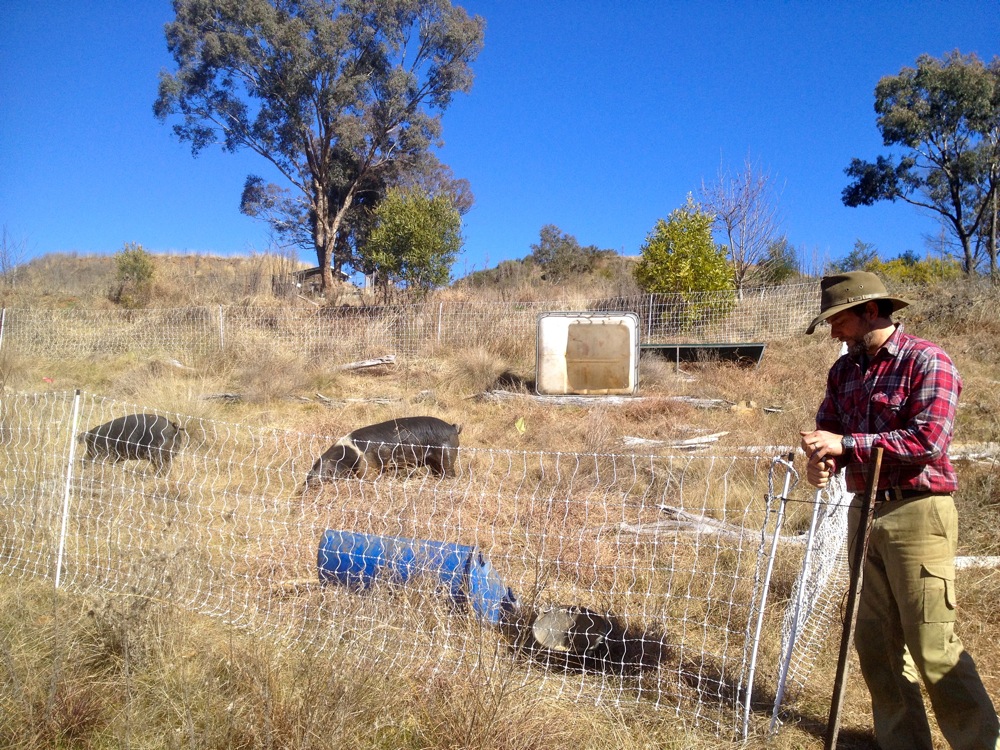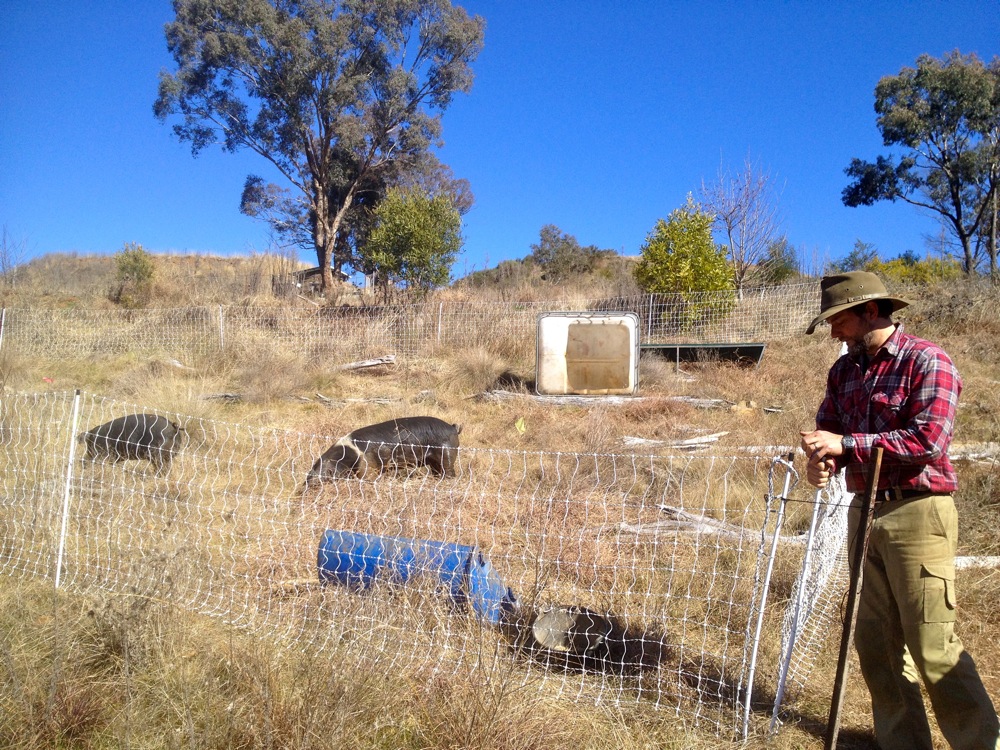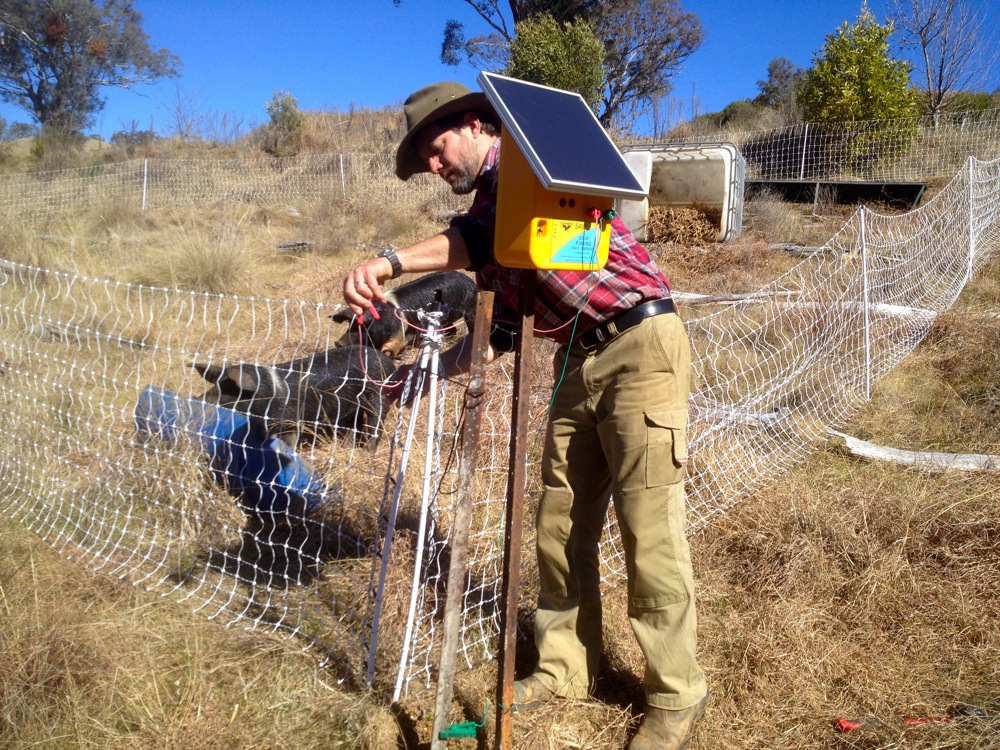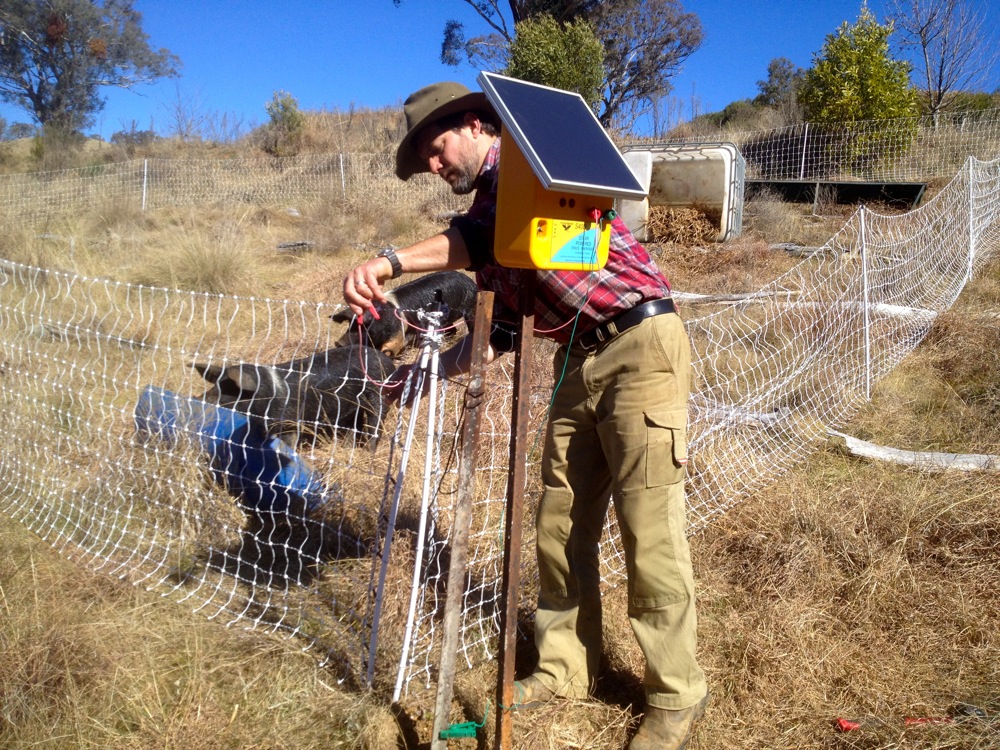 Electric fence all wired up, and everyone's happy. Just a note that this premier net fencing has worked out really well for the pigs and chickens wherever we've used it on the farm this far.
And the Thunderbird solar fence charger which we bought to cell graze the creekflat has been a great bit of kit to keep our fences nice and zappy, resulting in all animals staying put (except for the odd sheep, but that's sheep for you).
The pigs are watered from a trough which is gravity fed from the top dam, via a waterpoint just up the hill. We fill the trough up with a hose every couple of days, as there's no point setting up a float system, as the pigs won't be in this section for very long.
Once inside the fence, the pigs were delighted with their new piece of pasture – they were rooting through the ground immediately, looking for snacks of roots and worms.
In a week or so, we'll move them on to the next section, leaving a fair bit of ground disturbance and manure in their wake, ready to plant a nucleus forest of apple trees, which will be passively irrigated by the greywater of the tinyhouse, just above the swale.
While these two half-grown piggies will not, by themselves, revolutionize this ground in terms of tractoring and disturbing the soil (unlike the effect that 10 piggies would have in a similar situation), it's a great way of incrementally increasing fertility on this section of land and creating happy, contented pastured pigs at the same time.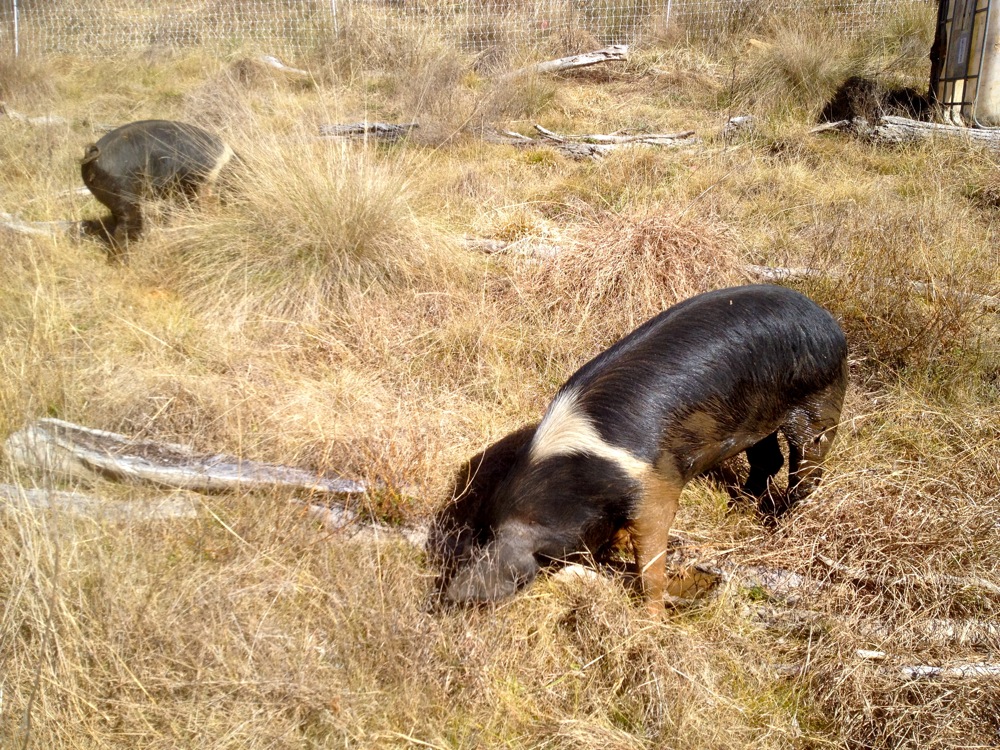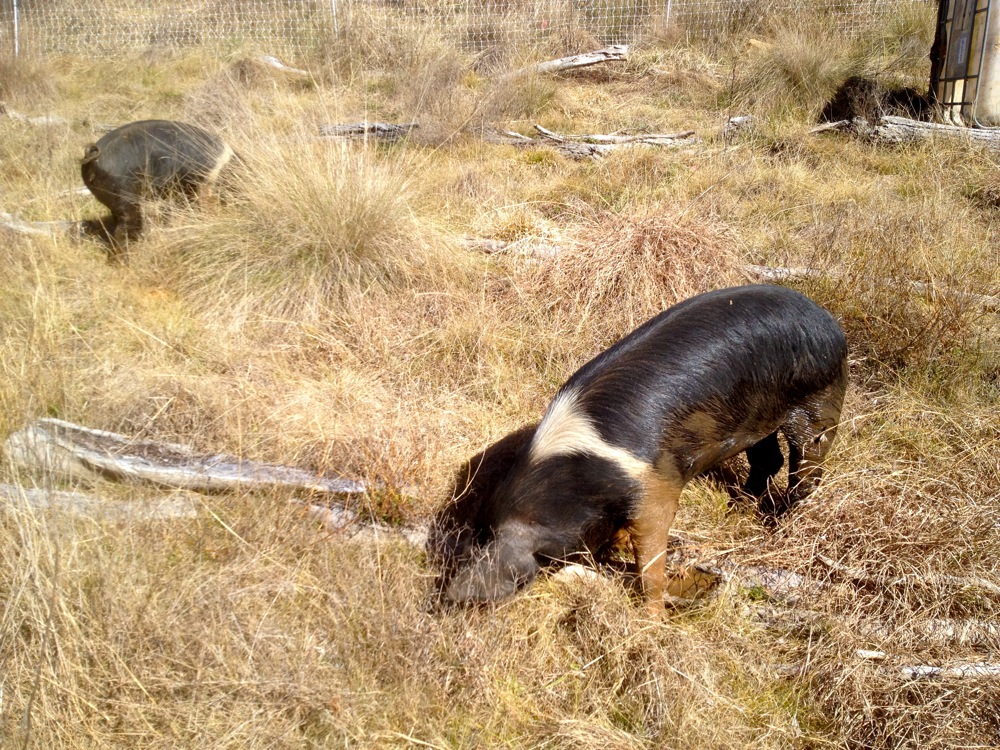 Can't. Smile. Busy.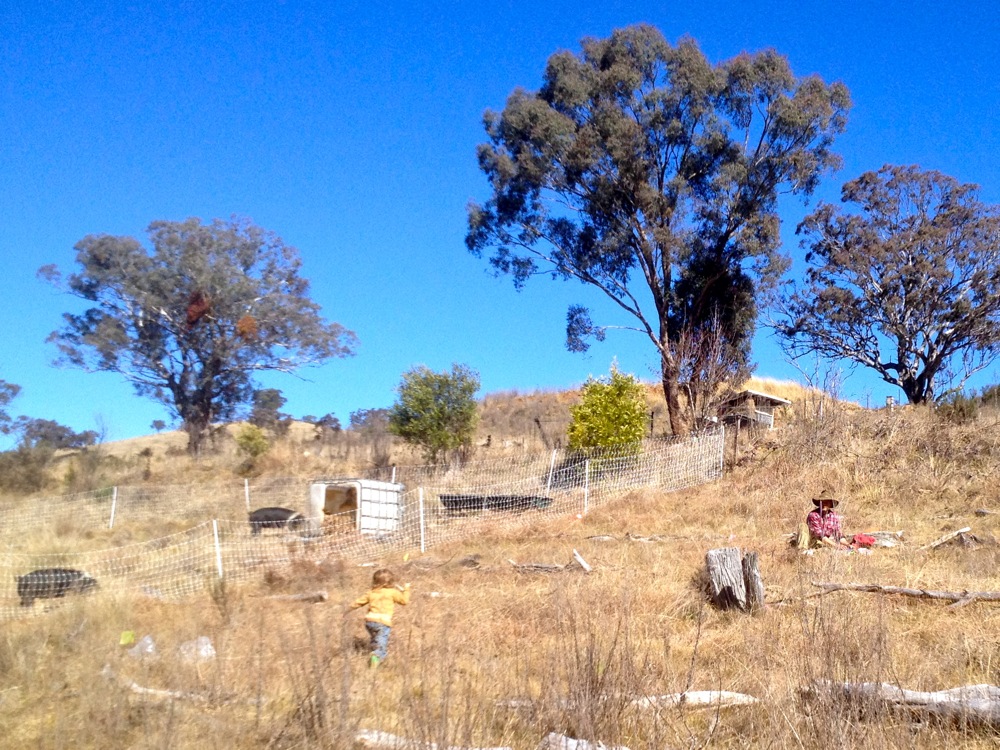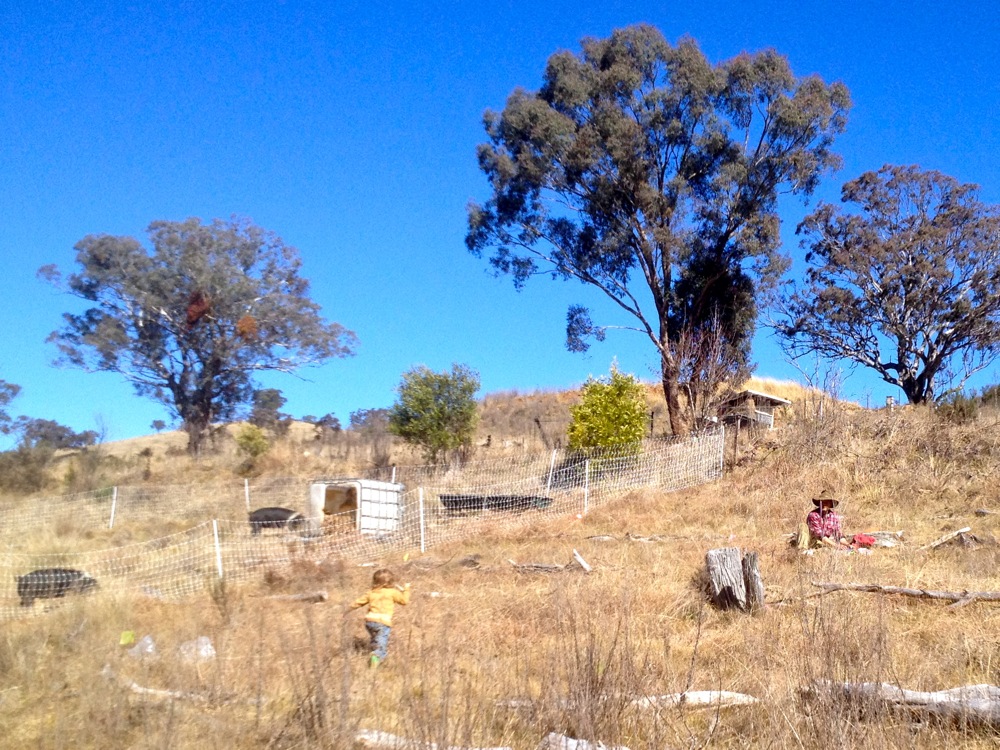 Time for a quick picnic and a spot of pig watching…
Our wessex saddleback pigs came from Morrigan Farm near Mudgee, and they are good natured, healthy and happy pigs who have obviously been rooting up ground from an early age, and are very good at it.
Which will soon be providing us with Milkwood-raised protein and new pork-filled delights (using our Farmstead Meatsmith resources as a guide, among others). We'll be back for more piglets in the Spring!