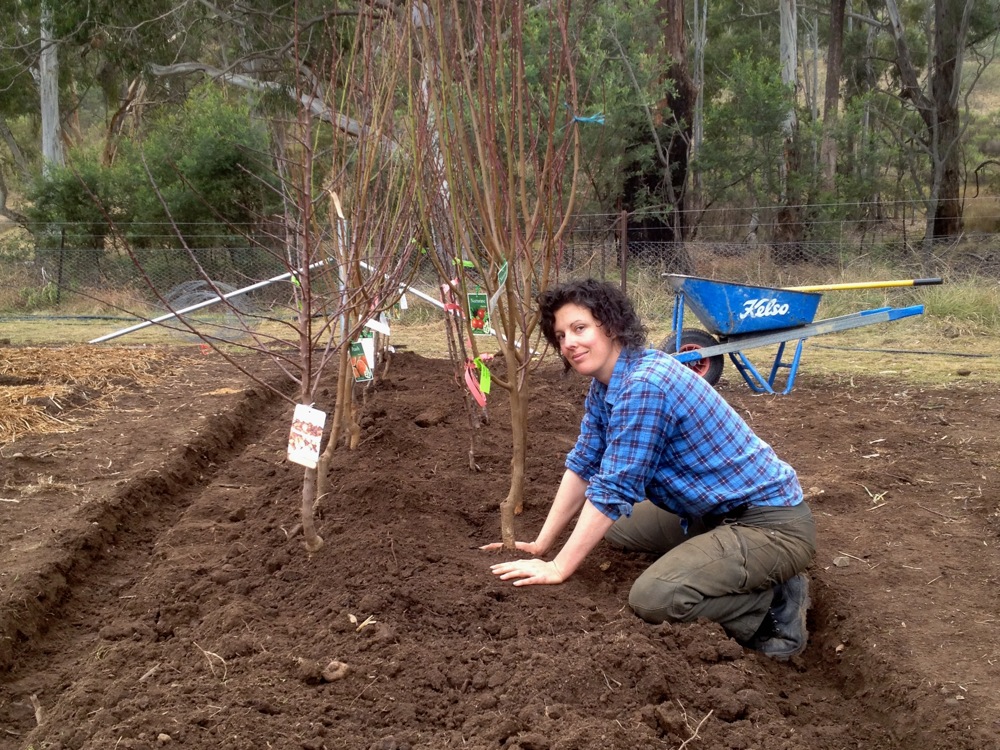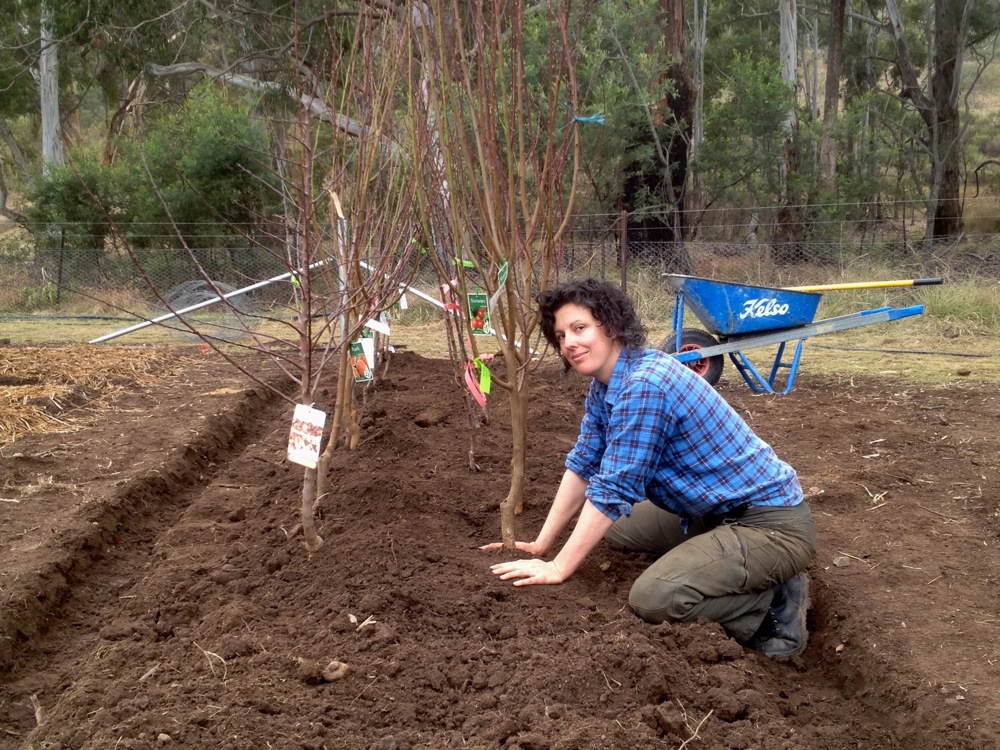 This winter I was determined, nay, rabid, about finally purchasing all the apple trees we would need to have a steady supply of appley goodness in 4 years time at Milkwood Farm. We'll have heaps of time to plant them all out to their vaguely appointed destinations before bud-burst, I thought.
However, what with moving into the Tinyhouse, various on-farm mini dramas, a tangle of other priorities and the unfortunate passage of time, guess what happened. Yep, it's nearly blossom-o-clock, and our fabulous fruit trees are all still bare-rooted, sitting in a bag of sawdust. But there is a solution.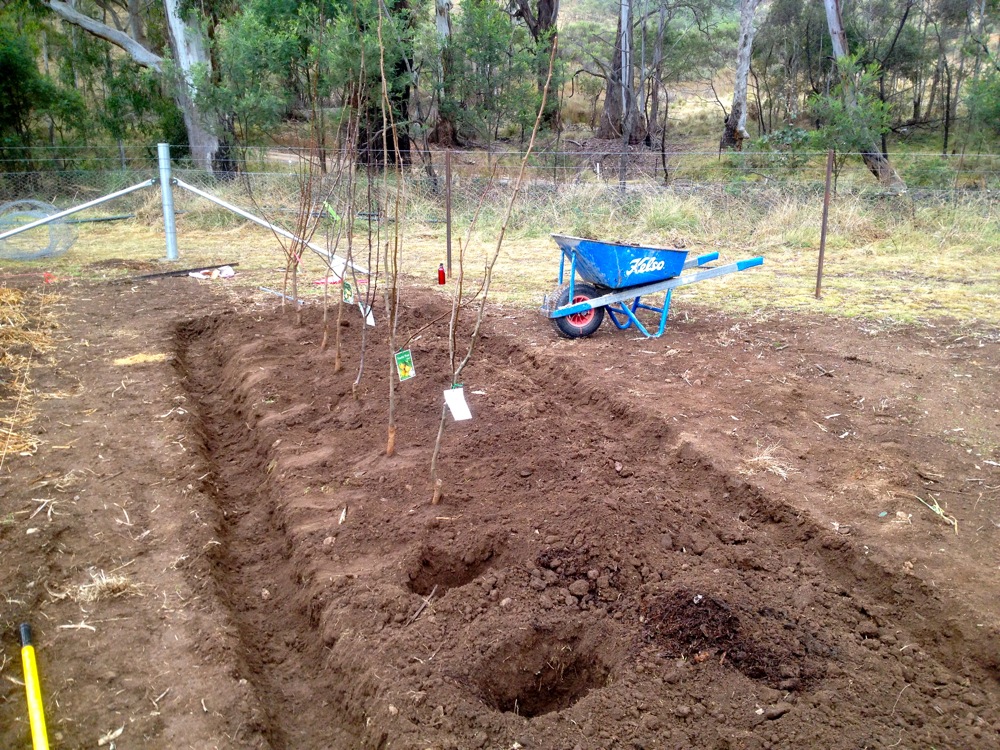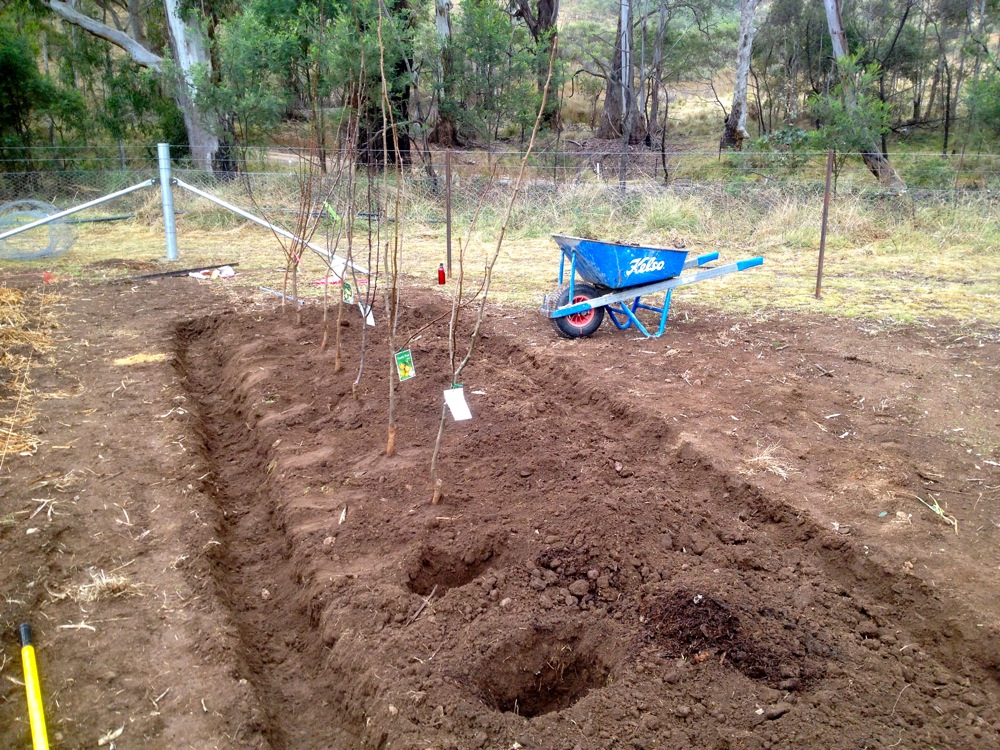 Planting bare rooted fruit trees in a cultivated bed is actually a very good idea for first-year grafted fruit trees. You can coddle them, feed them well and give them lots of love and water while they establish, and then plant them out the following winter in their final locations.
So though we went with this route out of slightly 'must do something now before all trees die' embarrassment, it's actually not a bad idea anyway, unless you have the resources to ensure that all your new fruit trees will get lavished with love, water, fertilizer and foliar sprays in their first year in their final locations.
While I would love to be telling you that all the fruit trees I bought this winter are all planted out in their final locations in accordance to a fabulous and extensive forest garden design, they aren't. We're still developing said extensive forest garden design.
But the good thing is that by planting all our fruit trees for a year in a cultivated bed down on the creek flat between the two market garden sections, we're not actually setting back our fruiting dates at all. And because the fruit trees will be in the middle of lots of market garden action where we go every day, they will get really well looked after while they get a feel for our climate.
So. Following the advice of Pete the Permie and his very useful small booklet on growing heritage fruit trees, I attacked the problem and got it all done in a morning. I think I broke my body in the process. I need to do more digging more often.
We went with a wide bed of 2.2m, and planted the trees 60cm apart in two rows. Apparently you can plant them 20cm apart in this situation, but I went with 60cm.
First of all i went over the whole bed and path areas with our fabulous Gundaroo Tiller broadfork, which aerates the soil to a depth of 30cm without inverting it. What a marvelous machine it is.
Next I dug a path down each side of the bed, turning the dug-up material onto the bed as I went.
Then I dug two rows of ten holes 60cm apart, and got the trees all in, with a spadeful of home-made compost each and a good watering both during and after planting.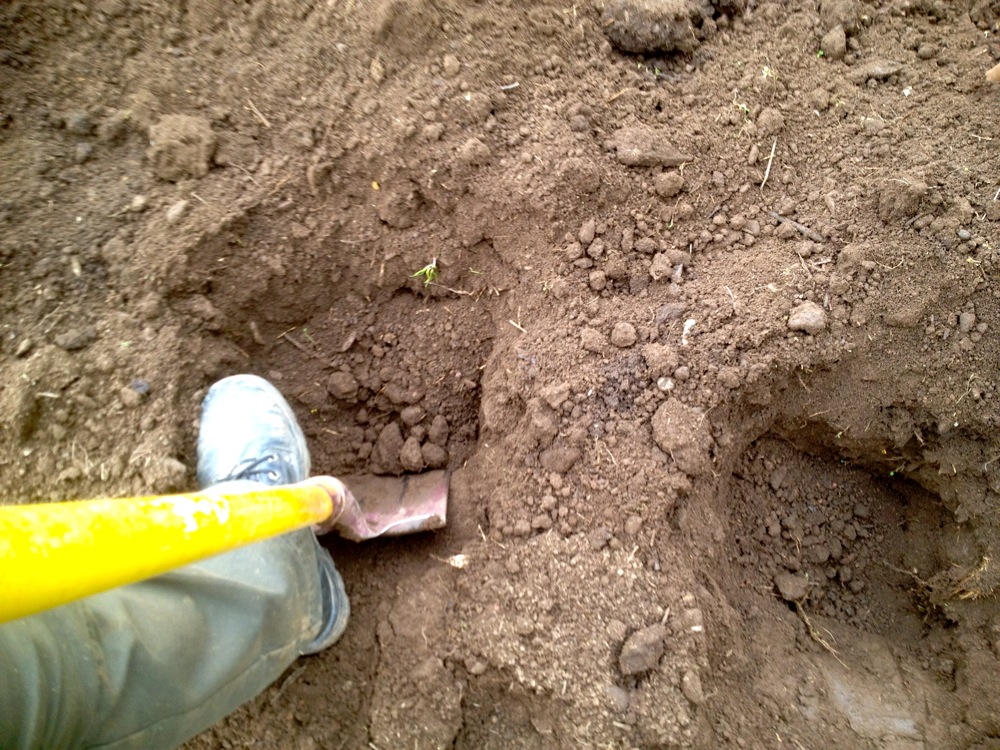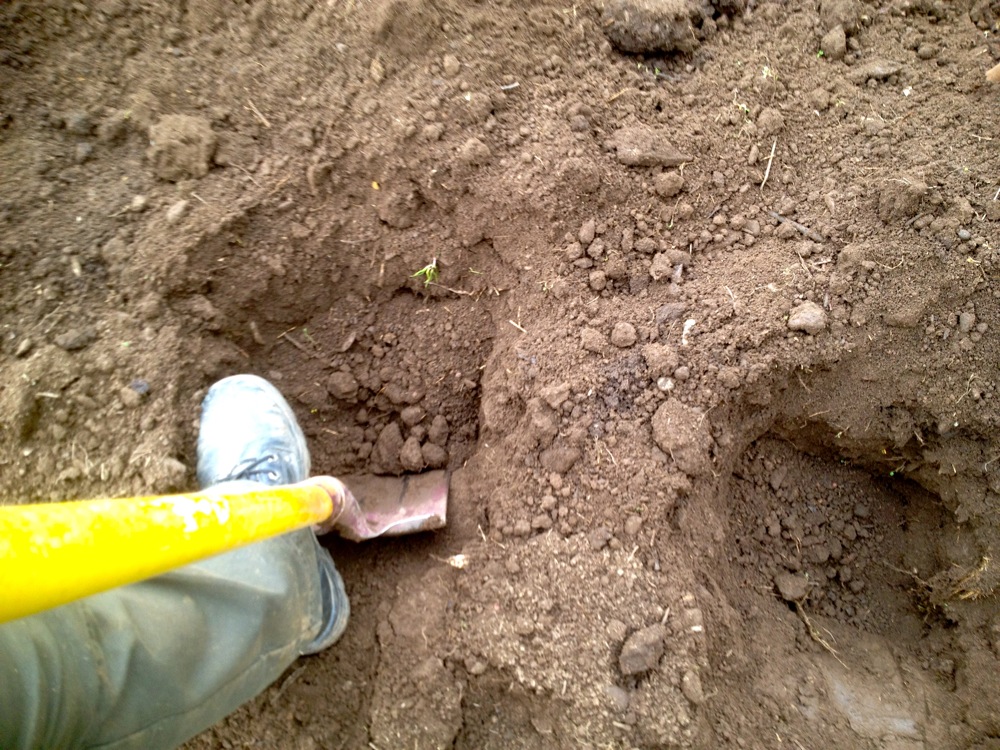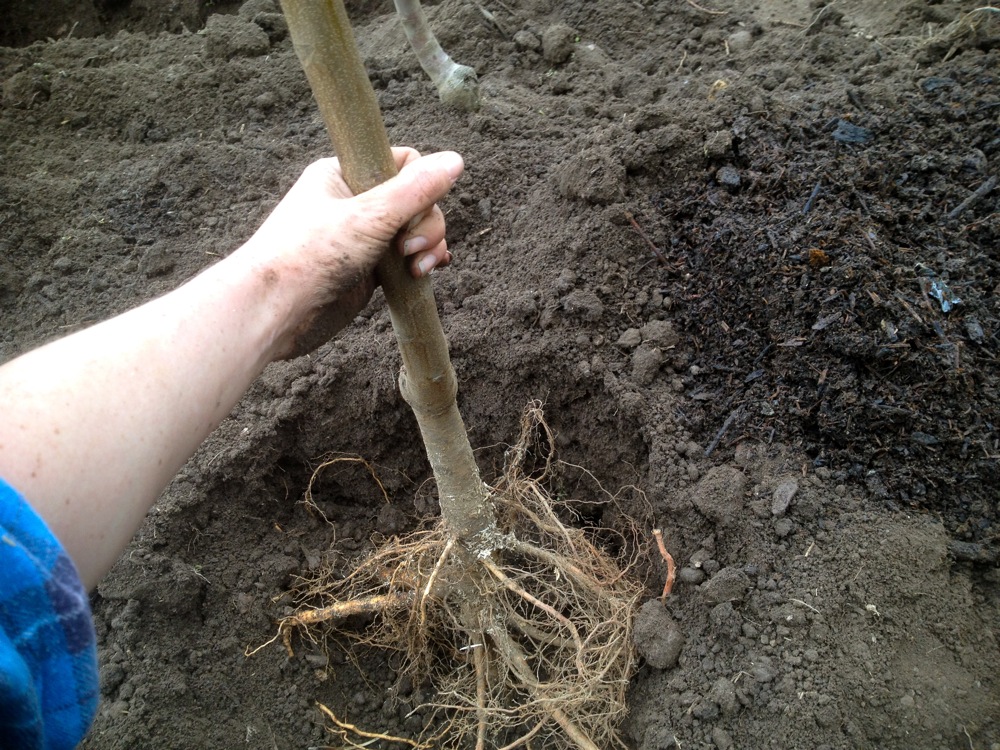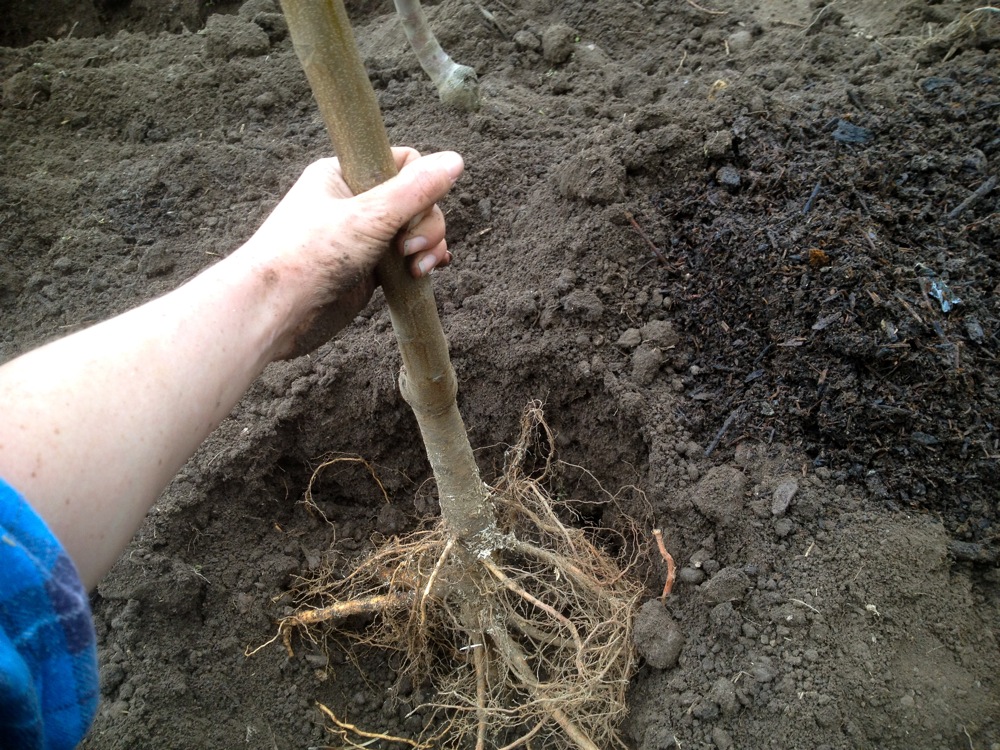 Before mulching, I went and asked Michael the Milkwood Market Gardener for all the funky and possibly out of date seeds he might have. I got carrots, lettuce, herbs and radish seeds to sprinkle across the bed, all of which may or may not germinate.
Then I mulched the bed thickly, leaving a little circle around each tree trunk (to prevent fungal problems associated with mulch).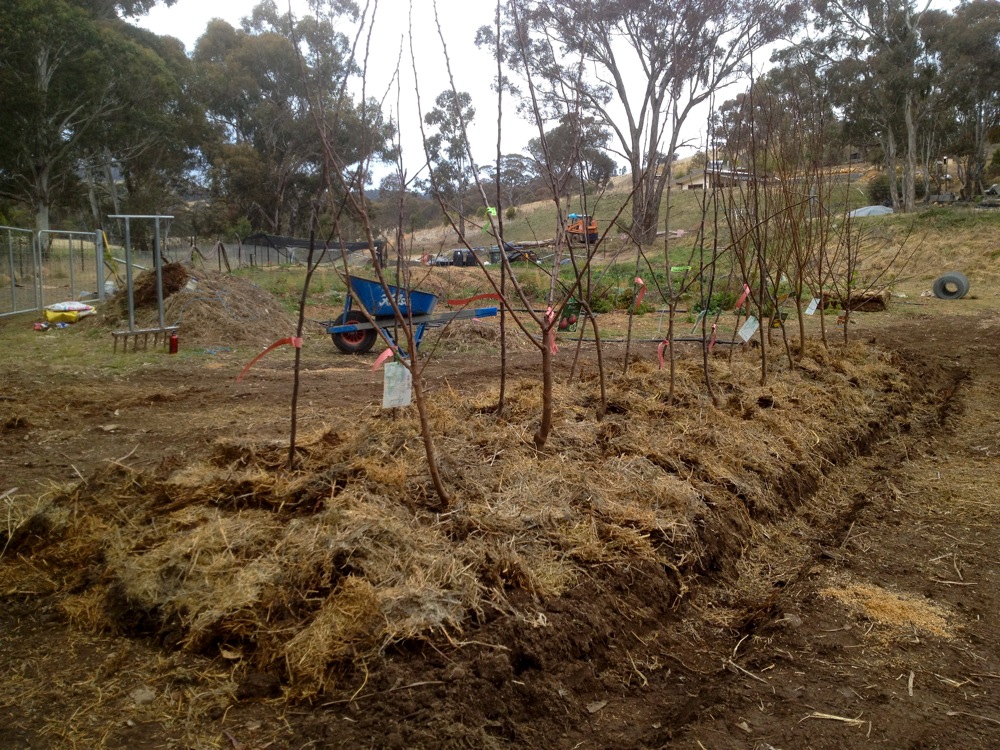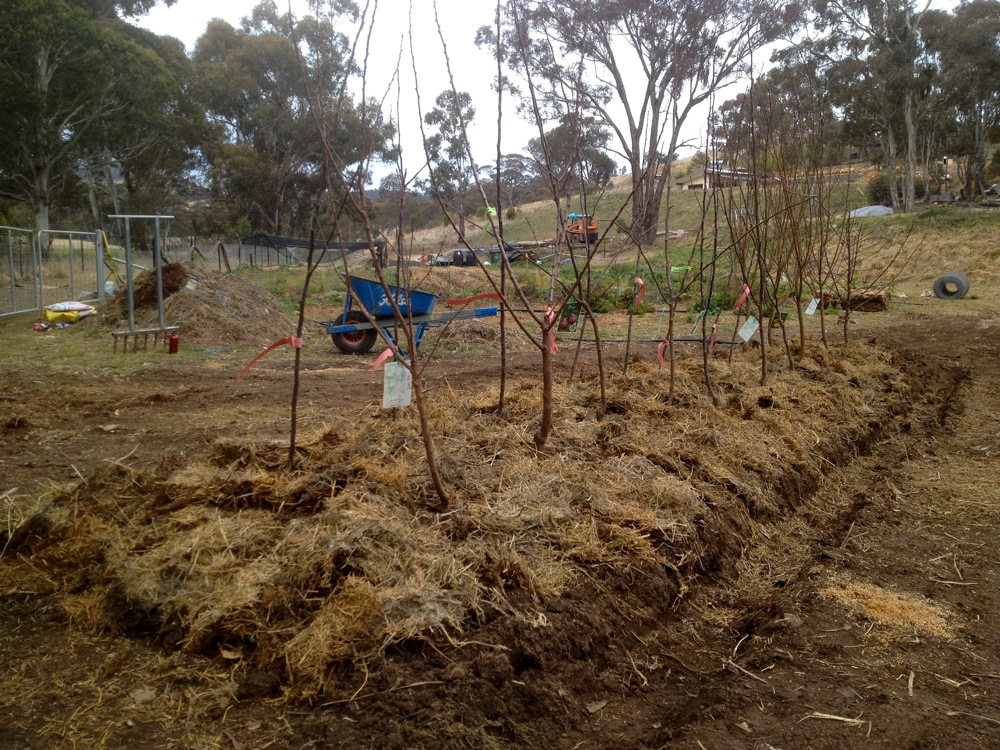 In the next week I'll also be pruning these fruit trees, once I get up the guts to take the plunge and start snipping, after re-checking my extensive notes on the subject.
The idea of treating the area around your new fruit trees like a vegetable garden is a great idea, no matter where you plant your fruit tree. It's essentially forest gardening in miniature, encouraging a complimentary guild of plant and soil food web interrelationships to emerge around every fruit tree.
In addition to the seeds of questionable germination that I scattered into this bed when planting, I'll also be adding lots more to ensure that the understorey of this bed is complex and stable during these fruit trees' 'year in the sun'. Lots of umbriferous herbs (queen anne's lace, fennel, parsley) and herbs like borage, chives and oregano.
The last step for today was very important – noting what I planted where, so that next winter we still have an accurate record.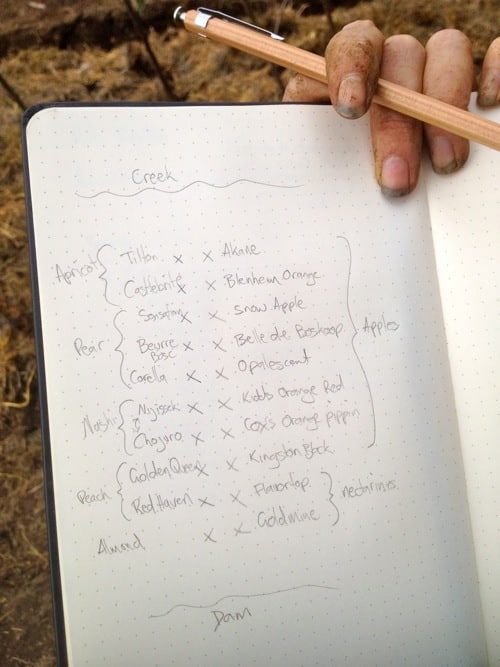 So if anyone out there is in a similar situation, don't panic! Just get a cultivated bed going on, and all will be well. A much better option that planting out hurriedly due to meager time/energy resources, and watching half your precious trees die in their first year.
Also remember that none of us are superheroes, and sometime things just don't get done. And that is ok. A bit of research and asking around can turn a problem into a solution.
I am actually much more confident now that no matter what crazy weather this Summer throws at us, these new fruit trees will be healthy and alive next winter. At which point we can plant them to their final positions, and await a lifetime of apples. Huzzah.
We got our fruit trees from Pete the Permie down at Mt Telopea Nursery whose fruit trees are Organic and Biodynamic certified (ie no GMO 'No Gall' used on their rootstocks), which is most excellent.