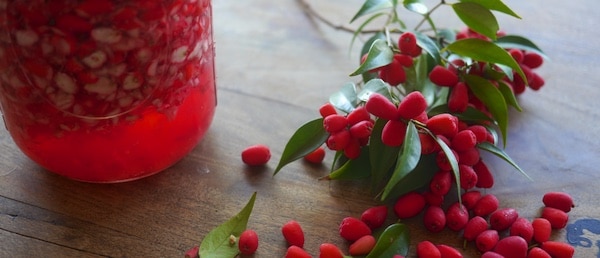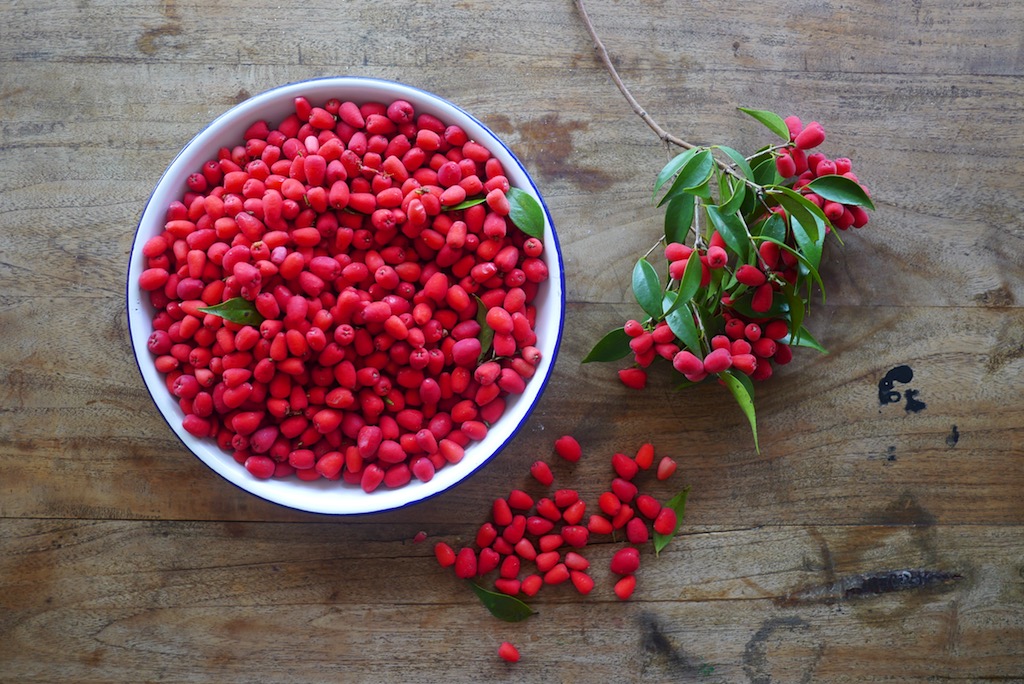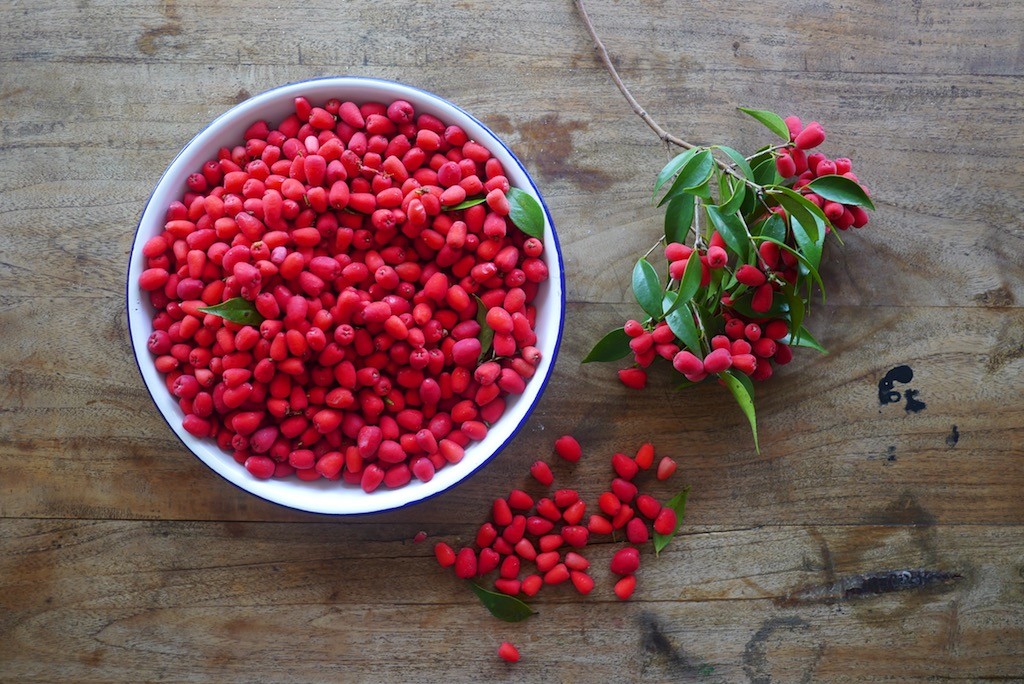 When street trees are also highly delicious. Bring on the lilli pilly everything.
Where we live on the south coast of NSW, lilli pilli's are just about everywhere – they're up in the rainforest (where they've always been – they're an Australian native) and they're also on the street and down the sides of houses, where they're used extensively as an evergreen screening tree.
All the better to chutney you with…
Recently, we found a particularly delicious variety of lilli pilli – the riberry. It's seeds are non existent and its flavor is spicy and clove-ish and sweet all at once.
Syzygium luehmannii is a medium-sized coastal rainforest tree native to Australia. Common names include riberry, small leaved lilly pilly, cherry satinash, cherry alder, or clove lilli pilli.
The habitat is Australian riverine, littoral, subtropical or tropical rainforest. It grows on volcanic soils or deep sandy soils between the Macleay River in New South Wales to near Cairns in tropical Queensland. It is commonly grown as an ornamental tree, and for its fruit.
Aha – well that explains why this tastes different to the lilli pilli's I grew up eating in the rainforests around here – it's a northern variety. But it grows just fine where we are, too, near Kiama in NSW.
We found this tree near our friend's house on the street, and so, of course, we got picking.
Traditionally, lilli pillies were collected and eaten as a dried fruit throughout the year. These days they're also made into chutneys, sauces, jellies, jams and anything else that needs spicy sweet berries in it.
Like gin.
Ok just to explain, we had a bunch of gin left over in our cupboard from last year's Passata Day, and we were not really getting through it. Don't get me wrong, gin is great. But I only remember it exists when I'm in a bar with friends, it seems.
So. Obviously, the thing to do here was make lilli pilli gin. It's like sloe gin, kinda, but with lilli pillies.
You could also do this with vodka, if that's your thing. Or brandy.
As when making sloe gin, or any fruit-flavoured liqueur, macerating the fruit is the key to getting the flavour out and into the gin.
So, after washing the lilli pillies very well (because tiny drunk spiders and/or bugs are not what we're after here) we drained the fruit, put it through a food processor, chucked it in a big jar and then added the gin.
Another way to macerate fruit well is to freeze it, and then thaw it in the alcohol – the freezing process blasts the cells of the fruit apart, and so the flavour and colour of the fruit becomes more available to the liquor.
We then left the jar of fruit and gin on the benchtop for about a month, up-ending it regularly when we thought of it.
A month later the fruit was colourless and the gin was the colour and flavour of lilli pillies. Mixed with gin. So very good indeed.
So we strained off the fruit, and bottled up our ruby red lilli pilli gin. We'll be reserving this for winter nights with friends. Cheers.
Some of the many other things to do with Lilli pillies:
What do you do with your lilli pillies? Got any recipes to share? we'd love to hear…
Hey and also, if you'd like to learn how to design, plant + harvest an Australian bush tucker garden this Autumn, we've got a course for that…