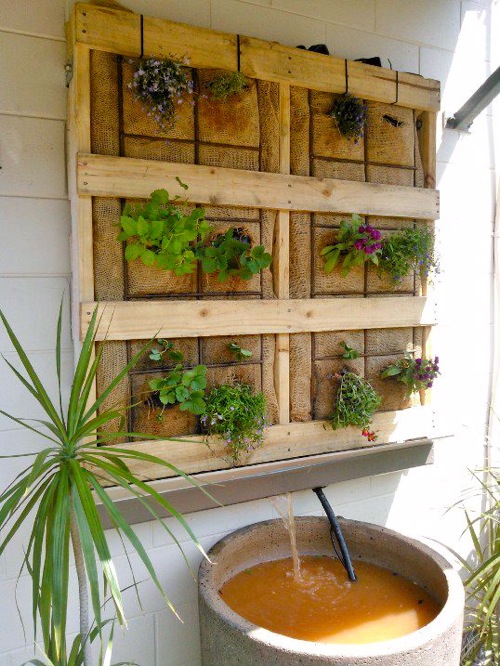 Here's a great little DIY vertical aquaponics design that Floyd has recently installed outside a studio in Darwin.
It's a simple system, designed to transform a simple patio into a space of low-maintenance beauty that includes the sound of running water, the cooling effect of a pond, and bountiful herbs!
Since the above photos (taken during the installation process) the system has been planted, and the water now runs crystal clear due to being continuously filtered back through the system…
This design is a bit like the aquaponics version of a pallet garden, that great little DIY vertical gardening idea that we're seeing popping up everywhere…
Pallet garden by Life on the Balcony
What a great way of enhance and humidify a small space which would otherwise just be a blank wall…
If you'd like to learn DIY aquaponics, our Backyard Aquaponics workshops are here…
Floyd helped Charlie install our DIY Bathtub Aquaponics System at Alexandria Park Community Center in Sydney back in 2011, which is still going strong.
Since then, Floyd's gone from strength to strength with designing and installing aquaponics systems in Australia, Thailand and most recently Spain. We can't wait to see Floyd's next project!
>> More posts on vertical, backyard and DIY aquaponics systems here…
All images above by Floyd Constable unless otherwise stated.