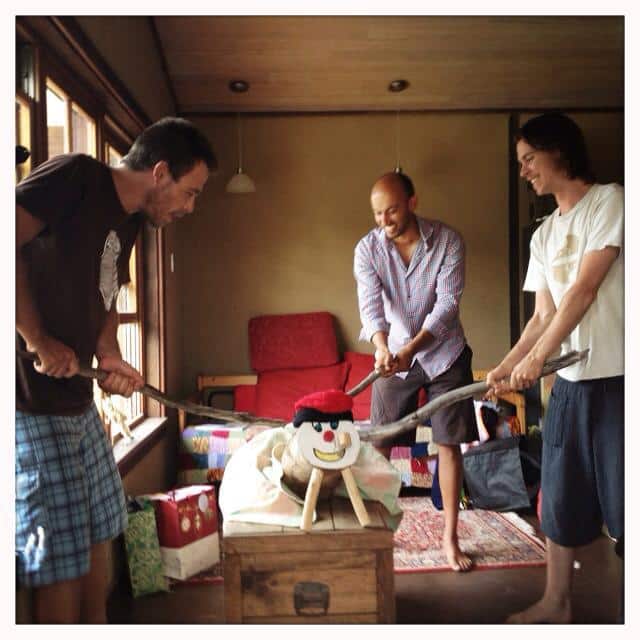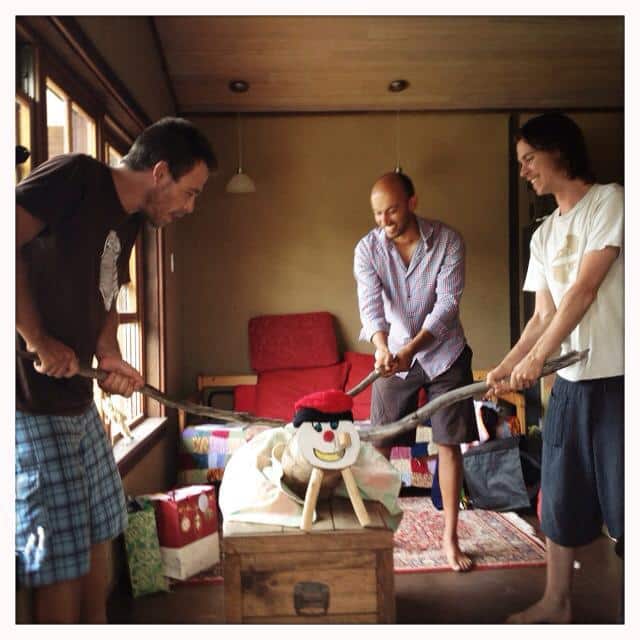 Happy holidays everyone! We hope you're in the midst of some serious downtime. As it's all about midsummer meals and cramming a year's worth of days off into a week around here, we've all been hard at it.
Christmas day saw Floyd, Gigi, Michael and Lawrence (incoming market garden intern) harvesting and cooking the first ever Christmas lunch at the Tinyhouse, followed by a session with Caga Tió…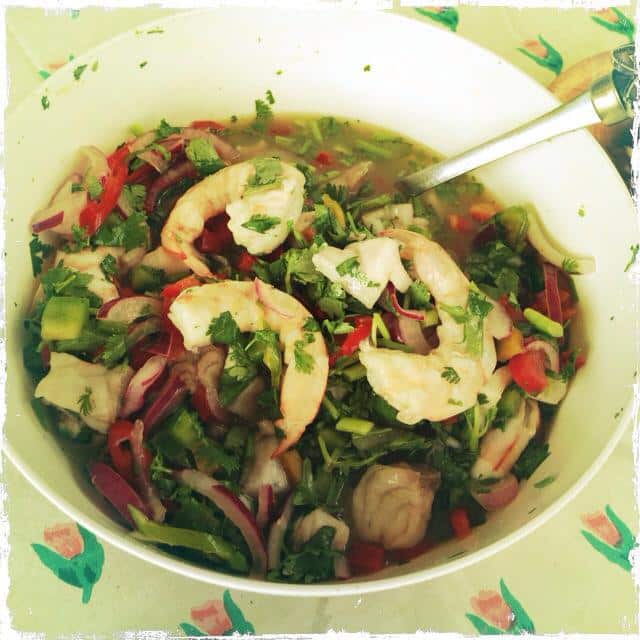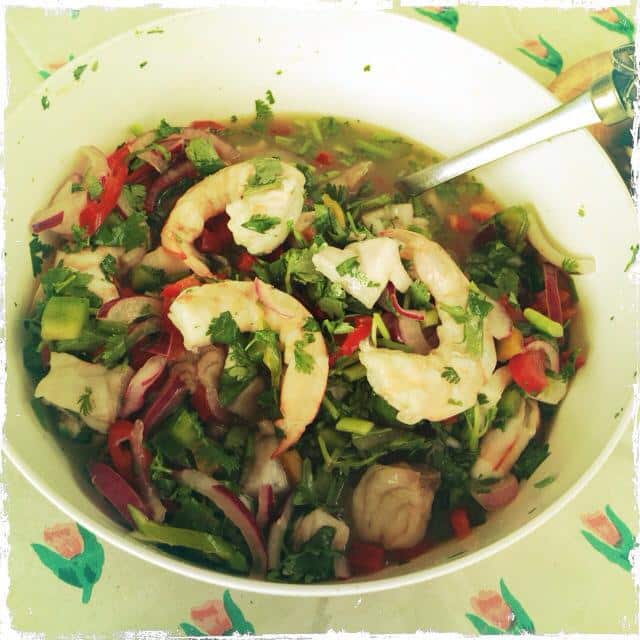 While Nick, Ashar and I headed for the ocean and grandparents for Christmas day, Milkwood Farm was rocking splendidly with battered zucchini flowers and chocolate avocado desserts.
Once lunch was done it was time for Caga Tió! And so the Catalan 'uncle' was duly tapped with sticks until he poo-ed out gifts of nougat, and not salty fish. Have I lost you yet? The backstory on Caga Tió is here…
Meanwhile at the seaside, Ashar was learning Woody Guthrie duets with our mate Rhyece…
When we got back to the farm yesterday, we walked into our beautiful hand-made house (with no ocean), sat down at the table and gazed out at our (less than half-full) dam and… breathed. After 6 years, we've finally manifested a little house to come home to. It was a special moment.
But not as special (to Ashar at anyrate) as this morning, when Gigi came around for one last round of Caga Tió, to teach us how it's done. Ashar was somewhat confused at the whole pooing of presents thing, but the propolis lollies he received made the ultimate point of the exercise clear.
As Ashar was going to sleep last night, he called out that he loved our house, and he was so glad we lived at Milkwood Farm. I happened at that moment to be sitting at the dining table, reading in the Guardian Weekly about the food shortages and gathering humanitarian catastrophe in Syria.
We are blessed indeed – a solid roof, food in the ground, water in (relative) abundance, tree crops growing. Friends around, and a purpose in life. What lies before us we do not know, but being grateful for what we have is surely part of forging a good path forward. It's good to slow down occasionally to consider all that.
Wishing you a bright and beautiful 2013 with all the good things in life – clean water, clean food, people you love, somewhere quiet to sleep.  And a passion for work that is part of the solution, and the means to make that your life.
>> More posts about life at Milkwood Farm
All photos except the last two by Gigi