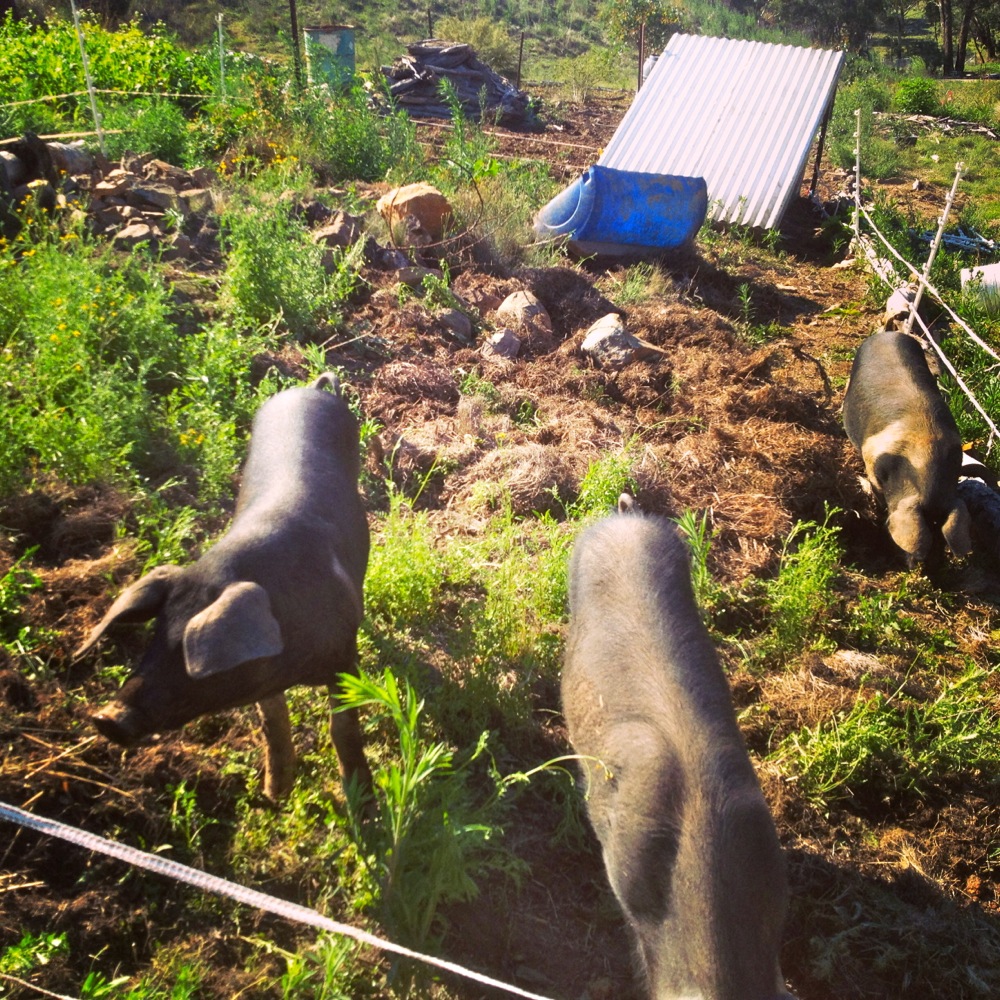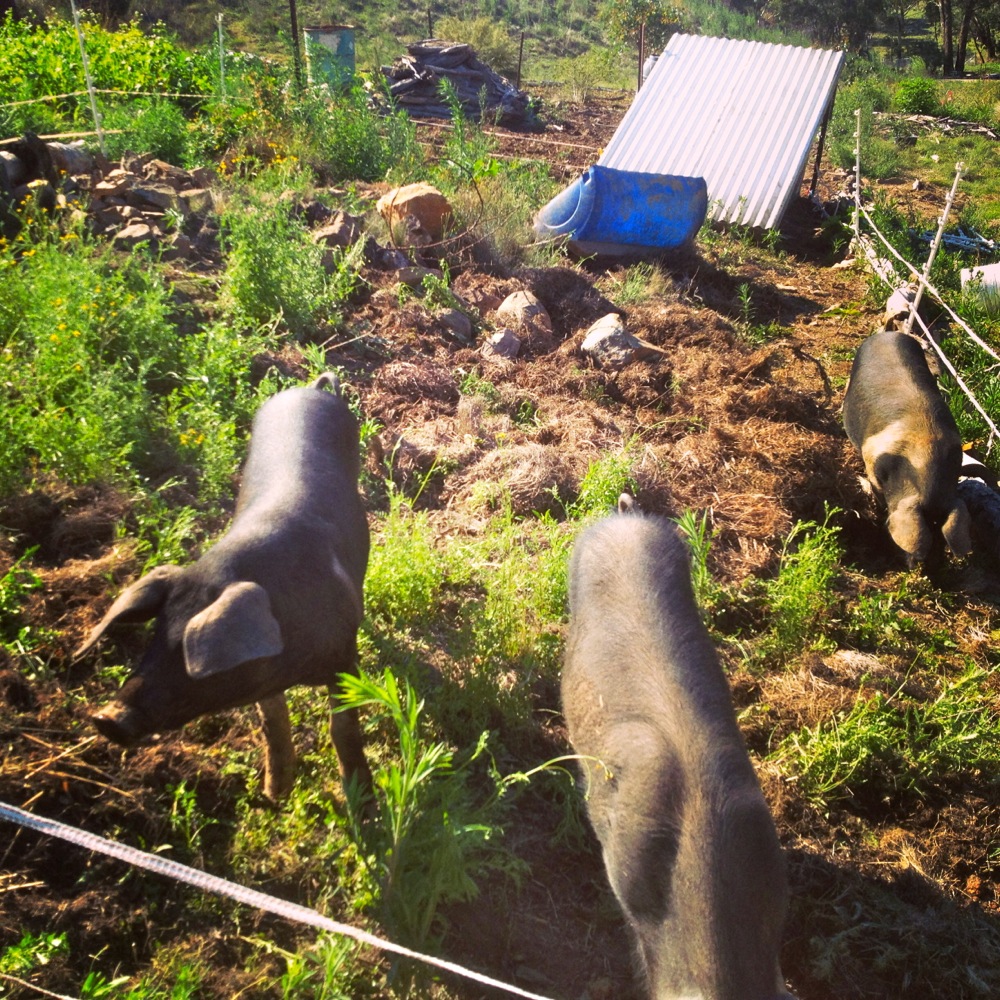 Sadly a 'pig tractor' as we know it is not a pig in a jaunty hat driving a little red tractor. But the reality is even better. It's an excellent low-energy, high return way of preparing ground for a new garden or an orchard: removing all grass, roots and weeds with the aid of a biological device. Namely pigs.
We're just about to finish the prep stage for our new holistic orchard, which the pig tractor has been a central part of. We've all been really happy with how prepping this space from tough pasture to fruit-tree ready ground has gone, so I wanted to share the process with you.
Pig tractors are relatively simple to set up (once you have your pigs) and the returns of this system are many. You get happy pigs being moved onto fresh ground regularly, snuffling and rooting up the ground. You get a tract of ground cleared of everything bar the shrubs (and the soil turned over to boot). You get added nutrient inputs from the pigs manure. And at the end of it all, you get pastured bacon. This just might be the ultimate integrated system.
For this site, we needed to turn a space below the main swale from weedy, compacted pasture into a space that was prepared and ready for planting an orchard this winter.
After Harris did the basic design for the space and laid out the paths, it was time to prep the ground. Enter the Pig Tractor.
In the beginning, the pigs didn't work the ground too much as they were quite young, so the sections took longer to do. Floyd trained the pigs to the electric fence which has been a crucial part of this exercise and very successful.
Once the pigs grew a bit, the Pig Tractor started really humming. Floyd's currently moving the pigs every four days now, as that's all the time 3 half grown pigs take to tear up and turn over  a 4 x 6m patch.
Once the pigs have been moved on to the next section, the previous ground is mattocked and broadforked, broadcast with green manure seeds, balanced with some rock phosphate and lime, and covered in a layer of woodchips.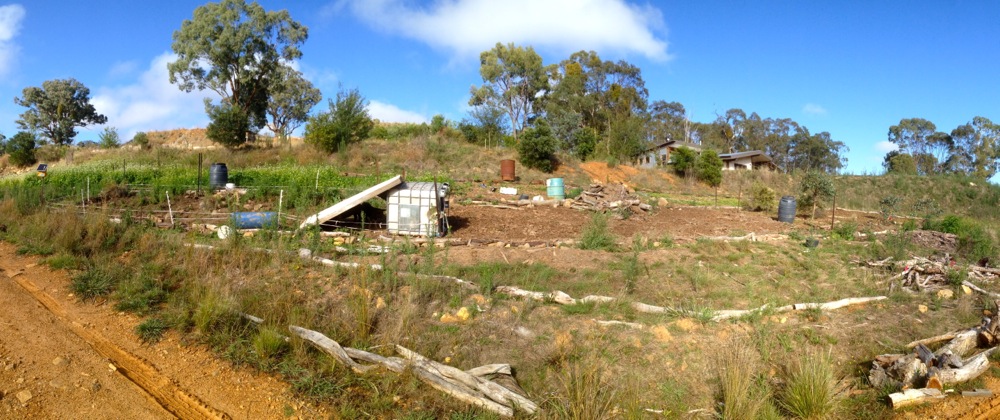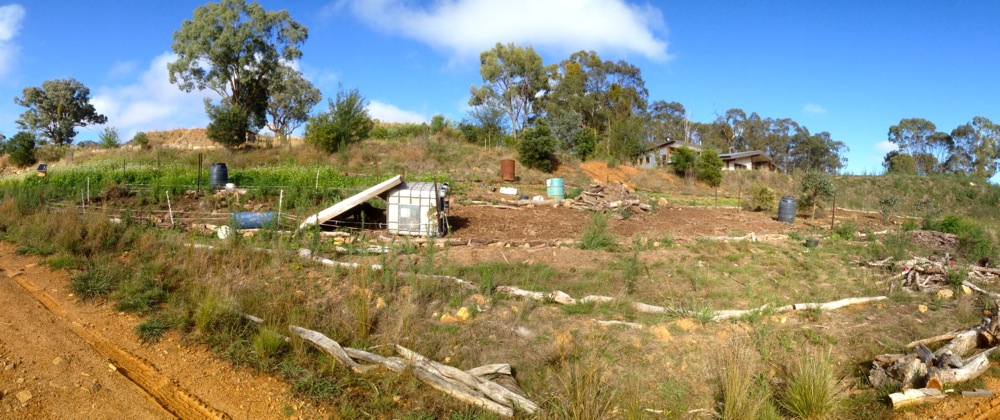 Moving the pigs has become a simple operation that takes less than 1/2 hour.
Floyd adds another 2 star pickets to the far corners of the next patch to be tractored, takes one strand of electric tape and puts it around the new patch, lets the pigs through into the new ground, takes the second strand of electric tape from the old patch and adds it to the new patch, moves the pig house and the watering barrel, and there you go. Pigs moved.
The aftermath of finalising the newly tractored ground takes a little longer – broadforking, breaking up any remaining large root balls, removing big rocks, broadcasting seed and applying woodchips. All done in an hour or so.
Green manure mix for 30m square of post pig tractored ground

250g buckwheat
200g fodder radish
100g cow pea
80g white clover
80g lucerne
350g millet
We then add about 1/3 bucket  or rock phosphate & 2 scoops of lime to the area, rake it all in with a nail rake, and cover with a thin layer of woodchips and organic matter to protect the seeds from birds until the plants get up.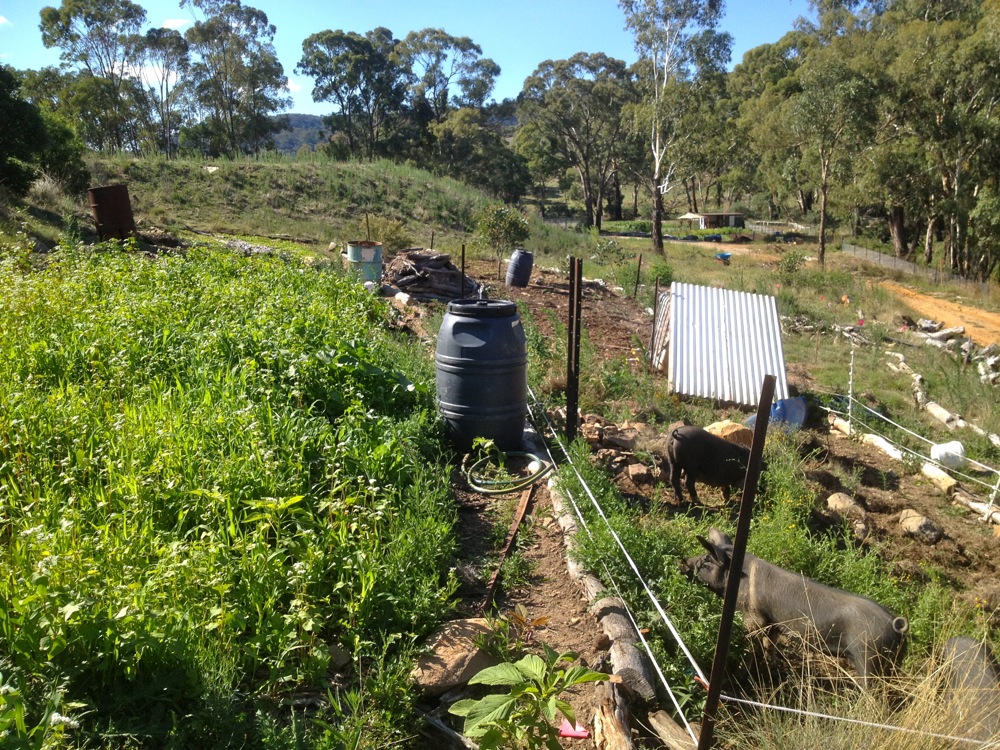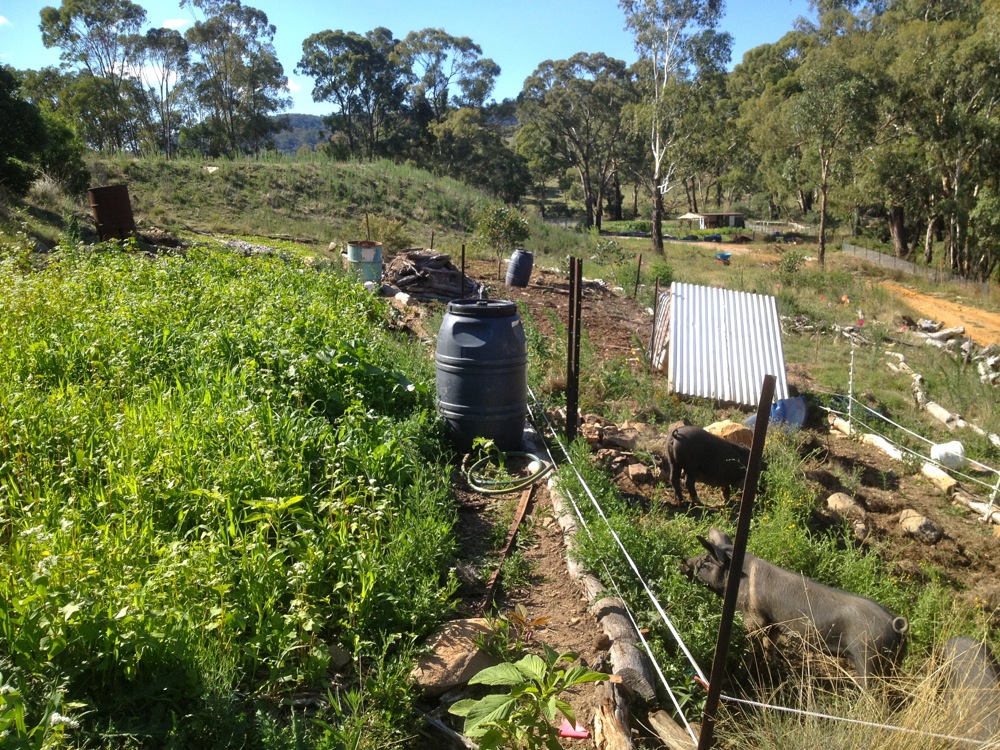 The result is a succession of patches that are grass free, thistle free, producing green manures in copious quantities and slowly building a soil food web that is conducive to fruit tree planting. All with minimal inputs, no fossil fuel, and heaps of good outcomes including happy animals, prepped ground, nutrient cycling and grass-to-protein conversion. and bacon.
And this winter, it will be holistic orchard planting time, and we will be oh so grateful of the good prep work done by the pigs of Milkwood. Thanks piggies! Thanks Milkwood crew!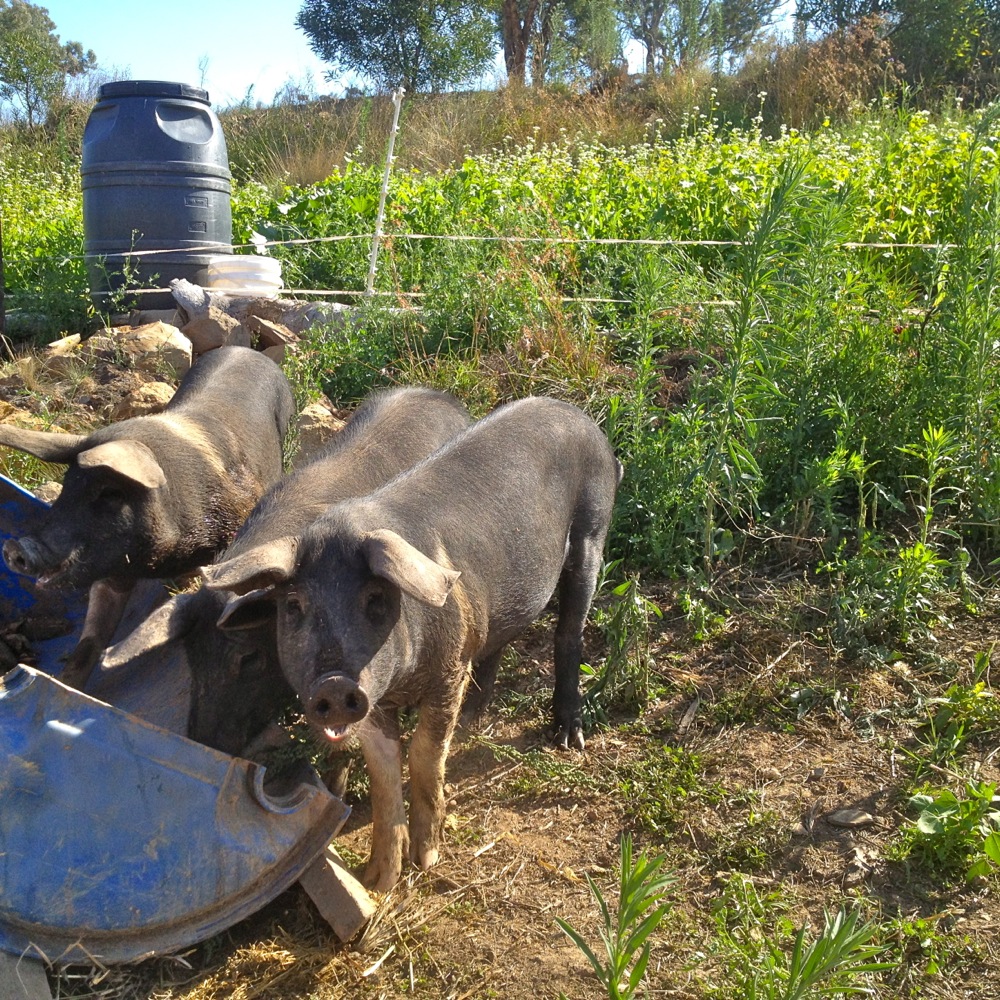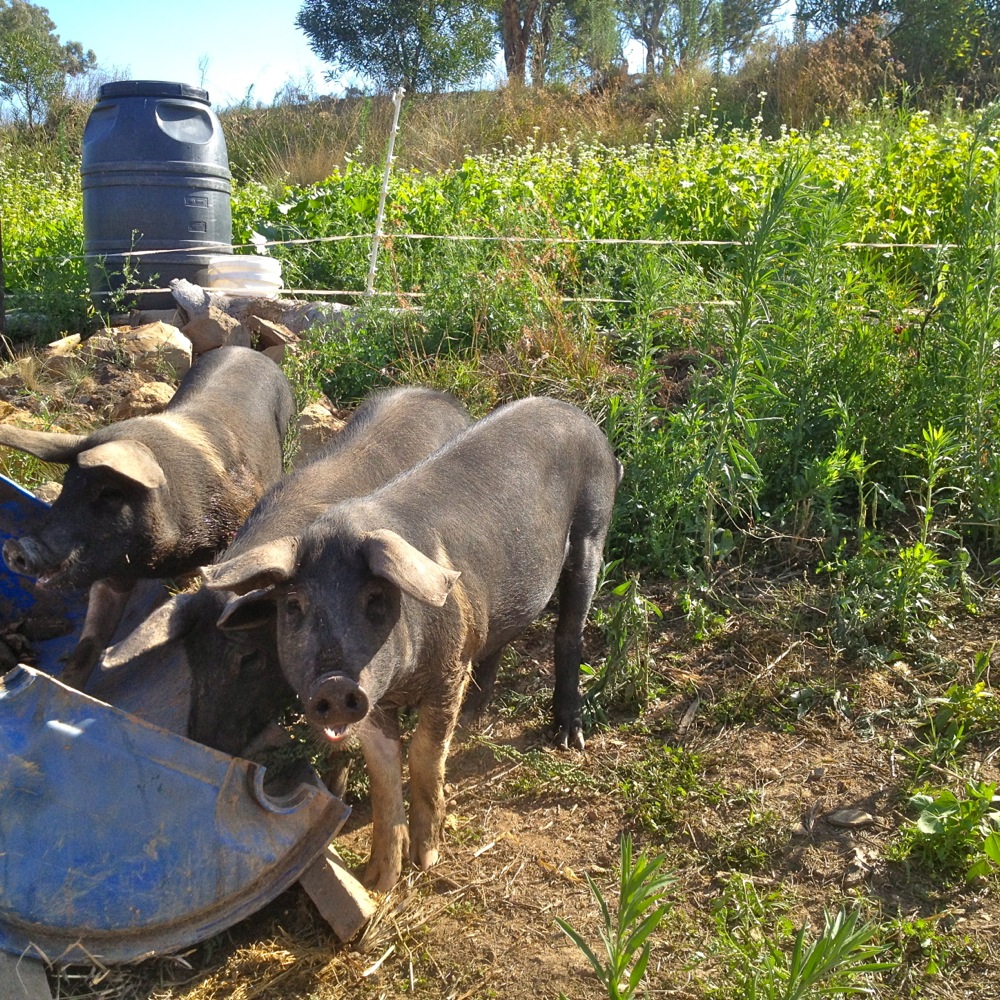 Big thanks to Floyd Constable for taking on the Pig Tractor and all it involved, to Dan Harris Pascal for the holistic orchard design, to all the beautiful Milkwood crew who have put their backs into it to make this patch rise from the ground, to Joel Salatin for his advice on pig fencing techniques and to Taranaki Farm for inspiring Floyd and giving him all sorts of good tips like the pig waterers.