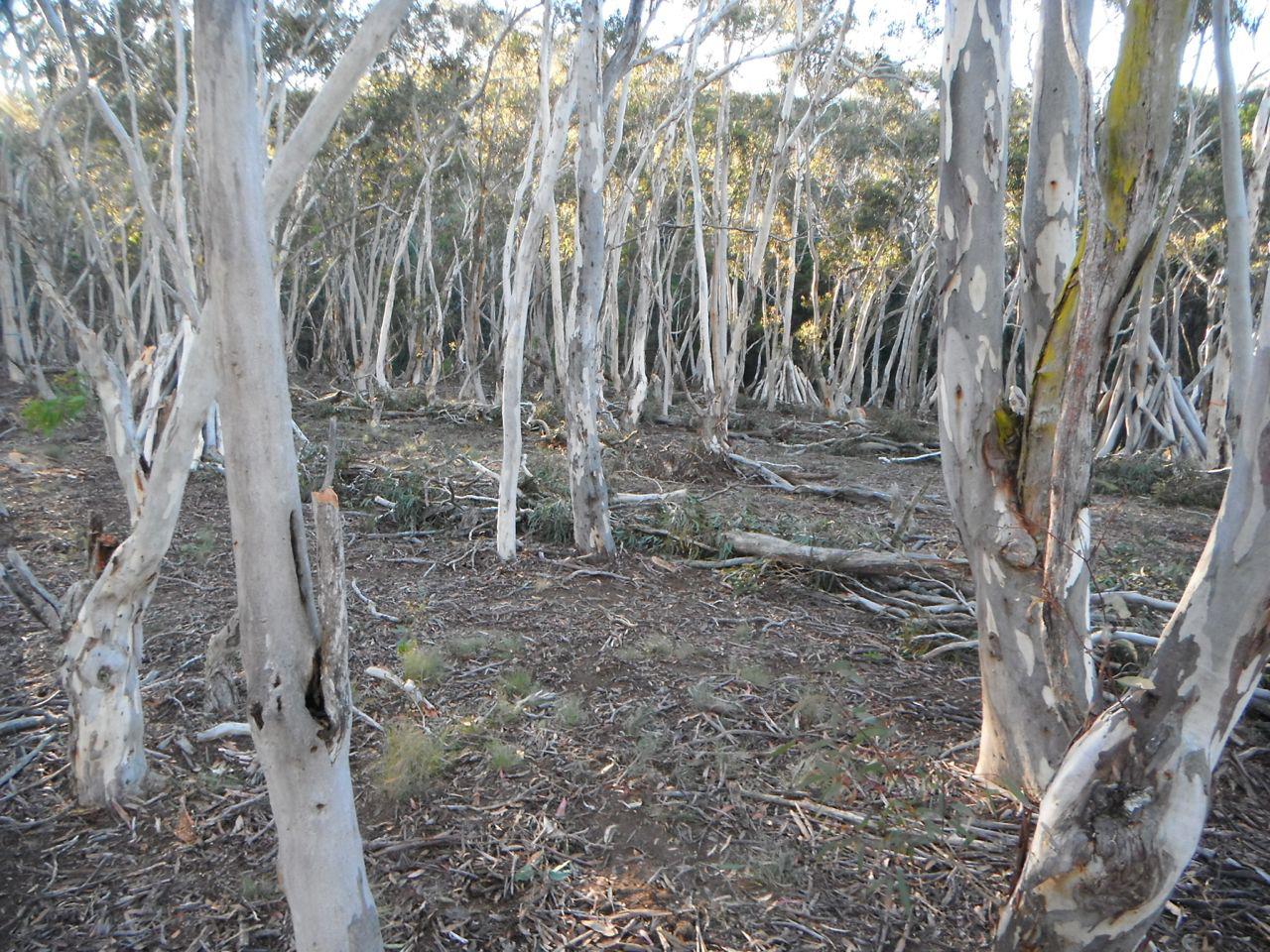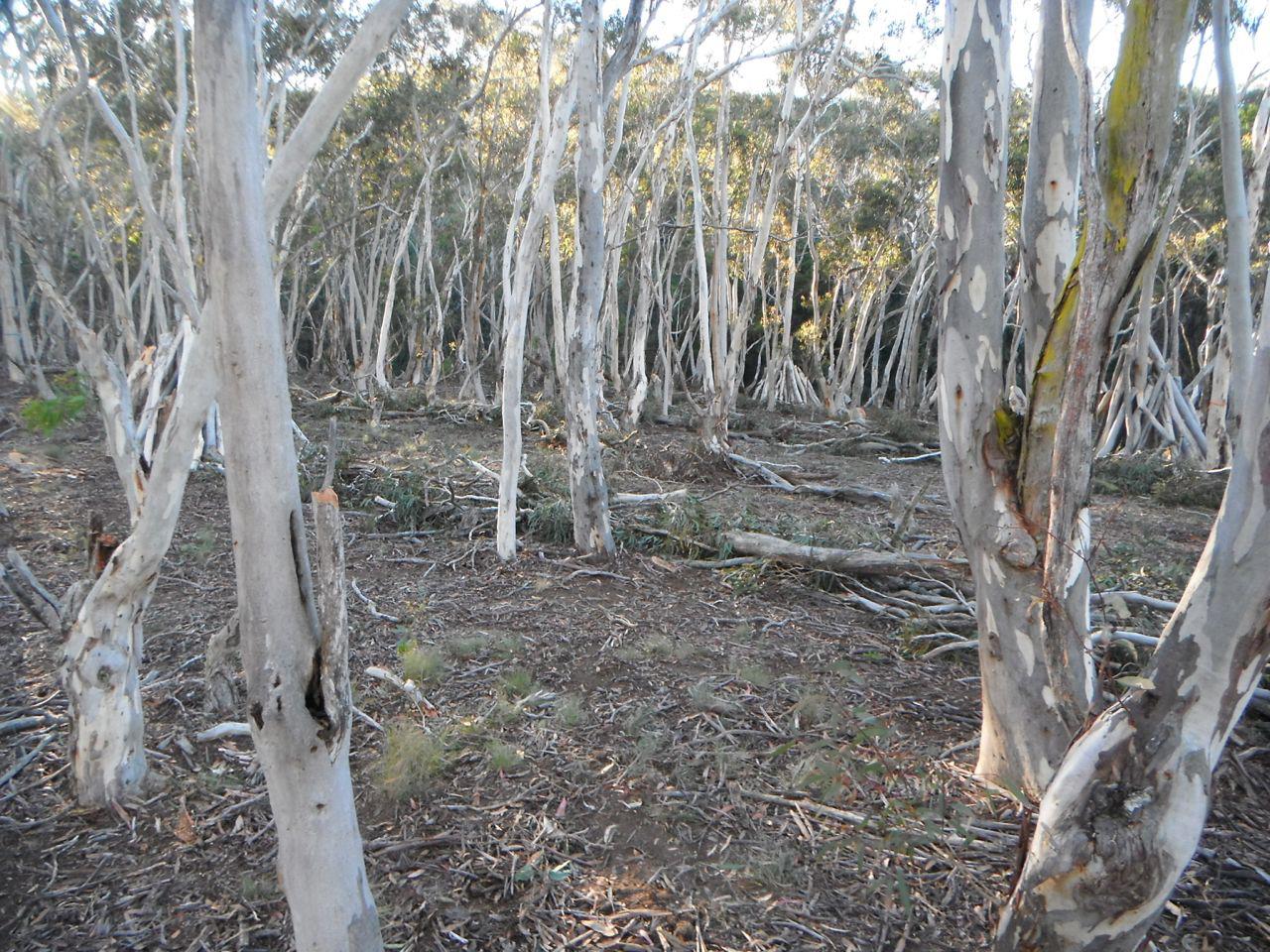 All around Milkwood are patches of dry-sclerophyll eucalypt forest. Variously called 'goat country' or other less attractive names, this type of forest is in a stagnant phase due to poor land use over the last 150 years.
Can you rehabilitate it into useful, productive land? Sure you can! While also generating plenty of useful material for posts, poles, firewood, mushroom substrate, charcoal, mulch &/or land repair and erosion control…. 
This is our first ever guest post, by our good friend Cam Wilson. Cam works extensively with watershed restoration and silviculture projects throughout Australia, as well as being one of the Milkwood crew of educators…
Regrowth dry-sclerophyll forest like you see below is a common site across the Southern Tablelands. It would be fair to estimate this growth at 10-15 years old, but in actual fact they were all dated by an ANU researcher at 80 to 100. This forest is stagnant and moribund.
It's a common story: hillsides were ringbarked, grazed and burnt repeatedly by early pastoralists of the region, until it no longer paid to do so (i.e., the decent soil was gone). 
With an even race for the light, the young Eucalypts take off (in this case the epicormic regrowth from the last ringbarking effort), but when the canopies of the closely spaced trees touch, they basically hit pause, limited by competition for nutrients, moisture and light. 
Unless you've got the right species and are after coppiced poles, this result isn't good from a number of perspectives, whether it's sawlog production (insufficient size), habitat (lack of hollows and minimal niches), or soil conservation (exclusion of grass and shrub groundcover) to name a few.
Research carried out by students of ANU Professor John Field showed the effects of various treatments (thinning, exclusion, disturbance & fertiliser) on the health of the forest (stand basal area, and diversity of species). See the abstract of their findings at the bottom of this post.
These studies have informed the guidelines for carrying out Private Native Forestry (PNF). This legislation provides a sensible set of guidelines to forest management which allows a good balance between production and ecology.
Even low quality timber from a forest like this can be put to some good uses (I'm particularly interested in erosion control uses, but poles, posts, firewood, mushroom cultivation, mulch, & charcoal are a few obvious other uses) while at the same time, the health of the forest as a whole can be improved, providing environmental benefits to the landscape below and potentially the surrounding climate.
The PNF regulations allow this work to be carried out without the risk of massive fines, and a PNF Property Vegetation Plan can be easily obtained (find out more here).
The following pictures were taken after 80mm of rain, illustrating the extreme hydrophobicity in the forest pictured above (click on an image for a larger view).More studies at ANU have shown the formation of hydrophobic (water repellant) soils under some Eucalypts.
This is believed to be caused in part by mycorrhizal fungi, which help to direct moisture towards the roots of the associated Eucalypt, while creating unfavourable conditions for establishment of any competition.
Therefore, in these conditions the seeds of under storey grasses and shrubs either don't have the moisture to trigger germination in the first place, or if they do germinate, they have to fight through 50mm of bone dry material to get any moisture. Hence, the relatively bare forest floor in the pictures above.
With this in mind, an extra layer of disturbance which may be useful in promoting under storey establishment is the short term integration of pigs, their rooting action helping to break up the fungal mats and reduce competition while grasses and ground covers establish (the pigs having moved on of course).
Disclaimer: To avoid hefty fines, ensure you follow relevant local legislation. No person should rely on anything contained within as a substitute for specific professional advice.
Article and Images © Cam Wilson, Earth Integral, 2013 – http://www.facebook.com/EarthIntegral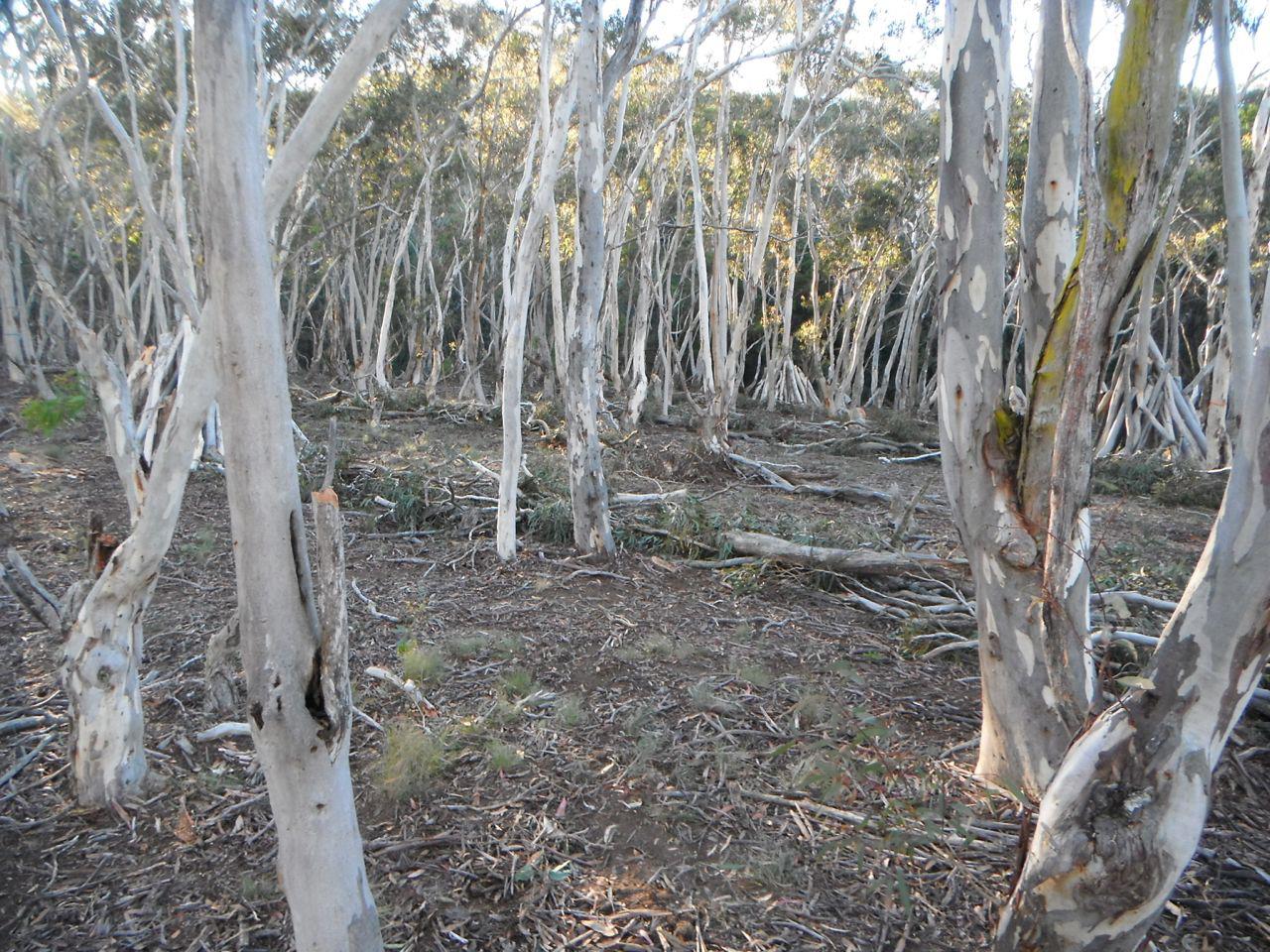 Private Native Forests, Southern Tablelands of NSW: Silvicultural Treatments Revisited
Simon Roberts, Chris Chartres, John Field & Chris McElhinny, 2006.
Forestry Program, SRES, ANU, ACT.
Abstract
Regrowth stands of dry sclerophyll forest extend from Central Victoria through the NSW Southern Tablelands to Southern Queensland (Field and Banks 1999). The 'Mulloon Creek' property, 15 km east of Bungendore in NSW is representative of this forest type. In the past, the property was extensively cleared (1890's, 1920's and 1950's) and grazed (until the early 1980's), and now supports a regrowth forest possessing a degraded structure compared to its predicted pre-European state.
In 1991, Field and Banks (and others) established a silvicultural experiment to investigate the effects of different treatments on this forest. Their preliminary findings (Field and Banks 1999) indicated treatments such as thinning and burning had little effect on overstorey or understorey growth, however fencing to exclude grazing by native and feral herbivores promoted the establishment and growth of understorey plants. The long term results, however, demonstrate that these silvicultural treatments are effective management techniques.
One-way analysis of each treatment on the overstorey (statistically in isolation of each other) reveals that thinning and burning both had significant effects on Relative Growth Rates (%BA Increment/Yr). The effect of thinning on the treatments had the most significant impact on tree growth. Over the twelve year period however, the burnt treatment had a significantly greater percentage annual basal area increment. Unlike thinning or burning, the effect on relative growth rate of exclusion fencing is not significantly different. Similarly to fencing, fertiliser had very little effect on relative growth rates of trees at the end of seven years since the application.
The understorey results were evaluated in a similar way. Only the fences treatment had a significantly higher mean richness of perennial species (21) compared to the unfenced treatment which had only 14.5 species. Fencing to exclude grazing animals has long been regarded as critical for the regeneration of native understorey plants.
Reference
Field, J.B., Banks, J.C.G., (1999). Effects of Silvicultural Treatments on Growth Rates of Trees and Diversity of Understorey in a Private Dry Sclerophyll Forest, Southern Tablelands, NSW. IFA conference "Practicing Forestry Today", Hobart