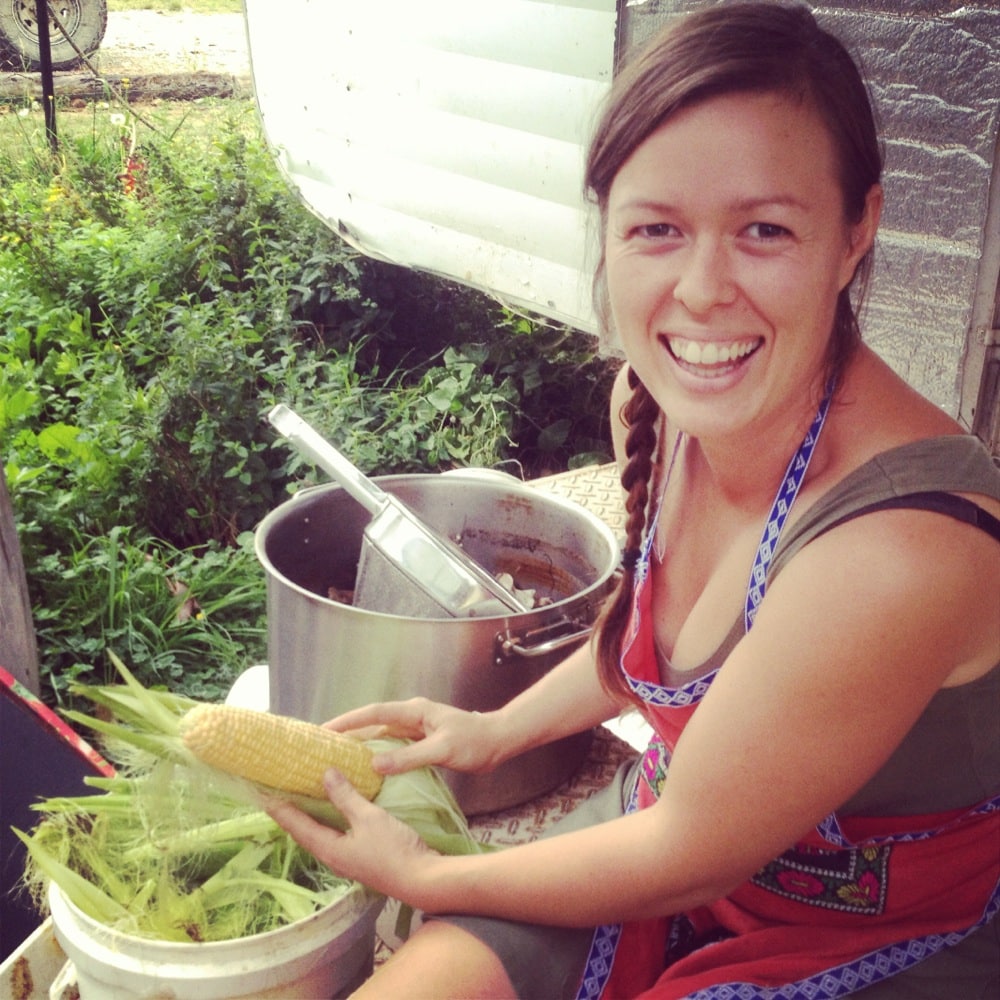 Two good years. Two full Spring to Autumn seasons stacked with sourdough, rabbit ravioli and crazy beautiful desserts. And a quietly grounding presence for our entire farm crew, and for every student lucky enough to share a taste.
Tragic (no, really) though it is, I must share with you that Rose, the permachef whom we do love so, is off to seek the next chapter of her fortune. To design and run a new inner-city eatery in Brisbane, to be exact. I hope those Brisbanites figure out how good they've got it coming to them… 
Rose probably wouldn't want me to make a big deal about this. Every time we threw back our heads when dinner was served and yelled VIVA LA COCINERA (huzzah the cook) someone typically got threatened with a spoon. She's like that.
But still it must be said. Even if only a little bit.
Milkwood Farm has been a rapidly evolving social enterprise which has careened in various new directions at a great rate of knots in the last two years (or that's how it feels from the inside, anyway).
And in the middle of all the brainstorming and experimenting and trying and succeeding and failing and succeeding again has been Rose. Always. Quietly serving up yet another amazing meal, in the midst of all the crazy ideas and projects and woofers and interns and crew and piles of things that shouldn't be on the servery. Again.
Rose has made many things apparent since she arrived at Milkwood Farm in the Spring of 2011. Most of all, that good, simple, nourishing food, cooked with love and served up in a timely fashion, is the key to a happy Milkwood Farm.
A good cook is intrinsic to an operation of our type in every way you can think of. The kitchen is the heart of our farm – it's where all the harvest goes into, and where so very many meals, preserves and also lots of washing up comes out of.
Before Rose arrived, I was kinda the default cook of Milkwood, though we pretended to rotate throughout the crew. While I enjoyed catering for our early PDC and other courses, once the baby wouldn't stay strapped to my back throughout, it got a bit tricky.
And then Milkwood started flowering and becoming something bigger than just Nick and I pedalling as hard as we could to make it all work. So cooking for everyone got a bit trickier again.
But we got by with a roster, itinerant input from a range lovely folk including shearers cooks (thanks Vicki) and best friends (thanks Sofie) until one day I cracked it and decided that next Spring we would get a cook during course season.
Enter Rose. She can break down the carcass of a deer before breakfast and then make sourdough croissants for lunch (just to try them out, you know).
She's the kind of girl who trots off up the hill with a basket to gather nettles, then adapts instantly to incorporate them alongside the surprise arrival of four just-hunted rabbits for dinner.
She's the kind of girl who can make a full roast dinner for 40 hungry permaculture students, then make flower sprinkled desserts as well. And then do it all again tomorrow. And she can make 3 rows of pak choi into things other than, er, pak choi.
And the preserves. Ah, the preserves. How many tonnes of just-picked tomatoes this year did you turn into passata, Rose? Because that's the thing with a garden-to-plate operation. Once the food starts ripening, you better be ready to deal with it. All of it. Now. And deal with it all Rose did – we now have passata to last us all till Christmas.
Ok you get it by now, I'm sure. She rocks. We're so grateful to have known her and we feel blessed to have been a part of her life's journey.
Rose, thank you. For your food, your centered presence, and your grace. Thanks for the love (and considerable patience) you've showed Ashar, always welcoming him into your kitchen and letting him help wherever you could. He's a lucky kid to have had an auntie such as you around for two whole seasons of childhood…
So to paraphrase Mr Salatin; may your krauts all foam and your sprouts not. May your sourdough always rise and your goose-fat potatoes crisp up. May your children rise up and call you blessed. You've already made a better world than you found.
Any shout-outs of appreciation  for Miss Rosie Rose (remember, we're all out of spoon range now), bring them on….
So what happens now? Well that's the question. We're putting the finishing touches on our 'wanted: kick-ass farm cook/chef' position description, and we'll be putting it about shortly in readiness for our next Spring-Autumn season. If you know anyone suitably awesome (and available), be sure to tell them to get in touch…
p.s. when Rose's Brisbane joint opens, we'll be sure to let y'all know.