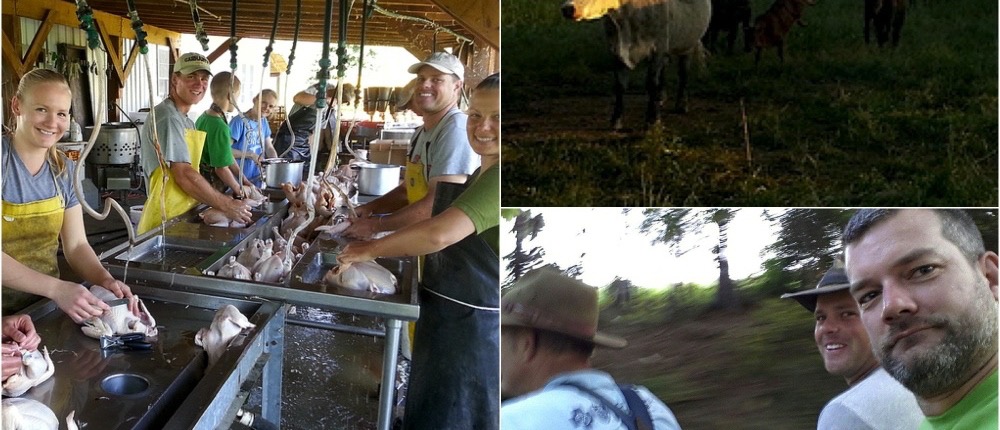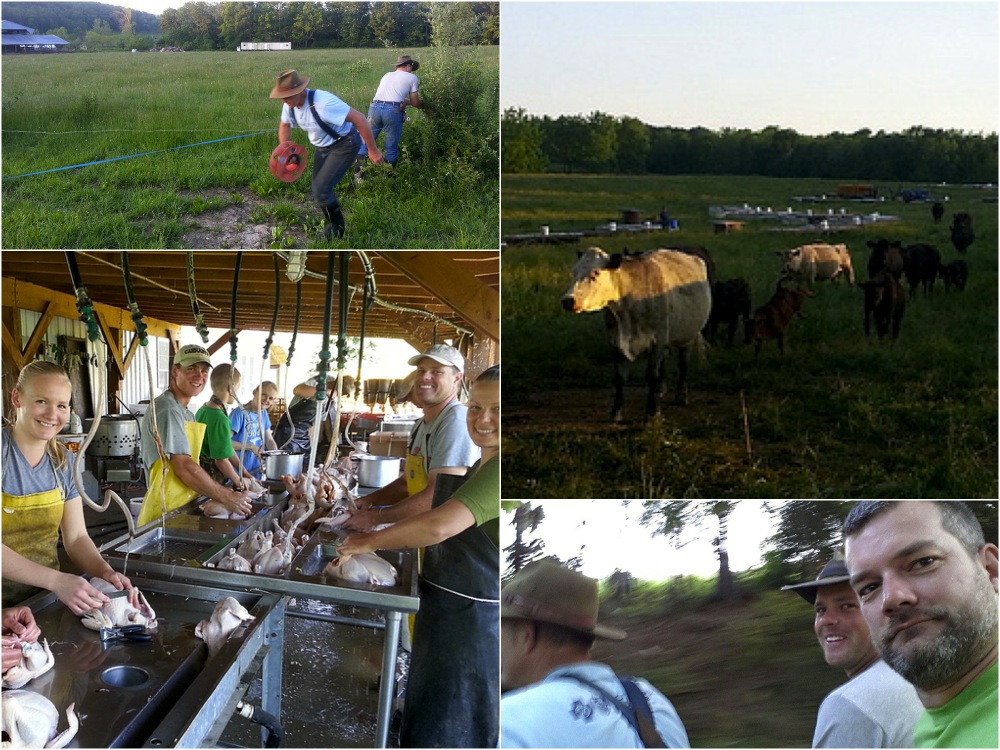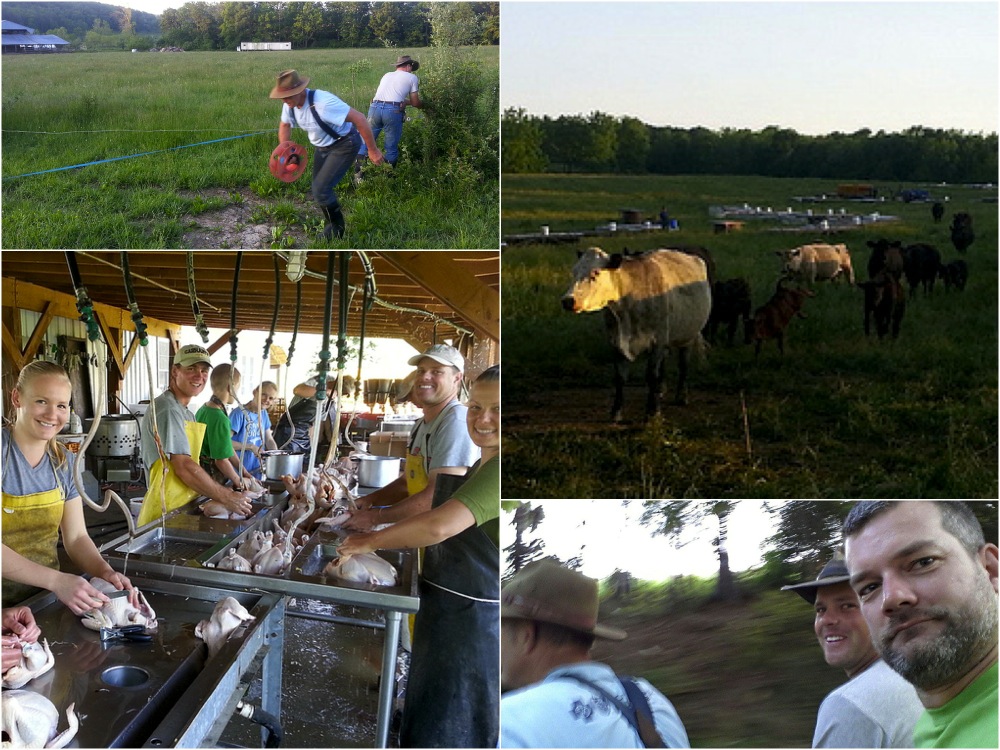 It's the pace of everything, that gets you most of all – everyone is busy – doing a task that needs to be done, right now, then walking purposefully to the next task, which also needs to be done.
Joel Salatin often describes the interaction between his rotational beef grazing and egg mobile systems as 'ballet of the pasture' – a slow dance of animals circling, shifting and moving in precise relation to each other, to create a symphony of regenerated land and outputs of 'beyond organic' protein.
What Nick witnessed in the time he was at Polyface this last week, however, was more a ballet of the entire farming system. But to a faster beat. 
There is far too much going on at this farm to describe in one blogpost. I won't even try. Aside from the actual farming going on, there's decades of refinement here, in terms of making all the integrated small farm systems efficient, mobile, regenerative and viable.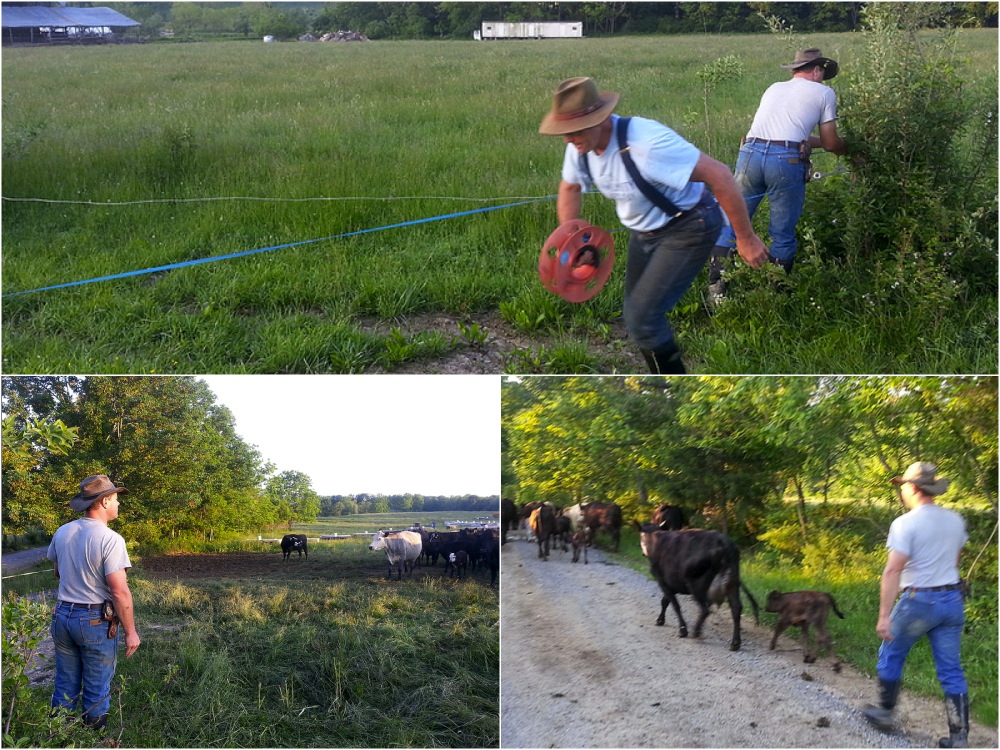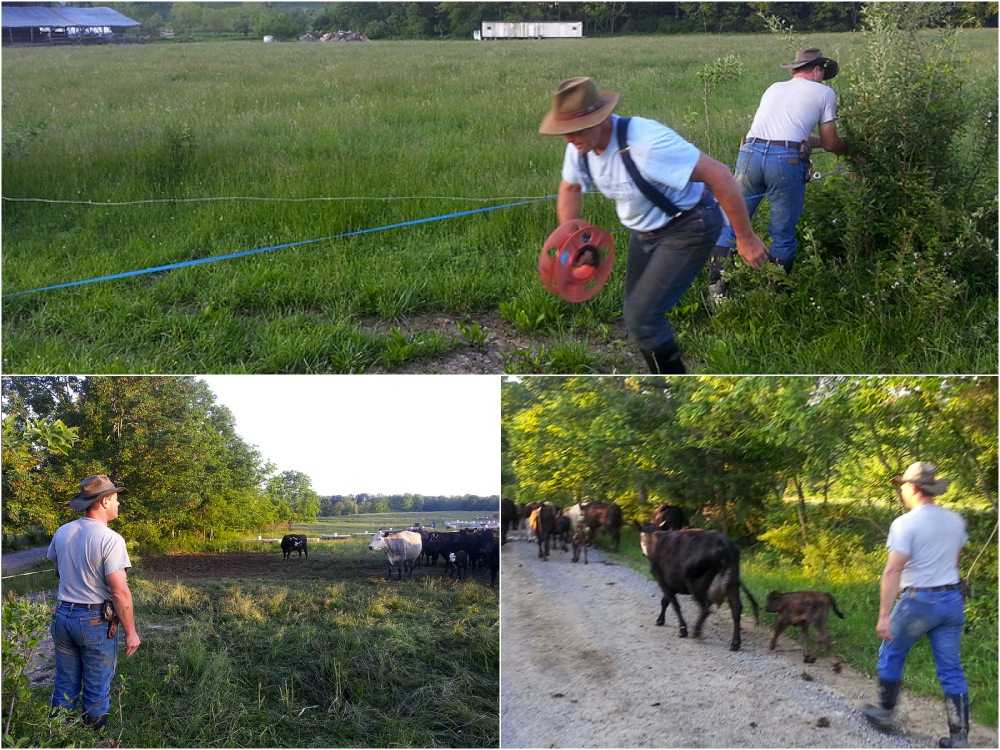 Moving the cows onto fresh pasture, after setting up the next round of mobile fencing… it's only a matter of calling them and walking them to the next patch. The cows have done this before and they're looking forward to the next 'salad bar'…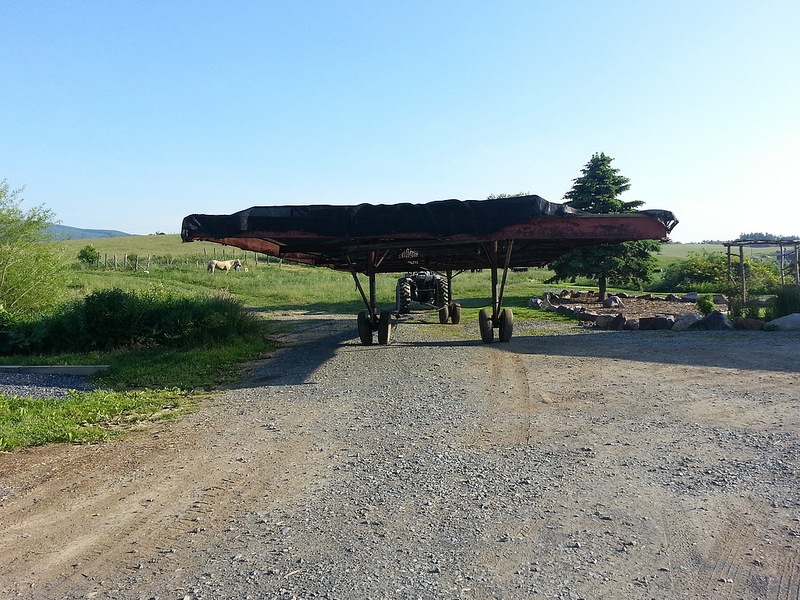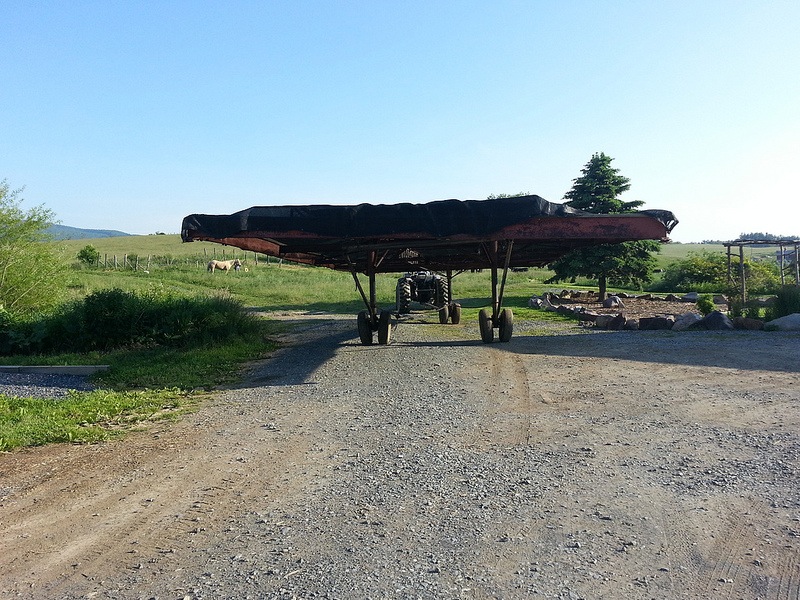 Mobile cow chelter moving to next patch – shelter ensures less-stressed cows & it's mobile nature ensures there's no overload of nutrients or buildup of parasites in the one spot.
People thought Joel's dad was crazy when he built the one above back in the 1980s. But on a bright sunny day in early summer the cows were all hanging out underneath it.
It's also a great way of concentrating impact where you want it. If you've got some brush or brambles you want to get rid of…. put the shelter over them and 150 cows will trample it down to nothing by days end.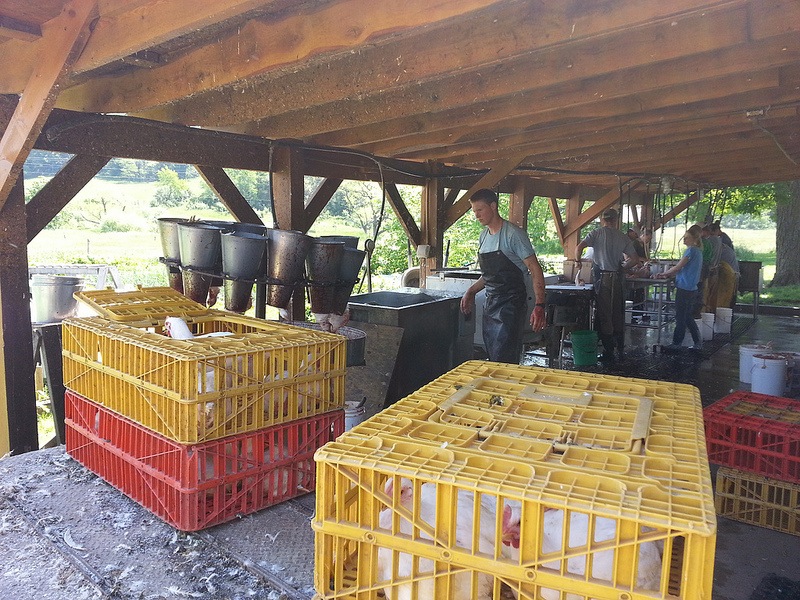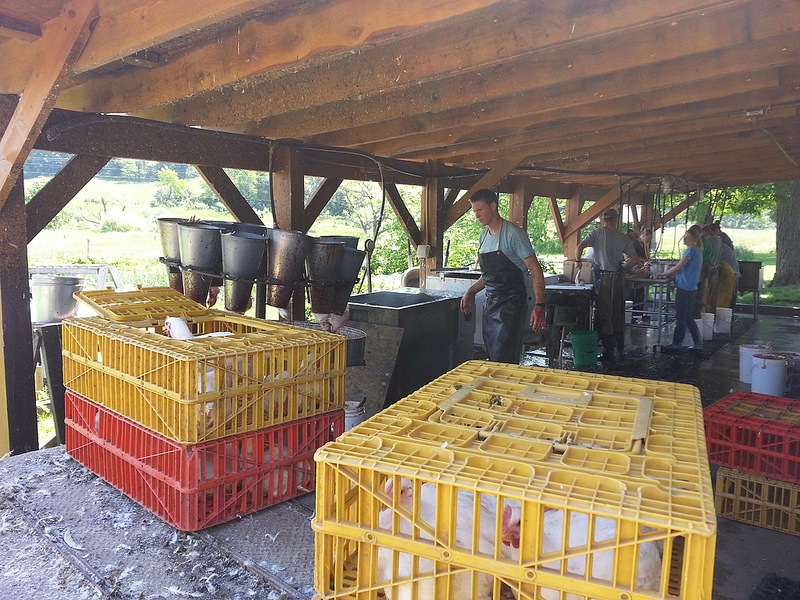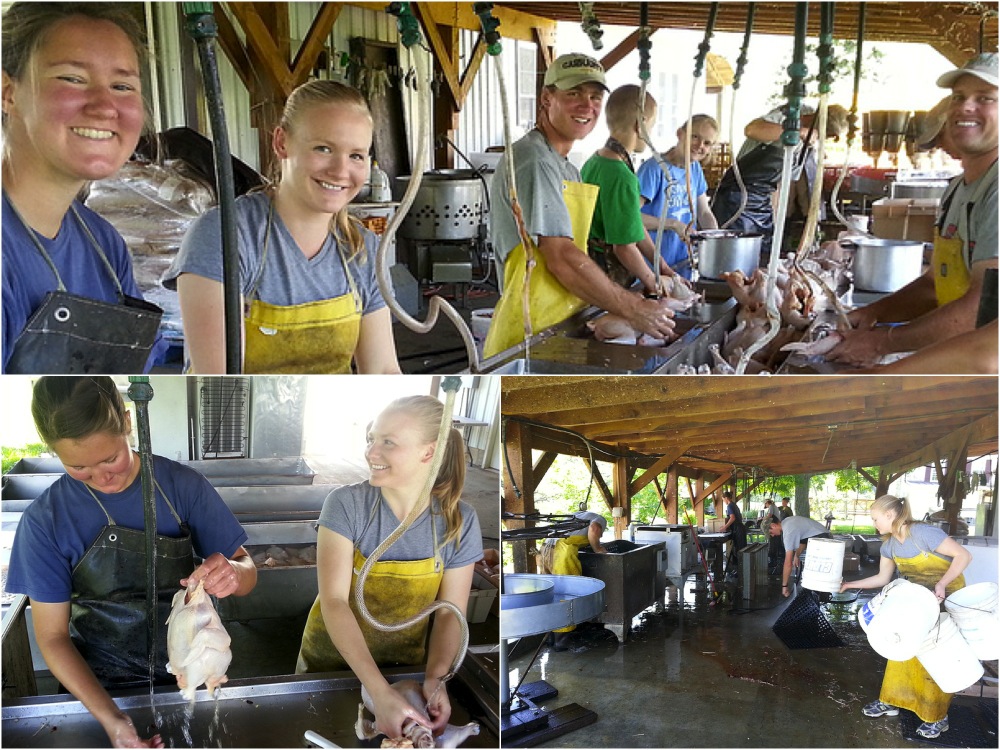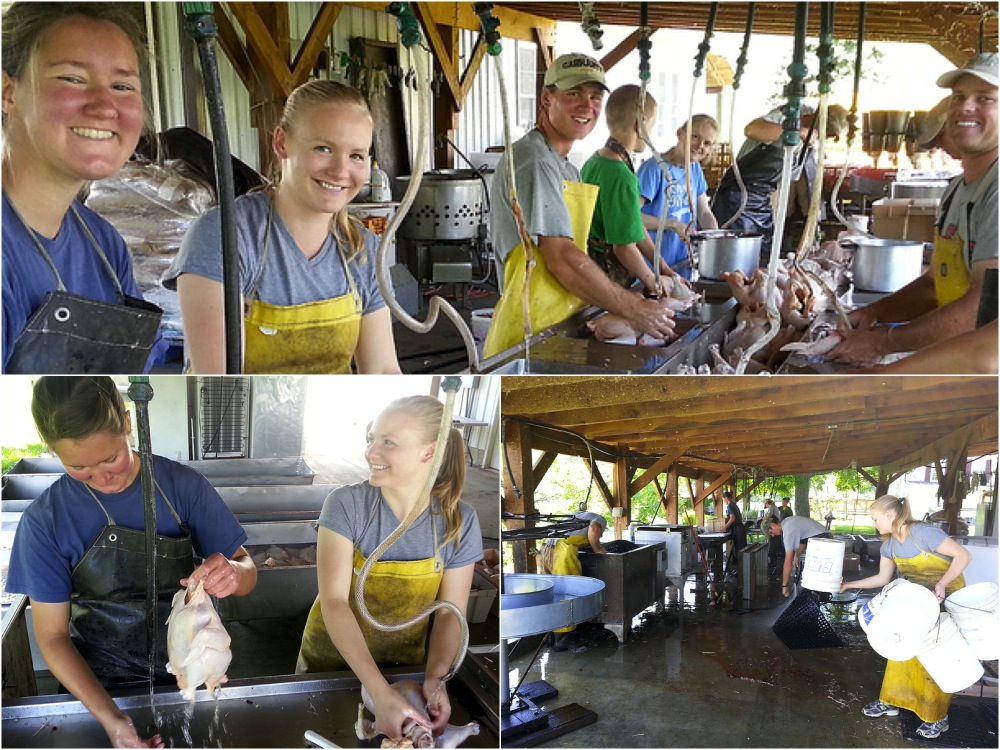 Chicken processing day saw 314 chickens taken off their pasture and transported to the on-farm open air processing unit, next to the on-farm shop.
Less than two hours later, they're all processed, bagged, chilled and ready for eager customers. Everything is clean as a whistle, and the result is real food.
No chlorine, no antibiotics, no transport dehydration and stress, no closed-door antics. A good life on pasture, one bad day, then off to the kitchen.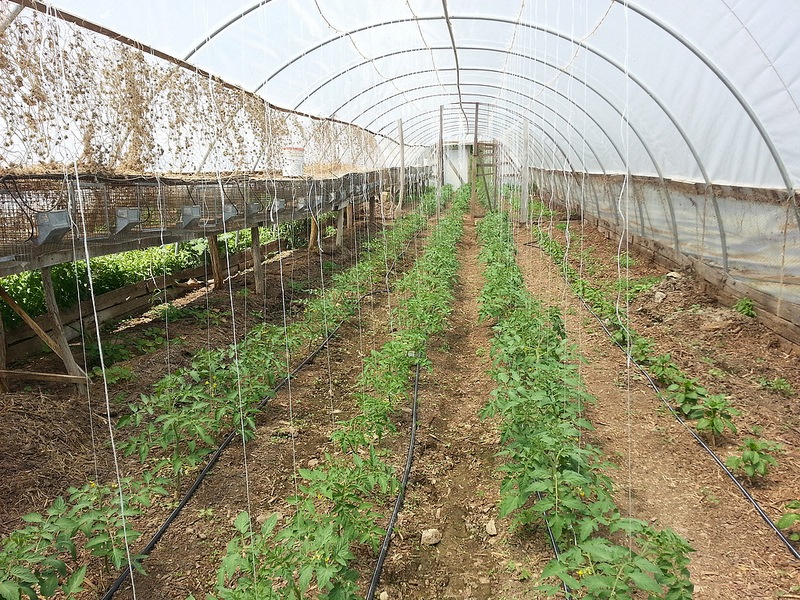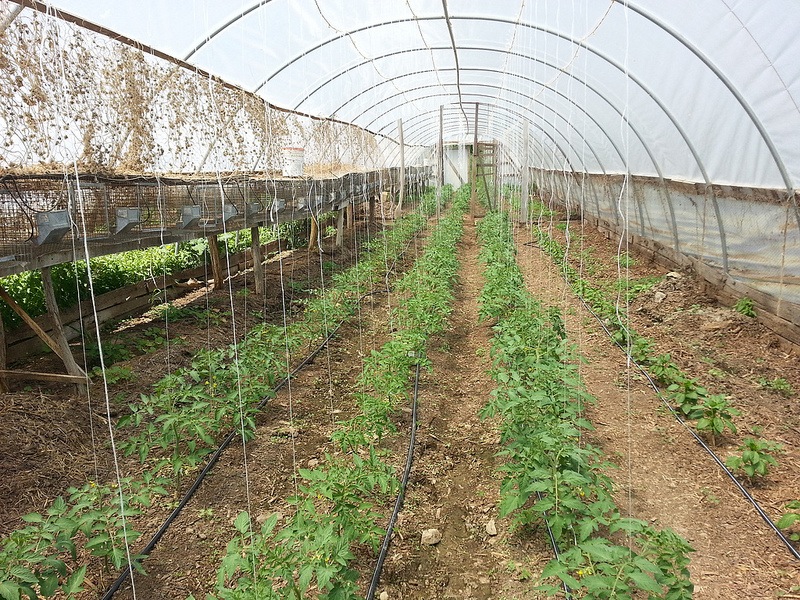 So there's a first taste. You can also have a look at Milkwood alumni Derek's great photos of Moving the pigs at Polyface Farm, and also check in with our Joel Salatin Workshop Resources from a previous workshop series in Australia for lots of information.
You can also browse all our previous Joel Salatin articles here, and there's also videos of Joel discussing farm startup issues here.
Or subscribe to this blog (up the top, on the right) and stay tuned, because we're going to be explaining the systems on this farm piece by piece.
Lastly, here's the photoset of Nick's time at Polyface – it will be updated with more photos in the coming weeks, but right now Nick's still on the road in the extremely large and interesting US of A (and off to train with Paul Stamets this week! Whoohoo).
Gigantical and broad-accented thanks to the entire Salatin family, Polyface staff and incoming interns for their hospitality and commitment to living the 'new normal' of what farming can be. World-changers all.