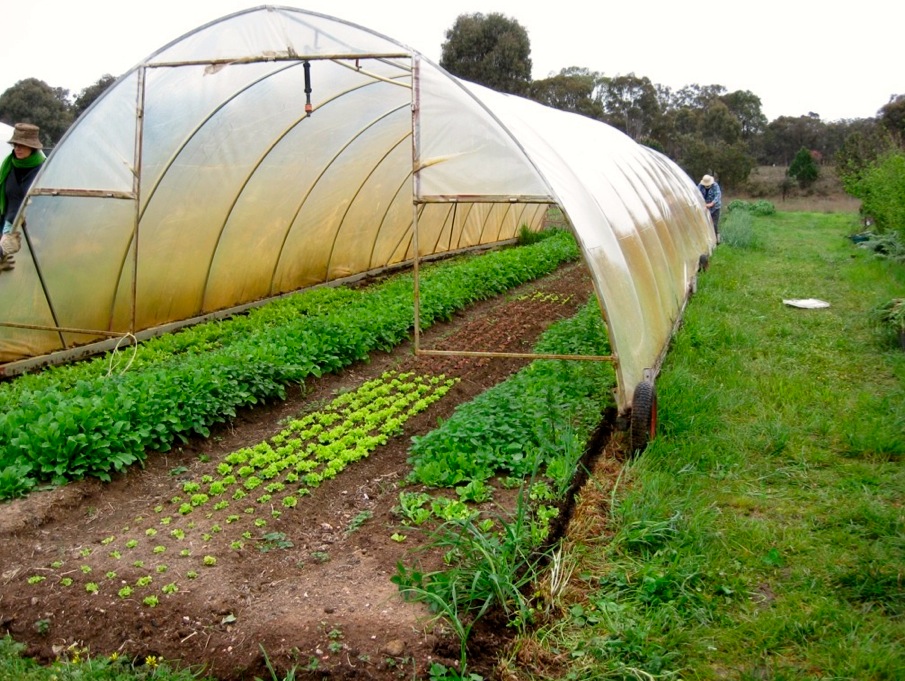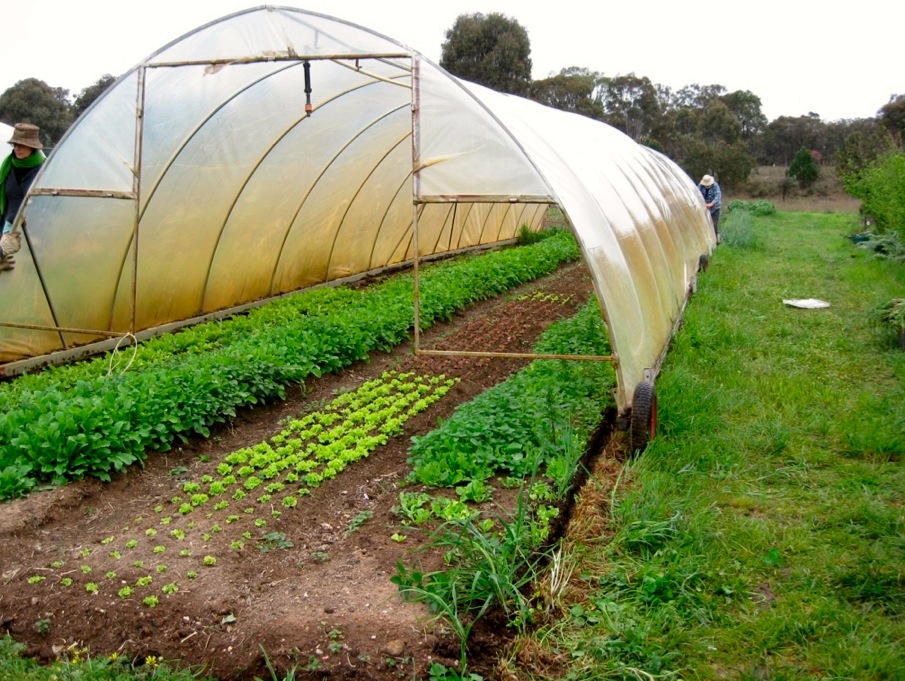 Movable greenhouses (on rails, skids or wheels) can be a great idea for the serious backyard grower or small-scale veggie farmer.
They're a great way to benefit your plants, extend your growing season and avoid the potential insect and disease buildup of greenhouse growing…
Greenhouses have many benefits in a  range of climates for growers. In our dry climate, they help increase humidity and provide frost protection. Closer to the coast, I've seen them provide wind and fruit fly protection to tomato crops. In other regions, they hold off the snow and keep the ground from freezing.
But a greenhouse is a closed environment, in a way. And that means the soil in the beds of that greenhouse is also in a closed environment.
There's many ways to keep the veggie beds naturally vital, healthy and alive in this environment.
Creating movable greenhouses is one great solution, to prevent disease buildup and to give the soil it's season in the sun, between crops.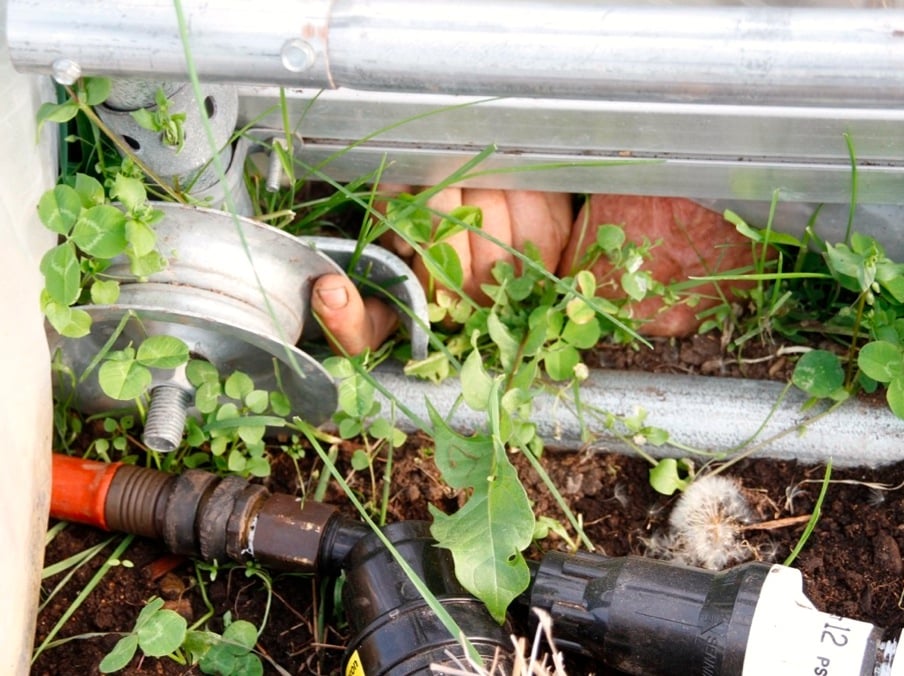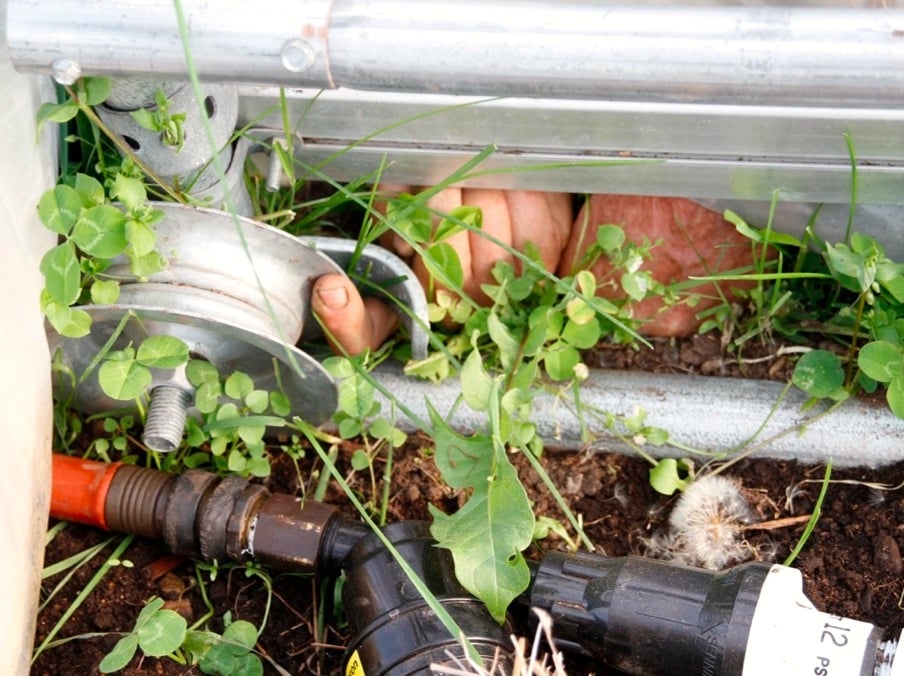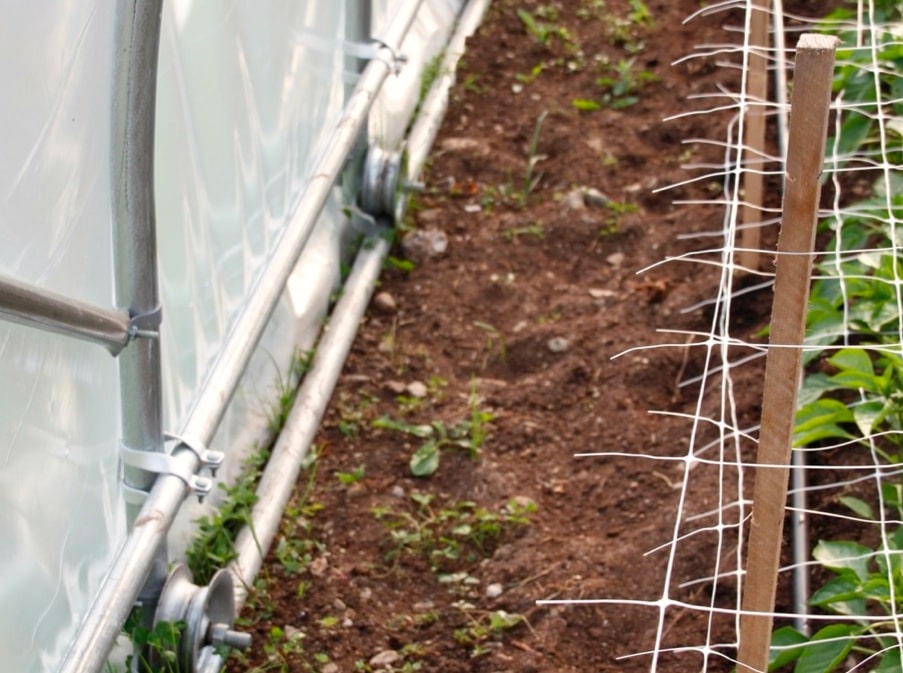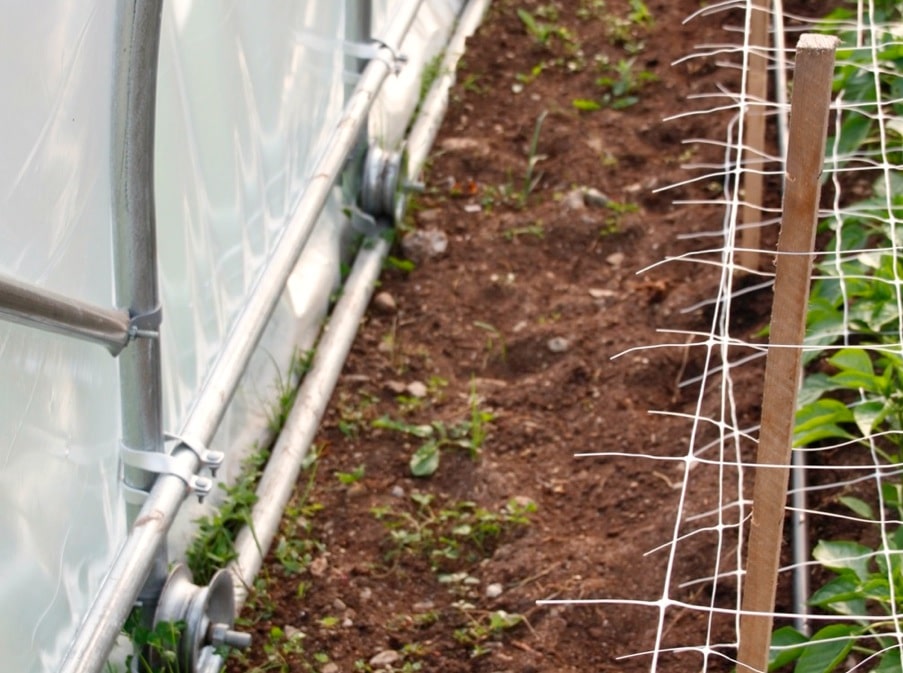 Above is the movable greenhouse system at Four Season Farm in Maine, USA, as used by Eliot Coleman.
The rails and wheels allow large polytunnels to be shunted between blocks of veggie beds as part of Four Season's crop rotation.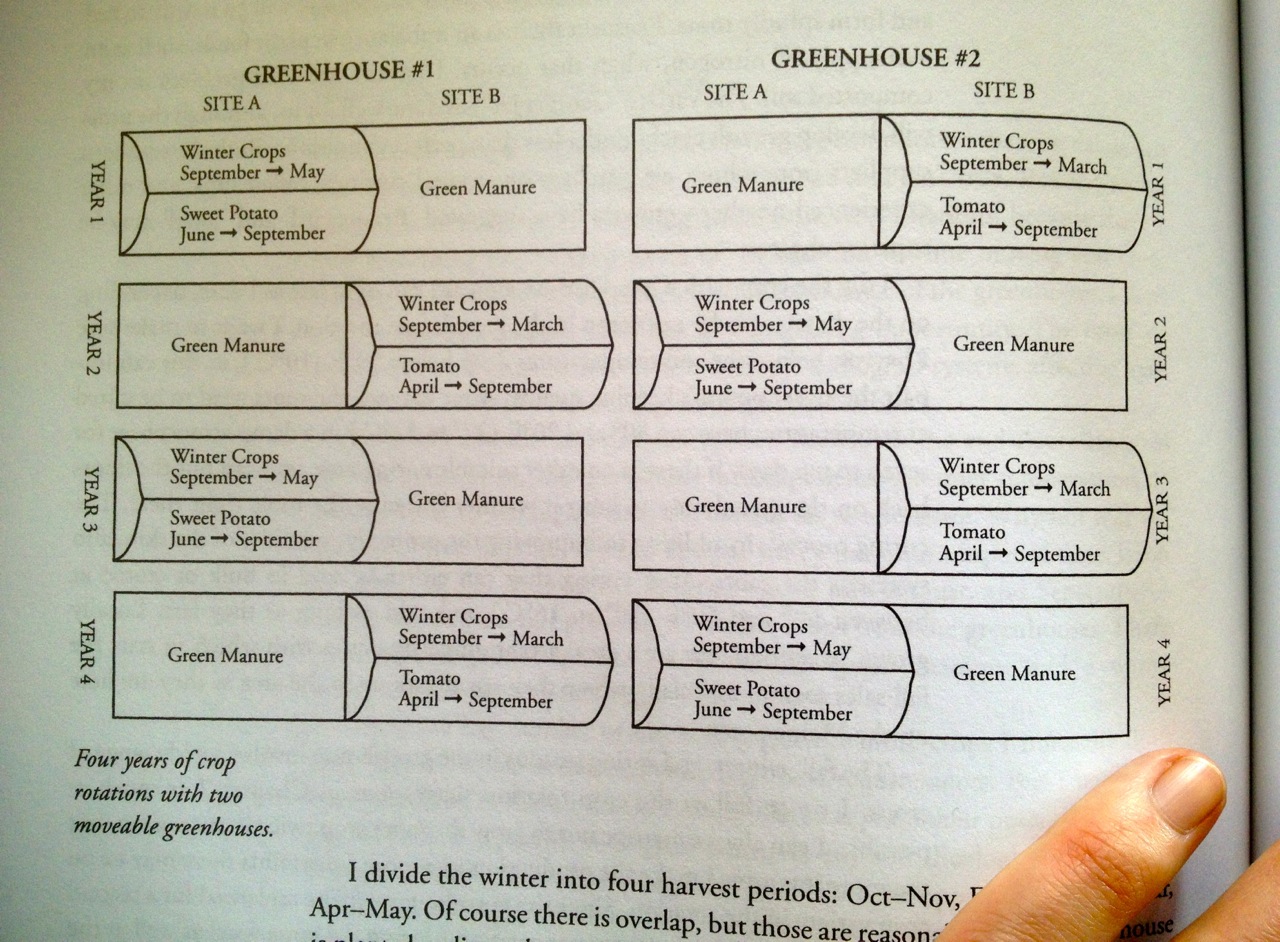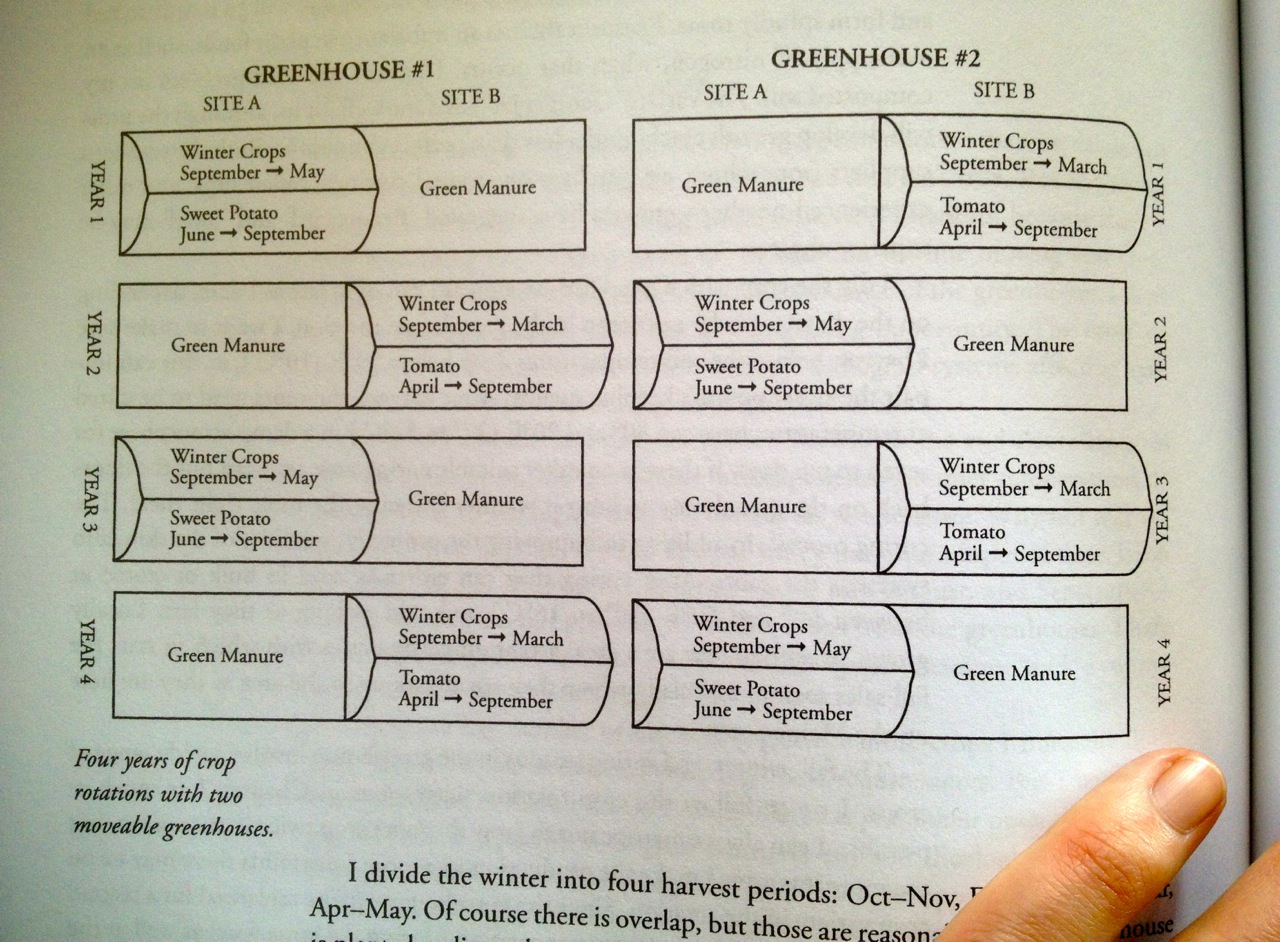 A four year crop rotation designed for two movable greenhouses – snapped from Eliot Coleman's awesome book The New Organic Grower: A Master's Manual of Tools and Techniques for the Home and Market Gardener, which you should definitely read.
But if you're not up for the infrastructure of rails and such, or if you're growing at a smaller scale, removable wheels for your movable greenhouse are a great option.
Our friends Joyce and Mike at Allsun Farm have several movable greenhouses that work on removable wheels.
Like Coleman, they move these greenhouses back and forth through their garden with the seasons, to ensure disease-free fertility for their organic veggies.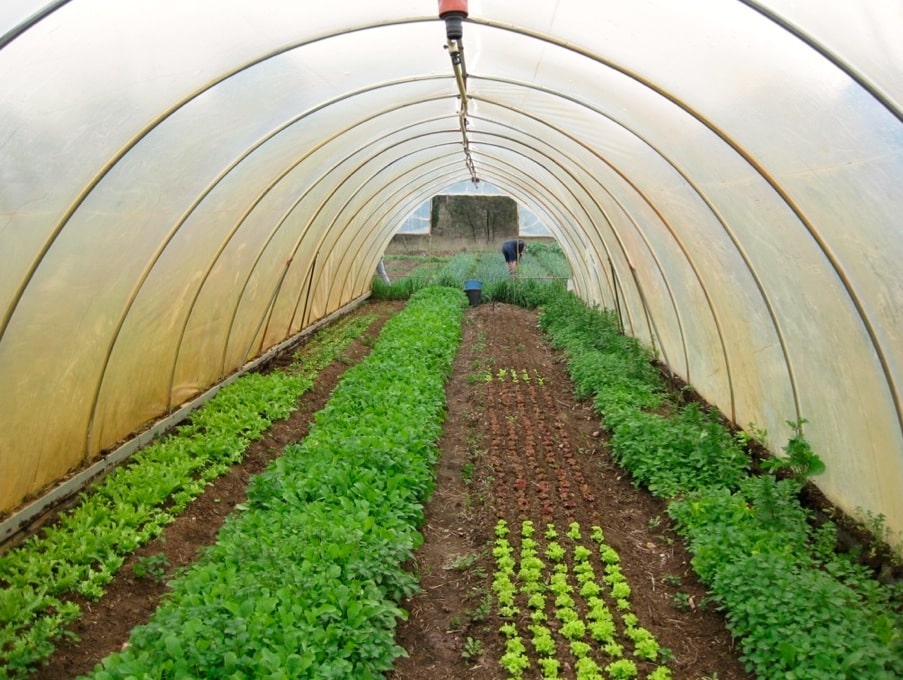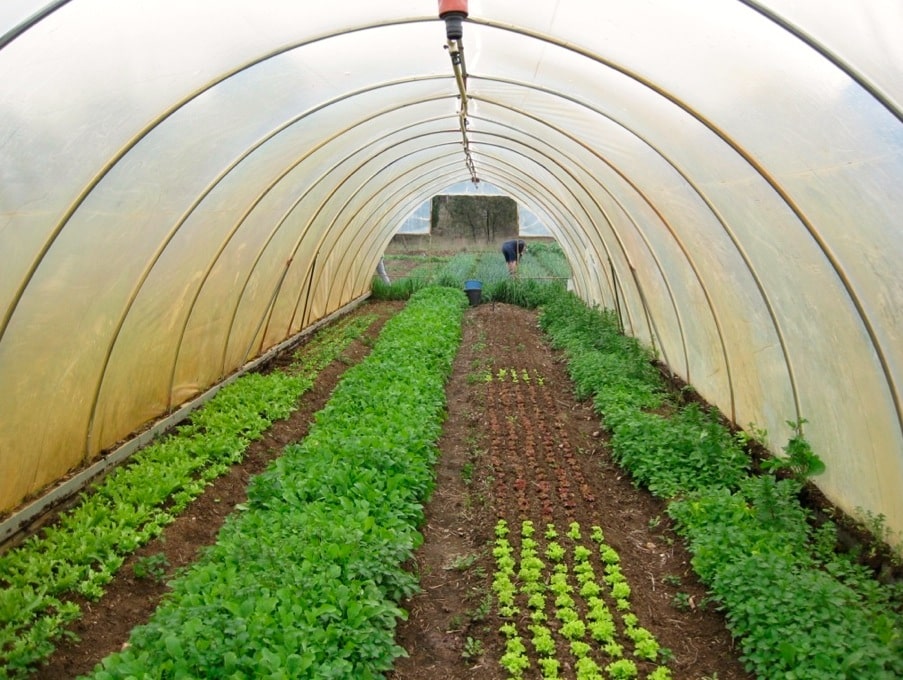 Movable greenhouse at Allsun Farm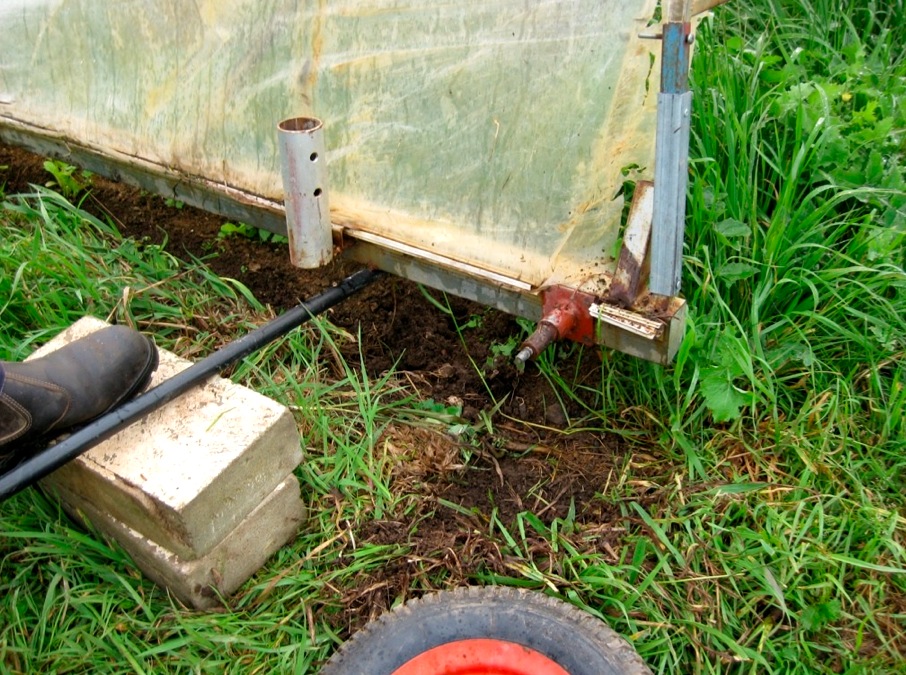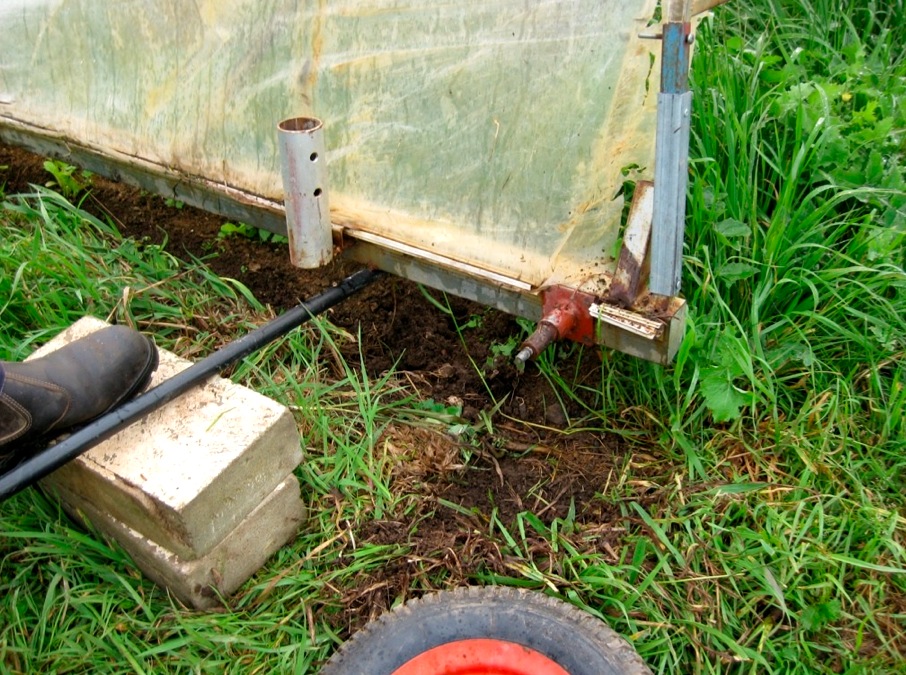 Moving day: first, jack up the corners of the greenhouse and attach the wheels…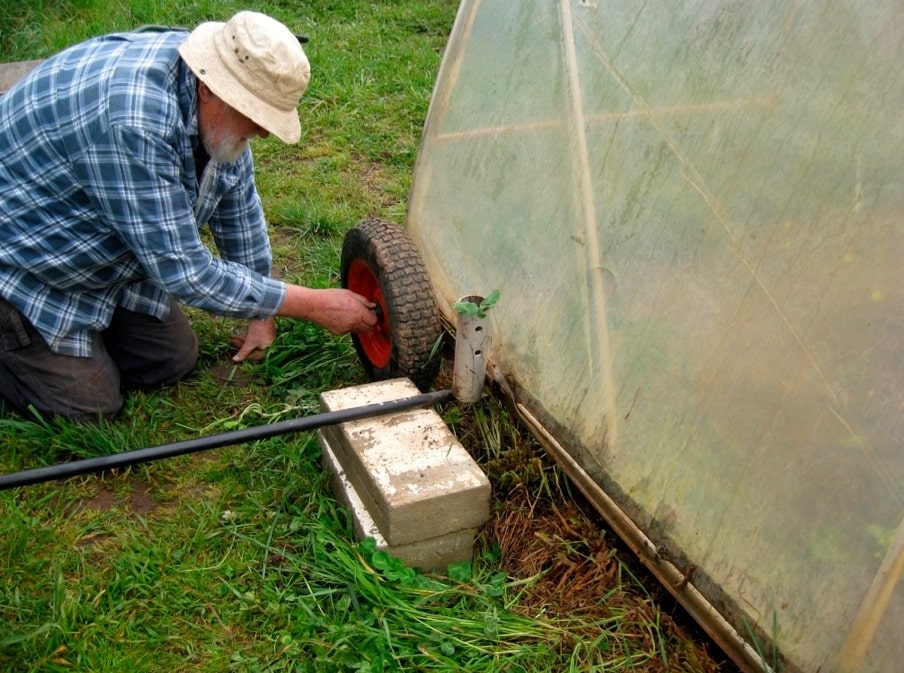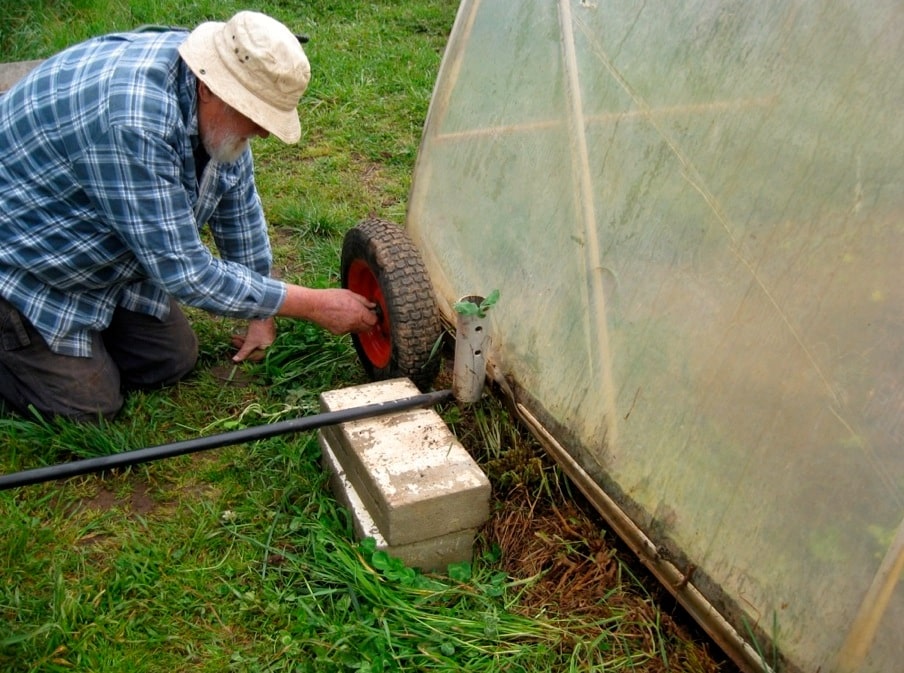 Mike Plane fixes the wheels on…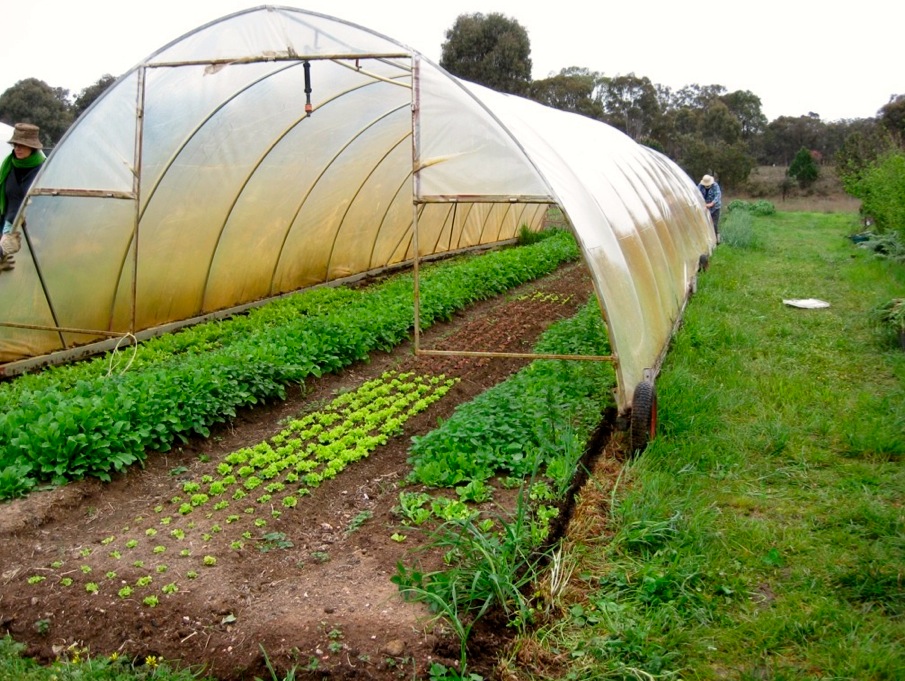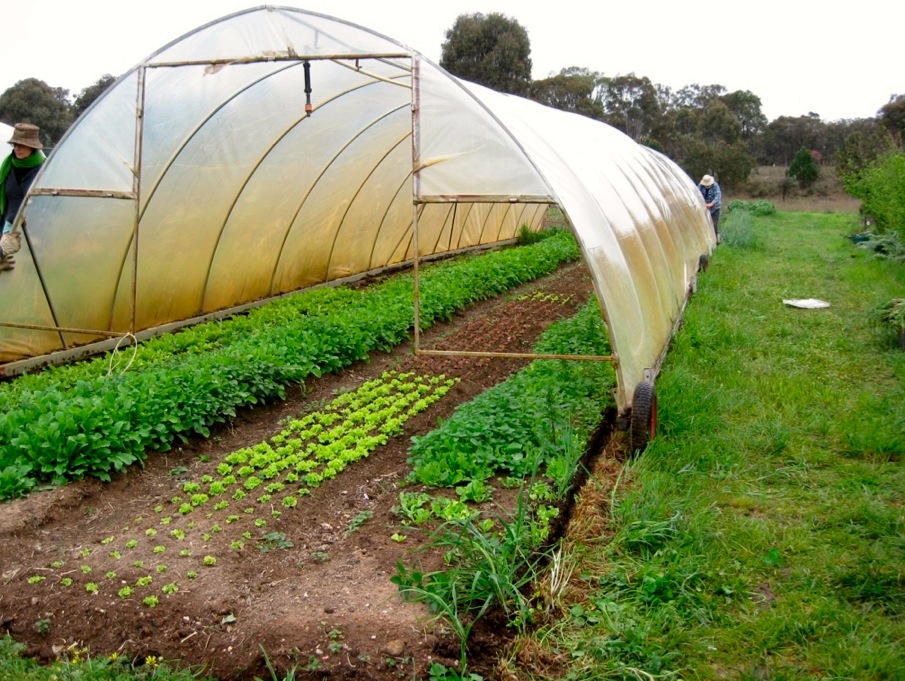 Ready to roll…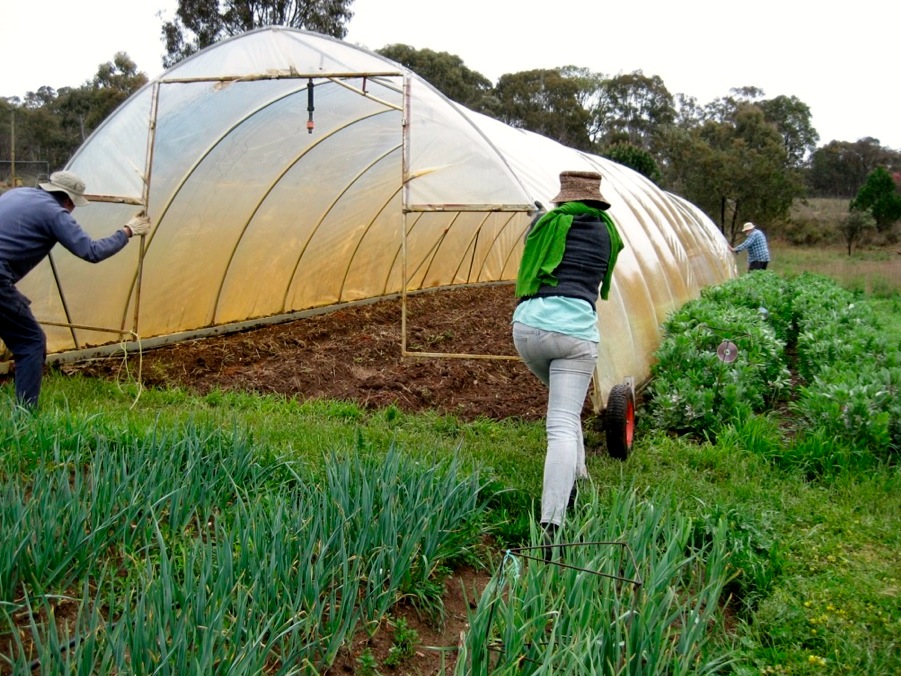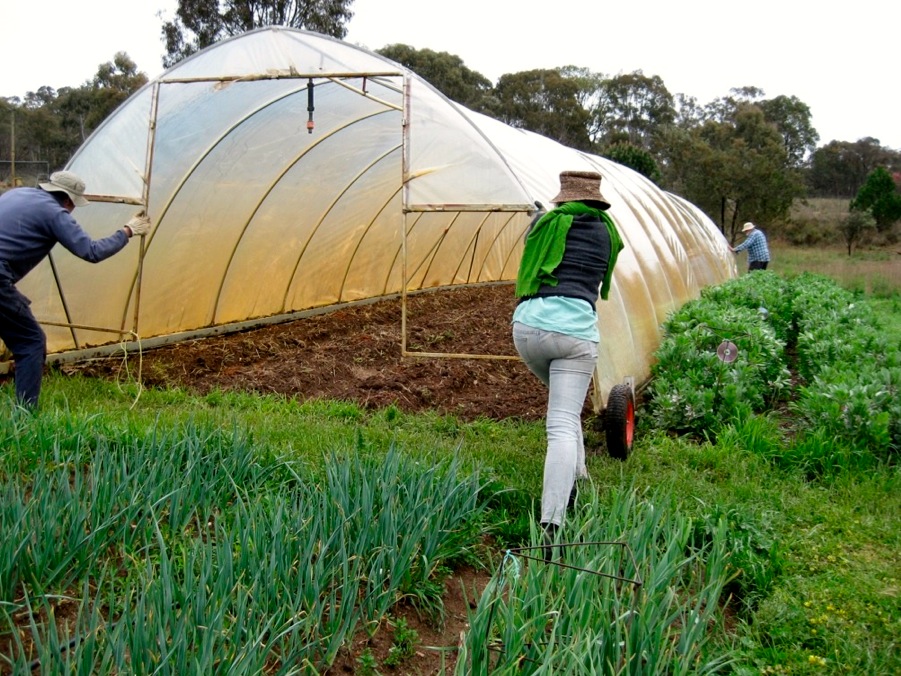 A couple of helping hands, and it's done.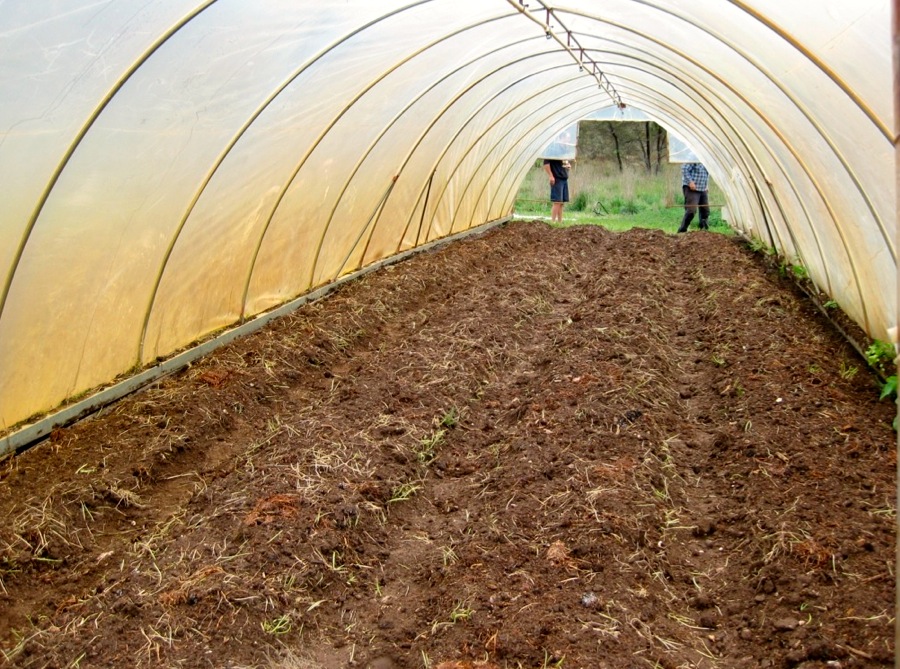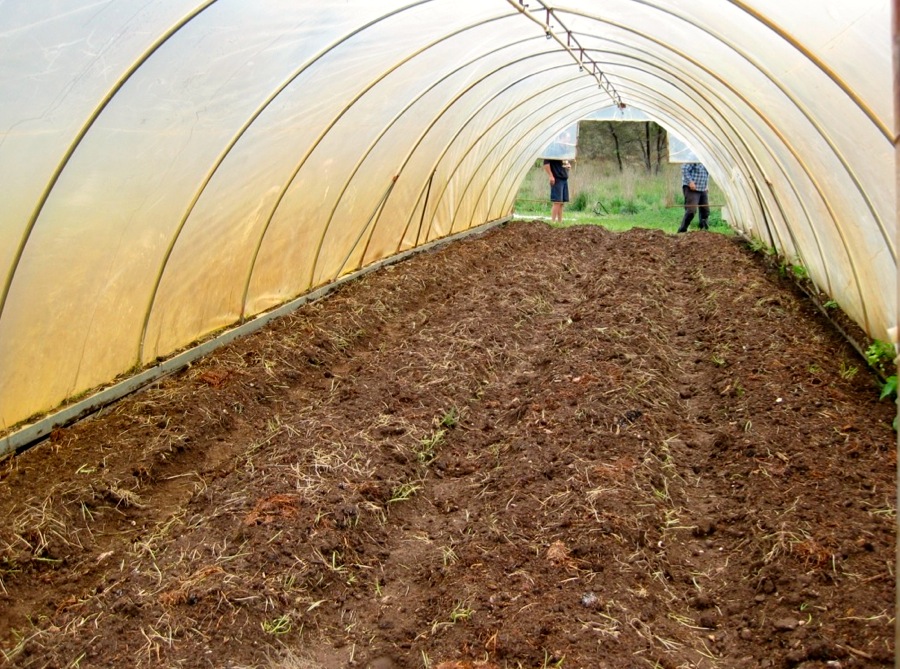 The greenhouse is now moved onto a fresh block of beds that have had a good rest and renewal with green manures, which are now dug in and ready for planting the next crop in the rotation.
The crux of the movable greenhouse technique is the organic nature of soil management that you're committing to in an organic garden. You're trying to keep your soil as alive and healthy as it can be, while dealing with pests and diseases in a natural way.
So spraying fungicides to deal with disease build up in the soils is simply not an option. Neither is laying on the synthetic fertiliser when your plants grow poorly because your soils are so depleted of nutrients.
Instead, you're using the cleansing powers of sunlight on the earth and the powers of photosynthesis in the forms of green manures to assist your garden's nutrient cycling. Which ensures good food grown in healthy soil – all year round.
Cheers muchly to Joyce Wilkie of Allsun Farm for the photos above.