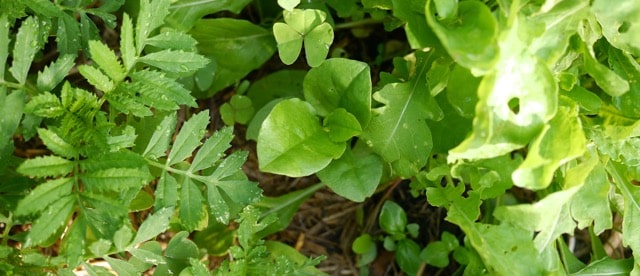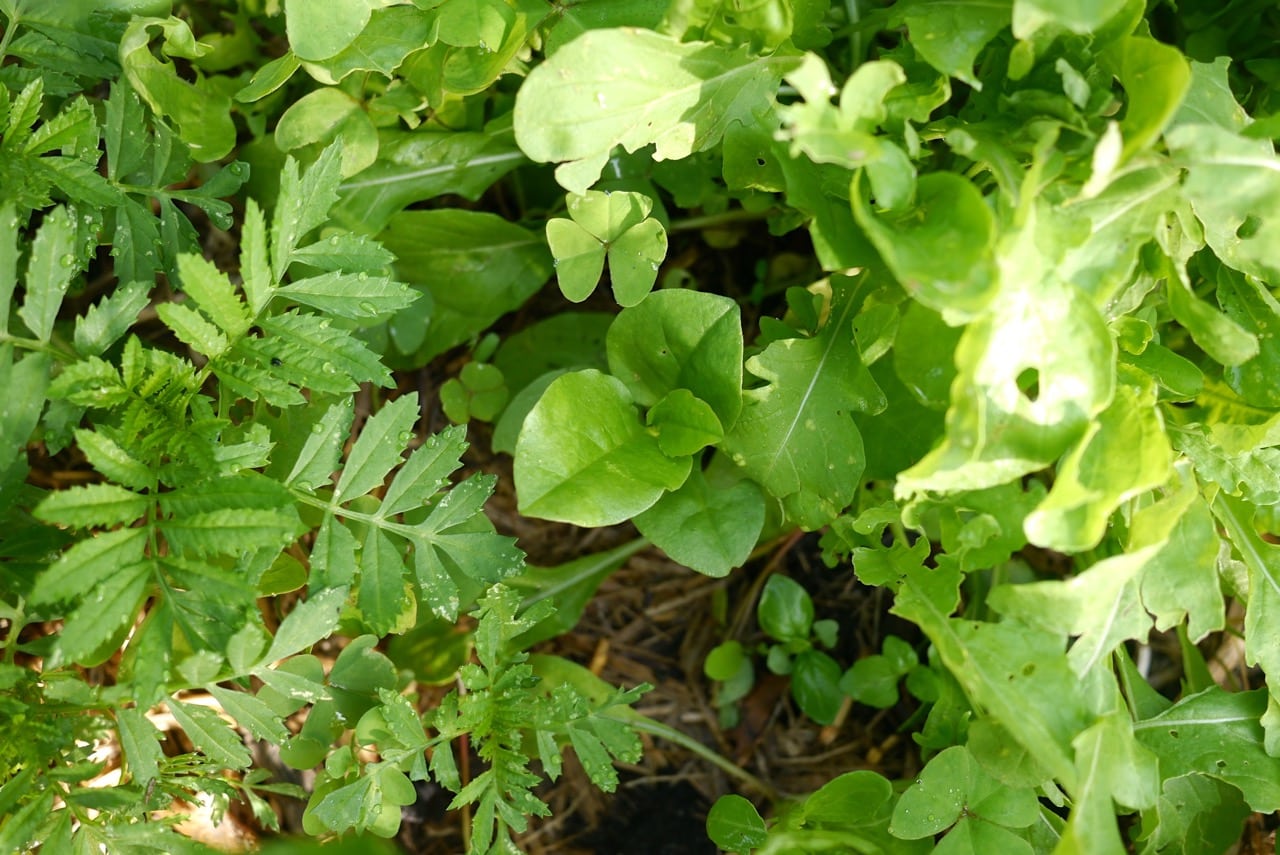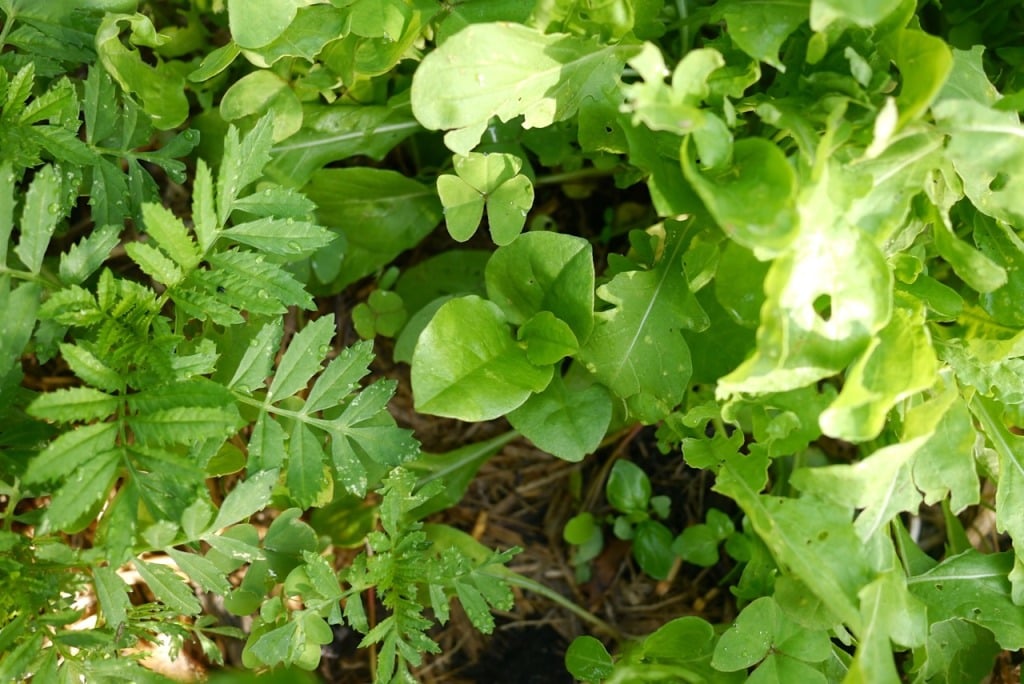 The definition of a weed is subjective, I know. They're simply plants out of place, after all.
And one person's weed might be another person's harvest, or food, or medicine. It's true.
However, when it comes to our current backyard veggie patch, we've been laying down some ground rules about what plants get to stay, and which plants have to go.
I could go on (and on) at length about weeds. What is a weed anyway? There's a mildly-ranty debate here, for example.
Or might I recommend Emma Maris' book Rambunctious Gardens for further thoughts on novel ecosystems, and the concept of 'saving nature' in this post-wild world of ours.
The big picture aside, we want to produce a wide variety of nutritious food in our backyard veggie patch.
And given that we live in an area peppered with wild plants of all kinds that are there for the foraging along headland and hill, we've decided that our veggie patch will be dedicated to just the plants we want in there.
A small, controlled system, if you will.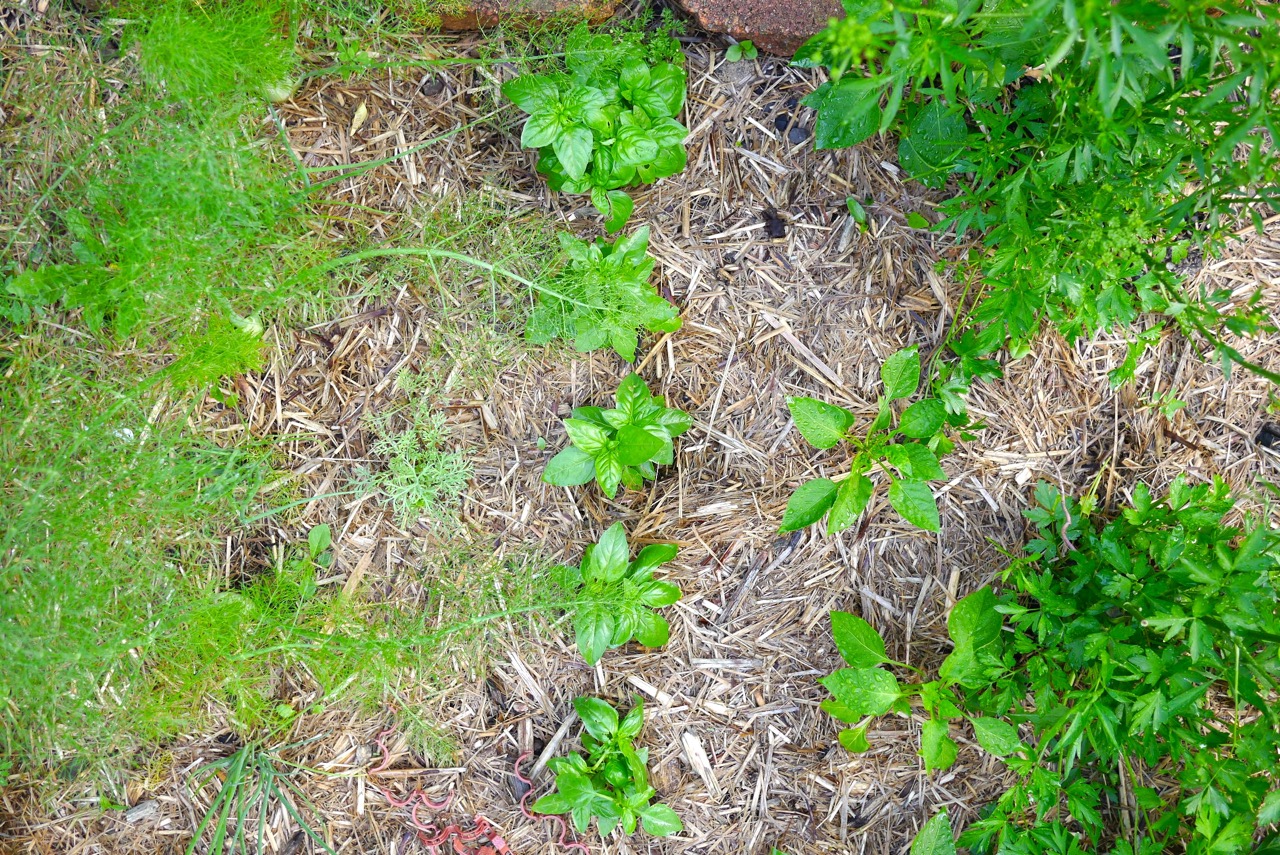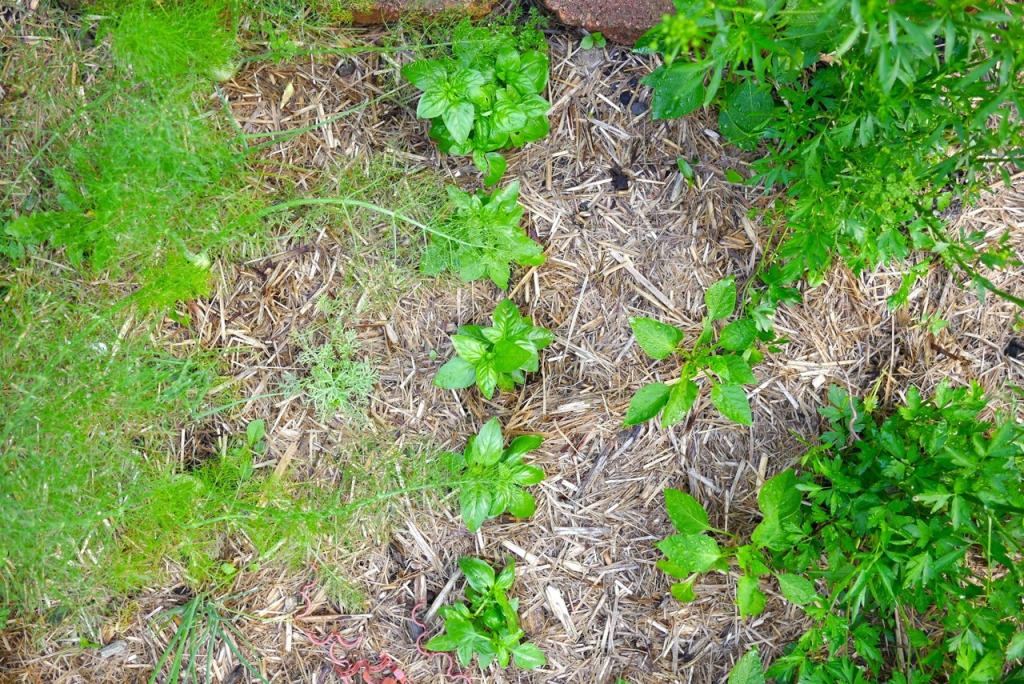 There's tomatoes and leeks and rocket and eggplants, herbs and gherkins and tumeric and capsicums, all pottering along towards harvest.
And, as with every garden on this planet, a bunch of not-so-welcome plants that for this context, are weeds.
Every garden is different, I know, but here's what's going on in ours, and what we do with it all…

Madeira Vine
What's good about it:
Madeira vine is highly edible and nutritious, and various parts of it are used medicinally also.
What's bad about it:
It's bloody invasive and takes over everything!
Our garden seems to have eleventy million bubils (that's it's seeds) just beneath the surface of the soil, which pop up green shoots on a daily basis. It is one tenacious customer.
What we do with it:
Given that Madeira vine grows happily from both the bubils or even just the uprooted shoots if left in contact with the soil, this one gets the total boot. Right out of the garden.
We solarise it on the bricks, or put it through our worm farm, which I figure is much better placed to recycle it into nutrient rich fertiliser than our council green waste program.
All that said, because it's edible and very nutritious, if i see some while I'm harvesting for a meal, I yank out the bubils, add them to the worm farm, and add the leaves to my greens pick.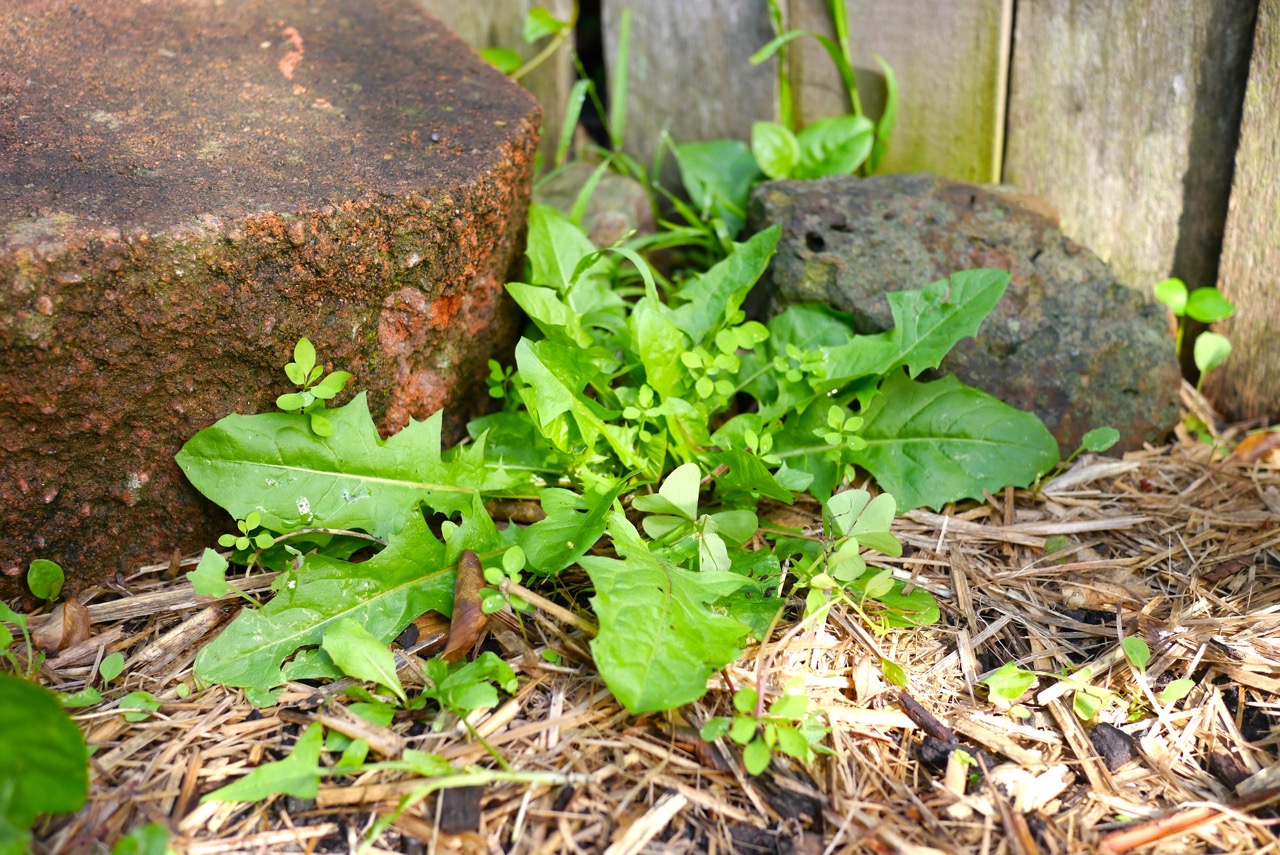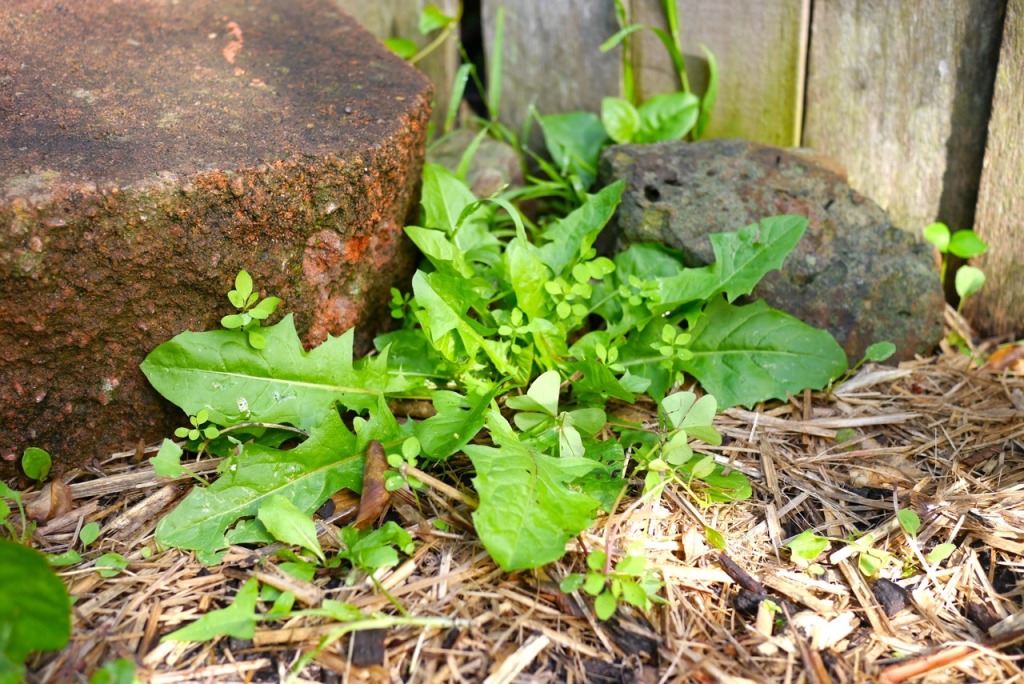 Dandelion
What's good about it:
Dandelion is nutritious and medicinal – the root, the stems, the leaves and the flowers.
It's a dynamic accumulator, drawing up nutrients from deep in the soil and making them available to surrounding plants.
What's bad about it:
Er, not much, really. Especially in a suburban context, unless you're a purist of high degree.
What we do with it:
We leave it be, and harvest young leaves for our salads, and the flowers for pollen-rich dandelion flower fritters.
If I get my act together I guess I could harvest the root as well and make a tea, but I haven't gotten that far, as yet.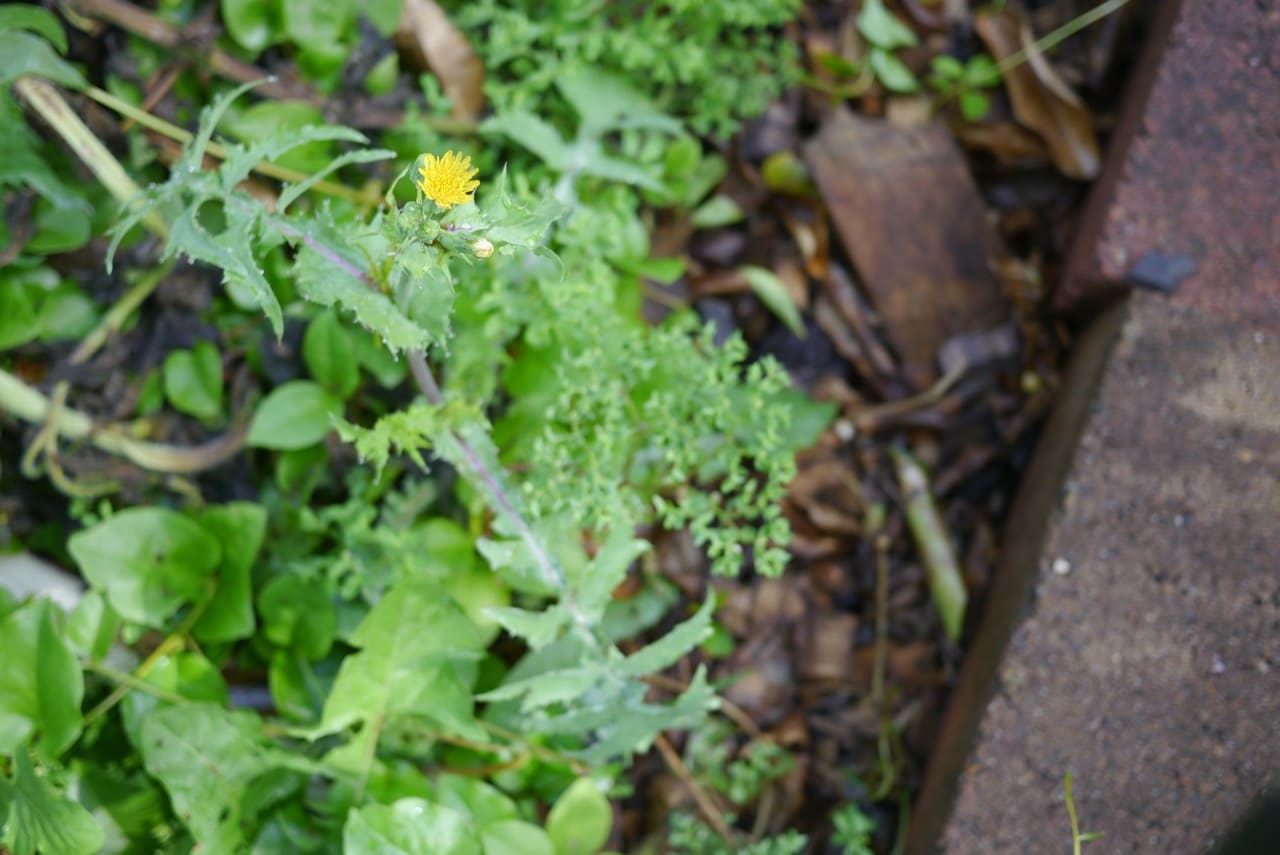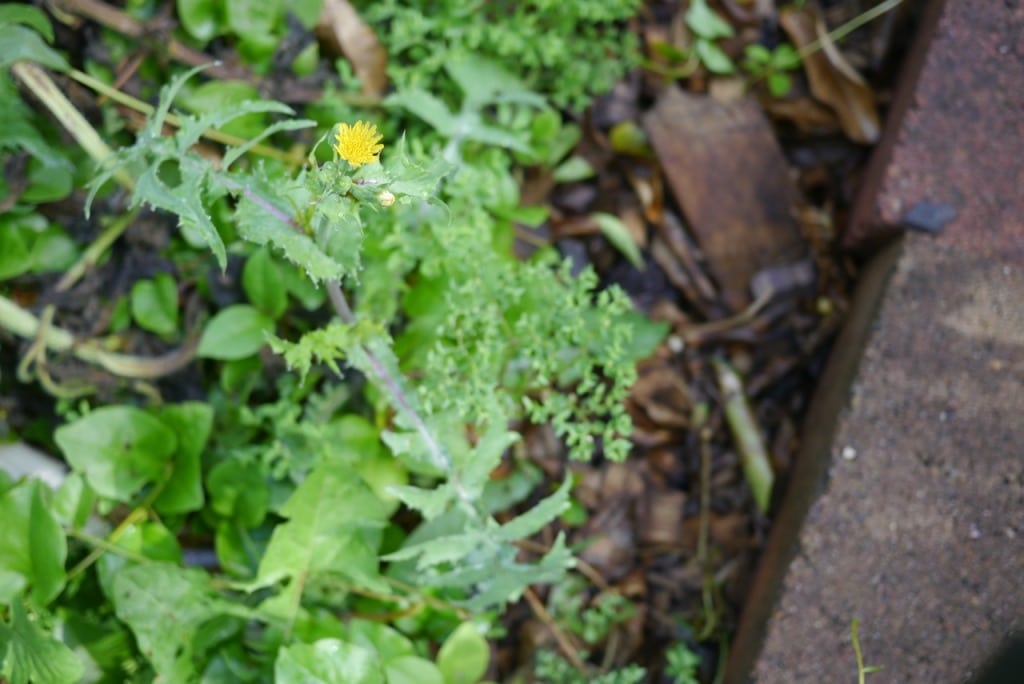 Milk Thistle
What's good about it:
Milk thistle has edible leaves when young. It's cultivated medicinally as a powerful liver tonic.
What's bad about it:
It's not that tasty, to be blunt. And it grows tall, and spikes me as I harvest everything else.
What we do with it:
Pull it out and lay it down on the garden – we pull it out while young, before it flowers and seeds. It will decompose into the soil in time, diversifying the soil food web.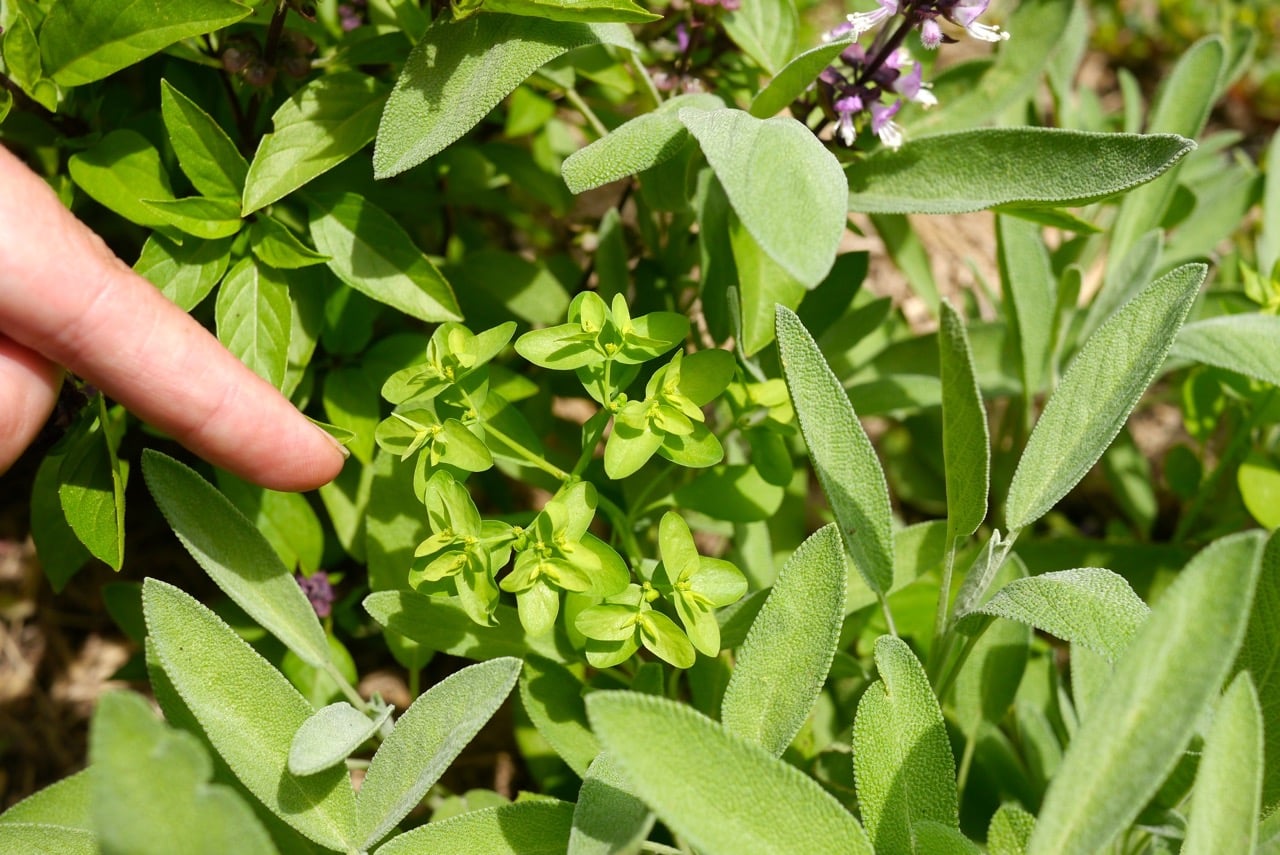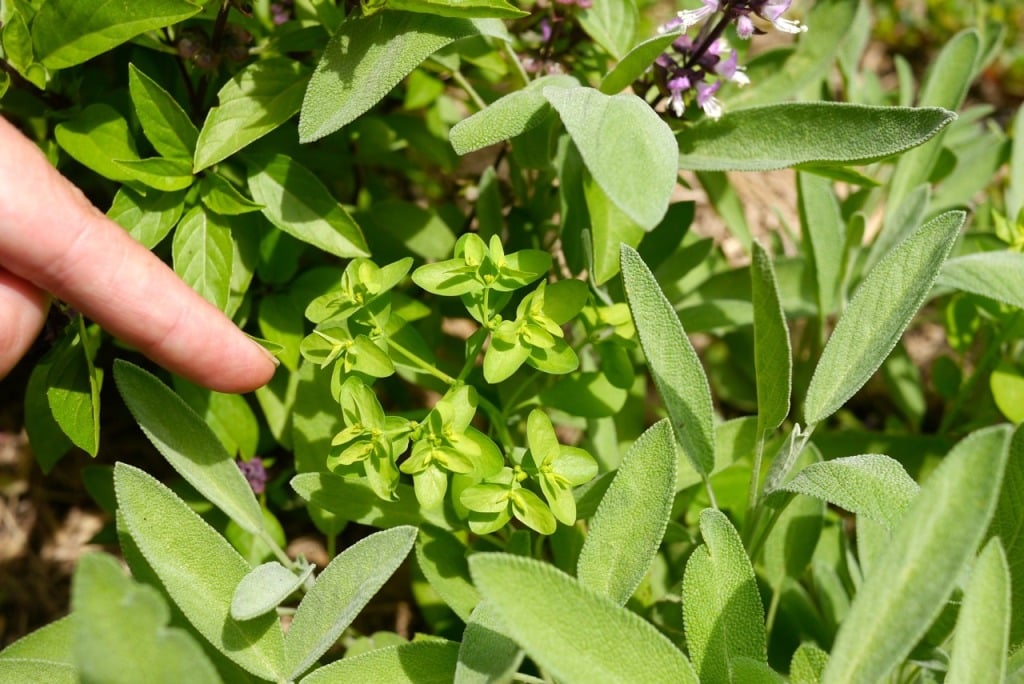 Petty Spurge
What's good about it:
Otherwise known as 'radium weed', the sap of petty spurge is traditionally applied to skin cancers + sunspots.
It's being developed as a cancer treatment also, I belive.
What's bad about it:
It's corrosive to the skin and especially delicate membranes like the eyes + lips. Can cause tummy upsets. It's not something you want in your salad.
What we do with it:
Pull it out and lay it down on the garden – again, it's useful in its diversity as an addition to the soil.
I'm trying to keep on top of this one particularly so it doesn't get mixed up in our daily microgreen salad pick.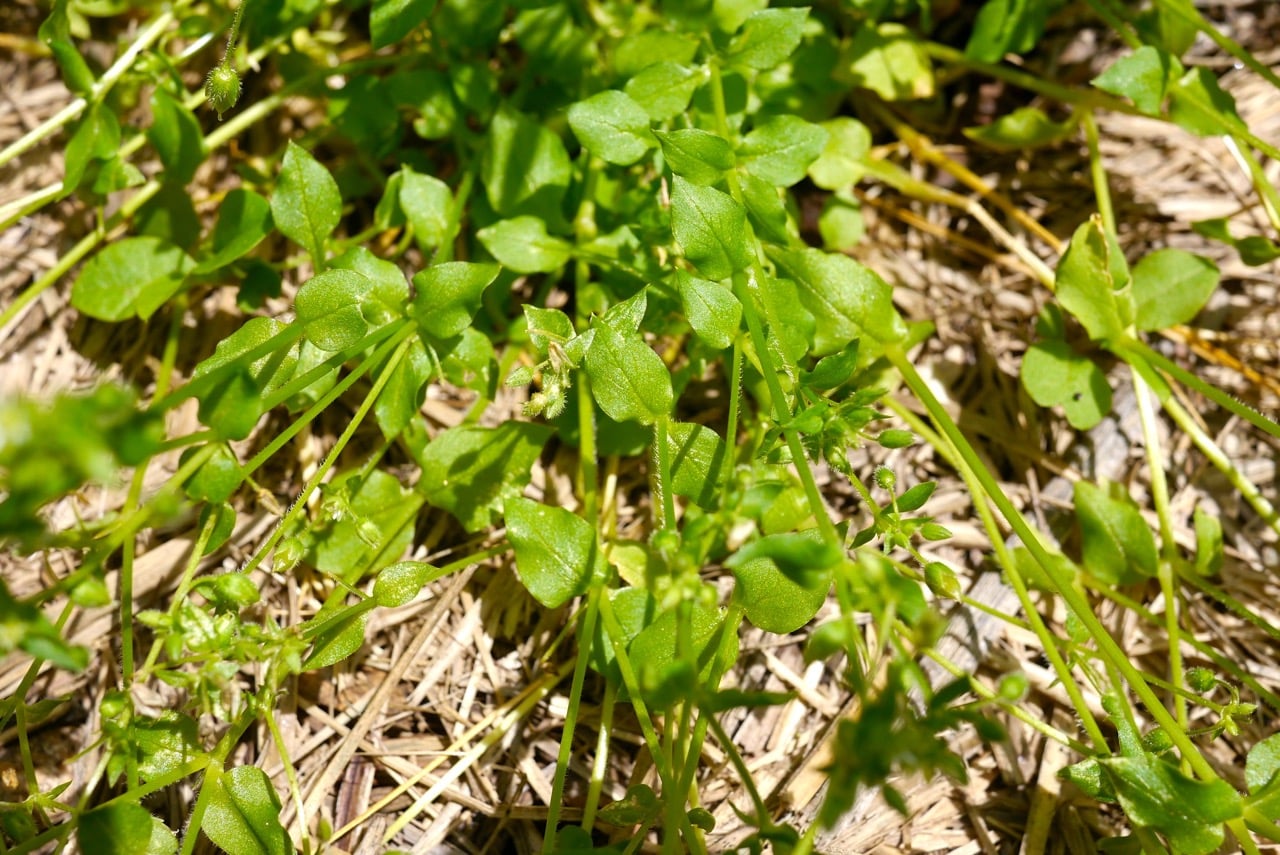 Chickweed
What's good about it:
Chickweed is highly edible and nutritious, and potters along in the shade of various vegetables in our garden. Chickens love it, and so do we.
It is also a folk-remedy for mange, if you happen to have that.
What's bad about it:
Erm, like dandelion, not much. It's a very chilled-out plant that peeks its head out here and there.
What we do with it:
Eat it! In salads, on sandwiches, and in soups. Diverse greens are the best part of daily backyard harvests, in my opinion.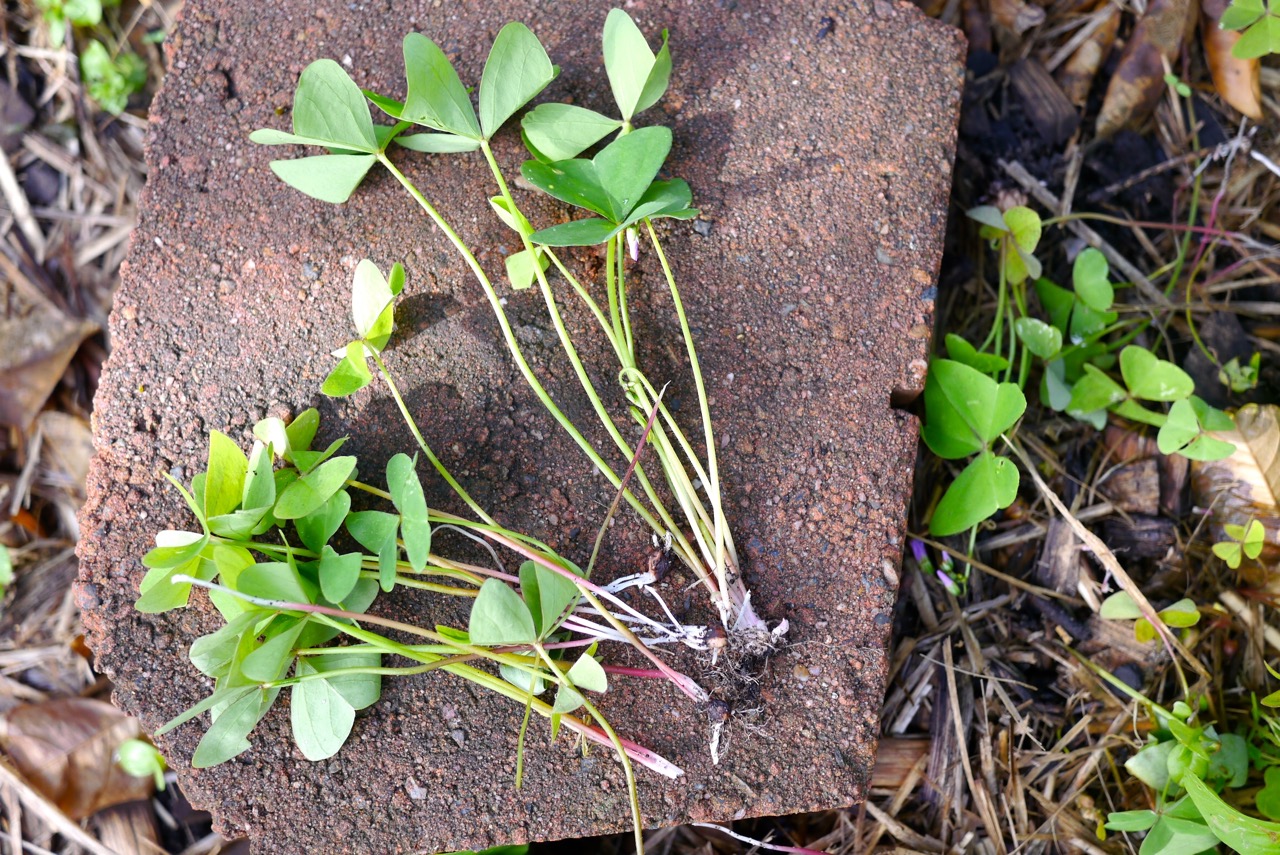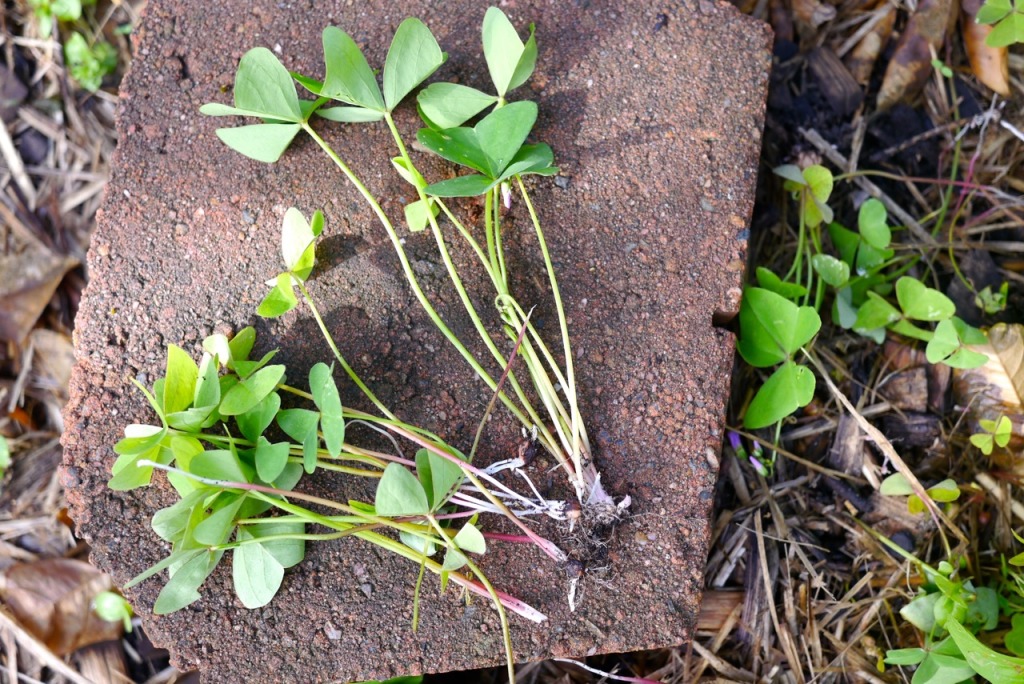 Oxalis (Wood Sorrel)
What's good about it:
Oxalis is an edible, lemony, clover-ish plant.
What's bad about it:
It is a bit pushy, and can take over fairly quickly – it's difficult to entirely eradicate.
What we do with it:
A combination of pulling it out and laying it down on the garden (in the places it's taking over), and also eating it – in salads, soups and stews. It has a beautiful lemony flavour.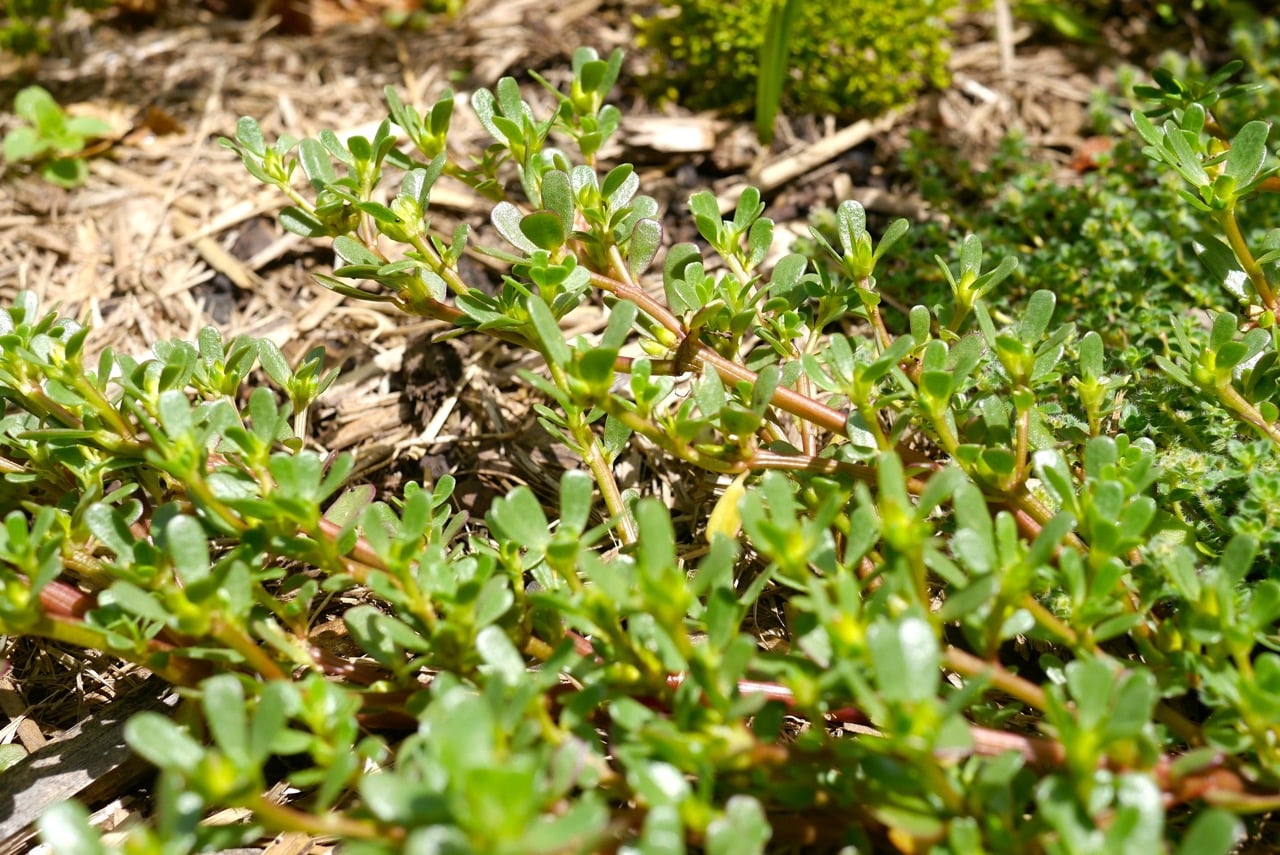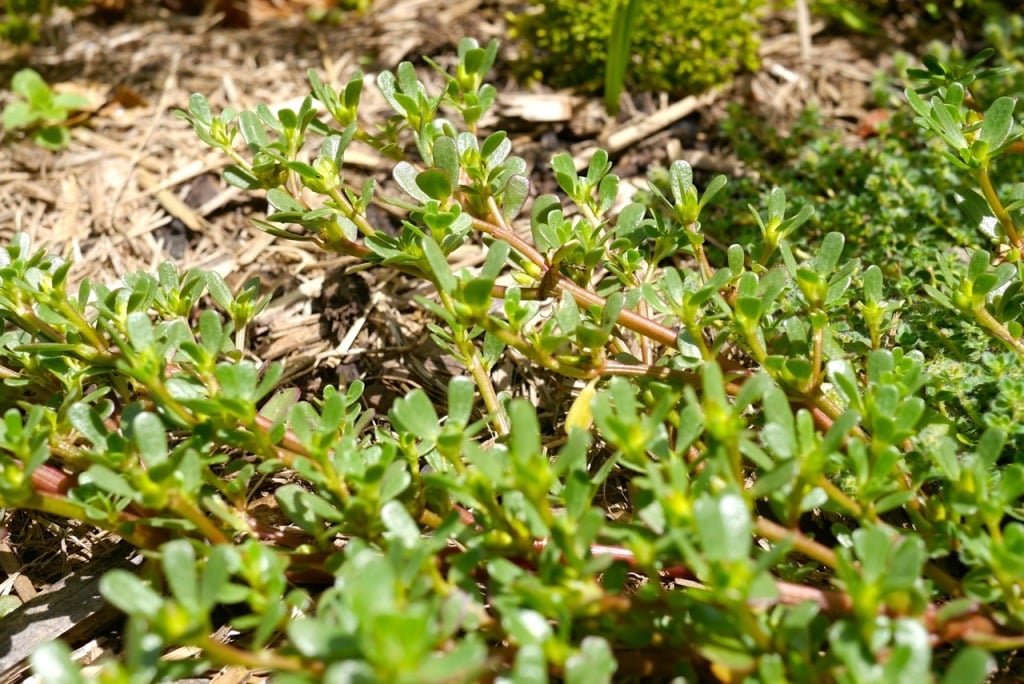 Purslane
What's good about it:
Well this one is only arguably a weed as it grows naturally around here, and we love it. It's nutritious and a great addition to green anything. More omega-3 than fish oil, has purslane – yeah.
What's bad about it:
Not much really – it has a prostrate form, which means it hangs out quite happily underneath our basil, capsicums and fennel.
What we do with it:
Salads! And a great addition to weedy cannelloni, and anything else you're gathering greens for.
————–
And that's our primary weeds, just now. Given that the soil here is great and the weather is wet, there's plenty of weeding and harvesting going on here at our place.
Which is fine with me. I like the incremental breaks that weeding and tending a small veggie plot provides.
I've come to think of weeding as a speed game of pattern recognition.
Leaf shape. Form. Aspect. Color. Out it comes, or in it stays.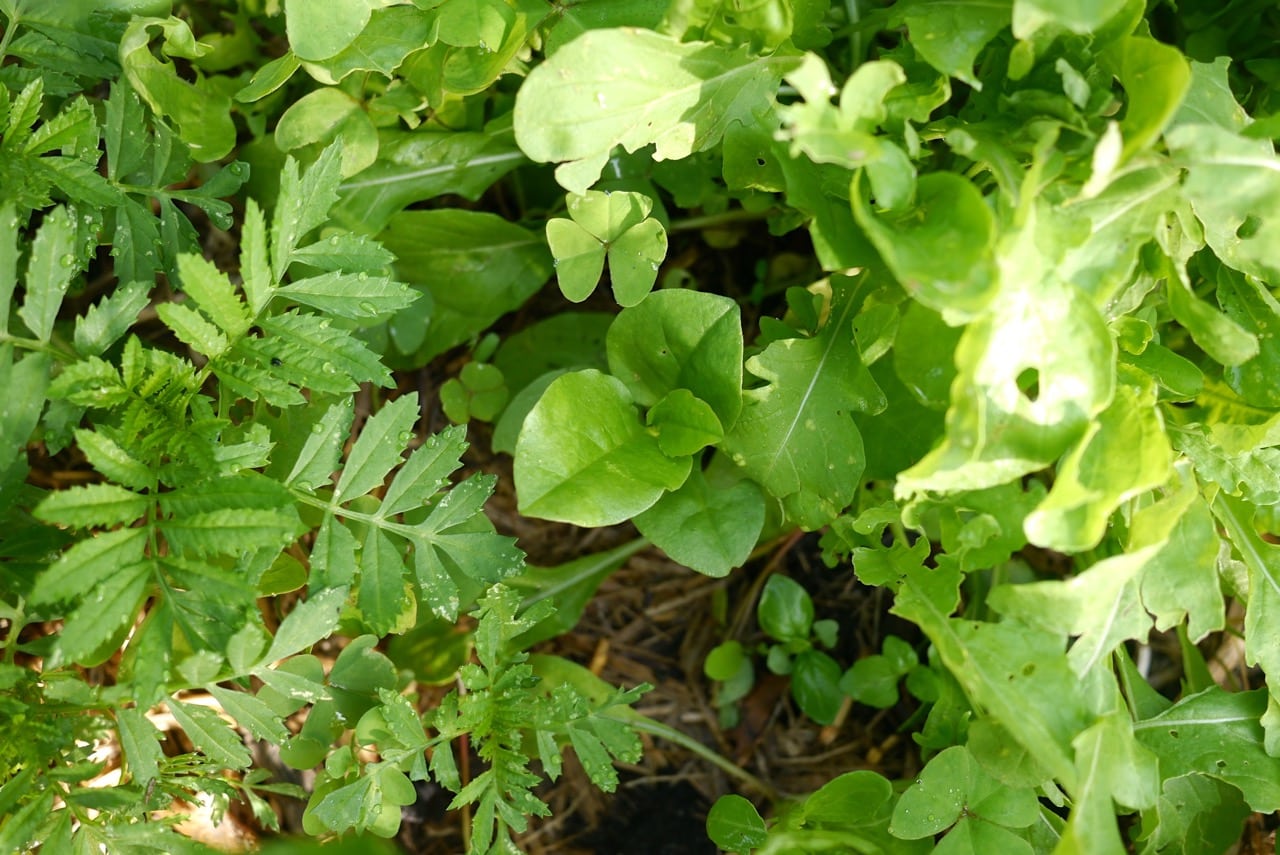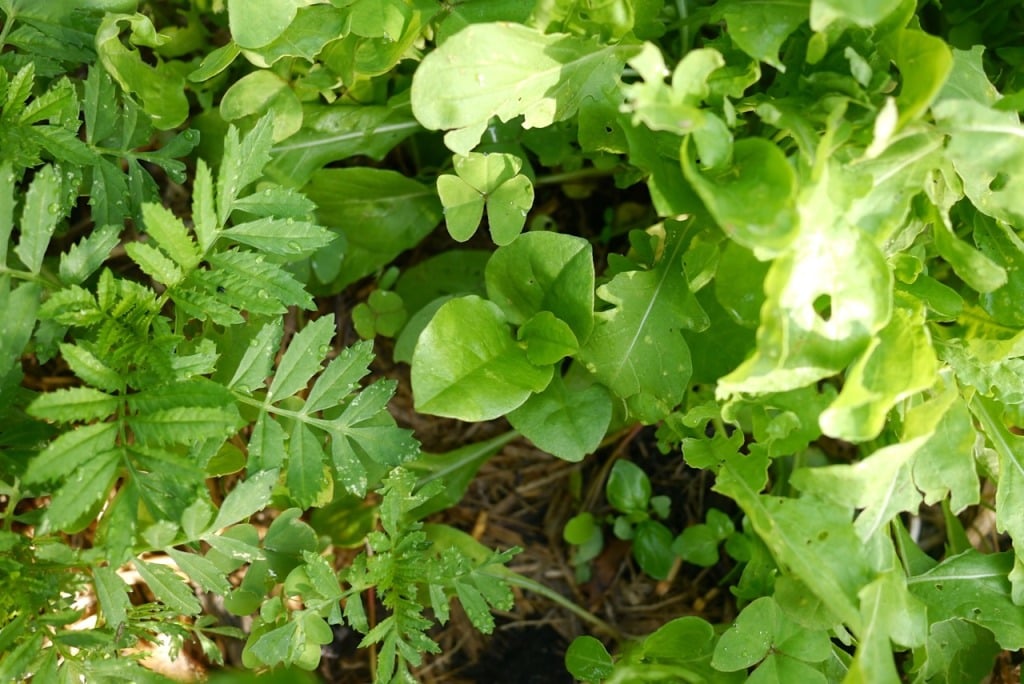 It's also a chance to take a moment, to say hi to the lizards and the small birds that cluster round, and to see which pollinating insects are out in the garden today.
What weeds do you have in your garden? Do you know what they tell you about your soil? Can you eat them? And do you?
Lots (and lots) more articles + resources on edible weeds here…