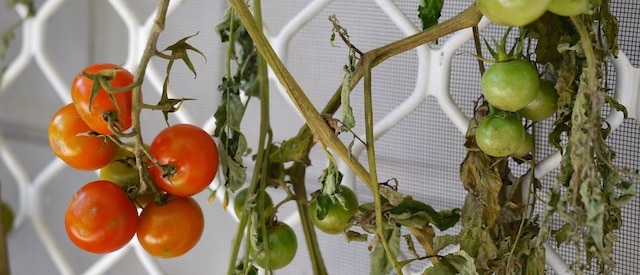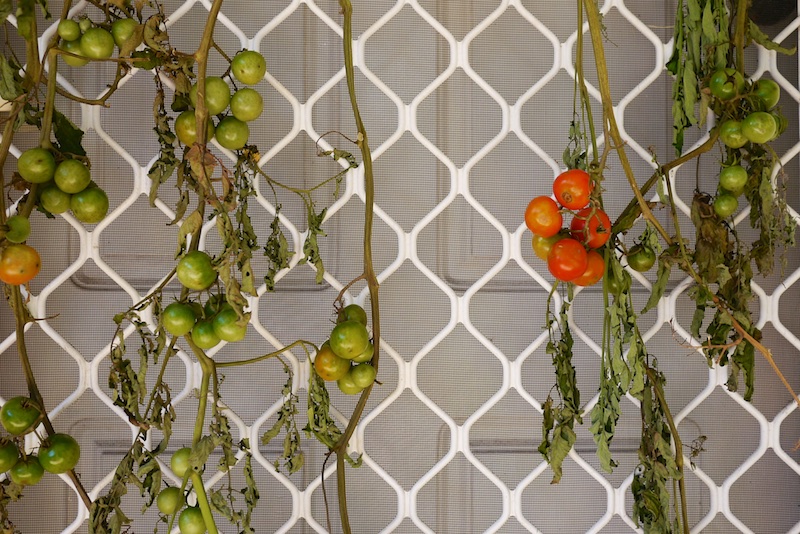 The whole plant, and nothing but the plant – a great way to ripen green tomatoes for future eatery – hang 'em up!
There comes a time in every Autumn when the tomato plants need to come out, and with them, all the tomatoes that aren't yet ripe.
Maybe its because the first frost is about to hit and melt your plants – that's never fun.
Or maybe its because (like us, this season) your growing space is limited and you're keen to get your Autumn/Winter vegetables in the ground so they can benefit from a warm soil temperature before everything cools down.
Either way, if your tomato plants need to come out, your options for your remaining tomatoes at this point are:
Pick them green and rock the Salsa Verde + pickle sessions for potentially quite some time
Pick them green and ripen them in a box / on a windowsill
Hang the whole plant up, and ripen them that way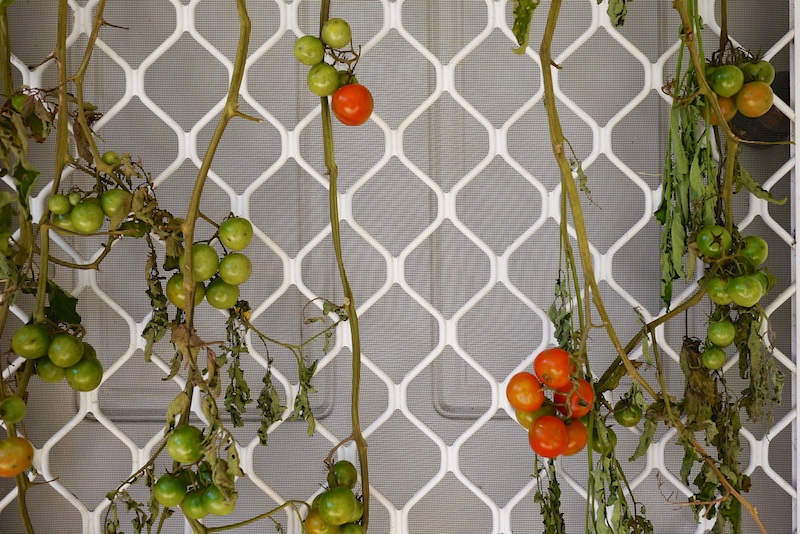 Ripening tomatoes upside down
When I first saw the 'hang the whole plant up' version of tomato ripening at Allsun Farm, I was a bit confused. But I've come around to it now.
The theory with this technique is that a tomato plant, while alive, sends all its available energy to it's fruit. And a pulled-out plant will continue to do that, for a while.
Which means more goodness in your green tomatoes, which will (I promise) ripen in due course with this technique.
The second reason for ripening green tomatoes this way is a practical one – to ripen, the tomatoes need good airflow to avoid going mouldy. And hanging them by their plant, somewhere outside but undercover, is actually a very convenient way to do that.
At our place, this tomato ripening business also allows me to address the ugliness of an un-needed extra back door.
I've been trying to figure out what I can hang on this door that's useful, and will also liberate us visually from the sea of white security grills that surround our small undercover outdoor area. Thanks tomatoes!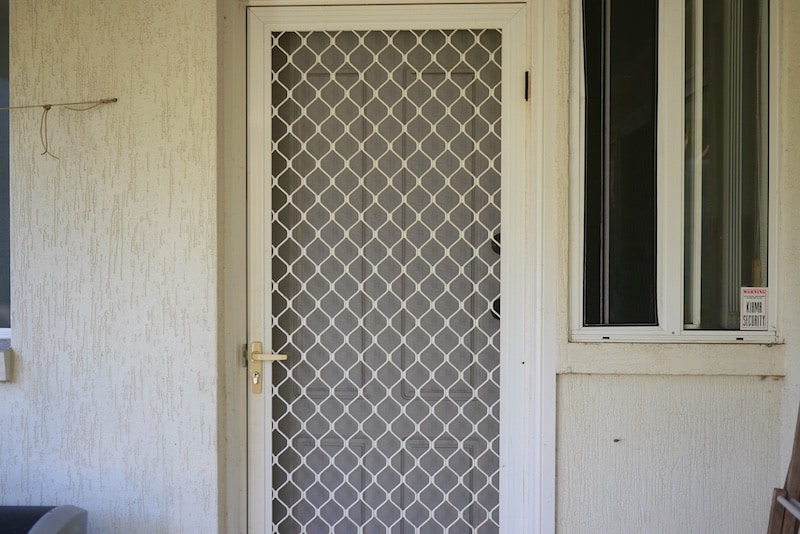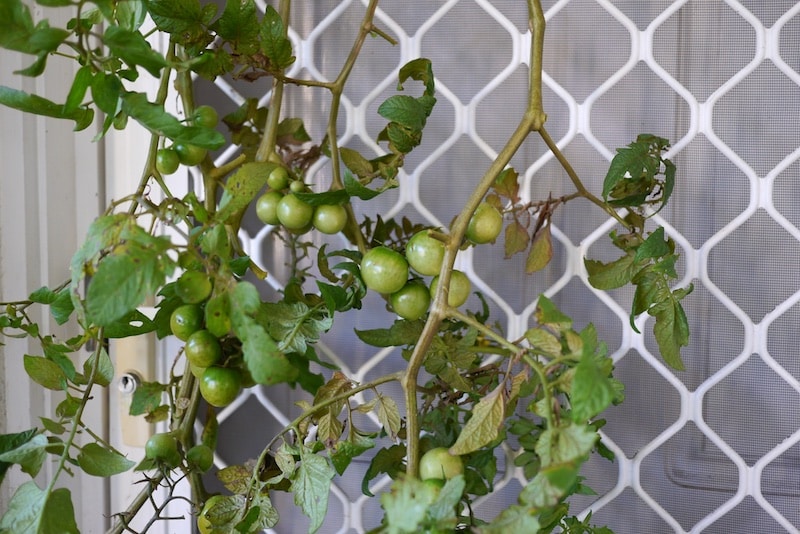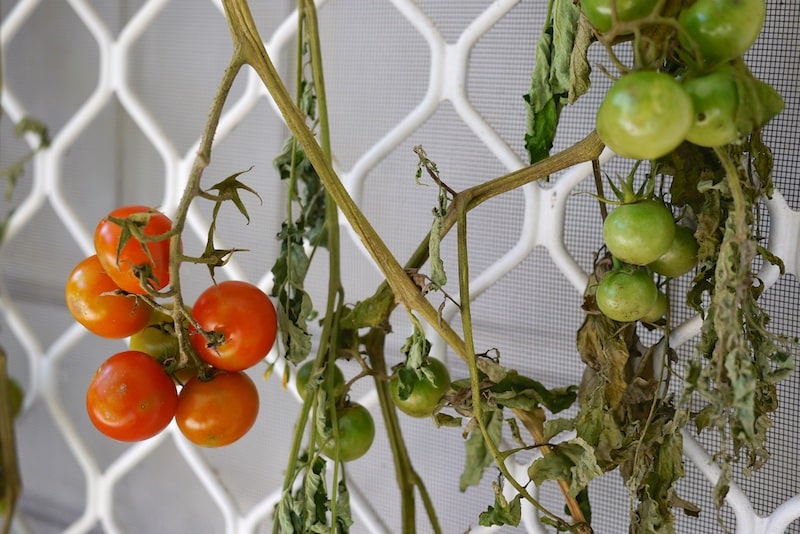 Leaves off or leaves on?
Looks like it depends how you roll. Allsun Farm + our mate Hannah leave their leaves on. Nick Mancini doesn't. I rekon it depends on how much space + airflow you have where you're hanging them, amongst other factors.
As you can see with our remaining green tomatoes, there's not that many – only 4 plants or so have any left on them (unlike previous years, when we almost drowned in them).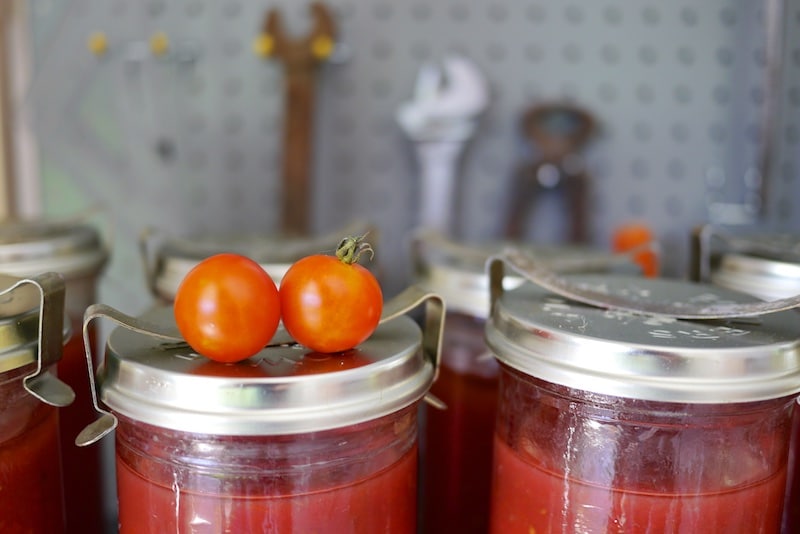 But I'm a big fan of a fresh tomato or two on the plate, which is why I'd rather ripen them this way rather than use them in cooking right now. Use it or lose it!
More posts about Tomato growing, harvesting + eating here…