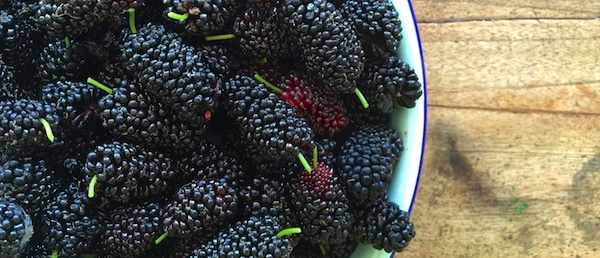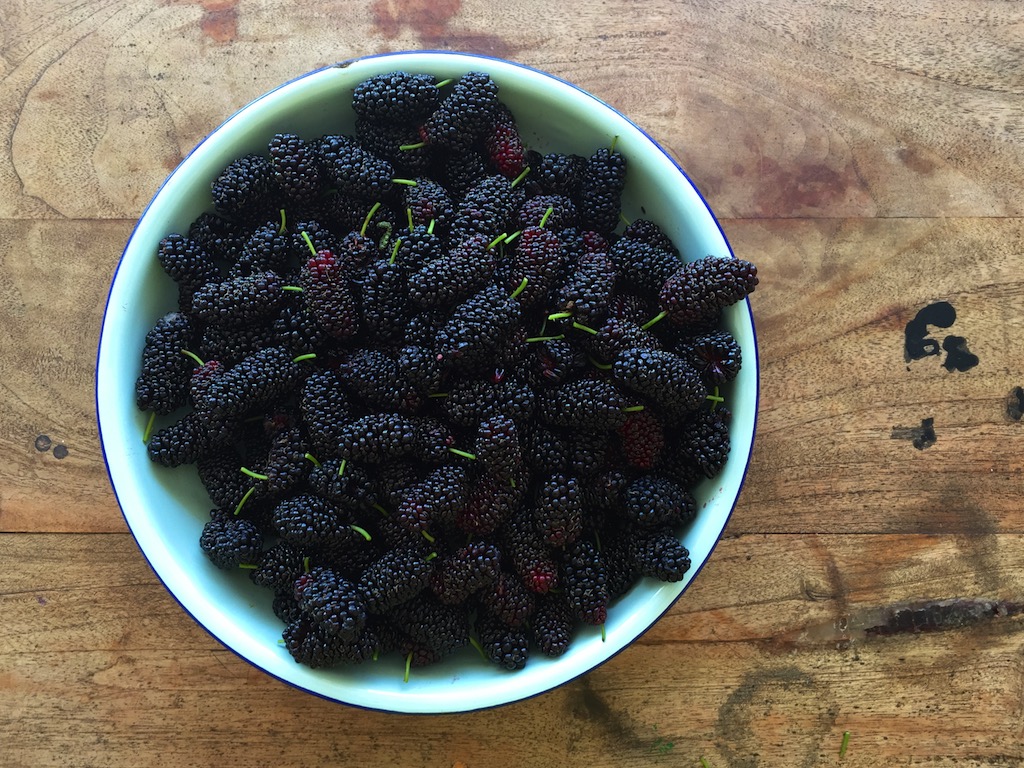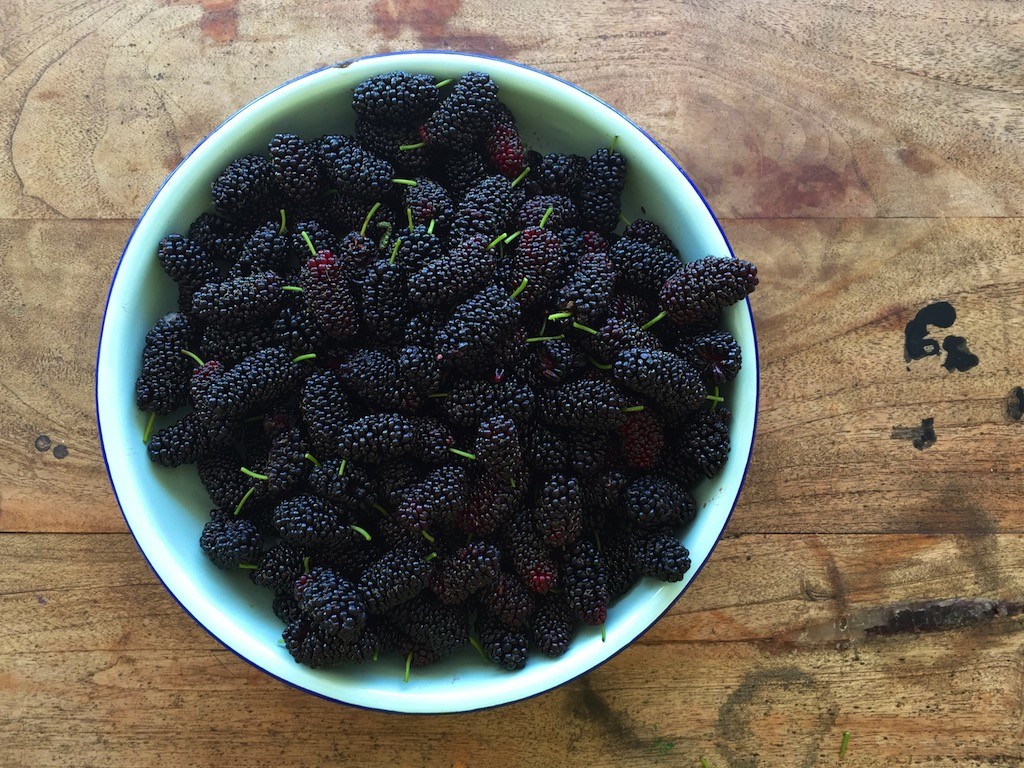 Next to my primary school, down by the railway track, there is a mulberry tree. It's been there since before I started kindergarten.
I think it was self-seeded, but it's difficult to say – the street verge just there has since been planted with all manner of trees by the nearby residents – grevillas, loquats, lilies, succulents.
A community-scale jumble of cuttings, spares + favourites.
In the Spring afternoon sometimes I used to go and eat my fill of those mulberries with the other kids – purple hands, purple mouths, purple school uniforms. Sorry mum.
It's an amazing plant, the mulberry – every part of the tree is useful, from leaves to bark to wood. Back then, however, I only had eyes for the purple berries.
I grew, and so did the mulberry tree. I kept visiting it each spring through my teenage years. There were always mulberries on it, despite the birds and each generation of Minnamurra school students who discovered the mulberry tree and thought of it as their special secret, as I had.
I grew up. Moved away. Went to uni, and then where life took me. Each spring my Mum would let me know that 'the mulberries were on' – she would often walk down to that same tree, and pick and freeze some mulberries, for the next time I came home.
Mulberry pie. The taste of home, and Spring.
I took cuttings from that mulberry tree and planted them wherever I rented, during my university years. Across Sydney in Penrith, Stanmore, and Newtown.
Some did well, and some did not. I like to think that the Newtown one on St Johns Street might have made it. The house is still there, which is saying something for Newtown. Maybe the new owners kept that small mulberry tree out by the back outdoor toilet.
I don't know why I planted those cuttings, really. I never thought I would be in either rental long enough to see them bear fruit. I wasn't even an avid gardener, back then.
But the mulberry seemed to be a sign of abundance, and of solace, and of generosity. It was a way of starting something good. Even if we moved in 6 months.
My path took me through cities across the world, and then out to a farm near Mudgee. Nick and I moved onto a remote little hillside, with hopes of growing a bountiful farm, and maybe a community.
We visited my parents soon after we settled on the farm in our pop-top caravan, and took cuttings from my mulberry tree.
This Minnamurra mulberry was, despite going from a mild maritime climate to a dry and frosty place, surprisingly fine with this idea. The cuttings thrived, and we planted them in our forest garden, and in our gravity-fed chicken run.
We started working in the city during this time, running + teaching permaculture courses. We planted gardens as part of permablitzes with other community members.
Another cutting from the Minnamurra mulberry made its way to the forest garden installation at the Alexandria Park School community garden.
Again, the cuttings of the Minnamurra mulberry thrived. We planted the Alexandria one when our son was just a wee babe – and by the time he was five, I took him back to the park to check out the garden, and to eat mulberries from that tree.
Life moved on, and we packed the farm at Mudgee up small, into our hearts, and moved back to the coast. Undecided of our final destination, we came to stay and live awhile back in Kiama, where my family still live.
My son ended up beginning kindergarten at Minnamurra primary school. It was a fluke, really. The rental house we found happened to be nearby.
Now it is Spring again. And we're back where I started, picking mulberries from that very same childhood tree. Even though it's not mine. It's not anybody's, really.
This mulberry's cuttings live on across the landscape – in Mudgee and across Sydney. Possibly further – I gave away a lot of cuttings over the years, in black pots, ready to go.
I'm looking down at this bowl of mulberries that Nick just went and picked from my tree.
These mulberries are making me think about what constitutes belonging. I didn't expect to come back to my hometown. Yet here I am.
The mulberries are also making me think about abundance, and community. And fear, and certainty.
When I lived on the farm, I felt I knew what lay ahead. I would raise children and grow old in one place. I liked the certainty of that – we had food, power, water and animals.
Whatever happened, we'd be okay. And yet, that permanence wasn't to be.
But these mulberries speak of another type of certainty. The type of certainty for a future which is only created by choosing to cultivate abundance, no matter where you live, or how long you plan to live there for.
So this is the type of certainty  and community I'm looking forward to being a part of in the years ahead. The everywhere and anywhere type of community. The pay-it-forward type of community.
The wreaking of abundance, as an attitude. For life.
In an uncertain world, maybe it's best if we all make our community where you are today. Look into the eyes of those around us, and be thankful for what is, and what could one day be.
Mulberry pie for everyone.