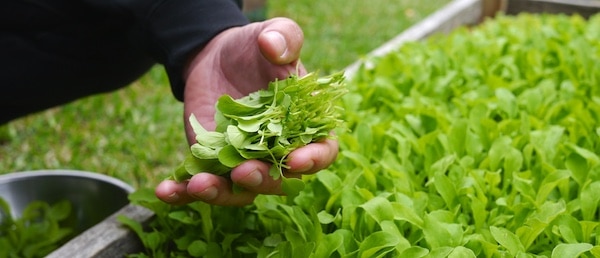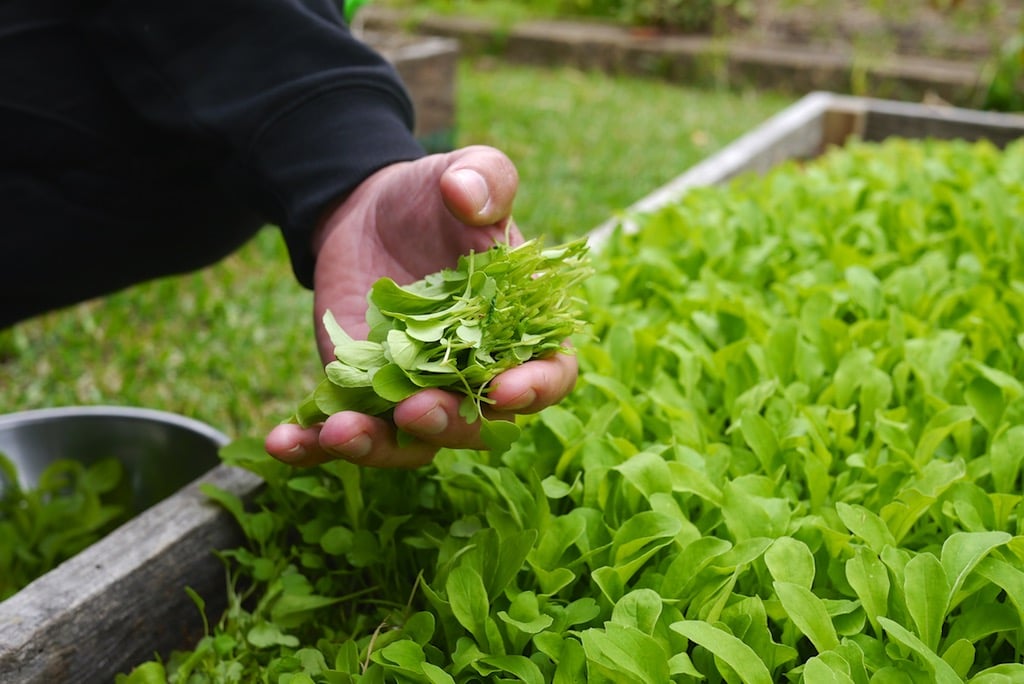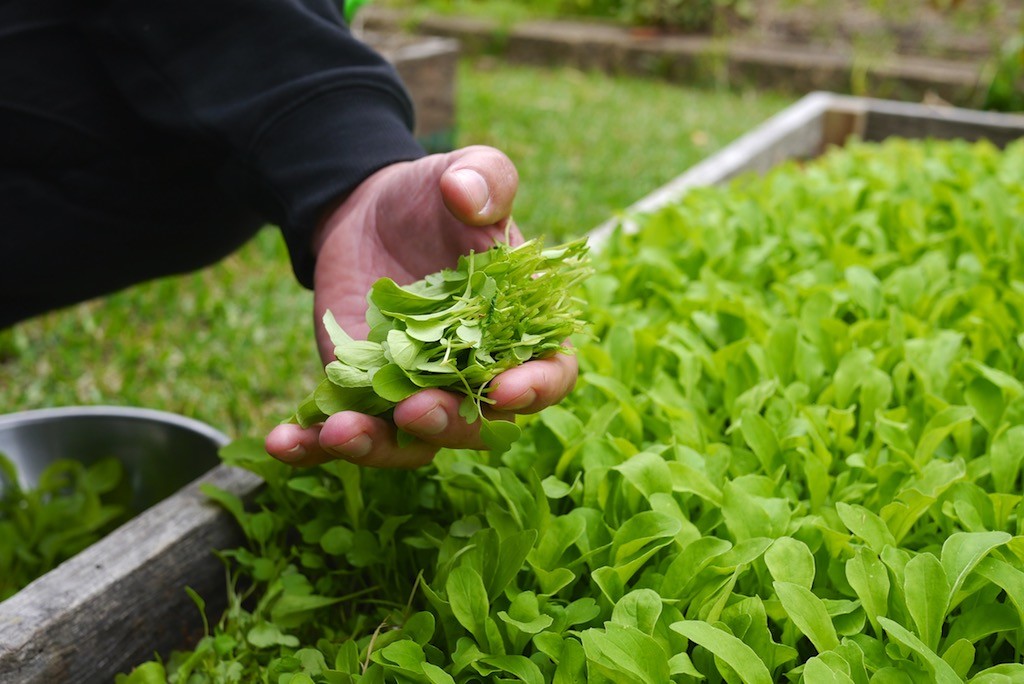 Microgreens are a great way to get fast growing, nutritious, home-grown green things into your diet. They can be grown in trays or in a garden bed, depending on what space you have.
They are tasty, always.
We've written before about growing microgreens in trays – they don't take up much space, and make sense for folks with limited growing area.
This Spring, however, we're trying them in the garden beds at our place.
This is one of the biointensive beds we dug recently – the soil is friable and oh-so-ready for things to grow in it. But we wanted to offset one of the beds from the general garden crop rotation – to space our harvest out in time, just a bit.
The answer? A big bed of microgreens.
In this way, we're using the microgreens as placeholders, as well as soil builders, and food. This bed will be a quick turnaround crop that will be all over by mid-November.
At that point, we'll turn the roots of the microgreens in (or maybe plant straight into the stubble – we'll see) – increasing the biomass of this garden bed, and plant the next crop.
We've grown microgreens before in a garden bed setting, but with little success – the germination was patchy, and the results less than amazing.
It was Jodi Roebuck's tip about 70% shadecloth that re-set our fortunes. Well, that and the fact that the bed was fully prepared with double digging and tilthing.
So we broadcast our rocket + mixed lettuce seeds, raked them in just a touch so the seeds were no longer visible on the surface, covered the bed in 70% shadecloth, watered, and waited.
Tips for Growing great Microgreens:
Prepare your bed well, to a fine tilth.
Source good quality seeds (we love Green Harvest + Royston Petrie)
Broadcast evenly across the bed
Rake lightly to ensure the seeds all have good contact with the soil
Cover the bed with 70% shadecloth
Water regularly
Remove shadecloth when plants are beyond their first 'four leaf' stage
Harvest regularly with a sharp knife or scissors
The Benefits of Shadecloth:
While we limit using plastics wherever we can, a little bit of low-tech gear like shadecloth can go a long way, and be re-used for many years.
70% shadecloth is a great way to encourage even germination of you direct-sowed seeds (of all types, we're not just talking microgreens here), and has other benefits:
Increases humidity in bed, keeping soil moist for longer
Filters + therefore facilitates even watering across beds, from both hoses + rain – so important in broadcast crops!
Protects seeds against pests like birds – or in urban areas like ours, from neighbourhood cats using your finely tilthed bed as their kitty litter
Protects just-germinated seedlings until they're big and strong and ready to take on the world.
Sturdy as anything and will last many years in your garden if you treat it like the valuable resource that it is.
Could you use hessian instead? Maybe, though we've struggled to find un-treated hessian, and we'd prefer not to use the pesticide + fungicide hessian in direct contact with our garden soil.
In our past experiments with un-treated hessian we also found it broke down quite quickly. Not a bad thing necessarily, but it depends on the job you're getting it to do.
Harvesting Microgreens:
Microgreens are perfect for harvesting as you need them – we harvest ours as we're prepping the meal they're going to be used for.
These microgreens have been making their way into most of our meals at the moment – from salad to veg to garnish. They go well with just about everything.
And their mild flavour goes down well with the whole family, picky eaters included.
Also, if you're sometimes busier than you'd like to be (yes, that's us), microgreens are a great go-to for boosting a quick and nutritious meal – a handful or two of these, a fresh egg, some leftovers or cheese on bread… whatever.
Microgreens are always welcome on my plate.
As said, microgreens work just as brilliantly grown in trays or whatever you have available. A great way to get some home-grown nutrition into your diet.
Don't let anyone tell you that you've not enough space to grow your own.
We host courses in food growing + gardening from absolute beginner up to starting a market garden with friendly, awesome experts. All our courses are here.