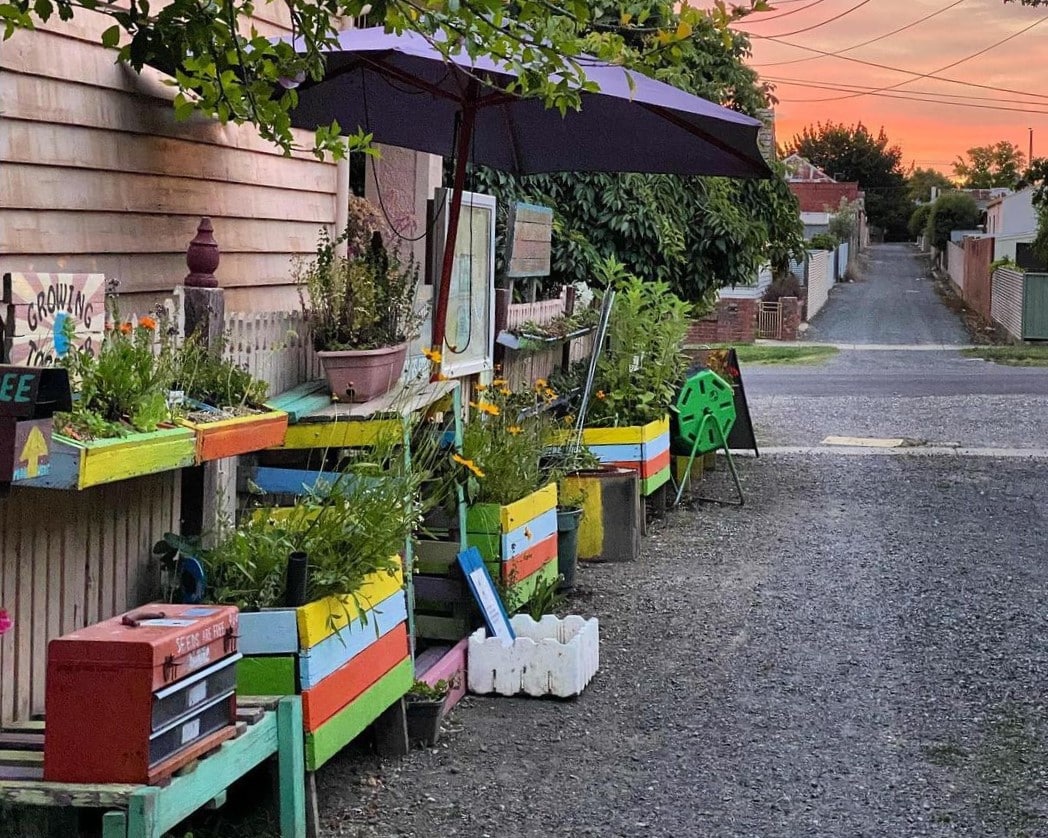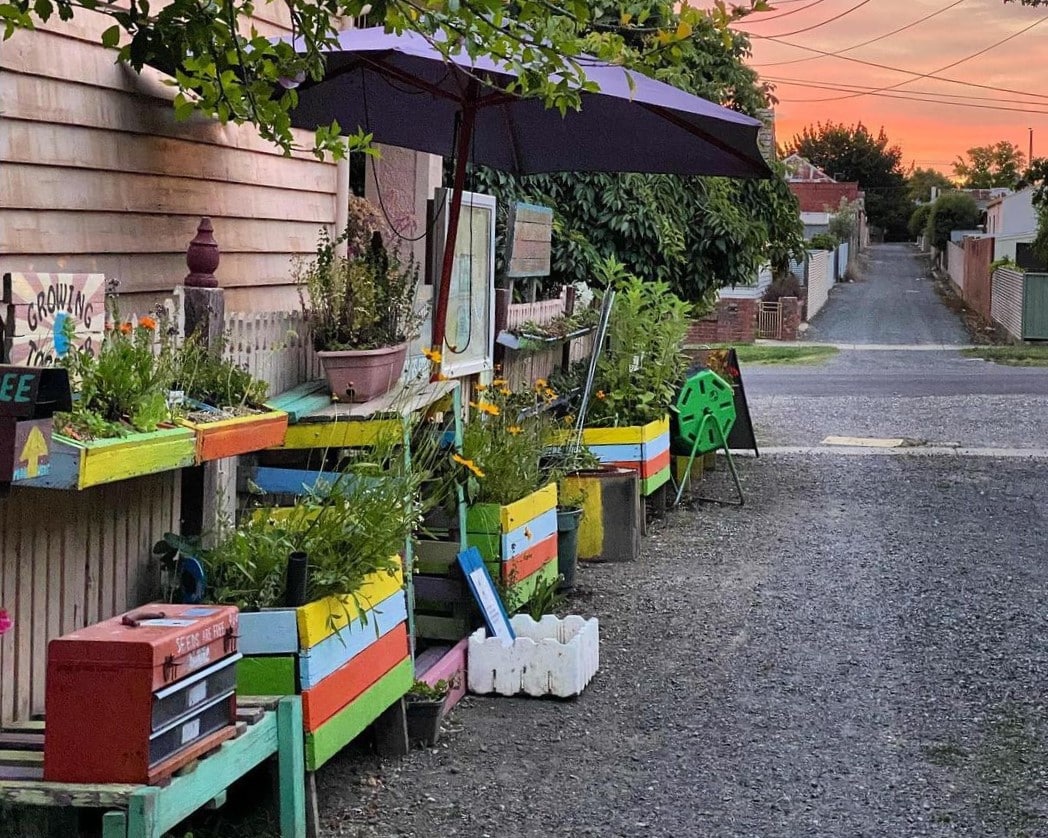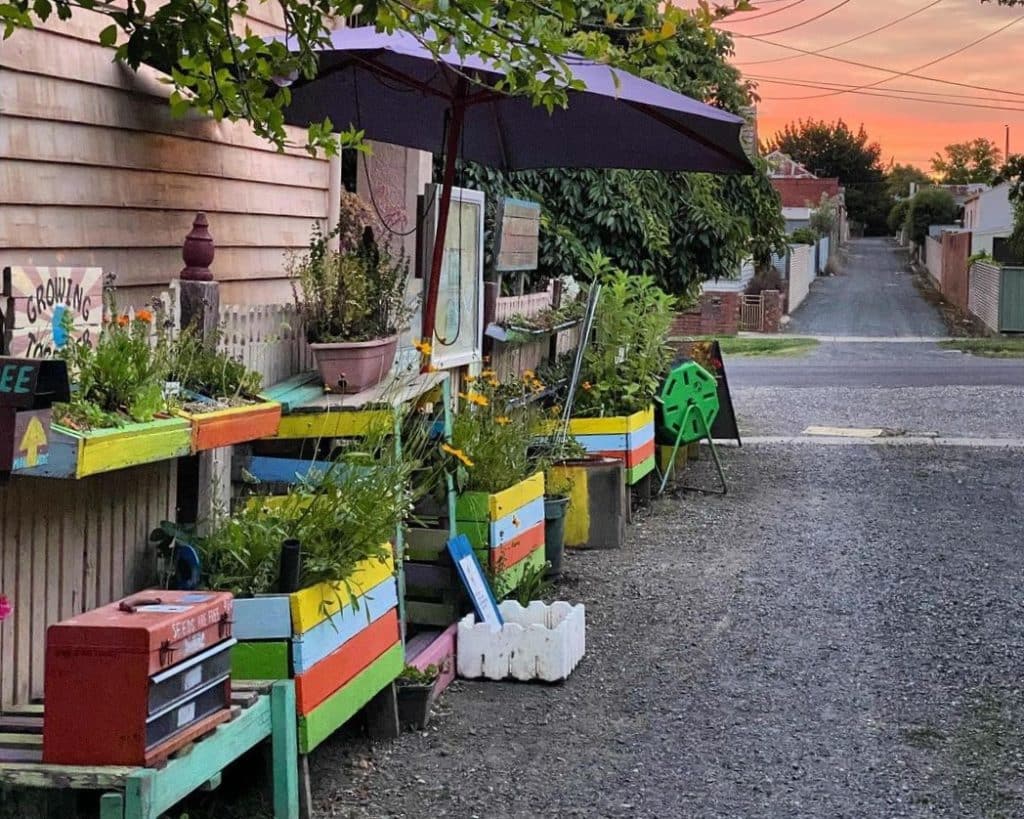 Imagine a colourfully painted urban laneway brimming with veggie plots and produce tables – where anyone can swing past to give or take whatever they wish, completely free of charge.
This is the reality at Food is Free Ballarat, a bustling community space – created on public land without anyone's permission – now visited by about 100 people each and every day.
The project is the brainchild of Lou Ridsdale (who also happens to be a graduate of our Milkwood Permaculture Living course). As a freelance arts worker who's experienced her fair share of food insecurity, Lou dreamed of a space where all types of folks could access nutritious, locally grown food, regardless of their income – or lack of it.
In 2014, she discovered the now-global Food is Free Project, founded by John VanDeusen Edwards in Texas in 2012, and also this incredible TED Talk by Ron Finley from South Central Los Angeles.
Soon after, Food is Free Ballarat was born to connect folks in the Australian city of Ballarat, at the junction of Wadawurrung and Djab Wurrung country.
We chatted to Lou about her project's enormous growth and incredible impact…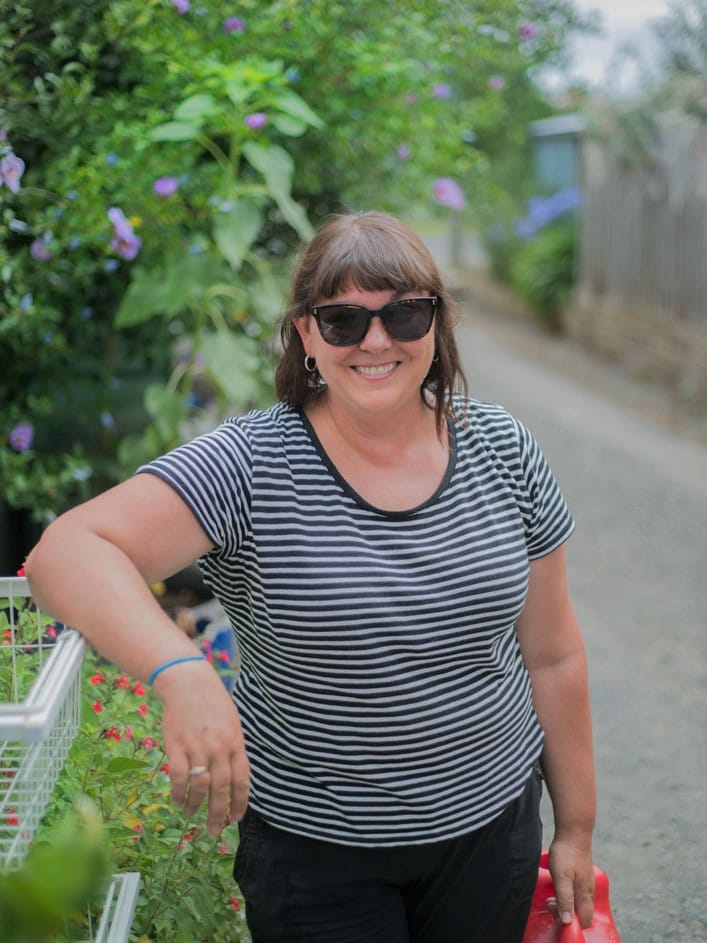 Food is Free Ballarat started in truly guerilla fashion – can you tell us about how it all began?
I wanted to start as grassroots as possible – so I invited a small bunch of mates and held a backyard barbecue in October 2014. We took over the laneway space beside my rental home, creating a small, instant guerrilla garden filled with food-producing plants. We painted it as brightly as we could with donated paints.
I had no idea how long the space would last or if anyone would be into it, but I knew I harboured the skills and passion to pull it off.
The day I set it up, I went inside and wrote a 10-point plan of what I wanted Food Is Free to become – and I've only ticked two of those off in the six years of operating!
So, in truth – the real fun is yet to come.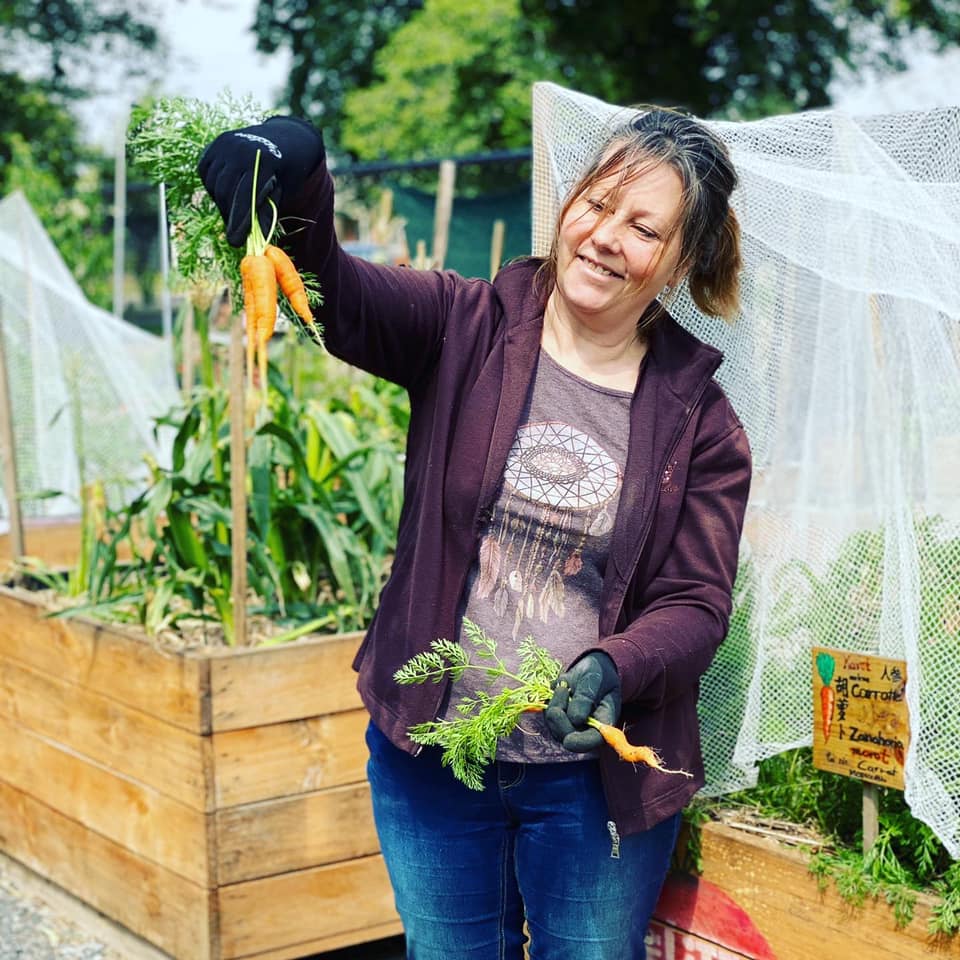 How does the Food is Free Laneway work – how do people give and take food, and is it always free?
We ask only for fresh fruit, herbs and veggies, so we have all sorts hitting our share table baskets throughout the seasons. A huge factor of the Laneway is that it enables gardeners not to waste their food.
Our catchphrase is: 'No one is judged on what you bring or take, as long as you leave with a smile.'
But we also knew some people felt better about swapping useful items for food rather than just taking. I also wanted to lure in as many people as possible, even if they didn't have a garden. So we allow people to leave things like recycled bottles and jars (for pickling, preserves and fermenting) and garden pot stands.
We also have points of exchange in our street library for cooking, gardening and self-sufficiency books, plus a seedling stand and a seeds toolbox. Practical things most households have.
Plus people can drop off their kitchen scraps into our compost bins, or shredded paper, egg cartons and toilet roll holders in our Greens Recycle Depot. We also made it a priority to set up rainwater tanks.
We have gone ahead in leaps and bounds since our first few years. We now enjoy up to 100 visitors daily.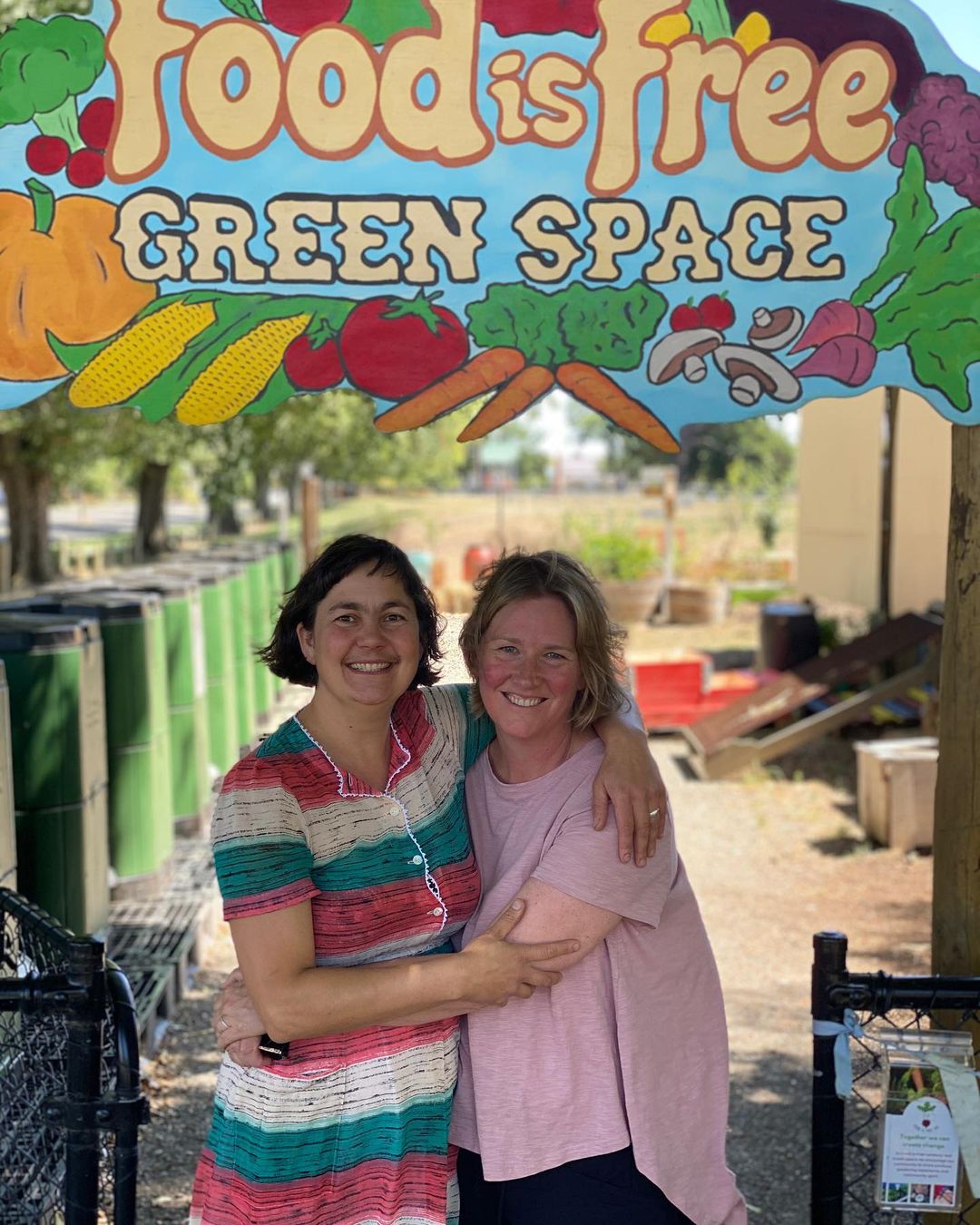 And you've convinced the Ballarat council to let you have even more land to grow and share on, for your Food is Free Green Space?
Yes! So four years ago, the City of Ballarat Community Development Team approached us saying they were so impressed with our work that they wanted to help us (thanks Caroline and Pete). So, I cheekily asked for some land over the road from our Laneway, where growing space is limited – at Western Oval around a community hall that was not being utilised.
The aim was to grow food en-masse for our community. But more importantly, we wanted to use this space as an outdoor classroom, as education is at the very core of all we do.
And they said yes!
And so the Food Is Free Green Space launched three years ago. In 2019 we were so very lucky to win Pick My Project grant funding from the Victorian State Government. With $130,000, we built the most amazing infrastructure to now host regular workshops and school tours.
We are now about to enter our next phase – community development. We intend to garden with as many diverse and marginalised local groups as possible.
This excites me most, as it has always been the long-term vision. My mantra has always been that handouts only offer band-aid solutions, whereas education impacts, empowers and lifts people out of hard times. And that knowledge becomes intergenerational.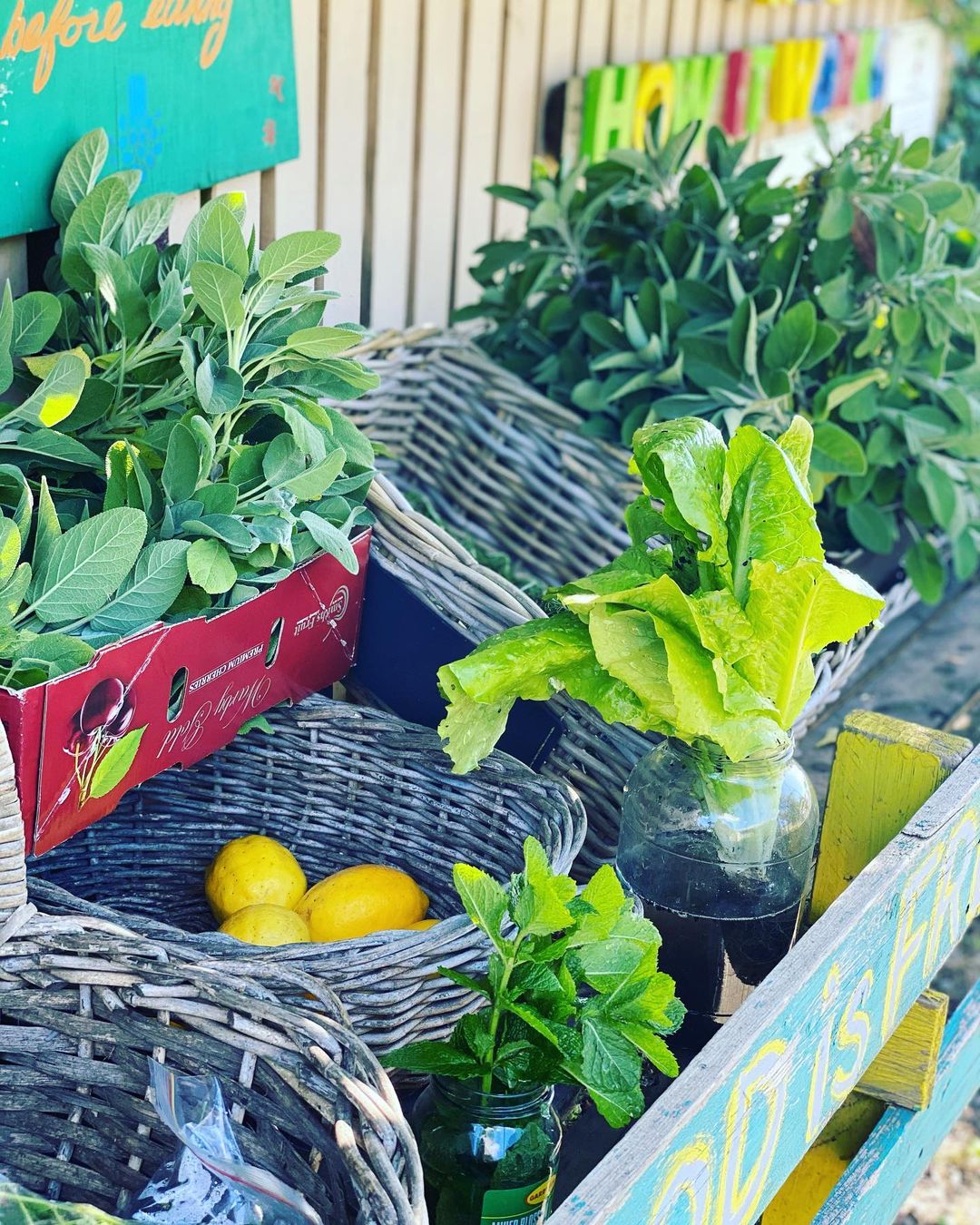 There's a deeper issue at play here, right? That so many folks just can't afford to eat enough fresh vegetables?
Only 6.4% of our population in Ballarat eats the daily required vegetable intake. Nationally, over a third of the Australian population identifies as food insecure at some point; which is an alarming statistic.
Even if the Laneway or Green Space sparks a conversation about food security, our job is done.
We have parents who pop in for fruit for lunch boxes, who might be struggling to pay school fees and sundries; folks who are experiencing homeless or sleeping rough, keen to source sustenance without the hassle of paperwork and in a place that's accessible after hours (most charities are only open during business hours).
We have elderly people who are feeling isolated and keen for conversation, international students who have no access to money or food during COVID, local gardeners with an abundance of food wanting to do some crop swaps…
It's basically all ages, and all colours of the rainbow – and we love them all.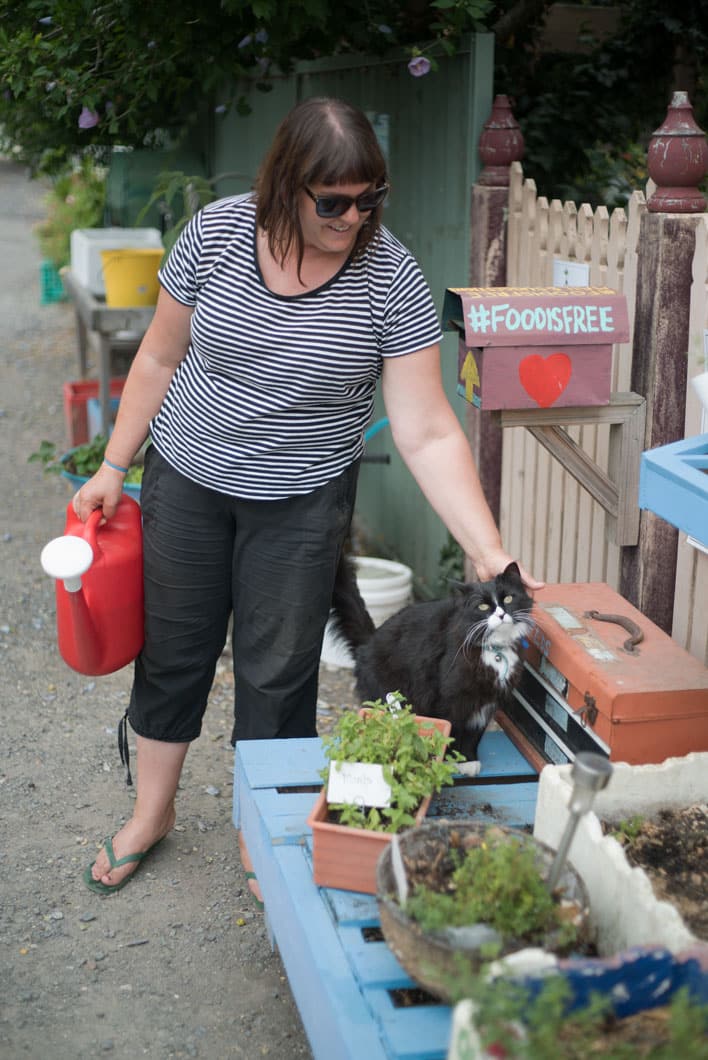 You've talked in the past about 'green anarchy'. Can you explain this concept, and the idea of food social justice?
I like people coming up with their own definitions on what it means, but personally I was referring to doing some little naughty green acts for the good of the planet. Of pushing a few boundaries, and therefore making people think a bit more about policy that might be restrictive, non-inclusive and antiquated.
This is prevalent in my way of questioning things. I have a habit of asking 'why?' if anything to do with authority says 'no' when it does not make practical sense or lead to social betterment. I believe everyone has the right to ask 'why?'.
Ronni Kahn from OzHarvest is a big one for this, and I learned so much from watching her documentary, Food Fighter.
I love the idea of: 'Non-conformist for the good of others' health and wellbeing.' I think that encapsulates green anarchy the best.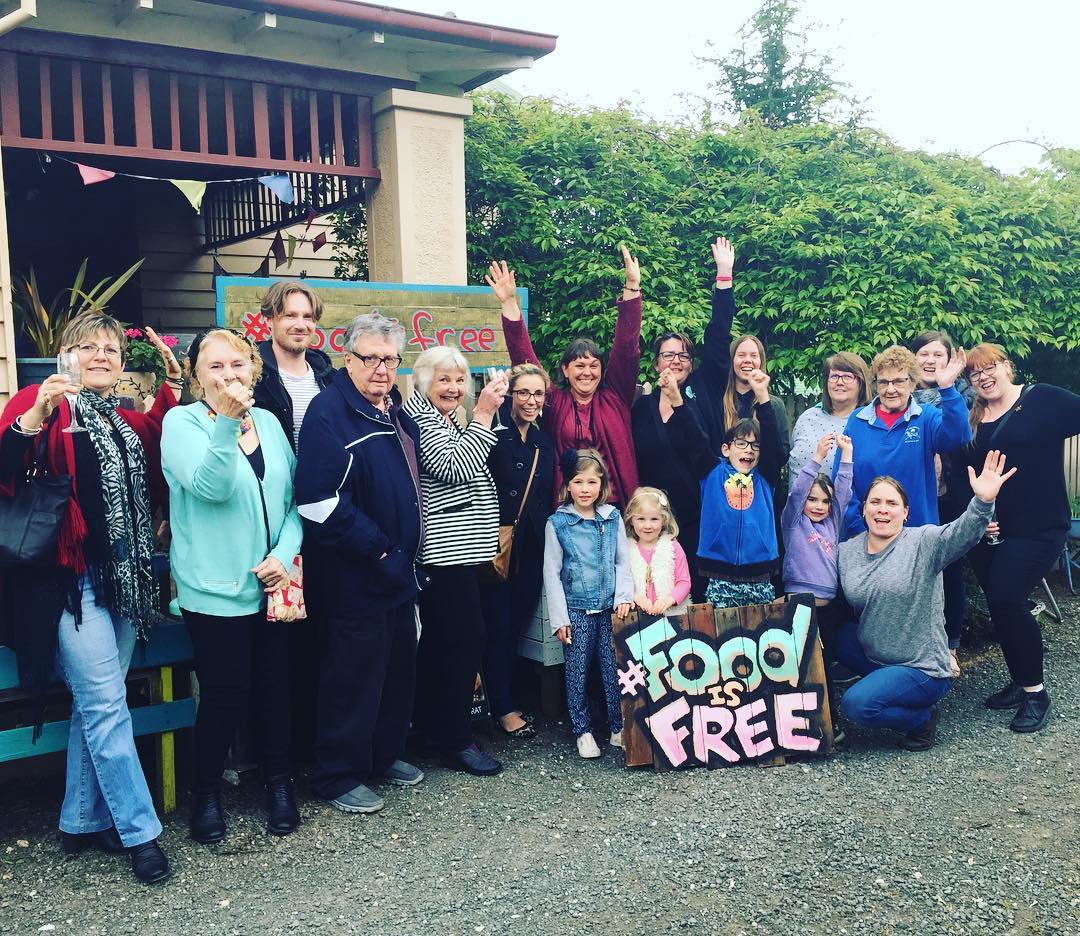 How many people are involved in Food is Free Ballarat – both as committed volunteers, and also folks who pass by?
Like any charity, we rely on the passion of our incredible volunteer team.
We have 70 volunteers on board right now, who do a variety of jobs including removing spent fruit for composting, tidying the Food Is Free Laneway, weeding and general gardening jobs, worm farming and composting, maintenance, seed saving, honey extraction from our hives, plus admin, graphic design and art.
We also have a committee overseeing things like governance.
Our volunteers love having a catch up with the regulars – some real friendships have occurred from Food Is Free. Our Laneway is like the old milk bars of the 80s where you'd go to catch up on local gossip.
In terms of people visiting the Laneway, we conducted our own survey a few years ago and the catchment is well over 20 kms of how far people travel to us.
Many were comfortable to admit that they were food insecure, while others visited just for connections, the love of fresh food, or to pay it forward for others.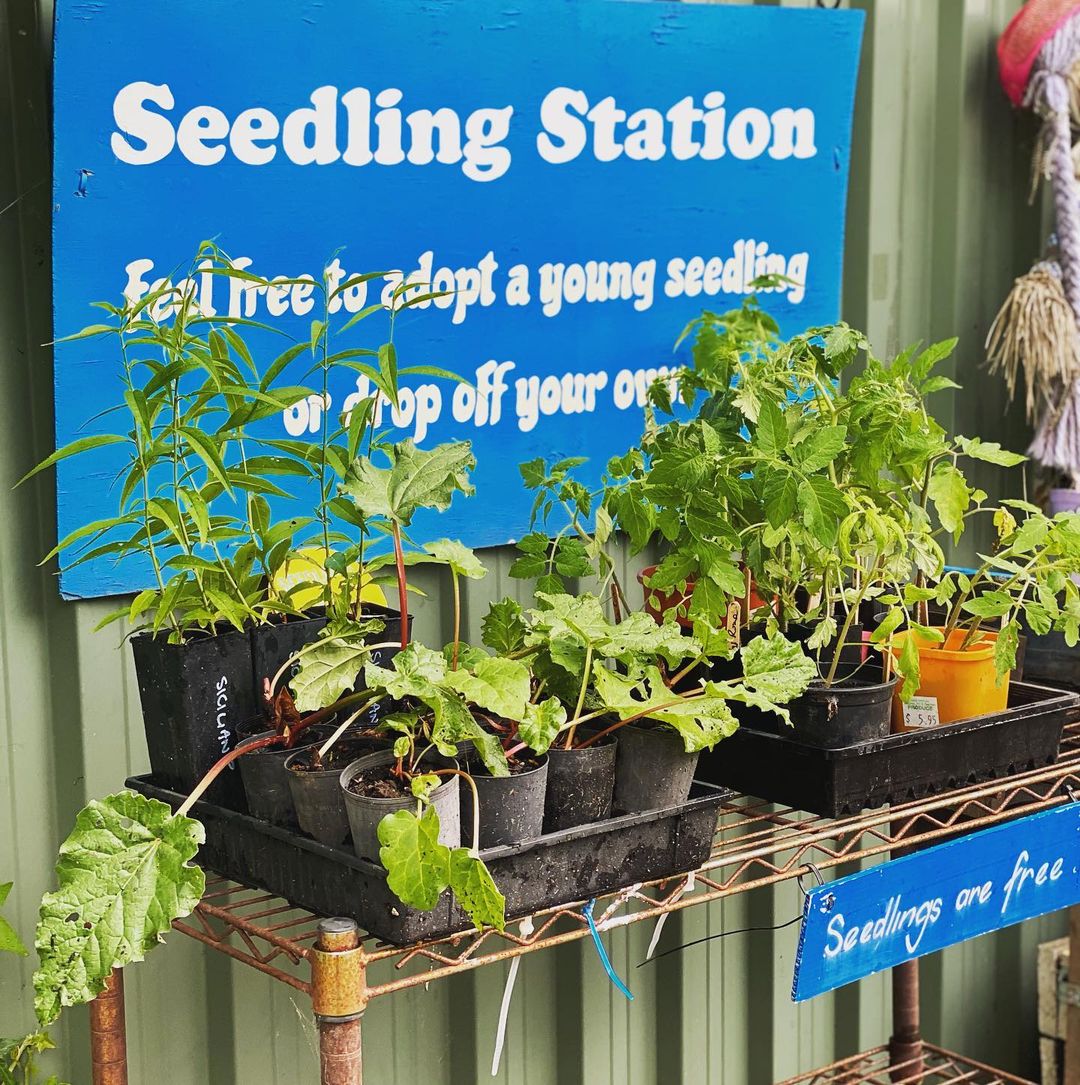 How do you keep the project going – do you have any funding?
It costs a minimum of $10,000 to keep us afloat each year – most of that is insurance costs.
Our biggest challenge is a lack of money, wanting to do more and keeping up demand for food for those in need. We aren't a food relief agency as such, but we know people like visiting as they do so anonymously – there can be a real stigma in accepting food from other agencies where you have to register your name and details.
We are ramping up our fundraising efforts considerably from now on. It was somewhat neglected, which is so often the case with grassroots mobs experiencing massive growth and gaining larger infrastructure grants. Once you land that fish you then have to work out how to keep going once the money pot runs out. Which for us it has.
We are modelling our fundraising with a mix of general public donations and memberships, along with merch and other sales. In the future, we'll ask local-aligned businesses to sponsor us.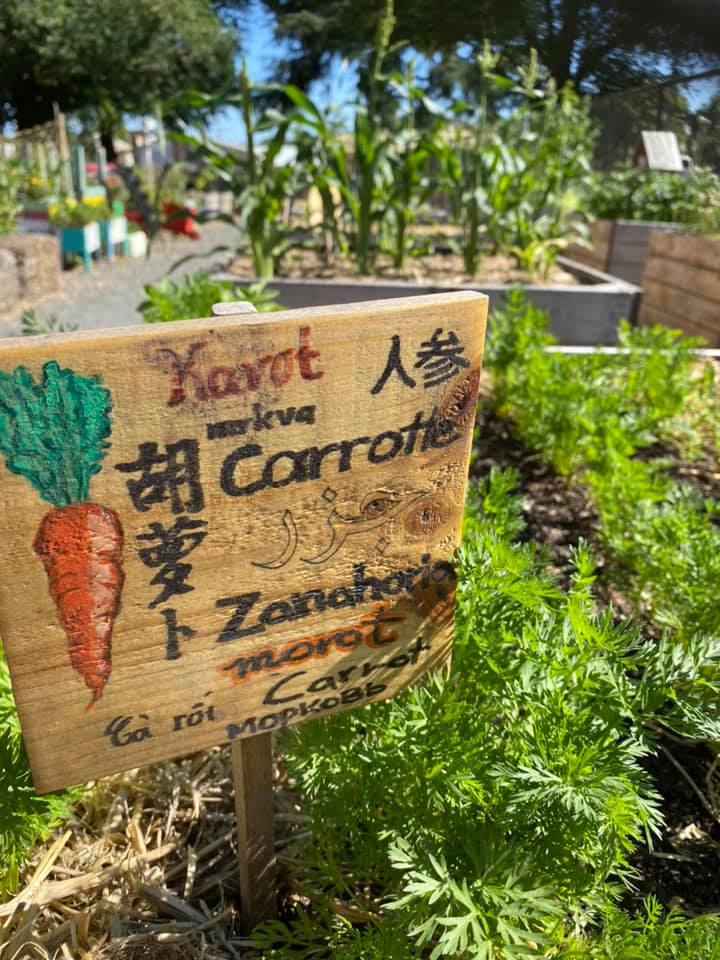 Why is something like this important – and specifically around the food being completely free?
We believe everyone has the right to access fresh nutritious food. It's a fundamental right that is being compromised more and more as the margins between poverty and the rich are widened each day.
When people hear about, witness or are part of movements like Food Is Free, it puts hope in the world.
What most people forget is the person standing next to them might be one or two pay slips away from sleeping rough or having no food. Or maybe they're already in that state. We peddle compassion and people know that from the moment they arrive.
It shows by example that communities can take action to create their own cohesion and look after each other. It truly is little daily actions that count.
John (the Food Is Free founder) is always emphasising that it's a ripple effect of what we all do, and he is right. One action that catches on and ripples out into the world.
What's the most rewarding bit about being involved in Food is Free Ballarat?
Hands down the people I've met, the volunteers I've befriended and the fact I know most of my neighbours by name now.
And seeing people return who months ago were really in a bad state who tell us they've started a garden so they can return the food they had to access.
What advice would you give folks considering starting their own Food is Free project?
Always, always, always include community from the very beginning.
It takes a hell of a lot of energy to run these sites. Like serious amounts. But if you put your whole heart into it and rally your neighbours, it will work, I promise.
And it will be the best thing you've ever done with your time. The rewards are endless.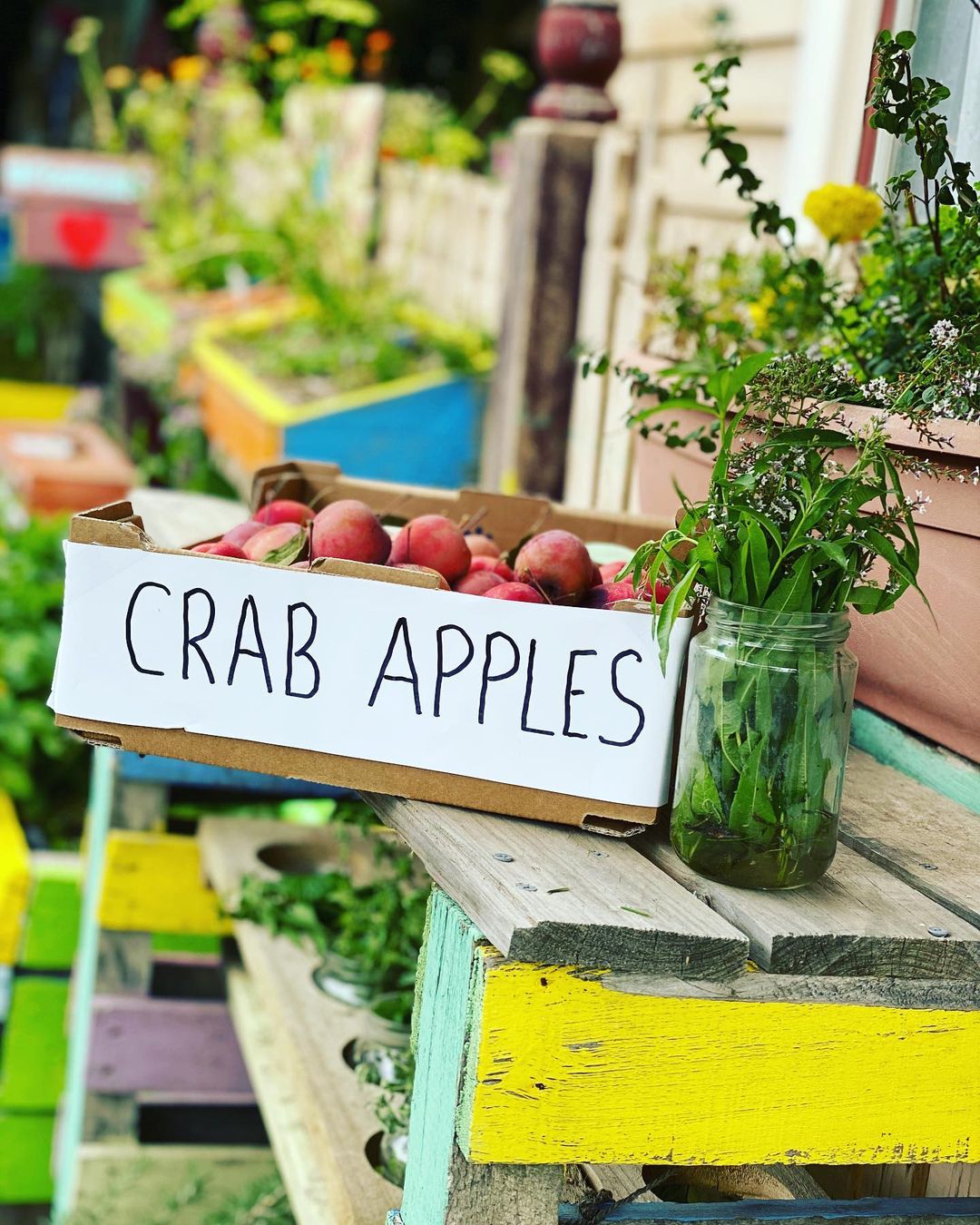 Big thanks to Lou for sharing her passion and dedication for this fabulous community project. You can get involved (or donate! Go on!) with Food is Free Ballarat here. And hey, if you know of any Food is Free or similar projects in your area, drop a comment below? We'd love to hear about them…
Resources
Articles + Websites
Watch + Listen
Koren Helbig is a storyteller, permaculture renter, Marketing Manager here at Milkwood, and keeper of The Local Yum, an urban Adelaide (Kaurna land) honesty stall full of homegrown produce.