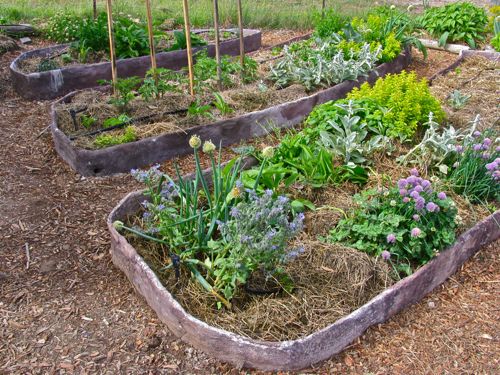 Ferrocement (sometimes called thin-shell cement) is a construction technique where cement is thinly applied to a sturdy steel or wire frame. It is very cheap and relatively quick to do, and produces extremely strong structures.
While it does involve cement, which has quite a large energy footprint, the resulting strength-for-inputs equation means it is a suitable and ethical option for some structures, particularly those requiring great strength.
We've been wanting to have a play with ferrocement for years, but weren't quite sure how to go about it, or what to build. Recently our friend Tom arrived at Milkwood armed with the right knowledge however, and suggested we update the kitchen garden at basecamp by incorporating some new no-dig beds with ferrocement edges.
As always, when trying out a new technique, it's best to start small. So we held off on making a ferrocement boat, watertank, house or grain silo, all of which ferrocement is (apparently) commonly used for around the globe.  We thought we'd just start with a garden bed or two, and take it from there.
The possibilities of ferrocement are endless – if you can make a frame to the shape, cover it in chickenwire and pat a thin veneer of cement onto it, you can make it out of ferrocement.
For our basecamp kitchen garden, we decided to keep the existing contour beds (which needed a bit of love after winter anyway), take them apart and enclose them with ferrocement edges about 30cm high. This means the edges of the beds will be better defined, the ferrocement edge gives us something to lean on when we pick from the beds, and the beds will be able to retain a certain amount of water at the bottom of the root zone in dry periods, rather than that water wicking into the drier paths.
The ferrocement edges also mean we can build up the deep mulch in these no-dig beds higher than if they were just heaped up from path level, which will help with evaporation here in our high and dry summer climate.
So. Here's what we used to make our ferrocement garden beds: we were able to make these out of mostly recycled materials and they turned out beautifully.
Materials
Various lengths of recycled "rebar" – the reinforcing bar usually put in a concrete slab – any scrapyard would have some.
Scraps of recycled chicken wire
"Rebar ties" to wire the chicken wire to the Reo Bar (because we already had them) – but you could just use bits of wire
Sand mixed 3:1 with cement (three parts sand to one part cement)
Wheelbarrow for mixing cement and something to mix it with
Water
Gloves
First of all, we clearly defined the beds, dug out the paths and created a small channel around the outside of the beds where the ferrocement would go.
The next step was to define how much rebar we needed. We laid it out around the beds.
Then we cut the rebar to size, and took the crossbars off the bottom squares. This meant the vertical bars of the bottom squares could act as spikes to hammer into the ground, keeping the rebar edge vertical.
Next we bent the rebar to the shape of the bed, and hammered it into the ground.
Next we covered the rebar in our scraps of chickenwire and attached them with the rebar ties.
Time to mix the cement. Apparently the recipe is 3 parts sand to 1 part cement, and then add water slowly, stirring all the while, until you have something the consistency of ice-cream, or until a line drawn with a finger lightly through the mix only just falls back in on itself.
The application of the cement to the wire took a while. Lots of pat-pat-patting. You get the hang of it after a while. We did a first rough pass followed by a smoothing second pass.
Once the cement was semi-dry, we brushed on some oxide (cement coloring) mixed in water. The cement drinks in the oxide and this way you get an aesthetic finish which doesn't involve any paints.
One thing to note is that we wanted to ensure that water could exit near the bottom of the ferrocement walls, to prevent waterlogging of the beds in a heavy downpour. To do this we stuck a bunch of tomato stakes through the rebar before applying the cement, and pulled them out once the cement was all in place. This created a series of holes low down in the down-slope wall of each bed.
And once they were done, we mulched heavily and now we've been busy planting our spring seedlings, packing our new-fangled beds through of good things to grow and eat over summer.
In retrospect, this technique has both pros and cons. The good things about it include the cheapness and accessibility of materials (which is probably why it's used in hard-to-get-to locations around the globe), and the not so good things include that its relatively labour intensive. So, like any construction technique, it's perfect for some scenarios, and not so much for others.
Would we use it again? Well, we've been trying very hard to figure out how to do a large wicking bed system for our Milkwood kitchen garden. We definitely want to use wicking beds, but we definitely want to avoid plastic, so we need some other sort of water-holding reservoir for the bottom part of the wicking beds, which is also very strong. Ferrocement might just be the answer – we'll keep you posted as we finalise that design…
Ferrocement resources:
Big thanks to Tom Bell for his energy, enthusiasim and knowledge. Big thanks also to our fabulous interns Andrew, Adam, David and Alexe who got into it and made it happen (especially Andrew for his photos). Our future vegetables and herbs, and all who will eat them, tip our hats in your general direction!