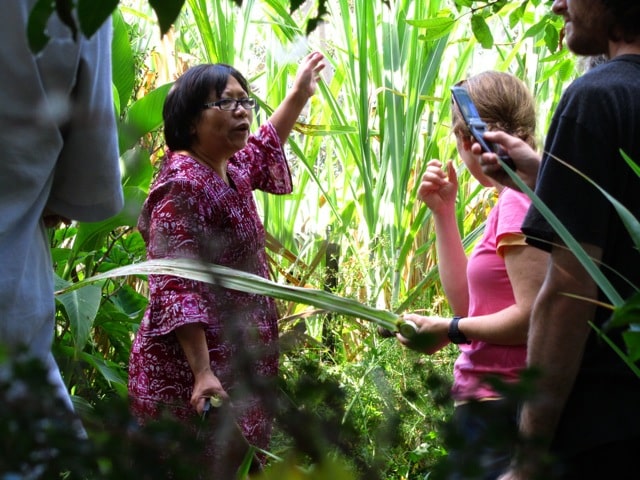 Deep in the heart of Marrickville, in a little street of workers cottages, right under the flight path to Sydney International Airport, there is a food forest.
A splendid wrangle of Australian rainforest food trees, sugar cane, herbs from all parts of asia, plums and even citrus, grow on a small suburban block with a little brick cottage nestled in the center.
Doug and Betty planted the Food Forest that surrounds their home over 20 years back. Partly inspired by the permaculture movement in Sydney in the 1980's, and partly by the polycultures found at so many back doors in Indonesia, where Betty hails from.
We'd heard about this mysterious food forest years ago, but it was only recently we were able to track down someone who knew where it was. Eventually, we got in touch with Doug and, with fingers crossed, asked him if we could bring a gaggle of people through his backyard, to see this place we'd heard so much about.
Fortunately, Doug and Betty were enthused for us to bring 24 students to the forest as part of the Sydney Permaculture Design Course we ran in inner-city Sydney last January. Lucky us!
And it was worth the wait – we were given the grand tour of this little urban permaculture treasure…
Betty carved us all up sticks of fresh sugar cane to chew on as we explored her jungle, and Doug gave a comprehensive overview of the stacking in time and space that had gone into making this food forest so very special.
A 'food forest' is a term used in permaculture design to describe a forest garden system that has edible and useful plants at every level, from below ground tubers to ground covers through shrubs to vines to sub canopy and overstorey plants.
The idea is that you aim to stack in both time and space to progressively create an abundant, productive system that feeds back on itself as much as possible, and also feeds it's residents for as much of the year as possible.
As we arrived at the address in Marrickville, it was just like any street in a working-class suburb. An industrial area close by, planes overhead, the main highway two blocks away. But as soon as you stepped through the front gate, the surrounding city melted away.
We spent the next hour absorbed in trying to identify (and also tasting!) the myriad of plants which surrounded us – ground covers, shrubs and tall canopy trees. And so many crazy kinds of basil! Clove basil? I've not encountered it before nor since.
To add to the treat which was just breathing in the smell of a forest floor in the middle of the city (in the middle of summer), Betty proceeded to present us with cuttings and rootstock to take back home. Some students scored taro, some sugar cane, some different varieties of basil and others asian culinary herbs. Even a couple of sour native plums.
We left inspired, laden with plants and thankful of the generosity shown to us all. You can view more photos at our 2011 Sydney Summer PDC photoset.
Many thanks to Doug and Betty for an amazing afternoon. Your food forest continues to spread throughout Sydney via your gifted cuttings!
We can't wait to see the food forest in winter, so see how it changes with the seasons – we'll be back with the students of our Sydney Winter Part-Time PDC in tow, sometime in June this year. And next time we'll bring some cuttings ourselves, to contribute back to this splendid edible jungle in the city.
Related posts: