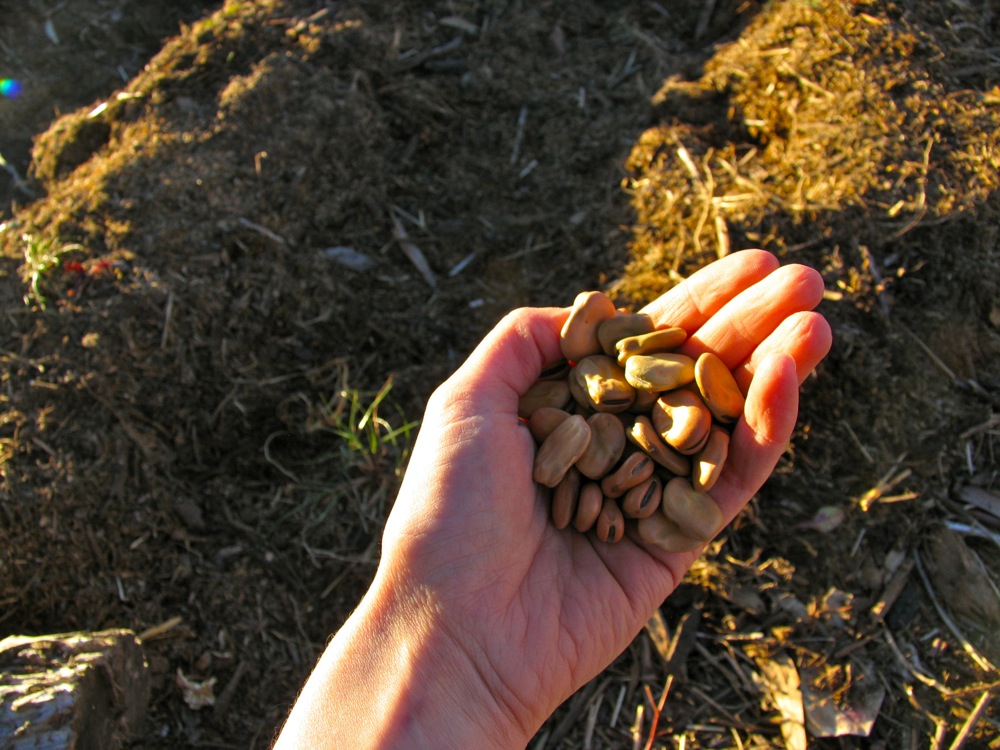 My first attempt of growing broad beans (or anything for that matter) in something other than a no-dig bed. Not planted in the still-being-pig-tractored market garden, mind you. These beans went into what will become our kitchen garden, next to the woolshed.
Joyce sent up the broad bean seed from Allsun Farm, which is great. Hopefully this will mean that these broad beans will be adapted to our erratic dryish climate, which is similar to Allsun's. And for the first time, I planted something by the book. Or by the CD Rom, in this case.
This garden surrounds the Milkwood kitchen caravan, that used to be our home. I loved this garden, it was my little outpost of loveliness in the maelstrom of house building, new parenthood and new life establishment while we lived there. And I'm so excited about getting it pumping with good food this year.
I followed the directions for row size, hilling and bed prep  for broad beans on the Growing Annual Vegetables CD ROM. I'm not so sure how these beans will go, given their proximity to the eucalyptus next door, but they're as much a crop to prep the soil of the bed as anything, i imagine.
You will note that I mulched the rows. This might be against our new intensive growing rules, but I couldn't help it! Still adapting to the non-mulched approach required for some crops (of which I'm not sure whether broad beans are one )…
Fingers crossed and praying to the gods of nitrogen-fixing nodules…
 Related posts: