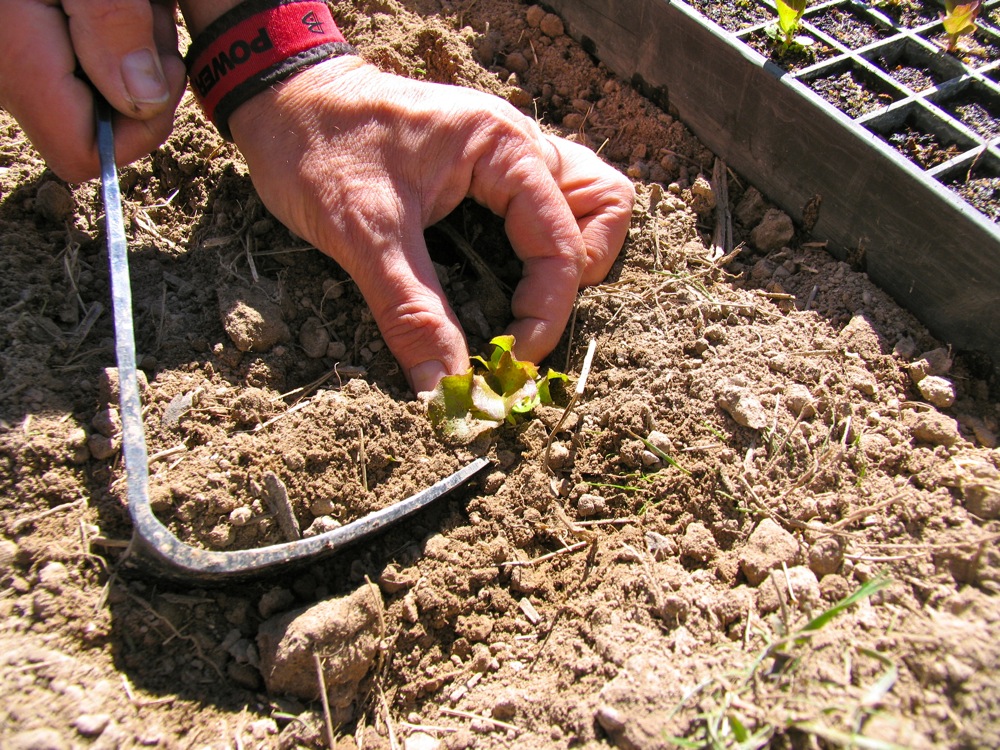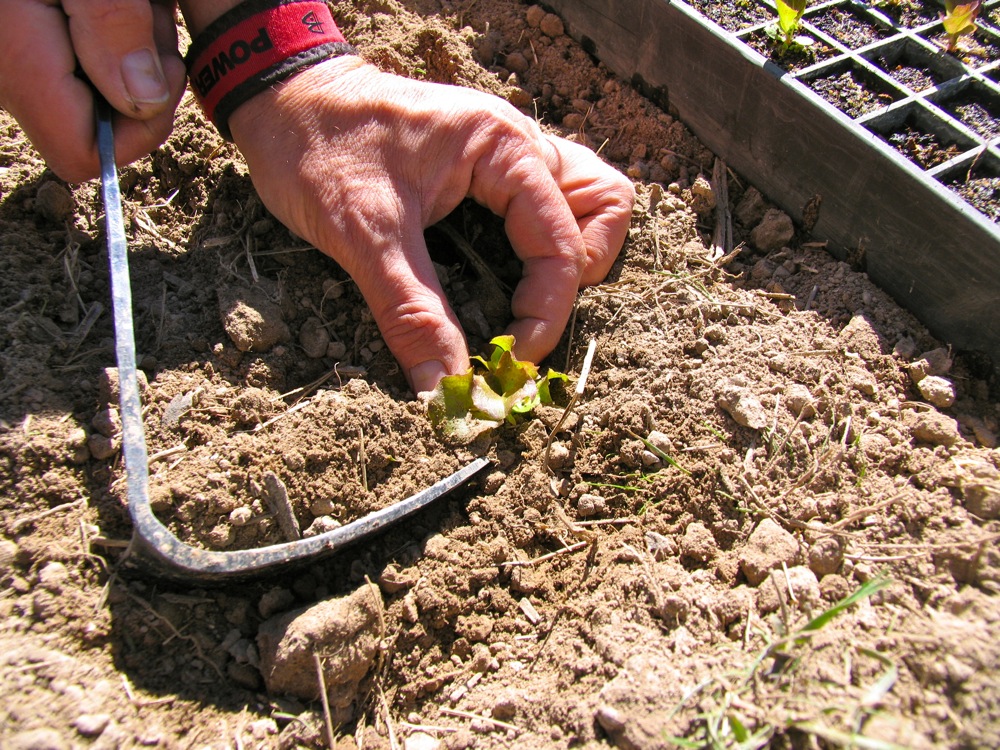 Hooray! After a month of pig tractoring, fencing and gathering resources, the Milkwood Farm organic market garden has officially begun! Behold the image above, in which is recorded the planting of our very first lettuce.
It was a very eventful day, all in all. First thing in the morning, we had to convince our hire-a-pigs to stop their pig tractoring, get into their trailer, and go home. Neither Milly or Sausy were much interested in this idea. But after two hours of poking, prodding and pleading, the piggies were loaded up and cleared out of the way.
Then arrived Mike, Joyce and Matthew from Allsun Farm, along with Stephen Couling, our brand new Organic Market Gardener (or OMG, as he is now known around here). Stephen had spent the last three weeks at Allsun Farm, learning a bunch of market gardening skills.
The Allsun crew arrived, had a quick cup of tea, and promptly set to work. Joyce had decided to make up and plant two beds before they left the next day at lunchtime. Right. Looks like we're straight into it, then!
I've never seen these type of beds made before. It's so simple. And so involved, both at once.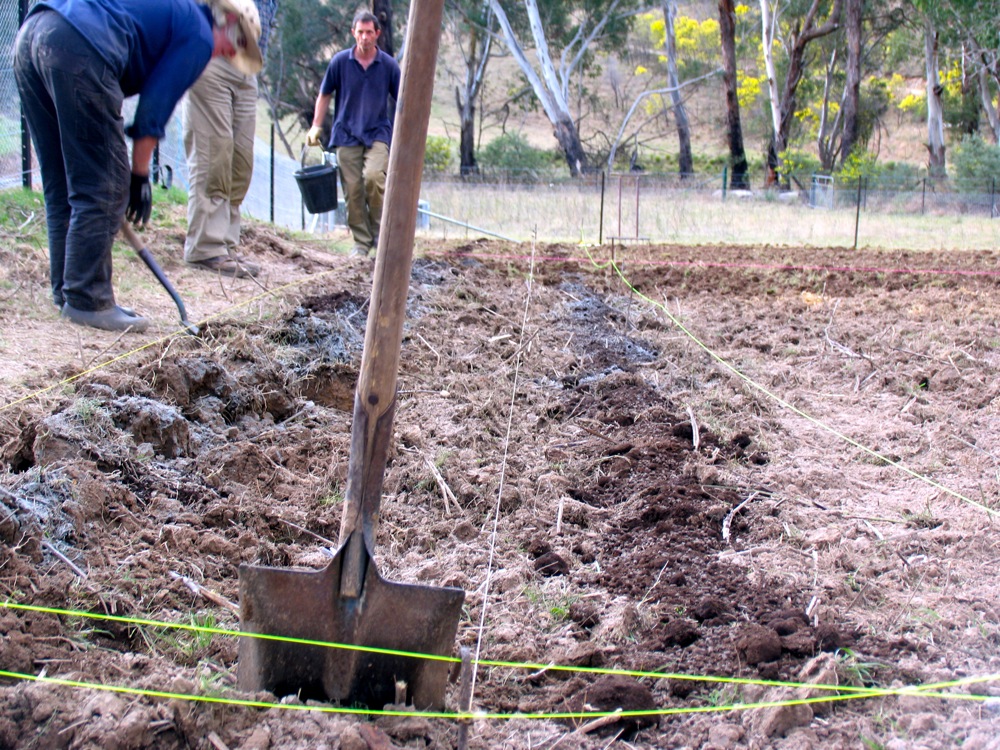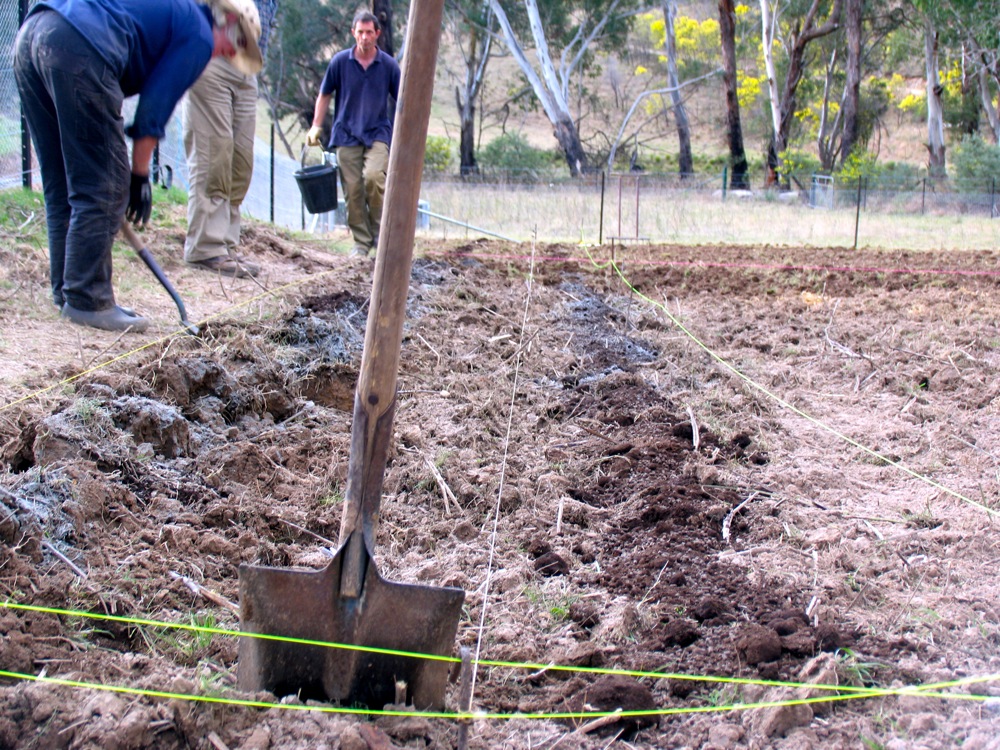 Next up was marking out the planting spaces. This nifty device was used to regulate the squares so that the greens would be evenly spaced.
And then to planting. After recording the most auspicious first lettuce, I got out of Stephen's way and let him do his OMG thing.
And by lunchtime the next day, those two beds were made and planted. Wow. This is so different to the gardening and food growing methodologies that I've been involved in. This is serious.
As someone said in a comment on one of these photos on FaceBook "hmm straight lines. are you nervous yet?" And I am, a bit. I'm so used to the no-dig, on contour, heavy mulching approach.
However I am also very excited about approaching this garden in a way that is proven to work, and which will produce a large amount of specific foodstuffs in a timely fashion. This is now necessary for us as we shift to community scale food production, and away from just our little family's vegie needs.
And it's for this reason that we're following an Eliot Coleman (ish) style of intensive organic vegetable production this season, mentored by Allsun Farm. Boots and all.
Realistically, if I was left to my meager devices and just had my no-dig beds this year, I'd be supplying maybe 15-20% of our rather extensive on-farm vegetable needs this season: herbs, greens, a post-Christmas burst of tomatoes, etc.
And I'd be buying the bulk of our vegetable needs for this farm's season from the shops. Just like everyone else I know.
So while I'm a little unsure about the bare soil, straight lines and all the rest of it, I am also very aware that we have a lot to learn from these types of techniques. Ways of doing that haven been refined over generations to give high vegetable productivity on small plots of land, using organic methods, in an energy efficient manner.
Maybe once we get the hang of confidently supplying 80% of our on-farm vegetable needs, we can start to roll with different techniques, planting combos, bed designs, mulching patterns etc. I don't know. I haven't got there yet…
What I'd like to see happen down the track for this garden is for it to be a flourishing space, bordered by polyculture hedgerows, interspersed with flowers and herbs, and pumping out amazing organic food for our farm family, interns, wwoofers and course students.
And if straight lines in the first year are the path that leads us to that place, I'm up for it.
Un-expressably large thanks to Joyce and Michael of Allsun Farm for leading us all through this process. Big thanks also to Matthew who worked like a trojan while he was here. And welcome, Stephen!
We're running 2 'Starting an Organic Market Garden' courses with Allsun at Milkwood Farm this season. The first one sold out long ago, but if you like you can snap up a spot on our March 2012 Market Garden course here.
Resources:
Related posts: