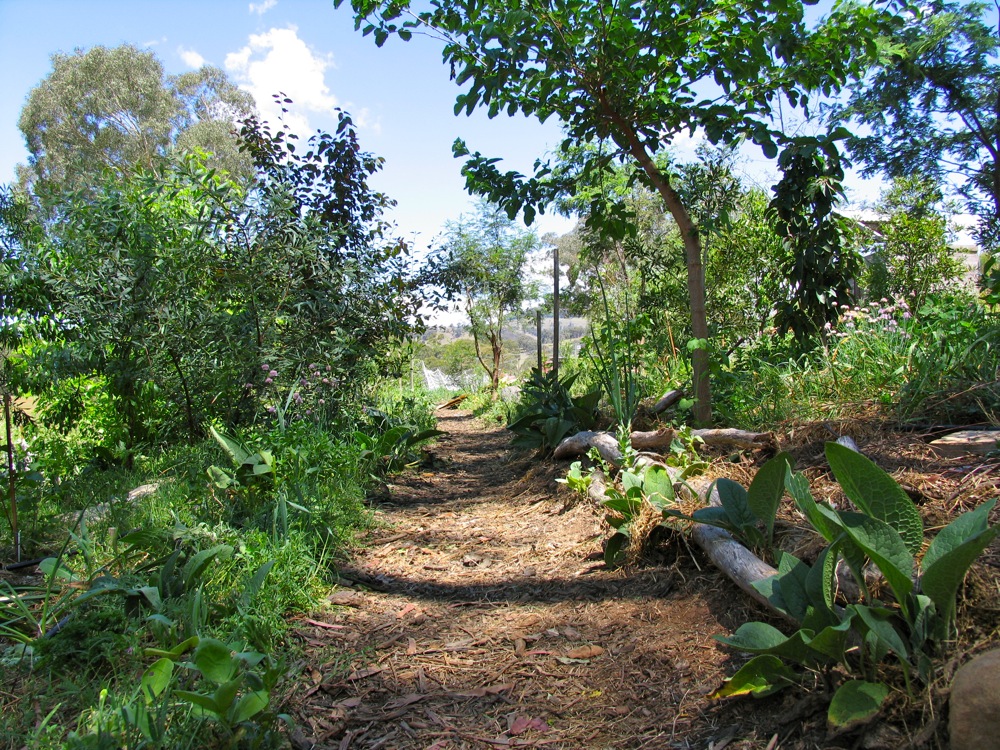 So we're creating a forest garden – a lush, shady place, dripping with fruit and springing with herbs, flowers and tubers. But when you think of a forest garden, do you think of paths, their construction, and their capabilities? Or do you just figure you'll wind your way through the green herbage as you see fit?
The paths make the garden. And by consciously designing them before you begin, you can bring many benefits to the forest garden space that are difficult to retro-fit later on. So here's how we designed the Milkwood forest garden paths…
The paths in our forest garden need to do a couple of things really well: define different spaces within the garden, create weed barriers, increase fertility, protect the rest of the garden from compaction and provide easy access for farm residents, classes and maintenance.
Harris therefore designed the main paths on contour, with spur paths branching off in various directions. These main paths serve a couple of functions:
By being on contour, the main paths provide energy efficient access the different levels of the garden, without having to push wheelbarrows etc either up or down hill for lengths of time.
The main contour paths were surveyed and then dug out (by hand – thanks Trev Bamford!) as small swales, about 60cm across. These trenches were then filled with woodchip. This feature will allow the main paths to:
Catch and store rainfall, releasing it slowly and gently downslope, through the topsoil.
Allow the woodchips to decompose over time, creating fungally dominated compost which can then be dug out onto the forest garden
We're finding that, unlike all the other larger swales here at Milkwood, these small ones are working brilliantly to catch, store and release moisture through the garden. I think it's because they're the right size and in context with the system surrounding them.
The spur paths coming off these main paths are always on an angle (never straight downhill) for reasons of both ease of access and so as not to create a surge of water down the path in a heavy rainfall event.
The spur paths also define the 'patches' of the garden, which allows us to manage the garden's development without getting ahead of ourselves. We're taking a nucleus planting approach with this garden – stacking one small space heavily and then creeping out to the next one.
Harris has also defined where the meeting spaces, or nodes, will be in this garden. You know – the space where you park the wheelbarrow, sit and have a drink, dump all your tools and cuttings so everyone's not tripping over them constantly on the path… that sort of thing.
The node aspect of this garden is important for us to have sorted from the start, rather than allowing all the nodes to naturally evolve.
We're creating this garden as a team of residents, seasonal crew, interns, wwoofers, and students. There's lots of people in this forest garden on a planting day, and the space needs to work for us all in it's development phase, not only in it's final finished form.
That said, in 5 years time I imagine there will be favorite sitting or working nooks that we have not yet foreseen. But that's the fun of creating living space, isn't it?
It's now finally high spring here at Milkwood (spring comes very late here) and the finished paths are 2 months old. The green manure (vetch, broad bean, oats, quinoa, amaranth) broadcast on the downhill mound along the swale paths are flowering madly.
The paths make all aspects of the forest garden (both planted and not yet planted) a pleasure to access, and gives us all a real sense of establishing something that will develop for decades to come, feeding many happy folks as well as being a space of general gorgeousness.
Many thanks to Dan Harris Pascal for his ongoing assistance with the Milkwood Forest Garden design + implementation
Want to come learn? Next two Forest Garden Workshops:
9-12 March, Milkwood Farm, Mudgee
26-27 May, Alexandria Park (emerging Urban Forest Garden), Sydney
Forest Garden resources:
Definitely related posts at Milkwood.net: