So we have these great fuzzy caterpillars in the forest garden who occasionally get together and go journeying in a long, fuzzy line.
We happened to be in the forest garden during one such sojourn, and Nick decided to do a bit of caterpillar-wrangling…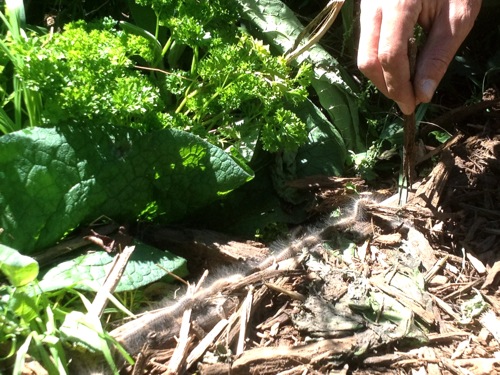 After a couple of minutes, the caterpillars disbanded (ha ha) and proceeded on their route through the forest garden in a long, wiggly line as before.
What does this have to do with permaculture and creating a kick-ass small farm? Erm… I'm not sure.
But it was a moment in time that we'll remember, and silly stories like this are as important as building the soil food web when it comes to place making.
Another 'remember the time' to tuck in a corner somewhere. Happy caterpillar necklace Tuesday, everyone!